Zoneless Induction Cooktops Comparison: Thermador Freedom vs Gaggenau CX 480
Induction cooking technologies have reached a whole new level in the past years. Most induction cooktops are more performant, beautifully designed and energy efficient than never. But there are many more reasons why buyers choose induction cooktops over other heating technologies.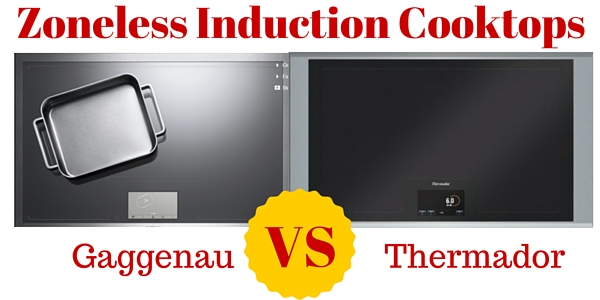 The ease of use, safety and comfort are factors that contribute to any buyer's decision. In this article, we will compare two of the high-end induction cooktops on the market: Thermador Freedom
and Gaggenau CX 480.
Our purpose is to highlight these products' most important features and help you make a decision in the buying process.
Overview of Thermador Freedom
Thermador amazes it fans with a luxury induction cooktop that can be used with any type of induction-compatible cookware, regardless of the size. It is a full-surface induction cooker that is zoneless and has the ability to automatically recognize the cookware, regardless of its position.
The 36-inch Thermador Freedom is the definition of flexibility and can fit 4 pots or pans of various sizes on its surface. All users have to do is to start the unit, set the desired preferences and place the cookware on the cooking area. The product heats up only where cookware is detected, making the entire experience safer, more efficient and much more comfortable.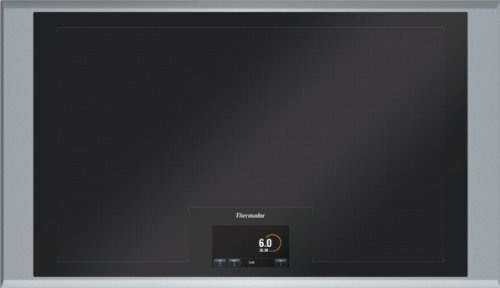 The unit comes with a 6.5-inch display in the center of its front side that uses TFT technology and offers users a full-color touch panel with intuitive settings. It frame is made of stainless steel, while the heating surface is made of grey-black glass.
This is a powerful induction cooktop that comes with an output power of 4600 W when Power Boost is activated. It is the best on the market at boiling water and heats up 50% faster than gas cooktops. Also, it is equipped with an anti-overflow system that shuts off the elements whenever liquids are being detected on the surface.
The zoneless surface contains 48 induction elements that use a total of 3600 W, when Power Boost isn't enabled. The manufacturer recommends the use of cookware with a minimum size of 3 x 3 inches and a maximum size of 13 x 21 inches. However, the induction surface works perfectly fine with any cookware size.
Users can cook their meals using the 17 temperature levels available, as well as the 9 power levels.
This incredibly stylish induction cooktop is quite expensive for most buyers' budget, it is totally worth the investment. The product gets 2 years of warranty coverage and a 3-5 years limited warranty for the glass ceramic surface, parts and electronic elements.
Overview of Gaggenau CX 480
Gaggenau's induction cooktop is another luxurious product that comes with a zoneless surface and automatically detects the cookware's spot in order to heat a particular area only. It has a gorgeous design that looks good even in the highest end kitchens. It has a stainless steel frame, a TFT touch screen and black ceramic glass surface.
Its surface has a width of 80 cm on which any shape and size of compatible cookware can be placed. Users can fit up to 4 pots or pans on the unit and use up to 17 power levels to heat up the elements fast.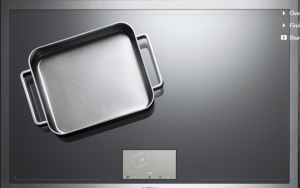 The CX 480 is easy and intuitive to use thanks to its electronic control panel. It features functions such as Power Booster, pot detection, timer, child lock, residual heat indicator ad power management.
Users can take advantage of the 4.4 kW of output power when using large cookware.
Just like the previous product, this one is quite expensive and can be bought for approximately $11 000, which is way more expensive than Thermador's product.
However, the technology it encompasses, the flexibility it offers and the design are meant to satisfy such large budgets and pretentious tastes.
The differences
Although these two products are quite similar from a technical and aesthetic point of view, there are some differences that play an important role in the decision making process of individuals who consider buying such a unit.
The difference that you will first notice is the size. While Thermador's induction cooktop has a 36-inch surface, Gaggenau's unit only measures 32 inches. The 4 inches of induction surface can mean a lot, giving the fact that both units are zoneless. You will want to take advantage of every inch when fitting your cookware into the cooking surface.
The output power of these cooktops is also different. The Thermador Freedom
has a maximum output power of 3600 W and 4600 W when Power Boost is enabled, while the CX 480 from Gaggenau can use a maximum of 4400 W for a single element . They both can use a total of 7200 W.
Their designs are very much alike, made of high quality materials such as stainless steel and ceramic glass and their displays are incredibly easy to use.
When it comes to the price, the difference is huge. The first product costs about $7500, less than $3000 comparing to the second product.
The CX 480 includes a high quality, induction-compatible tray, while the first product doesn't include any cooking accessories. Still, the price difference is big enough for someone with a lower budget to say no.
Summary
These zoneless induction cooktops have the ability to impress anyone from the first glance. All you have to do is to place an induction-compatible pot or pan on them, set the desired power level and everything else happens automatically.
Both products are suitable for buyers who are looking to add up a stylish, high-performance, high-quality induction cooktop in a luxurious or professional kitchen. However, someone who is looking for a larger surface and less power at a lower price will go with Thermador Freedom.
Those who enjoy having appliances with sleeker design and have a larger budget at their disposal will probably choose Gaggenau's product, as its frame is not as thick as Thermador Freedom's.
Other than that, they are both amazing products with powerful specifications and incredible design.
Manufacturer
Thermador Freedom
Gaggenau
Destination use
Home use
Home use
Controls
4
5
Control Panel
Touch
Touch
Functions
On/Off, Power, Power Boost, Child Lock
On/Off, Power, Power Boost, Child Lock
Surface
Ceramic glass
Ceramic glass
Color
Black & Grey
Black & Grey
Power Source
120 V
120 V
Output Power
7200 W
7200 W
Power levels
9
9
Temp Levels
N/A
N/A
Temp step increment
N/A
N/A
Programmable Time
10 hours
?
Function Lock
Yes
Yes
Warranty
2 Years
2 years
Acoustic warnings
Yes
Yes
Weight
27 kg
31 kg
Shipping Weight
N/A
N/A
Dimensions
23" x 316 x 204
3/8″+3 7/8″ x 37″ x
21 1/4″
Cord Length
93 cm
150 cm
LED Display
TFT display
TFT display
Safety Features
Yes
Yes
Error Codes
Yes
Yes
Pan size (bottom diameter)
Any
Any
Cookware material
Induction-compatible
Induction-compatible
Free PAN
No
Yes (tray)
Around Clearance
N/A
N/A
Price
Amazon Link
$$$