Zojirushi NP-GBC05-XT (IH) vs NS-LAC05-XT (MICOM) – Rice Cookers
Do you need a new rice cooker? How about a Zojirushi rice cooker? If you want to get an idea about the features of Zojirushi rice cookers, this comparison between Zojirushi NP-GBC05-XT (Induction ) and Zojirushi NS-LAC05- XT (Microcomputer) may help you decide what it is right for you.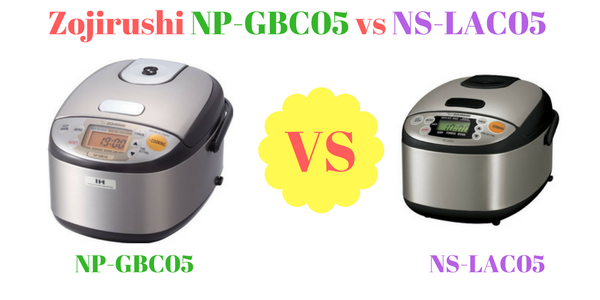 Zojirushi is a well-known manufacturer as all this company does is to improve the customers' quality of life with so innovative products.
Using its advanced technologies, it is not a secret anymore that Zojirushi produces easy-to-use and convenient rice cookers.
Let's consider these two Zojirushi models NP-GBC05-XT (IH) and NS-LAC05- XT (MICOM).
First, Zojirushi NP-GBC05-XT Induction Heating Rice Cooker and Warmer is a 700-watt 3-cup rice cooker and warmer with induction heating technology.
Its capacity is measured using a 6 oz./180mL rice measuring cup, for raw short grain white rice and so, for other grains it may vary.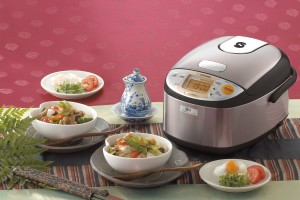 Available in stainless and stainless dark brown colors, Zojirushi NP-GBC05-XT (IH) is delivered with some accessories such as rice spatula, spatula holder, and rice-measuring cups.
Its menu settings include white/mixed, sushi, porridge, brown, GABA brown, rinse-free and quick cooking.
With detachable and washable stainless steel inner lid, the rice cooker is designed with carrying handle and detachable cord and must be washed by hand.
The additional heater on lid generates an ideal temperature for precise cooking.
When cooking, it is recommended to measure rice in the cup that comes along with this product. Its 3-cup capacity cooks as little as 1/2 cup of rice and is ideal for singles and smaller families.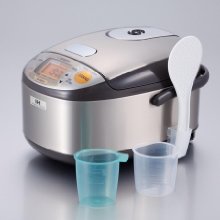 Check Price on Amazon
This machine will make up to 3 cups of white rice, up to 2 cups of brown rice, and up to 1 cup of oatmeal. The delay timer with 2 settings provides freshly cooked rice at the programmed time.
The GABA setting claims to make healthier rice by using a different cooking pattern. It is also an expensive appliance, but it is such a daily or even hourly luxury that it makes it actually cheap given the usefulness; it is very simple to use, easy to clean, and makes perfect food.
On the other hand, we have Zojirushi NS-LAC05XT Micom 3-Cup Rice Cooker and Warmer.
It is also a rice cooker with a 3-cup capacity that makes 6 cups of perfectly cooked rice every time.
With its cooking functions (White/Mixed, Sushi, Porridge, Brown, and Quick Cooking), the rice cooker has an inner cooking pan that provides even heating for better cooking and measuring lines for precise control of ingredients.
With a small footprint that takes up minimal counter space and accessories that include measuring cup, nonstick rice spatula, and spatula holder, Zojirushi NS-LAC05XT Micom 3-Cup Rice Cooker and Warmer features detachable inner lid, easy-to-read LCD control panel and a built-in retractable power cord.
You also have automatic and extended keep-warm setting, reheating cycle and delay timer with two settings.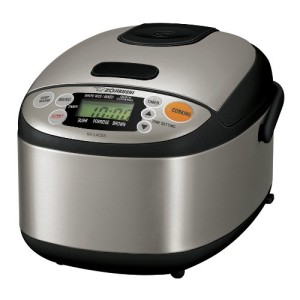 The unit's clear-coated stainless-steel exterior is easy to clean, but also matches any kitchen decor. The rice cooker is available in black and stainless steel colors and incorporates sensors so that, instead of just having timed cook cycles, the appliance can actually sense when the rice is done.
This Zojirushi is easy to use, does not take up much countertop space, is attractive, and easy to carry around. The rice cooker makes cute sounds when it starts up and finishes cooking.
And the warm function keeps rice warm for hours with no diminishment of the quality: the quality of rice and beans is outstanding.
3. Differences
If you tend to compare these two Zojirushi, firstly, you will observe that Zojirushi NP-GBC05 (IH) is more expensive than Zojirushi NS-LAC05 (MICOM).
Both of the devices are 3 cup Zojirushi rice cookers. Although they look a bit different, both Zojirushi NP-GBC05 (IH) and NS-LAC05 (MICOM) have a stainless steel exterior body.
Both have settings for white rice, mixed rice, sushi rice, rice porridge, brown rice and quick cooking rice, but Zojirushi NP-GBC05-XT (IH) also has specific settings for GABA brown rice and rinse-free rice.
Also, Zojirushi NP-GBC05-XT (IH) has a detachable power cord whereas the Zojirushi NS-LAC05- XT (MICOM) power cable is retractable.
With a MICOM chip that controls their cooking operation, these two Zojirushi are perfect for daily cooking.
But Zojirushi NP-GBC05-XT (IH) makes use of its induction heating system and this is not the case for Zojirushi NS-LAC05- XT (MICOM) which has a conventional heating element.
4. Conclusion
Zojirushi NP-GBC05-XT (Induction Heating) and NS-LAC05- XT (MICOM) represent a great alternative for those who cook for one or for five people.
With its multiple-menu cooking functions, removable lid for easy cleaning and induction heat system, Zojirushi NP-GBC05-XT (IH) is the only 3 cup model with MICOM and induction heating technology, perfect for everyone who wants the most innovative appliances in his or her kitchen.
Also, there are a lot of possibilities that you will discover while using Zojirushi NS-LAC05- XT (MICOM); you get menu settings for cooking white or brown rice, nonstick inner cooking pot easy to remove and clean, retractable cord retracted and stored inside the rice cooker and timer that works well for cooking rice or oatmeal.
For everyone, this may be one of the best 3-cup uncooked rice cookers for making really tasty rice.
4. Comparison Table
Model
Zojirushi NP-GBC05-XT (IH)
Zojirushi NS-LAC05- XT (MICOM)
Technology
Induction Heating + Microcomputer
Microcomputer
Capacity
3-cup rice cooker
3-cup rice cooker
Color
Stainless Dark Brown and Stainless
Black and Stainless Steel
Interior
Non-stick interior
Non-stick interior
Exterior
Clear-coated stainless steel exterior
clear-coated stainless-steel exterior
Detachable inner lid
Yes
Yes
Display
Color LCD display
Color LCD display
Programmable Timer
Yes
Yes
Cord
detachable cord
built-in retractable power cord.
Automatic Keep Warm
Yes
Yes
GABA brown
Yes
No
Acoustic signals
Yes
Yes
Weight
8 pounds
7 pounds
Dimensions
11.8 x 9.1 x 7.5 inches
11.8 x 9.1 x 7.5 inches
Spherical pan and heating System
Yes
Yes
Power
120 volts / 700 watts
120 volts / 450-watt
Menu settings
white/mixed, sushi, porridge, brown, GABA brown, rinse-free and
quick cooking
White/mixed, sushi, porridge, brown, and quick cooking
Price
Check price
Check Price