3 Zojirushi Induction Rice Cookers Comparison and Reviews: NP-HCC vs NP-GBC vs NP-HBC
Everyone knows that the Zojirushi products are very durable and very reliable, and people who own them are very happy with their products.
In order to have a rice cooker that guarantees you that your rice will be light, fluffy, flavorful, and perfect every time, as opposed to the dryer or over cooked rice other cookers give, here you have a 3 Zojirushi Induction Rice Cookers comparison.
Zojirushi NP-HCC10/18 Induction Rice cooker, Zojirushi NP-GBC05 Induction Heating Rice Cooker and Zojirushi NP-HBC 10/18 Induction Rice Cooker are a billion times better than other rice cookers.
Seriously, if you want the best, cooked to perfection, tender, amazing rice, buy such machines! It is time to prove it and to highlight the most important features and settings of these models.
Zojirushi NP-HCC10XH Induction Heating System Rice Cooker comes with multi-menu cooking functions, automatic keep warm and extended keep warm settings that keep rice at the perfect serving temperature, delay timer (2 settings) and healthy cooking options (brown rice, GABA brown rice and germinated brown rice).
It is very nicely built and looks to be able to stand the test of time; it is intuitive and easy to use.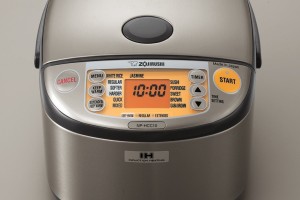 The inner bowl for cooking the rice is also fascinating, fairly heavy duty and well made.
The timer is very nice; when you set the time, you should known that you set it to when you want to serve it, so you do not have to back anything out; if you want to eat at 6:00 PM, set it for 18:00 hours and it will be ready.
You have four or five different kinds of rice on hand – jasmine, basmati, brown, sprouted, wild, etc.
And you can quickly make white rice for you and then make a batch of brown sprouted rice for the rest of the guests.
Also, you can make dried beans from scratch, and then freeze them or steel cut oatmeal, too.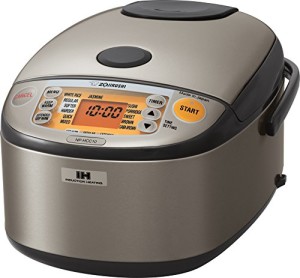 Check Price
White rice, brown rice, brown GABA function rice cooking, and porridge (congee, aroz caldo), all produce good results.
The ability to set a timer for a time to completion is handy. The unit is easy to clean. It seems expensive, but if it works for ten years or more.
And it alerts you when you are starting the cooker with a song, and when the rice is finished with a song.
It really does make a difference. You would not think a rice cooker could make such a big difference but it does and you will notice the consistency of each grain of rice. It costs a bit more than other cookers and brands but it is worth it.
You also have Zojirushi NP-GBC05-XT Induction Heating System Rice Cooker and Warmer, a 700-watt 3-cup rice cooker and warmer with Induction Heating technology.
As you may probably know, the capacity is measured in the approximate 180 mL rice measuring cup, using raw short grain white rice and in the case of other grains, it may vary.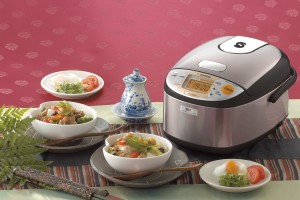 With a detachable and washable stainless steel inner lid, thick, spherical inner cooking pan, carrying handle, and detachable cord, Zojirushi NP-GBC05 Induction Heating Rice Cooker is a great kitchen appliance for singles and smaller families.
If you desire or want to make brown or wild rice and steel-cut oats on a regular basis, this thing will save you days of cooking in just a year's time.
Once you start eating steel-cut oats, you will never go back to the soupy, mush that is rolled oats.
The price is high, but it is comparable to having a good convection oven; the beauty is that you can put the ingredients into the rice cooker in the morning, and then have the grains ready for a meal prepared later in the day.
The menu settings include: white/mixed, sushi, porridge, brown, GABA brown, rinse-free and quick cooking.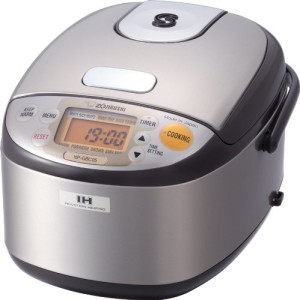 Check Price
It does a better job making rice than you can do the cooking on the stovetop, and it is much easier to make sure the rice is ready when you want due to the timer.
Despite the high price tag, this product is perfect for anyone who enjoys rice that is light and fluffy and perfectly cooked every time.
If you want to choose between Zojirushi NP-HCC10/18
Induction Rice cooker and Zojirushi NP-GBC05 Induction Heating Rice Cooker, you should know that NP-HCC10/18 model has a capacity of up to 5.5 or 10 cups, while NP-GBC05
up to 3 cups.
You have a lot of menu settings with Zojirushi NP-HCC10/18 Induction Rice cooker such as white rice regular, white rice softer, white rice harder, jasmine, mixed rice, sushi rice, porridge, sweet rice, brown rice, rinse-free rice etc.
Both units have melody signal, timer and clock, LCD display, nonstick inner cooking pan, spherical pan and heating system, detachable inner lid and automatic keep warm setting.
Zojirushi NP-HCC10/18 model also has extended keep warm setting, while the NP-GBC05 model has a detachable power cord.
Last but not the least, Zojirushi NP-HBC18 Rice Cooker with Induction Heating System has a larger capacity than the above presented units; it is 10-Cup rice cooker and warmer with micro computer technology.
With superior induction heating evenly distributes heat for excellent results, you have the possibility to select the Extended Keep Warm Mode for keeping rice warm for more than 12 hours.
You can choose from multi-menu settings when starting cooking: white rice (regular, softer or harder) sushi, mixed, porridge sweet, GABA brown, brown quick cooking.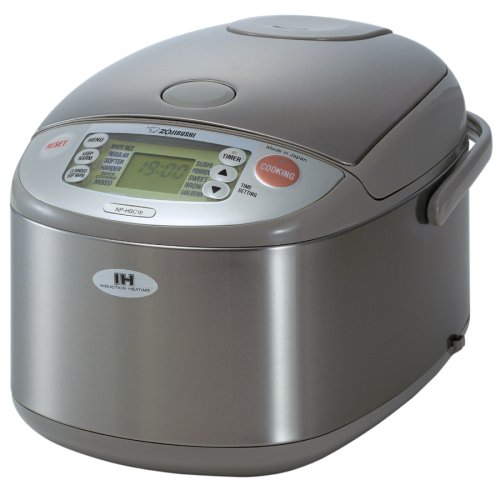 The menu is simple but offers plenty of choices. The inside bowl is heavy and made of stainless steel and has deep and clear marking to help you add the right amount of water without having to use cups.
Maybe the cooker does take twice as long as other cheap rice cookers, but the ensuing taste is worth the wait.
Without a doubt, the machine is beautiful. If you really want to eat great rice every time and can afford the price, this is your best choice.
The melodies are a bit of a nuisance, but you would not hear them over your dishwasher, so that is quite all right.
The instruction manual has a limited set of recipes, but you should consider "The Ultimate Rice Cooker Cookbook" in order to give you some ideas you may have not even thought about using this machine for; it is proved an invaluable resource to have with this cooker.
This cooker is good at what it is meant to do: it cooks rice perfectly every single time, and keeps it warm for more than a day at a stretch.
If you need rice quickly, you may get a pressure cooker, or a cheaper rice cooker.
All you have to do is put in the ingredients, to press the start button on the machine and then, to take the food out when it is done for delicious meals; this is perfect for a busy stay at home and working mom.
Conclusion
If you want to purchase a Zojirushi induction rice cooker, this is the perfect occasion to see how different seem to be Zojirushi NP-HCC10/18 Induction Rice cooker, Zojirushi NP-GBC05 Induction Heating Rice Cooker, and Zojirushi NP-HBC 10/18 Induction Rice Cooker.
Consider all their features and included accessories before deciding which rice cooker is great for you and your family.
Comparison Table
| Model | Zojirushi NP-HCC10/18 Induction Rice cooker | Zojirushi NP-GBC05 Induction Heating Rice Cooker | Zojirushi NP-HBC 10/18 Induction Rice Cooker |
| --- | --- | --- | --- |
| Capacity | Up to 5.5 or 10 cups | Up to 3 cups | 10-Cup rice cooker and warmer |
| Color | Stainless Dark Gray | Stainless and Stainless Dark Brown | Stainless Steel |
| Interior | Non-stick interior | Non-stick interior | Non-stick interior |
| Exterior | clear-coated stainless steel exterior | easy-to-clean clear coated stainless steel exterior | easy-to-clean clear coated stainless steel exterior |
| Detachable inner lid | Yes | Yes | Yes |
| Display | Orange LCD display | Orange LCD display | Easy-to-read LCD control panel |
| Programmable Timer | Yes | Yes | Yes |
| Cord | Non-detachable cord | detachable power cord | N/A |
| Automatic Keep Warm | Yes | Yes | Yes |
| GABA brown | Yes | Yes | Yes |
| Acoustic signals | Yes | Yes | Yes |
| Weight | 8 ounces | 9 pounds | 8.8 pounds |
| Dimensions | 11.8 x 9.1 x 7.5 inches | 14 x 10 x 8 inches | 11.8 x 9 x 7.5 inches |
| Spherical pan and heating system | Yes | Yes | Yes |
| Menu settings | white/mixed, sushi, porridge, brown, GABA brown, rinse-free and quick cooking | white rice (regular, softer or harder), jasmine white rice, mixed rice, sushi rice, porridge, sweet rice, brown rice, GABA brown rice and quick cooking | white/mixed, sushi, porridge, brown, GABA brown, rinse-free and quick cooking |
| Accessories | rice measuring cup, nonstick rice spatula and spatula holder | rice measuring cup, rinse-free rice measuring cup, nonstick rice spatula and spatula stand | spatula, spatula holder, and rice-measuring cup included |
| Price | Check Price | Check Price | Check Price |