2 Zojirushi Induction Heating Pressure Rice Cookers Comparison
Have you heard about Zojirushi induction heating pressure rice cookers and are you interested in purchasing such a unit?
What about comparing two great cookers?
If you want to see the differences between Zojirushi NP-NVC10/18
and Zojirushi NP-HTC10
, now you can find out more about these kitchen appliances.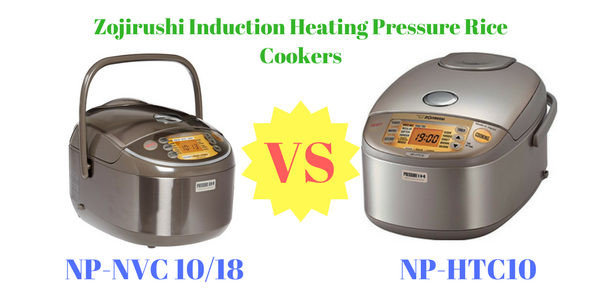 Any buyer should know what he or she is going to buy; when it comes to Zojirushi induction heating pressure rice cookers, you may want to find which model fits your cooking needs.
Let's see what can do these Zojirushi rice cookers.
Purchasing one of the Zojirushi NP-NVC10/18 models, you are going to discover Zojirushi's top-of-the-line Induction Heating Pressure Rice Cookers and Warmers; these models include pressurized cooking and AI (Artificial Intelligence) in order to cook perfect rice.
With Zojirushi NP-NVC10/18, you have multi-menu cooking functions that include settings for white, mixed, sushi/sweet rice, porridge, brown, GABA brown and quick cooking.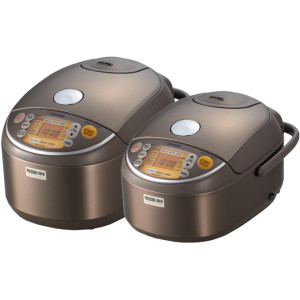 Umami setting is good for soaking and steaming time in order to get a better rice, while steam-reduce setting reduces steam to 50-percent of regular setting and scorch setting toasts rice to a crispy golden brown, ideal for special dishes.
Such units are worth and more for their juicier, thoroughly cooked rice because this could save cooking time.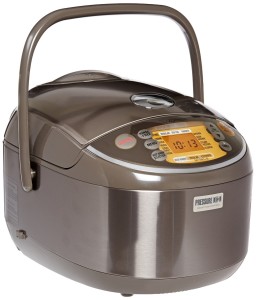 Check Price for Zojirushi NP-NVC18
The pressure cooker may be the only one that comes out glutinously in rice cooking. And different grains such as sweet brown or mixture in whole barley can be cooked as well as plain rice; money definitely worth spending for them.
Pressure induction heating uses inductive magnetic coils provided in the walls of the cooker that can induce eddy currents in the rice pot and cook your rice same as an inductive coil stove.
In pressure induction heating, with multiple inductive rings surrounding the pot, there is far greater evenness in cooking and with that control comes better taste and texture! Once you try pressure IH, there really is no going back.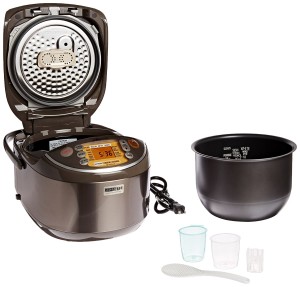 There are many settings for the different types of rice you might like. Rice is no longer hard, but instead soft and somewhat mushy, yet not overcooked.
This is true for any type of rice from plain white rice to jasmine to brown GABA rice. It is hard to articulate how much better the rice tastes, but the texture is almost like porridge.
The differences between Zojirushi NP-NVC10
and NP-NVC18
refer to the capacity (up to 5.5 cups / 1.0 liter vs. up to 10 cups / 1.8 liters), dimensions (W x D x H 10-1/8 x 15-3/8 x 8-5/8 inches vs. 11-1/8 x 16-1/2 x 10-1/8 inches) and electrical rating (120 volts / 1,240 watts vs. 120 volts / 1,370 watts).
This model of Zojirushi NP-HTC10 Induction Heating Pressure Rice Cooker is a 1230-watt 5-1/2-cup rice cooker and warmer with induction heating technology.
With LCD control panel, clock and timer, keep-warm mode and end-of-cycle signal, this Zojirushi NP-HTC10 has a vacuum-insulated inner cooking pan for efficient heating and detachable and washable inner lid.
Pressure-control valve, spatula, spatula holder, and 2 measuring cups are included when you buy this Zojirushi induction heating pressure rice cooker.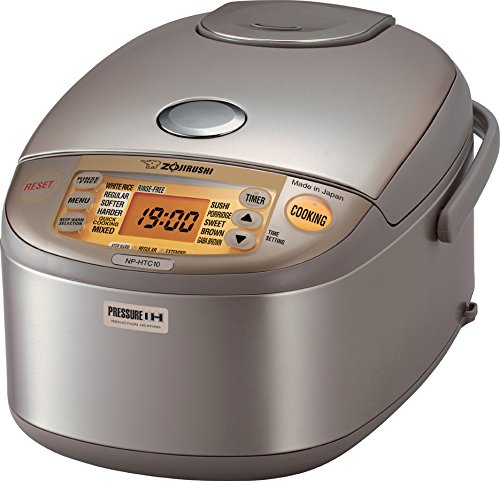 This unit makes delicious brown and the brown rice is the best that can be made as long as it is washed, as you should do with all rice.
What is nice with this particular model is that Zojirushi NP-HTC10 is induction based and this means that the inner vessel heats up evenly and cooks rice in the best possible even manner while the outside is cool to the touch throughout the process.
The unit applies pressure while it cooks, and so the process is more efficient than the lesser priced models.
The rice cooker does a wonderful job of cooking rice the way it is supposed to be done; it is easy to program, easy to cook and easy to clean.
The additional features both makes it faster and everything from rice to grains cooks faster and you get the same excellent result as with the original fuzzy logic.
If you and your family only occasionally eat rice, this is not the rice cooker for you, and you should buy something a lot less expensive.
If you eat rice more than once a week, it is definitely worth it. And also, if you can spare the high price for this cooking device, do not even consider looking at any other technology or manufacturer; this one will not disappoint you.
3. Differences
On the one hand, you have Zojirushi NP-NVC10
which measures 15.4 x 10.1 x 8.6 inches and has all the useful features of Zojirushi NP-HTC10
.
But there are some improvements and these are: a reheating cycle for heating leftover rice and a platinum-infused non-stick coating that can be used to alkalize water and so, it is easy for it to absorb rice.
Also, you can cook Umami rice with it too. With the scorch feature, you can obtain rice with a crispy texture, while the steam-reduce feature reduces steam by 50%.
One the other hand, the NP-HTC range which includes both 5.5-cup and 10-cup rice cookers utilizes pressure cooking which is exactly what needs a perfect cooked grain of rice.
It is 14-3/16 by 9-7/8 by 7-7/8 inches in dimension and can keep rice warm for 12 hours and beyond using the extended warm setting.
Also, it has a spherical inner pan with non-stick coating and a detachable and washable inner lid.
4. Conclusion
With integrated heating technology, these rice cookers give you the best quality of rice.
If it comes to choosing between the two units, you can go for the Zojirushi NP-NVC10
which is the one with additional features and a reheating mode which can heat leftover rice.
At the prices at which they are available, certainly, you are going to make a great investment with either of the two.
And, Zojirushi NP-NVC10/18 is only for people who are interested in the sophistication and numerous functions of a rice cooker, but it can get complex for those who prefer simpler functions; but for the last ones, the solution could be Zojirushi NP-HTC10
.
5. Comparison Table
Model
Zojirushi NP-NVC10/18
Zojirushi NP-HTC10
Capacity
Up to 5.5 or 10 cups
5-1/2-cup rice cooker
Color
Stainless Brown
Stainless Brown
Interior
Non-stick interior
Non-stick interior
Exterior
Platinum Infused Nonstick Coating
clear-coated stainless-steel exterior
Detachable inner lid
Yes
Yes, detachable and washable inner lid
Display
Color LCD
LCD display
Programmable Timer
Yes
Yes
Cord
N/A
N/A
Automatic Keep Warm
Yes
Yes
GABA brown
Yes
Yes
Acoustic signals
Yes
Yes
Weight
13 pounds
12.9 pounds
Dimensions
15.4 x 10.1 x 8.6 inches
14-3/16 by 9-7/8 by 7-7/8 inches

Extended
Keep Warm and Reheating Cycle

Yes
Only Extended Keep Warm
Power
120 volts 1240 watts
120 volts / 1230-watt
Menu settings
white (regular, softer or harder), umami, mixed, sushi/sweet,
porridge, brown, GABA brown, steam-reduce, scorch, rinse-free and quick
cooking
white (regular, softer, or harder), mixed, sushi, porridge,
sweet, brown, GABA brown, rinse-free, and quick cooking
Price
Check Price
Check Price