Weleyas Portable Induction Cooktop helps you discover induction cooking for fast and delicious dishes!
If you consider buying a Weleyas Portable Induction Cooktop, you have two options: Weleyas Multifunctional Portable or Weleyas Portable 1800W Gold.
Either of them will fit perfectly in your kitchen and will provide you efficiency and reduce your cooking time. But, however, you should determine which one is better for your needs and which are the differences between them.
At a first view, the two cooktops seem very similar, but there are some specific aspects in terms of design and functionality that you should pay attention.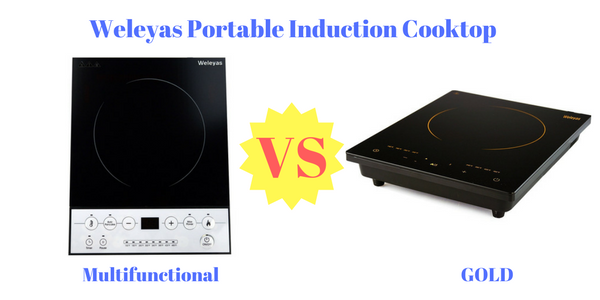 Consider all the information below if you want one of these units in your cooking space.
1. Controls
Weleyas Portable 1800W Gold has easy to clean and sensor touch controls. No worry about buttons that fall apart or get sticky and stuck.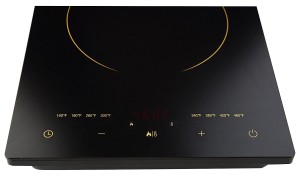 Full glass touch sensor control design makes you control it easily by slightly tapping. The Pause function is perfect whenever cooking is interrupted.
Weleyas Multifunctional Portable comes with a portable, light weight and modern design with silver control panel with blue LED and push buttons.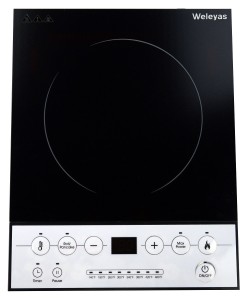 LED blinks for indicated temperature, and for reached temperature, LED will become solid.
It is perfect for easy handling and storage and suitable for BBQ, camping, and other outdoor activities.
Both units have a built-in count-down digital timer that provides 1-minute increments up to 180 minutes.
The timer function helps you cook food precisely: when setting a timer, the power level and the left time will show alternately.
2. Surface
The cooking surface is a crystal plate surface easy to clean. Cookware bottom diameter should be no less than 10 cm (4″) or more than 22 cm (8.7″) in order to work correctly.
3. Heating Elements
Both induction cooktops have one single burner.
You need to have induction compatible cookware as these units are compatible with induction ready cookware such as stainless steel with a magnetic bottom, or cast iron.
You will get 9 power levels (P1-100W; P2-300W; P3-600W; P4-800W; P5-1000W; P6-1200W; P7-1400W; P8-1600W; P9-1800W) and 8 temperature levels (F1-140°F; F2-180°F; F3-260°F; F4-300°F; F5-340°F; F6-380°F; F7-420°F; F8-460°F).
4. Power/Watts
The maximum power level is 1800W for safety as considering US standard voltage is 110V, when the power level is higher than 1800W, it may damage your plug and may cause a fire.
The electrical requirements are 120V / 60Hz AC.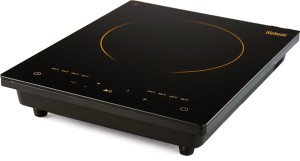 Check reviews of Weleyas Portable 1800W Gold at Amazon
5. Sensors
Each of this induction cooktop provides auto-pan detection: when moving the cookware from the cooktop, heating is stopped, be beeping and to be off after 30 seconds.
6. Ventilation
Weleyas induction cooktops are designed with air vents for preventing overheating of electrical components.
When the unit is off, the fan may continue running until the temperature of the induction cooktop is below 120°F.
7. Safety Features
With 1 year of warranty, the cooktops are equipped with diagnostic error message system, low and high voltage warning system.
ETL approved, the units will beep for approximately 30 seconds, error code E0 will appear in the Display Window, and will shut off automatically if the induction cooktops have been turned on without a compatible pot in place.
Do not forget to never heat empty cookware as this will cause the unit to overheat, damage the cookware and/ or cause the unit to shut off.
8. Accessories
These induction cooktops are delivered with a power cord, a user manual, and a warranty certificate. Before using them, you need to read all the instructions provided by the manufacturer.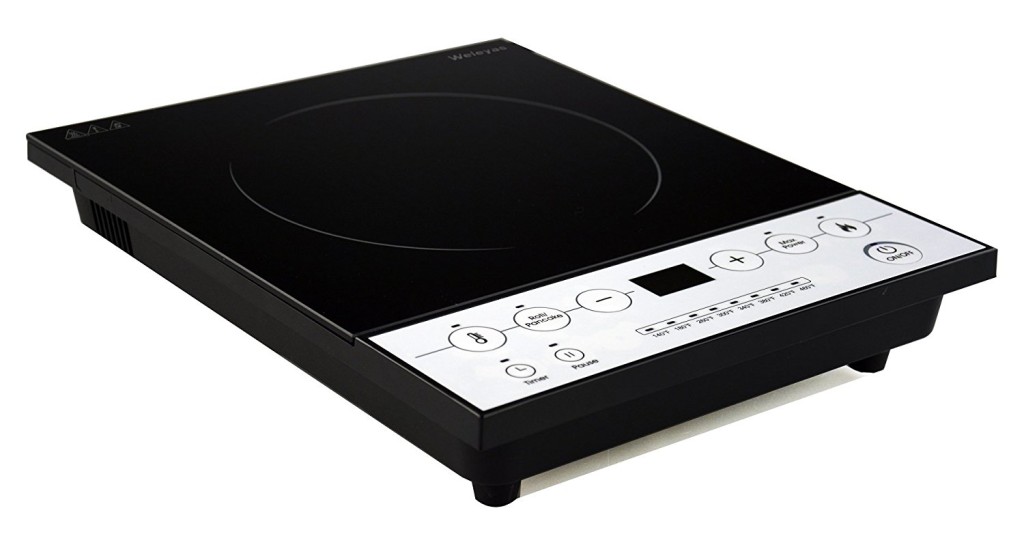 Check reviews Weleyas Multifunctional Portable at Amazon..
9. Dimensions
The dimensions of Weleyas Multifunctional Portable are:
10.6 x 13.4 x 2.4 inches
5.3 pounds
And for Weleyas Portable 1800W Gold:
16.3 x 12.6 x 4.5 inches
5.3 pounds
10. Pros
They are efficient products with style at an affordable price.
11. Cons
12. Consumer Ratings
There is no consumer rating of the two cooktops.
Consumers have not provided yet their feedback as these two models are recently launched on market; as soon as they discover these innovative burners, they will share their thoughts with other customers.
13. Price
The two units have almost the same price. Weleyas Multifunctional Portable has this price at Amazon
, while Weleyas Portable 1800W Gold has this price at Amazon
.
But, be sure that Weleyas stands for high quality and safe technology at the service of a healthy lifestyle.
14. Comparison table
Weleyas Portable 1800W Gold
Weleyas Multifunctional Portable
Destination Use
Indoor and outdoor use
Indoor and outdoor use
Design
Crystal plate surface, easy to clean and full glass touch
sensor control
Glass Screen with blue LED; Silver control panel, push button
Power Source
120V / 60Hz AC.
120V / 60Hz AC.
Output Power
1800W
1800W
Power Levels
Power levels: 9 (P1-100W; P2-300W; P3-600W; P4-800W; P5-1000W;
P6-1200W; P7-1400W; P8-1600W; P9-1800W)
Power levels: 9 (P1-100W; P2-300W; P3-600W; P4-800W;
P5-1000W; P6-1200W; P7-1400W; P8-1600W; P9-1800W)
Temperature Levels
Temperature levels: 8 (F1-140°F; F2-180°F; F3-260°F; F4-300°F;
F5-340°F; F6-380°F; F7-420°F; F8-460°F)
Temperature levels: 8 (F1-140°F; F2-180°F; F3-260°F; F4-300°F;
F5-340°F; F6-380°F; F7-420°F; F8-460°F)
Programmable Timer
Built-in count-down digital timer (1 min increments up to 180 min)
Built-in count-down digital timer (1 min increments up to 180 min)
Function Lock
No
No
Warranty
1-year warranty
1-year warranty
Acoustic Warnings
If the induction cooktop has been turned on without a compatible
pot in place, the unit will beep for approximately 30 seconds, error code E0 will
appear in the Display Window, and the unit will shut off automatically.
When moving the cookware from the cooktop, heating is stopped, be
beeping and to be off after 30 seconds.
If the induction cooktop has been turned on without a compatible
pot in place, the unit will beep for approximately 30 seconds, error code E0
will be appear in the Display Window, and the unit will shut off
automatically.
When moving the cookware from the cooktop, heating is stopped, be
beeping and to be off after 30 seconds.
Weight
5.3 pounds
5.3 pounds
Dimensions
16.3 x 12.6 x 4.5 inches
10.6 x 13.4 x 2.4 inches
Cord Length
N/A
N/A
Glass Cooktop Size
N/A, cookware bottom diameter should be no less than 10 cm
(4″) or more than 22 cm (8.7″) in order to work correctly.
N/A, cookware bottom diameter should be no less than 10 cm
(4″) or more than 22 cm (8.7″) in order to work correctly.
Safety Sensors
Equipped with diagnostic error message system, low and high
voltage warning system, auto-pan detection
Equipped with diagnostic error message system, low and high
voltage warning system, auto-pan detection
Induction Cookware Sensor
Yes
Yes
Induction Overheat Sensor
Yes
Yes
Glass Cooktop Overheat
N/A
N/A
Free pan
No
No
Price
Amazon Link
Amazon Link