Tiger JKJ-G10U IH vs Zojirushi NP-HBC10 IH Rice Cooker
If you have to decide between Tiger JKJ-G10U IH and Zojirushi NP-HBC10 IH Rice Cooker, definitely, you should consider the following information.
In this way, you will know the features of the two rice cookers and will compare the two products for choosing the one it fits better your cooking needs.
Those who want to buy a revolutionary rice cooker should have a look at these two units that will make delicious rice, but this is not all; you can prepare a variety of meals with these rice cookers and so, it will be a real pleasure to cook every day for you and your family.
1. Tiger JKJ-G10U Induction Heating Rice Cooker
Tiger JKJ-G10U Induction Heating Rice Cooker by Tiger Corporation is a 5.5 cups rice cooker with 1210W of high-power and induction cooking menu functions such as slow cooker and bread baking program.
Made in Japan, this rice cooker provides a multilayer ceramic coated inner pot; and it comes with stick spatula, ladle, and rice measuring cup.
Measuring only 14L x 8H x 10.2W and weighing only 9.3lb, the rice cooker has a five layer cooking bowl that is thick and heavy with a very high-quality nonstick finish.
The Teflon cooking bowl is very high quality and very durable. After many uses, you will not see any scratches in the Teflon surface.
You can try it with several kinds of rice: regular short-grain, arborio, jasmine, brown, and even sticky rice.
Every dish will turn to be better than when you make it in a regular pot on a burner. This rice cooker cooks rice quickly and cleans up easily. It is a well-designed machine with a handle that makes it easy to move around.
Certainly, it worth the price as the unit keeps the rice nice and moist for days. There are so many different things you can cook with it.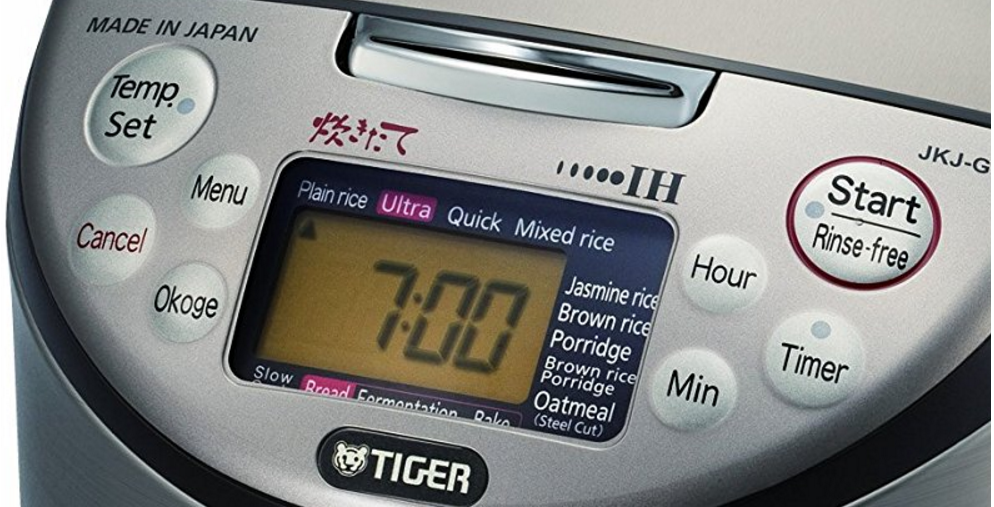 Most important is that you can take the lid off or apart to clean. Plus you can set a soak time of 10, 20, 30, 40, 50 or 60 min.
The instruction manual is clear and useful, with the operations being mostly intuitive. You can use the timer function to wake up every morning with delicious steel cut oats just waiting for you in the kitchen.
If you want to eat healthy brown rice dishes, this is the rice cooker to buy as all others only have a white rice porridge setting (yuck) and this is the only one that has a menu setting for steel cut oats.
2. Zojirushi NP-HBC10 IH Rice Cooker
On the other hand, you have Zojirushi NP-HBC10 Rice Cooker with Induction Heating System it is a 5-1/2-cup rice cooker and warmer with micro computer technology that provides superior induction heating evenly distributes heat for excellent results.
This 1230-watt rice cooker and warmer measures 14-3/16 by 9-13/16 by 7-15/16 inches. You can prepare various types of rice including white rice (softer, regular, or harder), mixed rice, sweet rice, porridge, sushi rice, and quick cooking.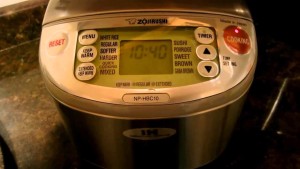 In addition, healthy cooking options include brown rice, GABA brown rice, and germinated brown rice.
Despite its features, you will discover a detachable and washable inner lid, an easy-to-read LCD control panel with clock and timer features, and automatic keep warm and extended keep warm, as well as a delay timer with two settings and a detachable power cord.
So if you are planning lunch, dinner, etc. do not forget about the rice. Just feel free to put the rice in early and simply let it go into the warming cycle to keep it ready to eat for whenever you are ready to serve the meal and have no fear about the quality of the rice, it will still be great hours or even days later.
For those of you who do not cook all kinds of rice, especially the non-white, this cooker is even more valuable because it cooks rice better than you can.
And, you can add vegetables and herbs to cook along. The Zojirushi is a great choice because of its great fuzzy logic brain and because of their build quality.
3. Differences
At a first sight, both rice cookers, Tiger JKJ-G10U IH and Zojirushi NP-HBC10 IH seem very similar when it comes to features and functionality.
But however, there are some differences between the two units. First of all, you have to deal with a product made in Japan and with another one made in China. So, if you have a preference, you have the possibility to choose from these two.
The inner pot of Tiger JKJ-G10U IH is a multi-layer ceramic coated inner pan. The inner pan has 5 layers of metal and 3 coatings.
Also, 2 heat-conducting coppers are applied to the metallic layers and cordierite ceramic and fluorine resin are applied to the coatings.
Definitely, Tiger JKJ-G10U IH is expensive (its price starts from – check on Amazon) but the main thing is the inner pot is solid.
Also, another important aspect reveals the fact that with Tiger JKJ-G10U IH, you can make bread and some delicious cakes.
The Zojirushi NP-HBC10 IH rice cooker has a 2-ply inner cooking pan and the induction heating system guarantees more evenly distributed heat to ensure perfectly cooked rice every time.
With this rice cooker, you can have various cooking functions including white rice (regular, softer, or harder), mixed rice, sushi rice, porridge, sweet rice, and quick cooking.
You get GABA brown setting or Brown Rice Activation that activates brown rice for increased nutritional values. But this time, you have an interchangeable melody and beep signal that indicates when the cooking cycle has ended.
Its "fuzzy logic" technology of MICOM fine-tunes the adjustment to adapt to various rice types, such as white, brown, sweet or porridge, which all have different cooking requirements despite the conventional rice cookers that simply turn on and off in reaction to temperature.
4. Conclusion
It may seem hard to make a decision between Tiger JKJ-G10U IH and Zojirushi NP-HBC10 IH Rice Cooker, but you should know that Tiger JKJ-G10U IH model is perfect if you were a serious short grain rice consumer and keen on the texture as it is easy to clean and you can be sure that you will not scratch the inner pot (both inside and outside).
Also, if you want a versatile unit also designed to make bread and cookies, here is your choice.
But if you can appreciate really well-cooked rice, and want a cooker that takes it up a notch, then this Zojirushi NP-HBC10 IH is recommended to you.
You are going to obtain rice dishes like the rice at a good sushi restaurant that crumbles in your mouth.
If rice is an important food to you, you cannot go wrong with this cooker as Zojirushi is a reputable brand, so from now on, you can count on many years of use.
5. Comparison table
| Model | Tiger JKJ-G10U IH | Zojirushi NP-HBC10 IH |
| --- | --- | --- |
| Made in | Japan | China |
| Capacity | 5.5-Cup (Uncooked) Rice | 5-1/2-Cup (Uncooked) Rice |
| Color | Black and stainless steel | Stainless steel |
| Interior | Multilayer ceramic coated inner pot with grip handle for easy carry | black, thick, spherical, inner cooking pan |
| Exterior | Black and stainless-steel exterior | clear-coated stainless-steel exterior |
| Detachable inner lid | detachable inner/outer lid and steam vent cap | a detachable and washable inner lid |
| Display | easy to read LCD control panel with multi-menu cooking functions | easy-to-read LCD control panel with clock and timer features |
| Programmable Timer | Yes, timer function | Yes, timer features: a delay timer with two settings |
| Cord | It does not have a retractable cord | a detachable power cord. |
| Automatic Keep Warm | N/A | automatic keep warm and extended keep warm |
| GABA brown | No | Yes, GABA brown rice |
| Acoustic signals | N/A | interchangeable melody and beep signal |
| Weight | 9.3 Lb | 10.8 Lb |
| Dimensions | 14L x 8H x 10.2W | 14-3/16 by 9-13/16 by 7-15/16 inches |
| Heating system | Induction Heating (IH) system | Induction Heating (IH) system |
| Menu settings | Lots of program options (for different kinds of rice, porridge, bread baking, and even use as a slow cooker), brown rice porridge setting, menu settings for slow cooking and baking bread | cooking functions including white rice (regular, softer, or harder), mixed rice, sushi rice, porridge, sweet rice, and quick cooking, healthy cooking options include brown rice, GABA brown rice, and germinated brown rice |
| Accessories | stick spatula, ladle, and rice measuring cup. | Accessories include a spatula, a spatula holder, and a rice-measuring cup. |