4 Best Stainless Steel Woks for Induction Cooktop with Reviews
Although you may consider that it is not necessary in your kitchen, you should know that a wok has numerous advantages over the frying pan, for example.
First of all, it gets to distribute heat more evenly, requires less oil, and ensures that food tossed during stir-frying lands back in the pan and not on the stove. This means that, it is hard to find a satisfactory substitute for a wok.
This versatile cooking vessel is a recent Chinese kitchen utensil as the first models dates from 200 BC to 200 AD (Han Dynasty).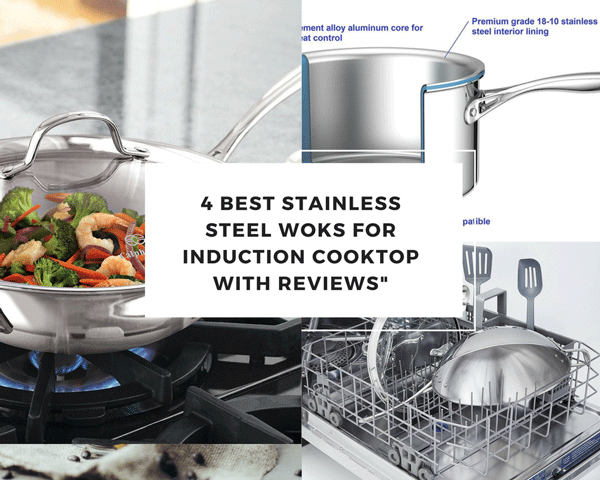 Their main advantage is that they can be used in a range of different cooking techniques, and this may includes steaming, stir frying, deep frying, pan frying, making soup, braising, boiling, searing, poaching, stewing, smoking and roasting nuts.
Smaller woks are typically used for stir frying, while large woks for cooking rice or soup, or for boiling water.
A wok can have a flat or a round bottom. Having a flat bottom, it makes it more similar to a deep frying pan. A flat bottom wok can be used on an electric stove, where a rounded wok would not be able to fully contact the stove's heating element.
If you have a round bottom wok, all you have to do is to take the traditional round spatula or ladle and start picking all the food up at the bottom and toss it around easily.
Also, the area at the bottom which allows some of the food to be seared by intense heat while using relatively little fuel is produced by its curved concave shape.
Here you have some example of woks that you should consider for your cooking tasks.
1. Cooks Standard NC-00233 Stainless-Steel Wok with Lid
Cooks Standard NC-00233 Stainless-Steel Wok with Lid
is a 13-inch wok made of 18/10 stainless steel with an aluminum core, solid stainless-steel riveted handles that stay cooler with air-flow technology and secure-fitting stainless-steel dome lid that traps in heat and moisture.
It is a dishwasher-safe and oven-safe wok to 500 degrees F. With a limited lifetime warranty, the pot measures 23 by 13-1/2 by 5 inches.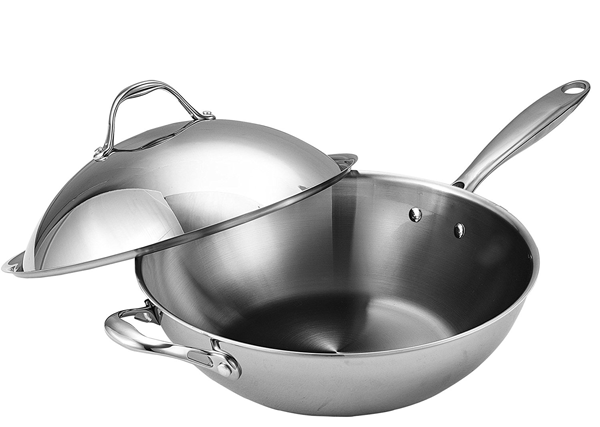 It can be used on all stovetop surfaces, including induction and cleans up easily by hand or in the dishwasher.
The lid is perfect in order to trap in heat, moisture, and nutrients, plus they come with loop handles for safe, simple placement or removal.
It can be used for deep fry, stir-fry, boil, or steam, especially with the large dome lid, very versatile.
It is designed with long handles and generous loop side handles on the pot that make the vessel easy to move around on the stovetop or to safely lift and carry, even when full.
Though the handles stay cooler to the touch, pot holders or oven mitts are still recommended.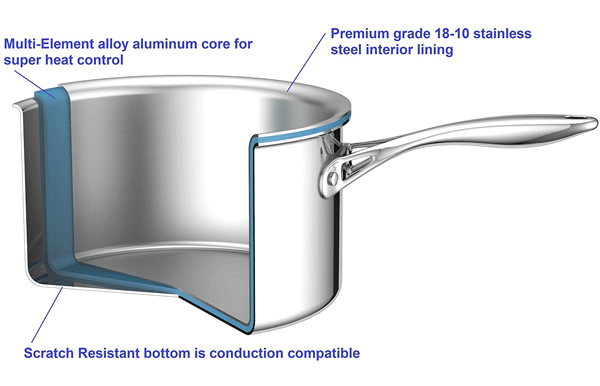 The size is perfect for a one person, or whole family meal. With a gentle change of angle of the interior bottom of the pan, it allows for the heat to spread evenly so you can overload the pan and the food along the sides will cook as evenly as the food at the bottom.
2. Calphalon Stainless Steel 1767726 12-Inch Wok with Lid
Our next recommendation is Calphalon Stainless Steel 1767726 12-Inch Wok with Lid
, a wok with elegant brushed stainless steel exterior that can go from the oven or stove directly to the table and a reflective cook surface that makes it easy to monitor foods as they cook and remains beautiful over time.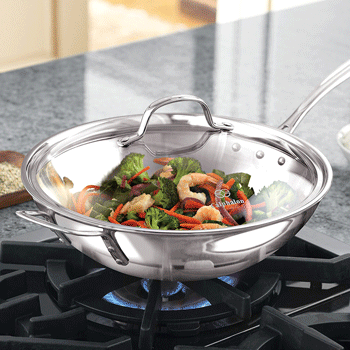 It comes with a clear tempered-glass lid that lets you see food while it is cooking and is oven safe, so you can finish covered dishes in the oven or keep them warm until ready to serve.
The long and brushed stainless steel handles stay cool on the stovetop.
With an aluminum core between 2 stainless steel layers, it provides even heating and this means excellent browning, but also exact control of the cooking process.
Non-porous stainless steel cooking surface is safe for use with all utensils.
In case you do not know, it is adapted from a traditional round-bottom wok, and being a flat-bottom wok, has a wide cooking surface ideal for stir-frying on gas or electric ranges.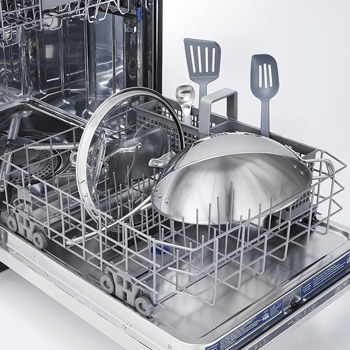 The domed cover is perfect for steaming and simmering soups.
The shape of this 2 1/2 qt pot is very practical: for 1 or 2 person portions, this 2 1/2 qt is just right.
Do not be surprised if you find it a bit heavy especially when it is full: this might be a concern for people with less strength.
3. All-Clad 4414 Stainless Steel Stir Fry / Wok
Another wok that you should consider is All-Clad 4414 Stainless Steel Stir Fry / Wok
, a 14-inch open stir fry pan with deep, sloped sides that are perfect for stir-frying vegetables or creating noodle dishes.
Made in the USA, this wok offers warp-resistant strength and dishwasher-safe convenience, plus it can be used on any cooktop, including induction.
Made in the USA, it has a 6.5″ diameter flat bottom. You can deep fry in it but it is a wok first and foremost.

Also if you are going to use this on a glass cooking surface make sure to polish the bottom surface to remove burrs from the engraving.
The product reflects a 3-ply bonded construction consists of durable stainless steel encapsulating an aluminum core for even heating throughout.
Having a highly polished cooking surface with starburst finish, it guarantees you stick resistance and easy maintenance, plus for sure, it will not react with food.
The sides of pot allow you mix and toss the ingredients without spills and keep meats and vegetables in the pan's center for easy incorporation of sauces and seasoning.
This wok has contoured stainless-steel handles permanently secured with stainless-steel rivets, capacity etched on base and a flat stainless-steel lid.
It is recommended to use an insulated glove on the small handle side, but there are many options to use. Whatever makes you the safest and most comfortable that will be best! Learn how to quickly cook a variety of meats and vegetables on its large surface area with this wok.
4. Mr. Rudolf LN-3290 Nonstick 12-inch Wok with Lid
And last but not least, Mr. Rudolf LN-3290 Nonstick 12-inch Wok with Lid
is designed for use on all conventional stove-tops, including electric, gas, induction stoves, ceramic and glass.
It is recommended to always select a burner that is suited to the size of the bottom of your cookware.
Try this superior cooking surface: the interior cooking surface uses the world's best GREBLON Non-Stick Technology Weilburger compound 3 layers nonstick coating.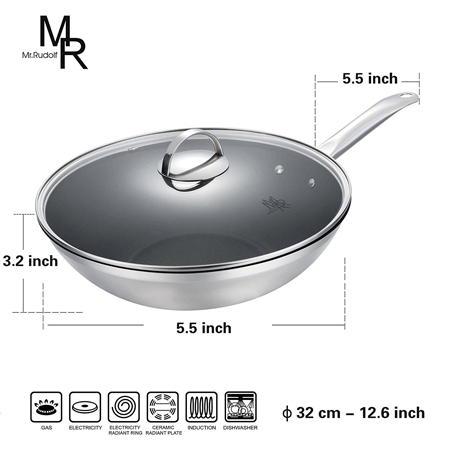 And the 18/10 Mirror finish stainless steel exterior surface does not discolor, react with food, or alter flavors.
With a triple-Ply construction aluminum encapsulated base, the wok heats quickly and spreads heat evenly and of course, eliminates hot spots.
Enjoy cooking with a comfortable stay-cool handle: it is a sturdy stainless steel riveted handle that allows for a comfortable and secure grip while stays cool when preparing food.
The clear tempered-glass flavor lock lid allows you see food while it is cooking and are oven safe, so you can finish covered dishes in the oven or keep them warm until ready to serve.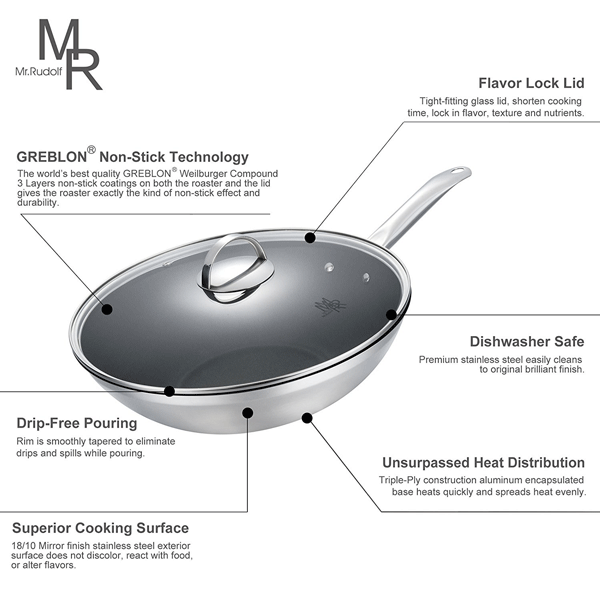 Being oven safe to 550 degrees F, the pot can be used on stove top, in the oven or under broiler; and it is freezer safe for easy storage.
The glass lid has a small hole for a thermometer or to release steam. Definitely, this is a very high quality: the wok looks very good and you can cook food and the food will not stick in the pot, you can sort of make soup but not too much soup. This pan is the perfect size to cook something small in.
5. Comparison Table
Brand
Cooks Standard NC-00233 Stainless-Steel Wok with Lid
Calphalon Stainless Steel 1767726 12-Inch Wok with Lid
All-Clad 4414 Stainless Steel Stir Fry / Wok
Mr. Rudolf LN-3290 Nonstick 12-inch Wok with Lid
Interior
a smooth, hard layer of premium-grade 18/10 stainless steel
non-porous stainless steel cooking surface
highly polished cooking surface, stainless-steel interior
the world's best GREBLON Non-Stick Technology Weilburger Compound
3 Layers nonstick coating
Exterior
stainless-steel exterior with an elegant mirror-polished
finish
elegant brushed stainless steel exterior
stainless-steel exterior
18/10 Mirror finish stainless steel exterior surface
Lid
secure-fitting stainless-steel dome lid traps in heat and
moisture
clear tempered-glass lid
No lid
clear tempered-glass flavor lock lid
Handle
solid stainless-steel riveted handles stay cooler with air-flow
technology
long, brushed stainless steel handle
contoured stainless-steel handles permanently secured with
stainless-steel rivets;
sturdy stainless steel riveted handle
Dimension
23 by 13-1/2 by 5 inches
22.9 x 14.5 x 4.8 inches
24.8 x 14.1 x 3 inches
20.4 x 13.7 x 4.7 inches
Dishwasher safe
dishwasher-safe
dishwasher safe
dishwasher-safe
dishwasher-safe
Oven safe
oven-safe to 500 degrees F
oven and broiler safe
oven- and broiler-safe up to 600 degrees F
oven safe to 550 degrees F
Weight
7.6 pounds
8 pounds
5 pounds
5.2 pounds
Warranty
limited lifetime warranty
full lifetime warranty
limited lifetime warranty
N/A