7 Best Full Stainless Steel Rice Cookers with Reviews – Essential Guide
Why a stainless steel rice cooker?
There are a lot of reasons why you should consider purchasing such a kitchen appliance.
First of all, stainless steel is the healthiest choice for your rice cooking and steaming preparations.
It is true that non-stick finishes like Teflon and Silverstone get to scratch easily and may release little bits of inert plastic into the food when cooked, as well as toxic fumes over high heat.
Choosing a stainless steel rice cooker, you have the certitude that this material will not react with the food that is cooked and in contact with its surface; this is possible although the food is acidic, and as you may intuit, stainless steel is, therefore, the safest and cleanest cooking surface available.
Try a stainless steel rice cooker and you will have the perfect rice dish at the touch of a button.
It might be hard to find best rice cookers, but here you have an essential guide with the best 22 stainless steel rice cookers with reviews.
Be sure that a stainless steel rice cooker is a good investment that will last you for years to come.
Full Stainless Steel Rice Cooker
1. Tatung
Tatung TAC-06KN Stainless Steel Rice Cooker
What about TATUNG 6 Cup Stainless Steel Multi-Functional Rice Cooker and Steamer Model TAC-06KN (UL)?
The appliance is a multi-functional unit capable of steaming, stewing, and simmering. It is great for cooking white, sweet, and brown rice and also provides a keep warm option. It is easy to clean, works wonderful and steams anything from meat to fruits, veggies, beans, etc.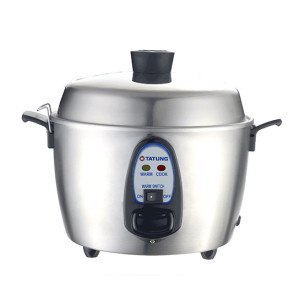 It is made from safe stainless steel, instead of aluminum; and you will love the fact that it cooks the rice evenly because of the water around the container that serves to evenly heat the rice all around rather than only from the bottom.
Measuring 10.8 x 10.8 x 10.9 in and weighing 7.1 lbs, this product is not just a rice cooker, as you can choose a host of other foods that it cooks to perfection as well.
It is simple, durable, and stainless. There is no other rice cooker can do a better job than Tatung rice cooker; you can use it to cook or steam almost everything, and even to boil eggs.
It is made by a famous company in Taiwan and has multiple functions (rice, porridge rice, steamer). The Tatung cup is about 5 ounces in volume.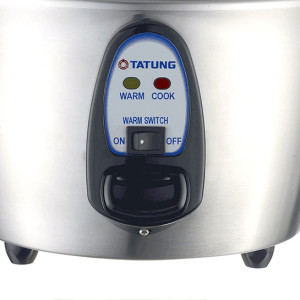 This unit has great built quality, cleans up easily and cooks very fast. You even use it to cook soups.
Just follow the instructions and it works wonderfully. Also, consider the fact that if your rice is not cooked to your satisfaction, try to add a little more water to the pot and depress the cook button.
Other than cooking rice, Tatung can also use as a steamer, boiler. In order to eat healthier, having a rice cooker with steam function is very useful.
Because it uses steam to cook the rice, you can definitely steam-cook or reheat many other foods. If you consider that the stainless steel version is too pricey, you can pick the regular version.
The all-stainless design looks sleek simple, yet a bit pleasantly retro. You have no fancy electronics, no specialized cooking settings, just a switch and a warmer with on and off button. It is built to last a long as time versatility and reliability of such machines seems amazing.
This unit is 110 volts for use in US only.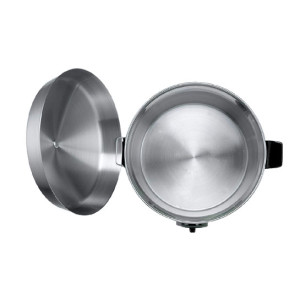 The inner pot and exterior are stainless steel. When steaming, the inner pot is replaced by a stainless steaming plate that sits inside the cooker.
Items can be placed directly on the plate or in a bowl or plate on top of it. With Tatung TAC-06KN Stainless Steel Rice Cooker, you get a 1-year parts and labor warranty.
2. Oyama
Oyama CFS-F18B Stainless Steel Rice Cooker
This Oyama CFS-F18B 10 Cup Rice Cooker, Stainless Black provides all stainless steel cooking surfaces, a stainless steel steamer tray and a 3-dimensional heating (base, side, and lid).
With keep warm function and cooking bowl with a triple layered base for uniform heating without burning, you get the perfect rice every time.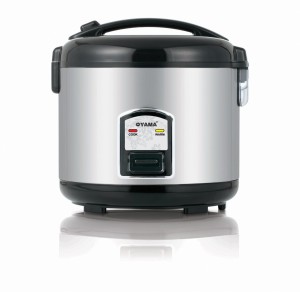 This cooker is designed for people looking to cook meals without chemicals from non-stick material possibly leaching into their foods.
The stainless steel steamer tray can be used to steam vegetables, meats, and poultry or any other foods that can be steamed and cooked.
The 3-dimensional heating enables this rice cooker to keep warming past the normal 12-hour limit up to 24 hours.
Its dimensions are the following: 12 x 10 x 11 inches and 7 pounds.
This cooker is rated for 120V only. Made in China, the rice cooker has a capacity of 10 cups, perfect for large families (it makes 20 cups).
Also, it is very easy to clean and never sticks to the bowl and it looks brown and white rice perfectly. And yes, it has a stainless steel inner bowl.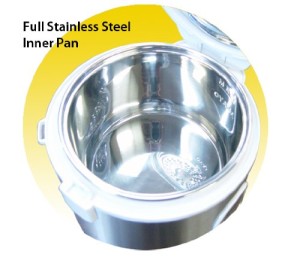 You can always cook less rice with this cooker (2 to 4 cups), and you will still have the advantage of cooking for more people if needed.
It has a gasket and it is not removable but, it is so easy to clean; and this cooker is amazing, is worth the price. It is great for rice or brown rice, it should work for the other wheat related grains such as bulgur, millet, faro, etc., so long you made the adjustment of water you need to each.
It does not stick, but you can add a little olive oil if you do have some sticking. Sticking usually occurs when there is too much starch in the rice. And you can cook porridge.
This rice cooker does not have an off button. You will need to unplug before the rice gets too dry. If you eat a lot of steam rice, this one is the one.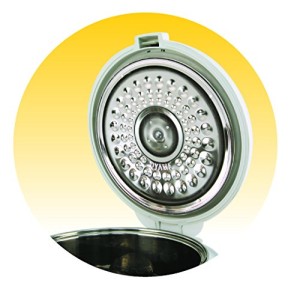 It makes excellent rice and the cooking time is fast; it may take only about 15-20 minutes to cook.
Also, it looks nice and classy in any kitchen. This product is recommended for anyone who wants to cook perfect rice, fast, efficient and great tasting every time. With only one button and two modes (cook and warm), this is really simple to use.
3. Elite Platinum
Elite Platinum EPC-808SS Stainless Steel Rice Cooker
What about a rice cooker with a 19-multifunction menu?
Try Elite Platinum Electric Pressure Cooker – 13 Multifunctions with 8 Qt. Tri-ply Stainless Steel Inner Pot and prepare yourself for the following cooking options: Reheat, Brown Rice, White Rice, Wild Rice & Grains, Vegetables & Fish, Desserts, Potatoes, Pork & Ribs, Chicken, Beans, Stew, Beef, Soup, and Browning/Keep Warm.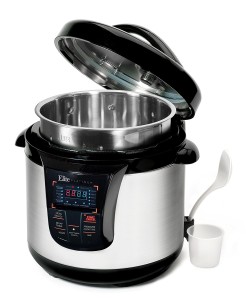 With attractive brushed stainless steel housing with removable non-stick 8-quart interior cooking pot for fast and instant cleanup, Elite Platinum EPC-808SS Stainless Steel Rice Cooker guarantees delicious and nutritious food in half of the time.
With the automatic resumption of cooking when power is restored after a power failure, you prevent a brief power outage from ruining your meal.
Also, you get a 29-hour delay timer that allows you to program cooking to begin at a later time and programmable pressurized cook time from 0-99 minutes for customized cooking.
With a convenient browning function, you can pre-brown meats in the same pot prior to pressure cooking.
For great cooking sessions, the Elite Platinum Electric Pressure Cooker is provided with a detachable electric cord for easy storage, measuring cup, a stirring spoon, spoon holder, and a complete instruction manual with recipes.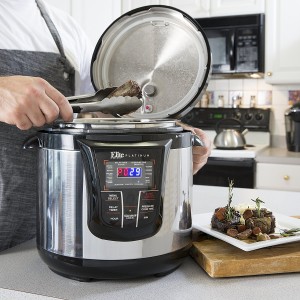 The 8 qt. Stainless Steel Inner Pot will give countless years of service and pleasure if properly cared for.
When cooking rice, this pressure cooker will save up to 20% of the electricity and over 15% of the time when compared to a conventional rice cooker. Also, it saves more than 40% of time and more than 45% of power as compared to a conventional slow cooker.
The maximum power is 1200 Watts; it weighs 15 lbs. and measures 12″ x 12″ x 12″, 14″ x 14″ x 14″ including handles.
This rice cooker is quiet, efficient, loaded with features, and digitally operated and so, you have a superior machine that will revolutionize your kitchen with its convenience and ease of use.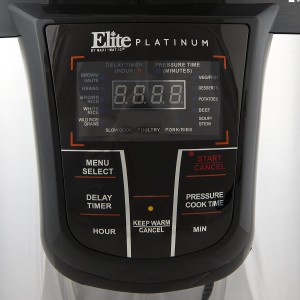 It is prohibited to use an extension cord, power adapter or other electric devices with this appliance.
Designed to make your life easier, this rice cooker is a very well made product which is easy to use; it guarantees you shorter cook times and tender and flavorful meals.
Made in China, this rice cooker will change your life forever; this is all you need in your kitchen as this takes no effort to cook with and you can also use this as a slow cooker.
4. Miracle
Miracle Stainless Steel Rice Cooker ME81
Certainly, you should consider Stainless Steel Rice Cooker Model ME81 (Formerly ME8) – by Miracle Exclusives before deciding which rice cooker fits your daily needs.
With stainless steel (grade 304) cooking bowl, stainless steel vegetable steamer tray and measuring cup and rice paddle included, you get a perfect unit.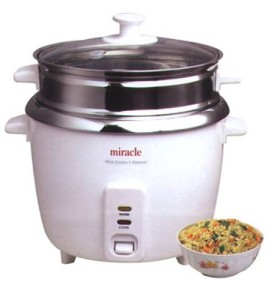 The glass lid allows you to view the rice while cooking, while Automatic Cook to Warm Mode guarantees you foods at the right temperature after finishing cooking.
This rice cooker has a weight of 3.97 pounds and measures: depth 9.5″, width 8.67″, height 7″. It is listed UL Approved, rated at 110 V / AC / 60Hz, with a maximum power of 500 W. It is made in China and comes with a 1-year warranty.
The inner bowl allows for water or rice up to a maximum of 8 cups which will yield 12 cups of rice when cooked, while the minimum amount you can make is 2 cups. Be sure you put the dry rice in the bowl first (for example, 3 cups) and then add water up to the 3 cup line stamped into the inner wall of the bowl.
For operating this rice cooker, you should know that there is one button; the other 2 things are lights that light up for cooking or warming. When you push the button down it puts the cooker in the cooking mode. When you push it up, it is in the warming mode. The warm function will remain on until you manually click it off. If the cooker is off and you want to keep the rice warm, then just click on the warm button.
This rice cooker is stainless steel with a glass top which really makes sense. It is pretty easy to clean and has a stainless steel veggie pan that fits on top, so you can cook both the rice and veggies together.
The instructions for this cooker suggested using the tray and that elevates the lid air hole above the spatter so the counter now stays clean and dry.
This Miracle rice cooker is designed like all basic rice cookers, with just an automatic cook or warm switch; when the bowl temperature exceeds 212F/100C, it auto-switches to warm. It makes the rice fluffier and so, you should try cooking brown rice, basmati rice, white rice, sushi rice, and you will never have an issue.
5. Lotus Foods
Lotus Foods 708953201009 Stainless Steel Rice Cooker & Steamer
If you want a Lotus Foods Stainless Steel Rice Cooker and Steamer, 12 Cup Capacity, you should know that you can purchase 12 cup capacity rice cooker with 100% stainless steel cooking pot and steaming tray.
It is known that stainless steel preserves flavor and nutritional value, does not absorb odors, is non-reactive, and will not tarnish or rust.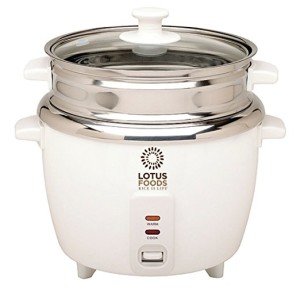 It is sure that your rice and vegetables only come in contact with a stainless steel cooking surface.
Consider the fact that it is one of the few stainless steel rice cookers available on the market. The rice cooker has a 1-year warranty and you should make sure that you fill out the warranty card and mail it to Lotus Foods; just retain proof of purchase as a backup.
Surely, to prepare rice in rice cooker is more convenient and requires less attention, but does take slightly longer (a few minutes). Regarding the cooking time, white rice varies between 10 minutes and 25 minutes, and whole grain rice varies between 20 minutes and 50 minutes.
With the steamer, you can steam vegetables, fish, tamales, reheat frozen foods (a great way to avoid using a microwave), soften tortillas, etc.
It is important to know that when the rice cooker has completed cooking it switches to a warm mode, which will maintain heat at a lower temperature. And in order to avoid burning or to turn the cooker completely off, unplug from outlet completely.
This rice cooker is delivered with stainless steel inner cooking pot and steaming tray, glass lid and rice paddle.
Once using this appliance, rice and water need to be put into the stainless steel pot which rests on the heating element. Then, the pot is covered, the switch turned to cook; when the rice is done, the switch flips off, the light switches to warm. With a 12-cup capacity for cooked rice, it does work well for small quantities and large ones too.
By the way, the unit is constructed well and looks pretty good and the stainless steel parts are not cheap pieces. In case you are interested, the steaming tray holds enough for a couple people to eat a lot of vegetables (or whatever you steam).
Made in China, Lotus Foods 708953201009 Stainless Steel Rice Cooker & Steamer cooks delicious fluffy rice although it does not have a non-stick coating. If you add a little oil to the rice when cooking, it will not burn on the bottom.
6. Fujitronic
Fujitronic FR-168S Stainless Steel Rice Cooker
Discover Fujitronic FR-168S Stainless Steel Rice Cooker, a 10-cup stainless steel rice cooker with stainless steel inner pot and outer shell.
So, you get a multi-function rice cooker as it allows you to cook steam rice, porridge, and soup. All you have to do is to simply add rice and water, and then press down the level to operate.
With the automatic keep-warm function, you can maintain a perfect serving temperature. You also have a rice cooker with a removable non-stick inner pot for easy clean-up and outer shell.
The coating of the pot prevents rice from sticking and ensures a quick clean-up. Measuring 11.4 x 11.4 x 12.1 inches and weighing 6.6 pounds, you can be sure that the unit will not occupy too much space.
You will see that not too dry, not too sticky, perfect rice is ready with just a push of a button using the Fujitronic FR-168S rice cooker!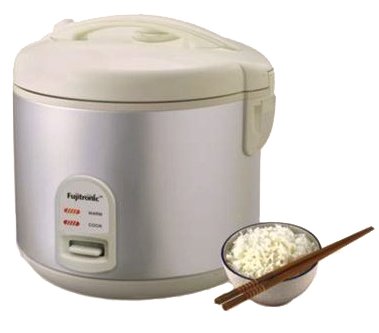 This great looking electric rice cooker makes 10 cups of steamed rice, porridge, or soup in no time and includes 1-year manufacturer's limited warranty. It features a stylish compact stainless steel construction.
Its maximum power is 700 Watts and the unit is rated at 120V / 60Hz. The manufacturer recommends that users do not keep rice warm for over 2 hours in order to ensure fresh edible rice.
Using the easy-to-use one-touch controls which, all you have to do is to add the rice and water and to turn it on after closing the inner pressure lid for delicately cooked rice.
Choose to cook a variety of dishes like rice, porridge, and soups with this Fujitronic FR-168S Stainless Steel Rice Cooker; all you want to eat can be cooked with this appliance.
Do not forget to use the keep-warm function, which automatically keeps rice warm and delicious after cooking and so, your dinner will be ready in any instant.
Fujitronic FR-168S Stainless Steel Rice Cooker has a built-in handle on top and this makes easy to open and close the rice cooker. Such a unit is a must in any kitchen, and be sure you purchase this rice cooker and you will have no regrets.
7. Tayama
Tayama TRSC-10 10 cup Stainless Steel Rice Cooker
Tayama 10 Cup Stainless Steel Rice Cooker is a great choice for those who are looking for a fantastic rice cooker that will allow them to cook long, short, white, brown, sushi, sticky and each little grain fluffing perfectly.
This unit is rated at 120 V 60 Hz, while the maximum power is 700 watts.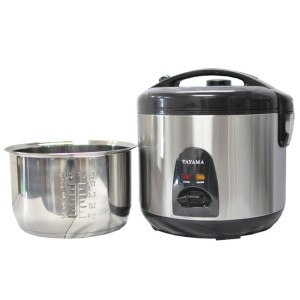 With an elegant round shaped cool-touch body, the rice cooker provides a durable and long lasting stainless steel inner pot and steamer.
You get also a unit with transparent moisture drip panel that guarantees you great rice every time. With convenient detachable cord and steam release hole, Tayama TRSC-10 10 cup Stainless Steel Rice Cooker ensures what you may need when it comes to rice cookers.
If you decide to buy this rice cooker, you should know that this product is delivered together with a steam tray, spatula, measuring cup and stainless steel inner pot.
Its ergonomic design fits any kitchen and you should not be afraid that this product will occupy too much space on your countertop.
Although no non-stick coatings are used, the stainless steel cooking bowl has a triple-layered bottom for uniform heating avoiding the burning of the rice. And the dimensions of the product are the following: overall height – top to bottom 11", overall width – side to side 11", overall depth – front to back 11", and overall product weight 7 lbs.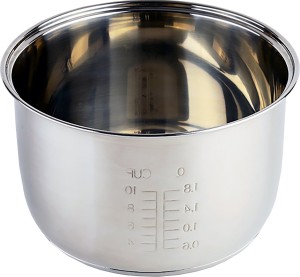 Purchasing the product, you can get 10 cups of uncooked rice and this means approximate 20 cups of cooked rice. Made in China, Tayama rice cooker has a removable pot. With a unique heater plate, you will have always an evenly efficient cooking result.
Lock-tight pressure lid gets to keep rice fresh and moist for hours. The product has also cool-touch handles for great cooking experiences. Tayama rice cooker is 1-UL Listed and has a 1-year limited warranty.
Besides its features, this electric rice cooker cooks rice, porridge, and provides keep warm features. Regarding the operation, with a simple press, your rice will be cooked to perfection. And the keep-warm function keeps the cooked rice warm and holds the moisture, so your rice is ready to serve any minute you want.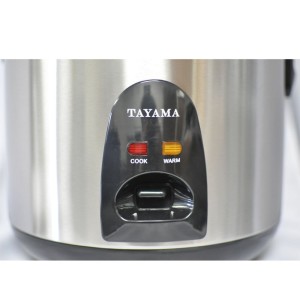 Do not forget about the steamer tray that is included and is great for steaming veggies or side dishes. Cook delicious and healthy rice and your whole family will enjoy using this Tayama TRSC-10 rice cooker with its elegant, round-shaped body.
Exterior Stainless Steel Rice Cookers
1. Aroma
Aroma ARC-914SBD 8-cup Stainless Steel Digital Rice Cooker
The first product is Aroma Housewares ARC-914SBD 8-Cup (Cooked) Digital Cool-Touch Rice Cooker and Food Steamer with Stainless Steel Exterior that yields up to 8-Cup (cooked rice) and 4-cup (uncooked rice).
The easy-to-use functions (Steam, White Rice, Brown Rice) can be adjusted with programmable digital controls, while the unit also provides delay timer (up to 15 hours) and automatic Keep-Warm.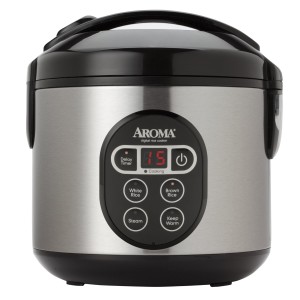 With the Aroma rice cooker, you also get included accessories: steam tray, rice measuring cup, serving spatula, and exclusive recipes and coupons for Mahatma and Carolina Rice.
It measures 8.5 x 9.3 x 8.7 inches and weighs 4.2 pounds. It incorporates Unique Sensor Logic Technology that uses an onboard microcomputer capable to automatically optimize cooking temperature to enhance flavor and texture.
This little cooker is just the right size for the two or three people. This price is fair and the results from the product are delicious, and you can tell that this is also a higher quality unit although it is made in China.
You have to only fill to the water level marked inside the rice cooker bowl depending on how many cups of rice you put in. And make sure you put the rice cooker bowl on a level surface to make sure you have not added too much or too little water; too little water means hard and crunchy rice, while too much water rice mush.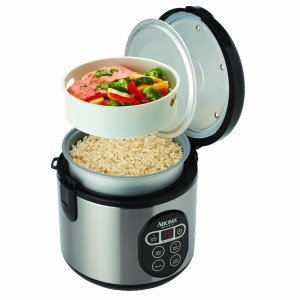 It is great for cooking white or brown rice, but you can also steam vegetables, and even reheat food. Regarding the material of the inside piece, you should know that the pot appears to be Teflon coated aluminum interior and works wonderfully. Prepare you to make rice, steam vegetables and cook fish all at the same time.
The cooker or the inner pot is not dishwasher safe. But, the inner cooking pot is very easy to clean by hand washing with soap and water, while the cooker can be wiped down with a clean damp cloth. This model has a delayed timer so you can add everything before leaving for work and have it ready for you when you come home.
The cooker determines when to switch to "keep warm" by checking for all the water to be gone. The appliance is designed to be used connected to an 110V power outlet; you may need a power converter if you want to connect the unit to a 220V power outlet.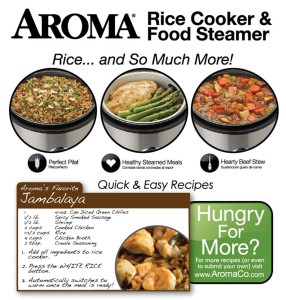 With such a product, the rice finishes at exactly the right texture, completely cooked but still nicely chewable, each grain separate.
2. Zojirushi
Zojirushi NS-LAC05XT Stainless Steel Rice Cooker
If you want a 3-cup capacity rice cooker, you may consider Zojirushi NS-LAC05XT Micom 3-Cup Rice Cooker and Warmer, Black and Stainless Steel.
With cooking functions such as White/Mixed, Sushi, Porridge, Brown, and Quick Cooking, this rice cooker includes measuring cup, nonstick rice spatula, and spatula holder.
The 120 volts / 450-watt rice cooker and warmer measures 9-1/8 by 11-7/8 by 7-1/2 inches. It has a detachable and washable inner lid, an easy-to-read LCD control panel, and automatic keep warm, extended keep warm and reheating cycle, delay timer with two settings and a built-in retractable power cord.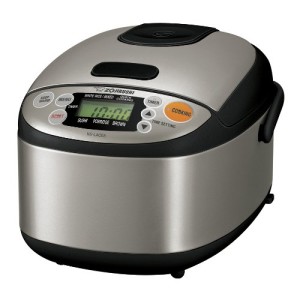 Ideal for singles, couples, and small families, Zojirushi rice cooker provides a removable black thick inner cooking pan that provides even heating for better cooking with measuring lines for precise control of ingredients.
You are going to hear an interchangeable melody and beep signal that indicate when the cooking cycle has ended.
Having incorporated sensors instead of just having timed cook cycles, this machine gets to actually sense when the rice is done.
The company that designs the cooker is Japanese, but like so much else, the manufacturing is done in China these days. This rice cooker makes the rice perfectly every single time.
This model is designed for use in America, and 110-120V power source is standard.
You can use the quick cook setting which reduces the amount of time and takes to cook rice and rice will always come out perfect.
For more protection, the cooking components of the rice cooker that come into contact with food are made of aluminum, stainless steel or nonstick coating, which are BPA-free. The bowl is very heavy, strong, well coated with Teflon.
This cute little rice cooker is really worth every penny; other than a rice maker, there are several ways to cook rice and the results can vary depending on a number of factors.
Having a very solid material and foolproof design, the rice cooker is super easy to manipulate. The different settings are very convenient for whatever type of rice you are trying to make, and the cute little songs it plays when it starts and ends really lifts the spirits.
If you cook on the standard cycle, it takes about 45 minutes. If you use the quick cool cycle, it takes about 20-25 min.
The quick cook cycle is not terrible, but the rice does not taste as good. The machine is small and unassuming and can slide under a counter without taking up much space; it is perfect for small kitchens.
3. Black and Decker
Black and Decker PR100 Stainless Steel Rice Cooker
Let's find out more about BLACK+DECKER PR100 6 Quart Programmable Pressure Cooker with 7 Pressure Functions, Stainless Steel Pressure Cooker!
You get an appliance with 4 non-pressure functions and 9 added safety features. Despite pressure cooking, you have other settings for traditional slow cooking (high or low heat), browning, and keeping food warm.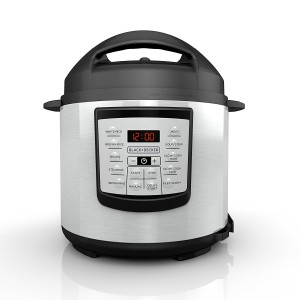 Consider this 7-in-1 cooking pot; these 7 dedicated pressure cooker functions make it easy to prepare a variety of foods in an instant.
Functions include white rice, brown rice, beans, meat, steaming, soup, and manual programming. You have also 9 added safety features as the rice cooker is carefully designed with a system of safety checks for peace of mind every time you use the pressure cooker.
With this rice cooker, you get a cookbook with delicious recipes designed specifically for the pressure cooker and included accessories such as trivet, rice-measuring cup, and nonstick-friendly serving spoon.
The BLACK+DECKER 7-in-1 6-Quart Electric Pressure Cooker is the perfect way to make delicious food fast, measuring only 12.4 x 12.4 x 13 inches and weighing 4 pounds.
The inside pot is a durable metal bowl designed for high-pressure use, and the nonstick coating makes it easy to clean.
Seven dedicated pressure functions make it easy to prepare a variety of foods faster than ever. The lid locks into place during pressure cooking to not only lock in moisture but also for safe operation.
The nonstick cooking bowl and included accessories are dishwasher-safe. Made in China, this rice cooker is electrical and is intended for usage only in the United States or Canada on a 120-volt outlet.
This thing even makes chicken and noodles perfectly without gumming up the noodles. And clean-up is a breeze and the cook times are so much shorter.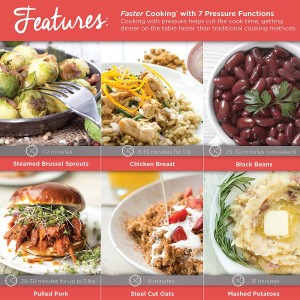 It is only 6-quarts, and it may not be big enough for a family of four. The pressure regulator is integrated into the lid. It is so easy to load the cooker, to close the lid, and to press a button. It takes some time for it to build-up pressure (about 20 minutes).
There is a brief bit of noise as the steam starts before the valve closes, and 30 minutes later, it is done. A couple minutes for the pressure to go down, and dinner is ready. And forget about soaking the dried peas overnight.
4. Cuckoo
Cuckoo CRP-GHSR1009F Stainless Steel Rice Cooker
If you want a luxurious 10-cup induction heating rice cooker, you should consider Cuckoo CRP-GHSR1009F Full Stainless 3.0 Classico Smart IH 10 Cup Electric Pressure Rice Cooker, 120V, Titan Silver.
Being able to feed up to 10 people, this unit comes with English, Korean, and Chinese voice navigation and 21 safety devices.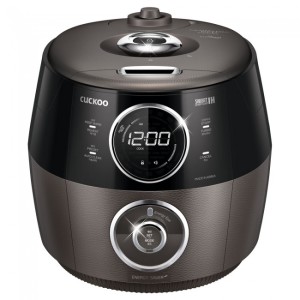 With Smart Wheel Function (Jog Dial Control) and Standby Power off switch, you get an appliance that ensures 20 cups cooked or 10 cups uncooked.
Having a Light Touch Dial Knob Navigation Panel, the CRP-GH1009F model is the perfect rice cooker to modernize your cooking and your kitchen.
You get a rice cooker with an easy to use dial knob and 2 ATM (atmospheric) pressure cooking in order to have more control over the taste of their rice and maintain the quality of their rice even after cooking.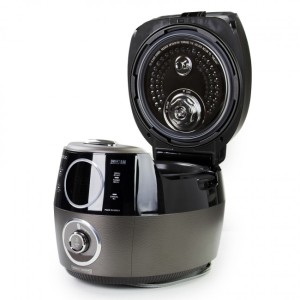 The sleek Titan Silver leather-like exterior is remarkable in any cooking space. Measuring only 16.3 x 11.7 x 11.5 inches and with a weight of 20 pounds, Cuckoo CRP-GHSR1009F Stainless Steel Rice Cooker can turn to be exactly what you may need.
You should know that it is stainless steel, so you do not have to worry about it becoming discolored over time, unlike other rice cookers. Just allow this rice cooker to take time and your rice will taste so incredibly delicious.
Also, the top of the inside cover is machine washable and clean up is a breeze. At any rate, if you can read Korean or Chinese, then you should choose the FHVR model, especially if you like the pink color; if you cannot, then go with this one.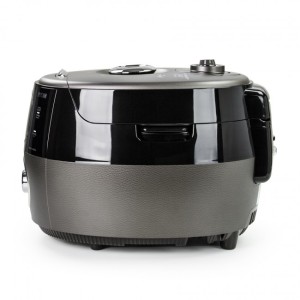 Made in China, this cooker is available in titan silver color. For this rice cooker, all the cooking functions use pressure, so this means that it does not allow users to cook oatmeal. It is a great product for your daily cooking or in any case, you need to find a gift for your beloved ones.
5. Sanyo
Sanyo ECJ-M100S Stainless Steel Rice Cooker
Also, Sanyo ECJ-M100S Micro-Computerized 10-Cup Rice Cooker is a 10-cup micro-computerized rice cooker with Fuzzy Logic technology.
This rice cooker is designed with a digital control panel, 15-hour timer, keep-warm mode, reheat function and nonstick inner pot for easy cleanup.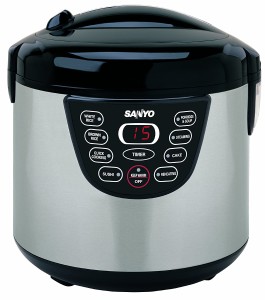 You can choose from the menu options for rice, steam, soup, cakes, and more; from the multi-menu with the easy to use digital keypad, you can select white rice, brown rice, sushi rice, quick cooking, soup, steaming and even cake baking.
This rice cooker measures approximately 11 by 10-1/2 by 11 inches (and weighs 9.8 pounds) and includes steam tray, measuring cup, spatula, spatula holder, and user manual.
Prepare yourself to get rice, vegetables, soup and much more are deliciously prepared in this versatile Sanyo cooker.
It is so easy to prepare your meals immediately as you can use the 15-hour preset timer to have your favorite dish ready at your desired time.
This rice cooker is designed with stylish stainless steel wrap complemented by black accents in order to present a fashionable look for any kitchen.
With such unit, you have a thick and 2MM non-stick inner pot that creates even heat distribution for optimum cooking results.
Making up to 20 cups of rice, there is plenty for your family gatherings. If you want to heat rice as hot as when initially cooked or to keep rice warm and delicious after cooking, you have a reheat function, respectively the keep warm function.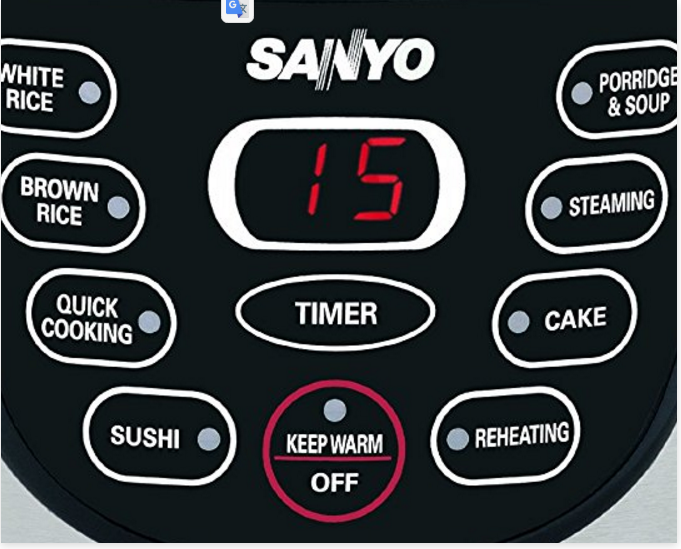 Prepare healthy dishes using the steaming function and so, monitoring the release of steam and moisture to ensure food is cooked to its maximum potential with the tight, jar style top along with the steam vent and dew collector. It does exactly what it promises and does it absolutely perfectly every single time.
With Sanyo ECJ-M100S Stainless Steel Rice Cooker, cooking rice may take a little longer than other models but the humidity regulation always ensures you have awesome rice regardless of whether you put too much or little water in.
And, recipes and instructions are clear and easy to understand how long or how much water needed.
It is a fairly large appliance, so you do have to have space to store it. The size makes it way more versatile and there is absolutely no sound when the rice is done (not even a click). It is a small thing, but you do have to keep checking it visually to see if it is done.
6. Cuisinart
Cuisinart CRC-800 Stainless Steel Rice Cooker
Cuisinart CRC-800 8-Cup Rice Cooker is a rice cooker with a different design than traditional rice cookers. With this model, you are able to steam rice, meats, and vegetables and it makes up to 8-15 cups of cooked rice.
The square modern shape finished in brushed stainless steel captures all your attention from the beginning. The appliance comes with stainless-steel steaming basket, glass lid, paddle and measuring cup and retractable cord storage.
The product is built to North American Electrical Standards and automatically switches to warm when cooking is done. You will see how easy it is to make the perfect rice with this brushed stainless Cuisinart Rice Cooker.
With its steam vent, you can prevent splattering, while its chrome-plated handles stay cool to the touch. And do not forget to use the built-in tray to steam other foods while the rice is cooking.
You should know that besides various types of rice, the cooker cooks couscous, polenta, oatmeal, boiled eggs, shrimp, and much more.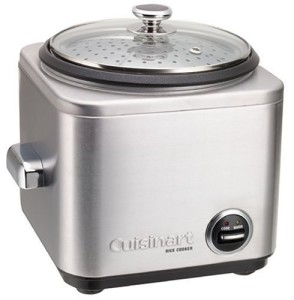 Check Price on Amazon
You can get inspired from the included booklet that presents gourmet recipes of mouth-watering meals. Choose healthy cooking and sleek modern design that meld in this rice cooker from Cuisinart.
The cooker measures 9 by 9 by 10 inches, weighing 8.5 pounds and is covered by a three-year warranty.
Included with the machine are a textured plastic paddle for stirring and serving, and a plastic measuring cup calibrated specifically for rice. For more comfort, all the unit's removable parts are dishwasher-safe.
The cooker is lined with a nonstick coating and it probably is Teflon; the pot for cooking is removable and it does have an easy to wash black coating on it. There is a vent hole in the lid which allows steam to escape and may seem counter-intuitive, but the vent hole does allow you to steam vegetables or fish and makes good rice.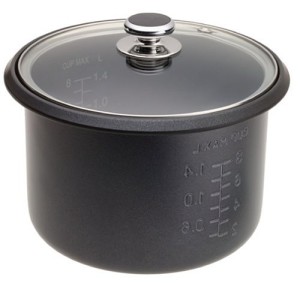 Simple one button use makes any recipe a breeze. This rice cooker makes delicious rice, noodles, steamed veggies, and Mac and cheese: all from scratch, in one pot, in just minutes, and so easy. The unit is rated at 110 volts and its maximum power is 450 watts. Be sure that you would adjust your proportions to meet your taste.
7. Breville
Breville BRC600XL Stainless Steel Rice Cooker and Steamer
With Breville BRC600XL The Risotto Plus Sauteing Slow Rice Cooker and Steamer, you can obtain 20-cup cooked rice.
It is a rice cooker with a risotto making function that creates creamy, authentic risottos without 40 minutes of constant stirring. It is also an advanced multi-cooker as it can make tender slow cooked meals, stir-free risotto and quinoa all in the same cooking bowl.
The saute setting will allow you to caramelize all your lovely fresh ingredients. This rice cooker is designed with an aluminum nonstick bowl with easy clean nonstick coating and removable cord for serving at the table and for easy storage.
Now, you get the right combination cooker that makes tender slow cooked meals, stir-free risotto, and fluffy rice all in the same bowl.
Prepare yourself to eat rice that can be fluffy when steamed, creamy in a risotto, or spicy when in a slow cooked meal, but also try a variety of more interesting weekly meals.
Breville BRC600XL can be used to make all of those dishes when used as a rice cooker. You may need to adjust your time on your usual recipes as doing the multiple steps, such as the gravy or sauce infusion on the biryani, in one pot it can take some extra time.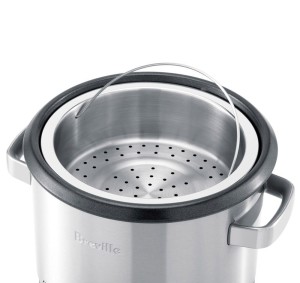 It features an inner cooking pot made up of a metal alloy with non-stick coating. It is important to know that materials and compounds used for manufacturing Breville products are considered proprietary and may not be disclosed.
Also, all Breville products are food safe and compliant with all applicable U.S. product safety regulations and requirements.
This rice cooker measures 12.6 x 11.5 x 10 inches and weighs 7.6 pounds. It offers 2 slow cook time settings, 6-hour and 8-hour modes. The unit is designed to operate on a standard dedicated US household circuit of 120V, 60Hz (regular American 2-prong with a ground voltage; no switches or different plug configurations are possible).
Breville product is assembled in China and made in Australia.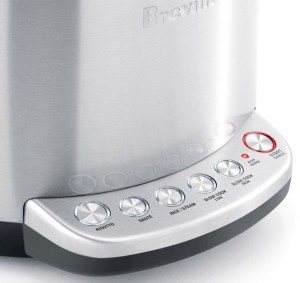 With a maximum power draw of 700 watts, you can make tahdig; after the rice is cooked, put it on saute for a few minutes and depending on your taste, the longer you wait, the crispier tahdig gets. Now, you are able to brown meats, while rice turns out fluffy and cooked correctly every time as well as using it as a slow cooker.
8. Wolfgang Puck
Wolfgang Puck BDRCRS007-RF Stainless Steel Steamer and Rice Cooker
Take your time to discover Wolfgang Puck 7 cup Stainless Steel Steamer and Rice Cooker, a unit with seven-cup pre-cooking capacity that yields up to 12 cups of cooked rice.
Certainly, you will get a rice cooker or steamer that is able to create marvelous dishes with the flip of a switch. The product is designed with ready alarm, keep warm function, built-in scoop holder, condensation collector, and carrying handle.
Once you decide to buy this rice cooker, you will also get a measuring cup and scoop and a user manual with various recipes.
The product is made in China and is delivered with 1-year limited distributor warranty. It is stainless steel and has the following dimensions: 11.0 x9.0 x13.0. Take this opportunity to discover this rice cooker and steamer that is a great concept.
In spite of the frequent use, the Teflon finish will not be at all scratched and this is going to surprise everyone. If you plan to cook brown rice, and do not mind the different top, this is a great product. You can run the steamer and lid through the dishwasher and that is easier than cleaning conventional rice cookers.
It makes rice come out perfectly every time and so this product can be recommended to anyone. You can even make polenta and it will be smooth and soft and will taste delicious. With this rice cooker, it is so easy to cook and make things such as rice pudding and there will not be any risk of standing and stirring.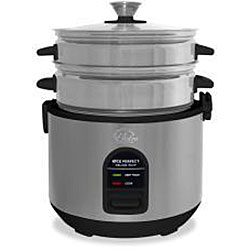 Certainly, you will find this appliance terrific; the design is ingenious and with a handle built into the lid, it is so easy to move or store or transport.
And of course, it cooks rice perfectly, steams veggies, etc. Also, clean up is so easy with the nonstick surface; although the steamer pans are not non-stick and cannot go into the dishwasher, they are still easy to wash up as well.
With its sleek and professional look and ease and quality, this rice cooker will make your life so much easier. The multiple trays that come with it are wonderful as it saves time as it adds twice the space.
This product allows you to walk away from the cooking process with confidence that dinner will be prepared right. Every dish you try will be great.
9. Oster
Oster 3071 20 Cup Digital Rice Cooker Stainless Steel
But what is your opinion about Oster 3071 Smart Digital 10-Cup uncooked resulting in 20-Cup cooked Rice Cooker, Brushed Stainless Steel?
This 20-cup digital rice cooker is able to automatically adjust the temperature. It comes with 5 cooking functions: white rice, brown rice, steam, breakfast, and soup.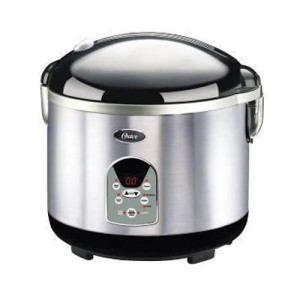 Once you order Oster 3071 20 cup Digital Rice Cooker Stainless Steel, you will get steam tray, rice paddle, rice-paddle holder clip, and measuring cup, all included in the packing box. It is very important to measure rice only in the cup that comes along with the product.
The rice cooker measures 10-1/2 by 11 by 11 inches and has a 1-year limited warranty.
Despite all its features, you also get keep-warm mode, delay timer, air-tight locking lid, and removable nonstick inner pot.
It is designed with brushed stainless steel housing and with cool touch black locking lid. Airtight locking lid locks in delicious juicy flavors, while removable nonstick inner pot makes cleanup easy.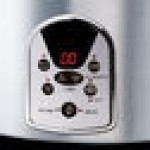 Consider the fact that the Smart digital panel adjusts the cooking temperature accordingly to create the perfect rice every time.
In fact, this rice cooker is a digital housing unit with 5 easy-to-use programmable cooking features including white rice, brown rice, steam, breakfast, and soup. Oster is the best, looks perfect, is as easy to use, easy to clean and is exactly what you expect from a rice cooker!
This rice cooker makes more than enough to feed a family of four members: it is very useful for the kitchen because it helps you to finish the food quickly and within 3 seconds.
With the keep-warm mode, you can maintain heat so rice is warm when you are ready to serve. You will love the available features on this product and the ease of use with just pushing a button for different settings.
Be sure that whether rice is the shining star of your meal or an accompaniment to scampi or stir-fry, you can serve it with confidence knowing it is cooked to the perfect consistency using the Oster 20-Cup Digital Rice Cooker.
It will not take long to figure out the right way to steam the vegetables and in the instruction manual, it provides you with proper cooking times.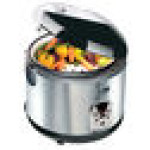 Check Price
Yes, this rice cooker is attractive and functional; the stainless steel looking finish is contemporary and will fit in most kitchens nicely and the large capacity makes it quite versatile.
You have digital settings that make it easy to use, while the 20-cup capacity makes cooking large or small amounts an easy task.
10. Crown
Crown SGD310 Stainless Steel Rice Cooker
If you are interested in Crown brand, you should know that you can purchase Crown SGD310 Stainless Steel Rice Cooker at a great price.
You can prepare yourself to try cooking your meals in a 2-in-1 rice cooker and rice warmer perfect for any kitchen. With a lovely design, this rice cooker will look incredible on any countertop.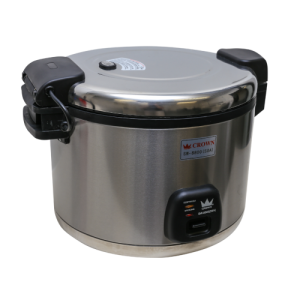 Available in wooden brown and stainless steel finishing, Crown rice cooker has a beautiful look that will fit with classic or modern styles.
With a non-stick inner pot, you can forget about the rice that gets to stick to the bottom of the bowl. Also, you have an automatic keep-warm function that will allow you to keep your rice warm.
The entire capacity of the rice cooker is 6 liters, and with such a unit, you may get up to 30 servings. Its maximum power of 1950 watts is more than sufficient for what you intend to cook in such a steamer or rice cooker.
Learning to use this appliance will not be difficult, and so you will save time and energy while cooking for you, your family and guests.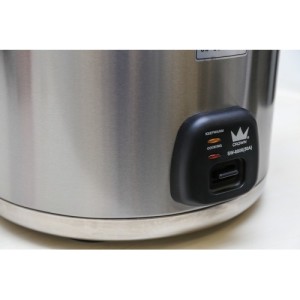 The product is rated at 220V – 240V, 50 – 60 Hz; in case you have other configuration, consider purchasing an adapter or a converter that will turn to be very useful with this item.
It is more than easy to operate Crown SGD310 Stainless Steel Rice Cooker: add water and rice or vegetables and press the only button; your meal will be quickly prepared and cooking will be a pleasure.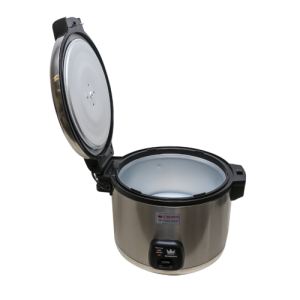 With Crown SGD310 Stainless Steel Rice Cooker, you have all you need when it comes to cook, steam or warm foods. The user manual that is delivered with the rice cooker contains all the details for a proper operation; just make sure you are reading the information before starting to use the equipment.
11. Salton
Salton VS1447 Stainless Steel Food Steamer and Rice Cooker
What you should know about Salton VS1447 VitaPro Food Steamer and Rice Cooker is that you can prepare a complete meal all at once and certainly, this is what everyone who cooks wants to know. Cooking is extremely easily and fast with this steamer and rice cooker. It guarantees you versatile 1, 2 or 3 tier cooking.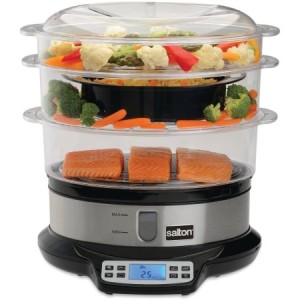 All you have to do is to add water and rice, vegetables or what you like to eat and to turn on this unit. It is going to prepare food easily and quickly; it retains all its natural goodness as it steams rice, vegetables, fish, meats, poultry, eggs and more. You will be surprised to find out that this steamer produces steam in as little as 45 seconds.
This Salton is designed with a water reservoir that holds 1.1L or quarts of water, for up to 60 minutes of steaming time.
Also, it has a drip tray that collects liquids for making sauces and gravies and includes 1 rice bowl, 2 large transparent steaming bowls each with 3.5L or quart capacity and 1 small steaming bowl with 2 L or quart capacity.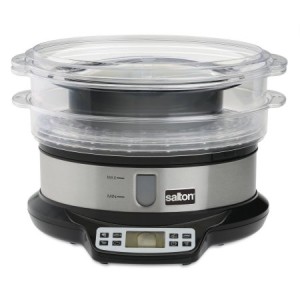 For a great operation, this model comes with a manual setting with 99-minute timer with auto shut-off and audible signal.
It is easy to use and easy to clean and from now on, you can cook a completely healthy, steamed meal all at once with this programmable product. The six one-touch settings will always satisfy all your healthy food-preperations needs.
Just in case you are interested, this is perfect for steaming your favorite foods and vegetables and will also cook white, brown or specialty rice.
Learn how to use 1, 2 or all 3 layers in transparent steamer bowls that collapse for storage for a great meal with your entire family. It is made in China and is BFA free.
You have one more reason why you should purchase Salton VS1447 Stainless Steel Food Steamer and Rice Cooker; the warranty of the product covers 5 years of usage.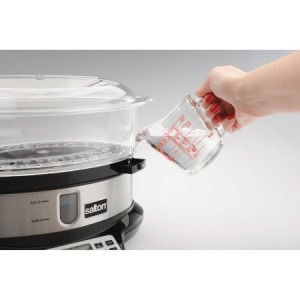 With a stainless steel finish, this item will fit all your design and cooking needs, and that is for sure.
12. Farberware
Farberware FRA100A 10 cup Stainless Steel Rice Cooker
Farberware FRA100A 10 cup stainless steel rice cooker is a 10-cup-capacity rice cooker that can steam up to 20 cups of cooked rice and this is great for large families and numerous guests.
With a power of 700 watts of power, automatic shut-off, and keep-warm mode, you are definitely going to have the unit that you want when cooking rice.
Having a calibrated and nonstick inner pot, your appliance also steams vegetables or seafood and includes measuring cup, rice ladle, and delicious recipes.
It measures approximately 10 by 12-1/2 by 10 inches and has a 1-year limited warranty against defects. And when it comes to weight, this product weighs 7 pounds.
Just be ready to steam what you want in its stainless-steel steamer pan and to simmer, boil, sauté, and braise in its removable nonstick inner pot; for all of these, you get only one product that will save you space, time and of course, money.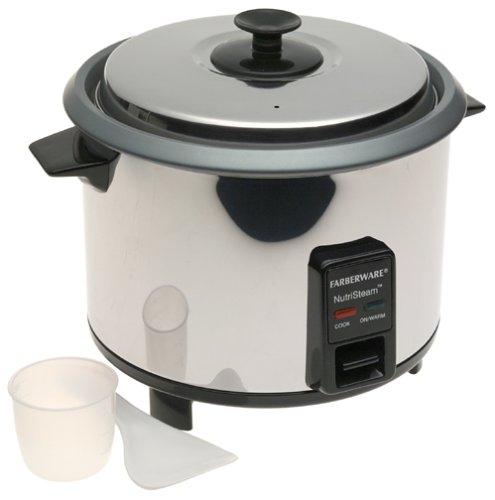 As the majority of rice cookers available on the market, when cooking rice, this cooker automatically shuts off when the rice is done and then, goes into the keep-warm mode so rice remains at serving temperature for hours.
It is true that because the inner pot is nonstick and the exterior is mirror-finished stainless steel, the cooker cleans up easily. The pot itself is made of a heavier material and has a durable nonstick coating better than the standard aluminum versions which are light and uncoated. Overall, it is a reliable product from price to finish.
Whatever you want to cook, you will notice that the cooker's directions are perfect. If you want to cook brown rice in it almost exclusively, it may take 45-50 minutes; just follow what the instruction manual says.
The cooker will keep the rice warm when finished cooking, best to use the rice soon thereafter for best results. It cooks well and you can steam vegetables on the stainless steel top insert.
So, if you are seeking a convenient and healthy way to cook or steam your food, consider this Farberware FRA100A 10 cup Stainless Steel Rice Cooker.
13. Hamilton Beach
Hamilton Beach 37549 Stainless Steel Rice Cooker
With Hamilton Beach 37548 Rice & Hot Cereal Cooker, Stainless Steel, you can be sure that you are going to expand your menu with perfectly cooked dishes.
You will purchase a unit with 2 to 14 cup cooked rice capacity (1 to 7 uncooked) that gives you the flexibility to cook small or large amounts.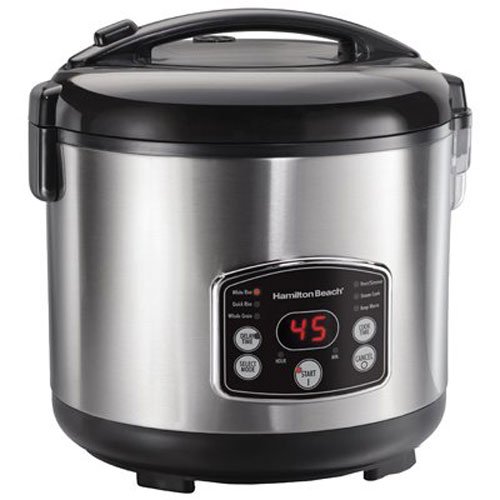 Certainly, you will love the guaranteed restaurant-quality rice with this rice cooker as you do not need to wait for the water to boil or to watch over a pot. You can cook all varieties of white and brown rice or steam food to perfection and cooks prepackaged pasta and rice mixes as well as nutritious, flavorful beans.
What about setting the appliance up in the morning and your food being ready when you get home? This is possible with its clever Delay Start timer that ensures you the flexibility to delay the cooking process up to 15 hours in advance. It is easy to clean, including the nonstick bowl and glass lid that you can put in the dishwasher.
It includes measuring cup and rice paddle and some versatile settings such as White Rice, Quick Rice, Steam Cook, Hot Cereals, Heat/Simmer, and Whole Grain.
These six different settings take the guesswork out of cooking. In a word, it cooks food perfectly, and then it automatically shifts to warm.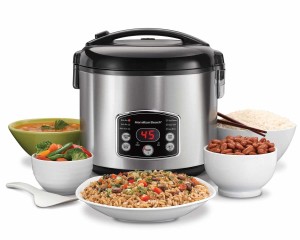 Check Price on Amazon
If you want to make dinner in one cooking cycle, this is possible; just steam seafood, poultry or vegetables in the steam basket while the rice cooks. Or you can use the Heat/Simmer setting to make your own soups, beans or flavored pasta mixes. With a 26″ cord to the plug, it measures 9.3 x 10.2 x 10 inches and weighs 4.8 pounds.
Be sure that this rice cooker is extremely easy to use, and it also has a timer if you want to have rice ready when you wake up.
The exterior has a nice stainless steel finish which makes it look more expensive than it is (and it is relatively cheap). It is 110v with a standard US plug and the wattage used on this product is 500 watts.
You can cook all varieties of rice including brown and it works great. Just be sure to follow the directions in the instructional manual and not the one on the rice package.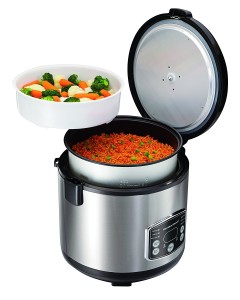 This is a really useful small kitchen appliance and you will love the different modes to cook brown and white rice, as well as the fact that it steams vegetables.
14. Keyton
Keyton K2SSRICECOOKER Stainless Steel Digital Rice Cooker
Keyton K2SSRICECOOKER Stainless Steel Digital Rice Cooker comes with a superior design as the manufacturer wants to ensure quality performance; it is a durable, stainless steel rice cooker that features a non-stick coating, built-in steam vent, sturdy lid with portable handle, and more.
Also, it provides multi settings as those multiple cooking functions will let you whip up everything from oatmeal to chili or pasta.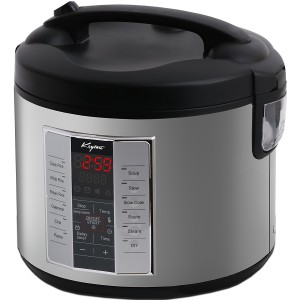 It is designed with an easy to read electroplating control panel with LED digital display; it is very easy to read and maneuver and makes this rice cooker incredibly intuitive and convenient.
The auto "keep warm" setting will keep your food at the perfect temperature and this will make you enjoy a comforting, piping hot plate at every meal with Keyton K2SSRICECOOKER Stainless Steel Digital Rice Cooker.
The appliance is safe for your children and family as this tested and approved rice cooker is UL certified, and meets the highest levels of safety and health precautions and guideline.
The accessories that are included are a rice paddle, ladle, measuring cup, and steamer for your added convenience. It is not a surprise anymore that this dose not only cook your rice to perfection, it also makes great-tasting soups; just add the ingredients in the morning on your way out to work and come home to hot, fresh, delicious soup.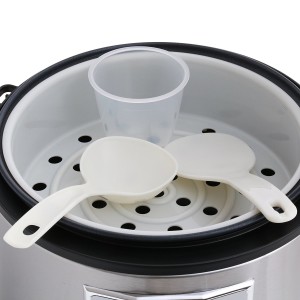 Check Price
The dimensions are 11 x 11 x 10 inches and its weight is 8.2 pounds. The inner pot is 1.0 mm with a non-stick coating, is stainless steel and dishwasher safe and the lid has a built-in steam vent. And the capacity is 5 liters or 10 cups.
Regarding the electrical requirements, it is rated at 110 volts.
This rice cooker makes the most uniform rice you have ever had; you can also try to cook steel cut oatmeal and it is going to be excellent. Well made, versatile and easy to operate, these words characterize better this Keyton K2SSRICECOOKER Stainless Steel Digital Rice Cooker.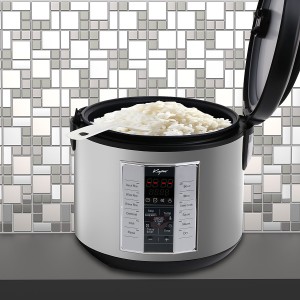 Definitely, it works well, it is able to hold food at hot temperature and it is good for potentially hazardous foods like cooked rice. For all the options this provides, this is the best multi-cooker that you are going to see on the market and for the price, you will not be disappointed.
15. G Force
G Force GF-P1155-816 Stainless Steel Rice Cooker
And last but not least, GForce GF-P1155-816- 8Cup (COOKED) Stainless Steel Rice Cooker will surprise you with its design and all its features and settings.
First of all, it can be said that it is a rice cooker with a luxurious and elegant design and is high quality, and you will notice that from the beginning.
Although it is a luxurious rice cooker, you will see that it is easy to use; all you have to do is to simply use the measuring cup provided with the unit and to add the rice in the rice cooker.
Then, close the stainless lid and connect your rice cooker into the outlet and push the cooking button (you will observe that the cooking indicator illuminates).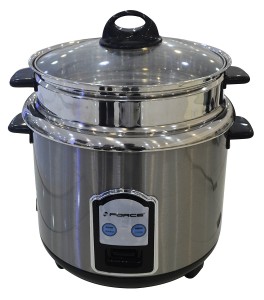 Everyone love fresh rice; with this rice cooker, when the rice is finally cooked, the warm keeping indicator goes on so that you never have to worry about having to heat the rice all over again.
If you are concerned that the rice may stick, just add a little oil or butter and your meal will be delicious.
Having a GForce Rice Cooker, you can even cook your vegetables, easy oatmeal, soup, and stew. Regarding the cleaning, all you need to do is to simply remove the pot, to wash it with water and then, to dry; you can also wipe the outside of the pot with a damp cloth.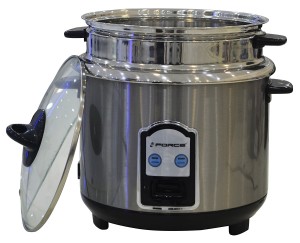 Check Price
The cooker is made of stainless steel and has a see-through lid that is glass. It holds 8-cups of cooked rice and its entire capacity is 1.5 l or 4 cups of uncooked rice. With this rice cooker, you can prepare soups, stews and other meals using the slow cook function. This rice cooker is for perfectly preparing grains with its power of 500 watts.
Just with a press of a button, GForce Automatic Cooking guarantees the monitoring of cooking temperatures and get to sense when cooking is complete.
And consider that with this rice cooker you can produce soups, stews and other meals using the slow cook function. It measures only 10 x 10 x 11 inches and weighs 4.5 pounds and the warranty certificate covers 90 days.