7 Great Rice Cookers with Delay Timer and Reviews
A rice cooker with a delay timer is surely a great investment because such a function is very handy considering the fact that you can wash the rice in the evening and in the morning, you are going to have it fresh and perfect for eating. Or you may prefer washing it in the morning and having it cooked once your return home from work.
So, with a timer, you can pre-set the time on when you want the rice to be ready.
Thus, you can set the timer of a rice cooker and do something else, and once the rice is finished, you do not have to be near your appliance in order to shut it down.
After cooking, the rice cooker can turn off automatically or can switch to warm mode for fresh rice.
Setting the timer function allows you to program the rice cooker to complete cooking by the desired time.
Definitely, with a timer function, you can monitor the cooking process: adjust the programmable timer on the machine and your rice or other meals will be ready just in time for your dinner.
We have selected seven great rice cookers with timer and offer you some details about them in order to help you decide which one fits your cooking needs.
Consider the fact that, with a timer, all you have to do is to add the rice and water into the cooking pot and to set the timer according to the instructions and that is all.
1. Aroma Houseware
In case you think at Aroma Housewares 20 Cup Cooked (10 cups uncooked) Digital Rice Cooker, Slow Cooker, Food Steamer, SS Exterior (ARC-150SB), you should know that this rice cooker will cook great and you will have restaurant-quality rice, healthy steamed meals, and delicious one-pot dishes.
With the Steam and Delay Time, you are going to discover the Delay Timer that is designed for people on the go.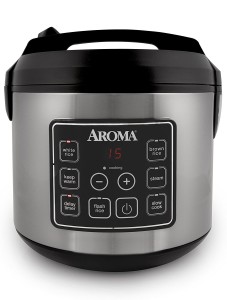 All you have to do is to place rice in the cooker in the morning, set the Delay Timer to have rice ready when it is needed and come back to perfect rice ready to serve.
So, this programmable 15-hour delay timer is great for families, delivering delicious rice ready every time.
With a 15- hour Delay Timer for flexible meal planning, this rice cooker includes a steam tray, a rice measuring cup, and a serving spatula.
As long as this unit delivers hot, hearty and healthy meals the entire family will love, you can help the kids with homework, get creative at play time, or pick up that novel you have been waiting to dive into.
This appliance worth money as it ensures excellent rice every time: it takes the hassle out of multiple pans and can be used for full meal dishes (crock pot type use) and veggie or food steamer tray.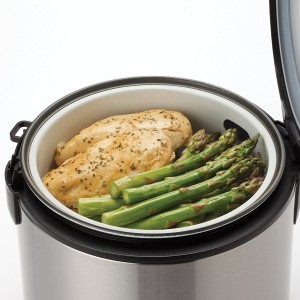 Check Price
It acts as a crock pot and veggie steamer as well; it is easy on the pocketbook as well as the counter space.
From now on, this is going to be your best friend as it is so easy to use and makes incredibly good tasting food.
It is literally 3 products in one: a steamer, a rice cooker, and a slow cooker. It is by far the best kitchen appliance you will have in your life.
It is so much easier with the rice cooker, that you can now cook rice 3 or 4 times a week, and steam veggies in the cooker while you are cooking the rice.
2. Zojirushi
Zojirushi NS-ZCC10 Neuro Fuzzy Rice Cooker with Timer
Another option can be the Zojirushi NS-ZCC10 5-1/2-Cup (Uncooked) Neuro Fuzzy Rice Cooker and Warmer, Premium White, 1.0-Liter.
This 5 1/2-cup computerized rice cooker and warmer with advanced Neuro Fuzzy logic technology provide multi-menu selections, automatic keep warm, extended keep warm, and reheat cycles.
It measures approximately 14 by 8 by 9 inches and comes with a 1-year limited warranty.
It also includes 2 measuring cups, nonstick rice spoon/scooper, rice spoon holder, and recipes.
With a retractable cord, a spherical and nonstick inner pan for uniform heating, and LCD clock and timer, it guarantees you a variety of cooking functions comprising of white rice (regular/sushi, softer or harder), mixed rice, porridge, sweet, semi-brown, brown, rinse-free, and quick cooking.
You are going to discover a black thick spherical pan with stay cool side handles that provides even heating for better cooking; also, there is a programmable melody or beep audio indicator to indicate when the cooking cycle has ended. And, of course, a delay timer with two settings that will make your cooking tasks so easy.
The timer function is amazing and makes meal preparation so much easier. The made in Japan Zojirushi cooker is simply amazing.
The form factor is great for storing in small space. The handle is great if you need to handle it for storage or travel with it. If you decide to spend the extra money and get this model, you will not be disappointed.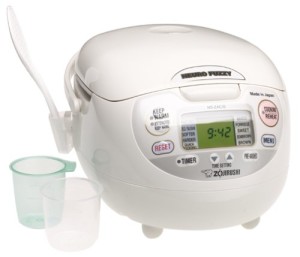 Check Price
With this rice cooker, you will solve all of your problems with making rice and keep rice warm and fresh and thus, making this cooker worth every penny.
The extra cost of the Zojirushi is justified by the quality of the meals it produces, the variety of things you can do with it, and the per-month cost over the lifetime of owning.
3. Tiger
You may choose the Tiger JAX-T10U-K 5.5-Cup (Uncooked) Micom Rice Cooker. This time, you may meet a 5.5-Cup Microcomputer controlled rice cooker and warmer with "tacook" synchro-cooking function.
Providing 10 computerized cooking menu settings (Synchro-cooking, mixed rice, slow cooking, plain rice, quick rice, brown rice, porridge, sweet rice, steam cooking, multi-grain rice), you can have a rice cooker that prepares two dishes simultaneously.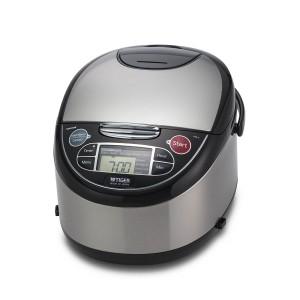 With minimal preparation and the press of a button, Tiger's automatic cooking logic system actively monitors cooking temperatures to create the perfect meal. Do not be surprised that the Tiger's cooking plate is designed as its materials do not affect the flavor or texture of the rice; it is definitely worth the price.
Because of timer's adjustability, you can do a number of other grains like pearl barley, steel cut oats, regular 1-minute oats, buckwheat, etc. There really is a big difference if you invest a little more and if you are building a gourmet kitchen, this is a must.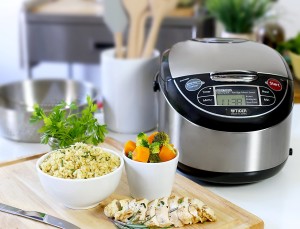 Check Price
It is a very good and convenience rice cooker. You are going to love the synch-cooking function, which you can cook your rice and a dish at the same time although it takes a pretty long time.
Also, the timer is very useful. It has a lot of functions, but the manual may not helpful on how to use those functions.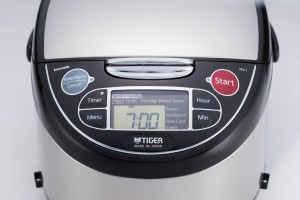 The different functions of the cooker give you the flexibility to use the cooker for other things besides steaming rice. The capacity of the cooker is another plus as most other brands carry 5 cups cooked, while this one being 10 cups is a plus for a large family.
4. Panasonic
Panasonic SR-DE103 Fuzzy Logic 8 Pre-Program Rice Cooker introduces you the micro-computer "Fuzzy Logic" controlled adjusts power depending on how much rice is being cooked for precise cooking and more consistent results.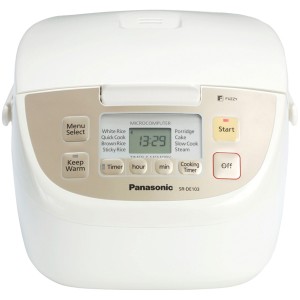 The unit menu includes white/brown/sticky rice, porridges, steam, slow cook, 15-minute cook and cake.
With a white chrome finish, it measures 13-1/8-inch (L) by 9-7/8-inch (W) by 8-1/4-inch (H) and weighs 7.3-pound.
This unit comes with a digital display for checking the cooking status at a glance, a domed lid to prevent moisture from dripping back into the rice, and convenient lid release with the push of a button.
Surely, the 24-hour preset timer lets you control cooking start time so fresh-cooked rice is ready when you are ready.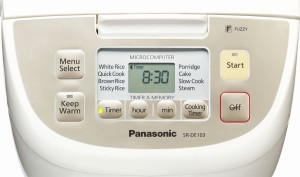 Check Price
It is so easy to cook with this rice cooker: thoughtfully designed, the countertop appliance also comes equipped with a 24-hour preset timer. This timer function makes it possible to come home and to have steaming rice after a long day at the office.
Also, once the rice has fully cooked, the unit automatically switches over to Keep Warm mode, which maintains an ideal serving temperature so rice is ready at the same time as the rest of the meal. And it is so great to have your meal prepared when you come back home.
The taste of the rice compared to a non-fuzzy-logic rice cooker is something you would have to try for yourself to believe.
The rice does come out with a stickier texture (more like what you get in a restaurant) than when you do it in a pan.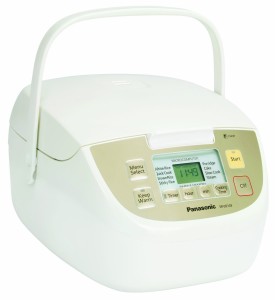 Cooking time can vary a bit depending on the amount of water you have added, but it gives you nice ten-minute countdown which helps in having the meal all come together. The cup markings inside are accurate so your rice is always perfectly cooked without crustiness on the bottom.
Despite the included accessories, you have a handy rice scoop, measuring cup, and steaming basket. You may consider this appliance as a useful addition to any busy kitchen that offers a sleek, attractive design and makes for a great wedding or housewarming gift.
5. Sanyo
Another unit for rice cooking with a timer setting is Sanyo ECJ-JG10W 5-1/2-Cup Rice Cooker with Induction Heating and Variable Pressure Control.
You have the chance to purchase a 5-1/2-cup micro-computerized rice cooker with induction heating and variable pressure control.
It is designed with LCD clock and 24-hour delay timer and extra-thick nonstick inner pot with a copper-coated exterior. You have a pre-soak function that allows for additional soak time before cooking ensuring a delicious rice dish.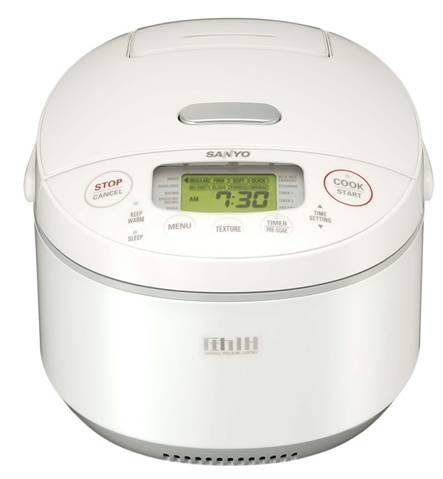 Prepare yourself to steam veggies with the steam function and to use the unique tray for preparing healthy foods. Also, you can make stews and soup using the slow cook function.
It is time to pre-set your meal to be completed up to 24 hours ahead using the timer function: this is a great benefit for coming home or waking up and having a hot meal.
Be sure that this Deluxe stainless steel finish is an attractive addition to any kitchen or room. Also, the retractable cord and carrying handle makes storage easy and allows you to take the food right to the table.
The cooker includes measuring cup, spatula, spatula holder, multi-language instruction manual, and recipes.
The multi-menu provides one touch selections for rice dishes such as white, rinse-free, brown, sprouted brown, sweet, mixed, sushi, zakkoku, wild and Dol Sot Bi Bim Bab.
And the superb consistency of those meals is acquired using the extra thick, two-layer 2.5mm non-stick inner pot with copper coated exterior for maximum heat distribution.
Your rice is incredibly delicious, as delicious as the regular Japanese rice. It is easy to program, easy to use, easy to clean, and versatile.
The warmer mode does not dry the rice out like other cookers; being sealed, the moisture stays set, not mushy or hard. It is a little bit pricey but it is worth it.
6. Tayama
Tayama TRC-50H1 Digital Rice Cooker & Food Steamer, 10 Cup, Black provides easy-to-use functions: programmable digital controls with Steam, Slow Cook, White Rice, Brown Rice, Delay. Be sure that this MICOM Digital Multi-Cooker from Tayama makes perfect rice, soups, stews and even steams meat and vegetables simultaneously.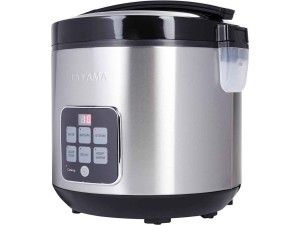 With this Tayama rice cooker, you can perfectly prepare 4 to 20 cups of cooked rice and keep it warm for hours.
The programmable steam function transforms the rice cooker into a digital food steamer, as steaming time can be set from 5 to 30 minutes and automatically shuts off once the set time has passed.
Definitely, the 5-hour delay timer is perfect for flexible meal planning. The 15-hour delay timer is perfect for families on the go.
All you have to do is to add rice and water in the morning and rice will be hot and ready when it is needed at night.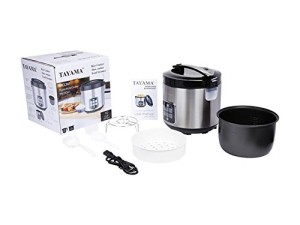 Check Price
With a removable lid for convenient serving, the rice cooker comes with a measuring cup, steam tray, and serving spatula. Cook up to 20 cups of any type of rice as it provides a water reservoir that channels away excess condensation.
It is big enough and cooks fast and you are going to love it from the beginning. Since you cook rice every day and have a big family, this unit is a real investment.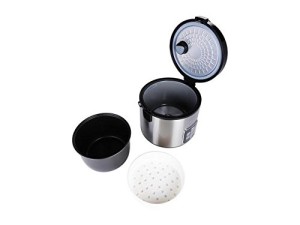 Once you are going to eat the rice prepared with this rice cooker, you will enjoy a different rice taste.
7. Buffalo
And what do you think about Buffalo Smart Cooker 10-Cup? First, the Buffalo rice cooker has a stainless steel inner pot and stainless steel eliminates the negative health effects that are associated with the use of aluminium or coated inner pots.
Also, if you want an easy operation, a multifunctional and intelligent design, and a user-friendly preset timer functions, here you have a rice cooker that will turn into a kitchen appliance that you cannot live without it from the moment you will discover it.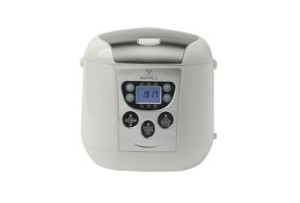 With a 10-cup size, this rice cooker allows you to cook rice and porridge; you can also prepare curry chicken, stewed pork knuckles, and cakes. It is a great time saver that allows you to cook three different dishes simultaneously.
You have steam function and soup function that are perfect too; you can use it to also raise bread or ferment yogurts and stuff too.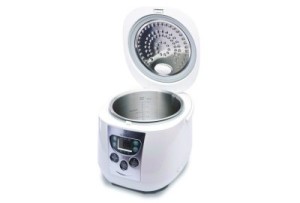 And cleanup is a breeze as you can scrub the pot well without worrying about scratching the pot and moreover it does not stick. Making perfect biryanis every single time is a huge selling point for everyone as the rice gets cooked perfectly.
8. Ricemaster
Ricemaster Rice Cooker
In case you wonder about rice cookers that have not a timer, an example could be Ricemaster Rice Cooker models. Let's have a look at these models that you may give them a try for daily cooking tasks.
a. RM-50 units
The RM-50 model is an automatic gas rice cooker; for optimum temperature accuracy, you have units with a bimetallic temperature sensor while the pilot burner is perfect for keeping rice hot after cooking has completed.
This rice cooker is designed with plated steel drop handles that remain sufficiently cool to touch when the unit is in use and thick cast aluminum rice pot.
Although you have no timer, the unit automatically stops cooking when the rice has absorbed the water, after about 22 minutes, but you should wait ten minutes to let the rice cure.
b. RM-55 rice cookers
Then, the RM-55 rice cooker has NSF and ETL listing and has a pressure regulator. With a stronger warming feature to maintain the temperature of the rice at the required temperatures, the unit can be used for cooking and for warming.
The cast aluminium rice pot ensures uniform heating and evenly cooked rice and is easily removable for washing rice or cleaning. As in the case of the RM-50 appliance, a bimetallic temperature sensor accurately senses temperature during the cooking process and automatically stops the cook cycle after the water has been absorbed by the rice.
c. 56822 25, 56824, 57137 37, 57138 37, and 57155 models
The electronic 56822 25 Cups, 120v, 56824 25 Cups, 230v, 57137 37 Cups, 120v, 57138 37 Cups, 230v, and 57155 55 Cups, 230v models provide electronic controls and sensors replace manual switches.
Despite their features, you can get Electronic Cook and Hold, On/Off touch switch with power indicator, auto reset overheat protection, dent resistant ⅛" thick rice pot, and two-year limited warranty.
With these units, you can cook different kinds of rice such as long grain, short grain, sushi, brown, Basmati, Texmati, etc. with good results.
With a stainless steel cover, oil/ water/grease resistant 14 gauge, 3 wire electric power cord, rice cup and paddle, the rice cookers guarantee precise temperature control and consistent results.
d. 57130 30 Cups, 120v and 57131 30 Cups, 230v models
Made by Town in the USA with industrial components, the appliances come with a user manual and recipes for rice: Rice Pilaf, Jambalaya, Sweet Rice and Mexican Rice. With a stainless steel design, they automatically cook rice to perfection and keep it hot for serving.
From now on, you can cook and serve from the same unit; you get a hinged, heated cover that reduces heat loss, while the attractive stainless steel exterior is easy to clean.
You will perfect the correct proportions of rice to water for your preferred type of rice using the included accessories: silicon rubber cover gasket, oil/water/grease resistant 14 gauge, 3 wire electric power cord, rice cup, and paddle.
e. 56816 10 Cups, 120v
The rice cooker of 56816 10 Cups, 120v comes with a traditional design and is designed for household use only.
It is not ETL or NSF listed and recommended for commercial use. Consider its features (automatic cook and hold, push button cook switch, cook and hold power indicators, uncoated aluminium pot, stainless steel cover, measuring cup, rice paddle, and six-month warranty) before purchasing it.
Conclusion
This guide with examples of the rice cooker with or without timer may help you if you have to decide regarding the rice cooker that you should purchase.
Use these details before choosing the one you want and consider a timer function if rice is among your favorite meals; you will realize quickly how easy is to cook with a rice cooker that incorporates a programmable timer.