6 Affordable Rice Cookers with Porridge Setting and Reviews
If you consider rice cookers with microcomputer technology, you should know that such units have more menu options available as a porridge setting.
The porridge setting is designed for cooking rice porridge, but you can also used it for cooking steel-cut oats if you are able to find the right balance between oats and water.
Porridge is also known as congee or jook, a rice soup; a porridge setting is a great function of any rice cooker as this appliance cooks in time for you to wake up and makes moist rice porridge without needing oversight.
A rice cooker does not necessarily speed up the process of cooking rice or oatmeal, but as long as it has a porridge setting, it does make it much more foolproof since you can just turn it on and walk away.
Making oatmeal in a rice cooker is easy, but you should consider the amount of liquid before you get the oatmeal consistency you like.
Here you have a list of some affordable rice cookers with porridge function; if you consider purchasing such an item, now you have the occasion to consult various models and decide if there is one which fits your needs.
Zojirushi NS-VGC05 Micom is a 3-cup rice cooker and warmer with micro computerized Fuzzy logic technology and with menu settings including white/mixed/sushi, porridge, cake, rinse-free, and quick cooking.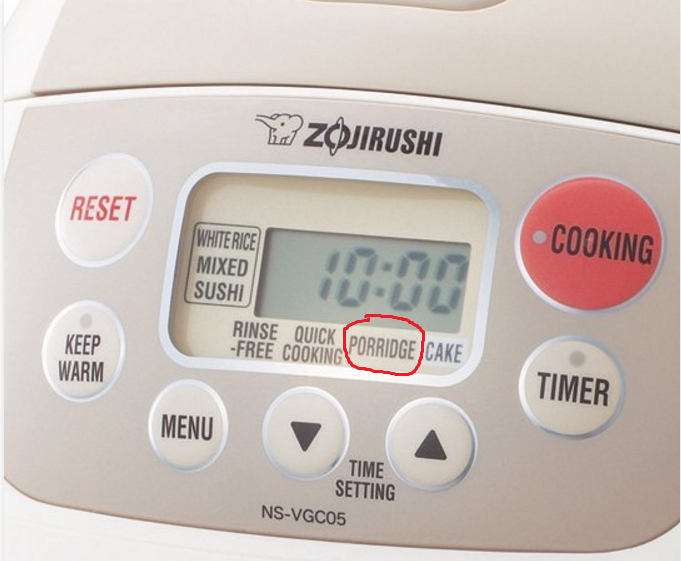 Despite its easy-to-read LCD control panel with clock and timer functions, its automatic keep warm, its thick spherical inner pan, its rice spatula, 2 measuring cups, and recipes, you get an ideal kitchen appliance for singles and smaller families; it can cook as little as 1/2-cup of rice and also bakes cakes.
This machine is perfect for 1-4 servings of steamed rice, couscous, barley, or other cooked grains and reduces the attention time required for the cooking to zero.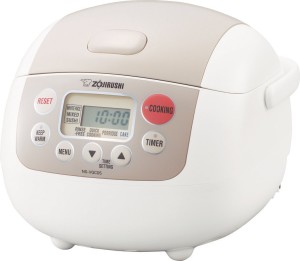 Check Price
The rice cooks perfectly and does not stick to the container making it very easy to clean. Although it takes 45 minutes to cook the rice, it is well worth it.
The main cooker is designed well. There is a small indention around the opening to collect the steam. The rice cooking bowl itself is very easy to clean and is pretty much non-stick.
The rice cooker sings to you when you start the cooking process as well as when the rice has finished cooking.
This rice cooker simply makes excellent rice. And this 3-cup cooker is small enough and aesthetically well-designed, so you can always keep it on the counter; it is very easy to clean, and easy to use.
A big plus is how easy the pan and inside cover come off so they can be thoroughly washed between cooking sessions.
Midea Mb-fs5017 is a 5L-capacity cooker that is suitable for 3 to 10 people. You can say that it is not only suitable for a family, but also suitable for a dinner party.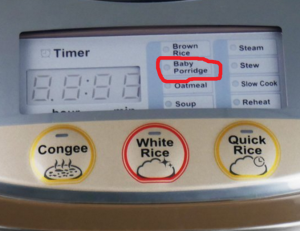 The super touching control panel provides 11 kinds of menus which are suitable for all kinds of people; all you need to do is just touching a button.
The 4-hour Delay Timer is great for flexible meal planning; setting a procedure of booking before you go to work, the hot soup can be drink when you go home.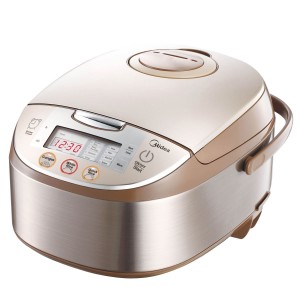 Check Price
With an inner made of 5 kinds of material, you get a unit that makes heating fastly and continues to heat preservation and so the rice can absorb water fully and make it more delicious.
The part that is easy to dirty can be removed, allowing you to clean easily. In addition, the item also comes with a set of tools that includes a cup, 2 spoons, and a food steamer.
The unit disassembles easily to clean and reassembles in a snap. Its paddle, spoon, and steam tray are quite useful. The main rice pot can be put right in the dishwasher.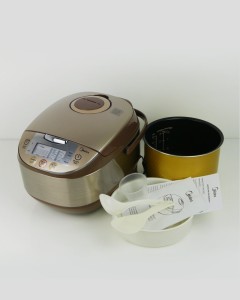 It steams vegetables makes stews and will cook all kinds of rice with different beans and vegetables mixed in.
You get a fuzzy logic cooker that works great to make Chinese congee. The time is preset to 2 hours and it automatically adjusts the settings for you regardless of how much contents you put in. If you want it thicker or runnier, you can adjust it.
The measuring cup or water level is never mentioned, nor is the adding or rice or any other ingredient to the bowl. It just lists how to press the buttons and how to clean the unit.
However, having said that, the unit cooks rice and steams vegetables very well.
The Tiger JAX-T18U-K is a 10-Cup Microcomputer controlled rice cooker and warmer with "tacook" synchro-cooking function.
With 4-in-1 functions and 10 computerized cooking menu settings and 1.8-mm thick inner pan, this rice cooker has an easy to remove and wash inner lid and steam cap.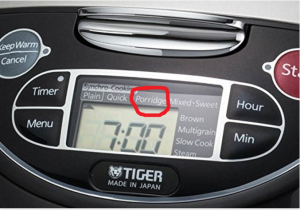 It also includes cooking plate and cookbook. Another great function is that it comes with an extra compartment for cooking side dishes with your rice. This is for those too lazy to cook side dishes separately and is absolutely convenient.
The 5.5 cup size is enough for a large family. The Slow cook mode is a very nice feature allowing us to do some random dishes like omelets and 1-minute oatmeals (10 minutes, actually). Because of timers' adjustability, you can and do a number of other grains like pearl barley, steel cut oats, regular 1-minute oats, buckwheat, etc.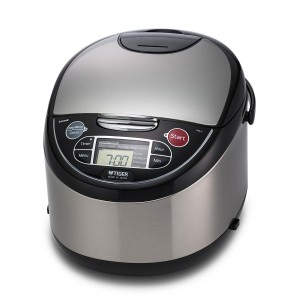 Check Price
You can cook quinoa in it and that it tastes delicious and fluffy (it takes about twenty minutes, and you have to keep opening the lid to check that the water is fully evaporated).
It is secure, but without the click, it just does not feel so. It also seems to get pretty hot on the lid and smells like hot plastic, not burnt, just a very heated plastic smell.
The different functions on the cooker are a very neat feature giving us the flexibility to use the cooker for other things besides steaming rice.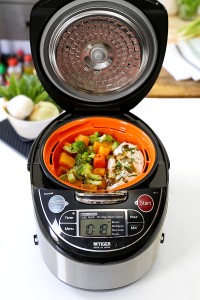 The rice comes out perfect, very high end restaurant quality; the price is very affordable compared to other high end rice cookers and it is also very compact, and is the perfect size for any counter!
Please be aware when you turn off the rice cooker; keep the lid open if not the moister will make the rice go bad. This rice cooker does not have a water store compartment for the moister to go to, but overall, certainly, you will like the quality finish on this cooker.
Panasonic SR-DE103 Fuzzy Logic 8 Pre-Program Rice Cooker uses Micro-computer "Fuzzy Logic" controlled adjusts power depending on how much rice is being cooked for precise cooking and more consistent results. Its menu includes white/brown/sticky rice, porridges , steam, slow cook, 15-minute cook, and cake.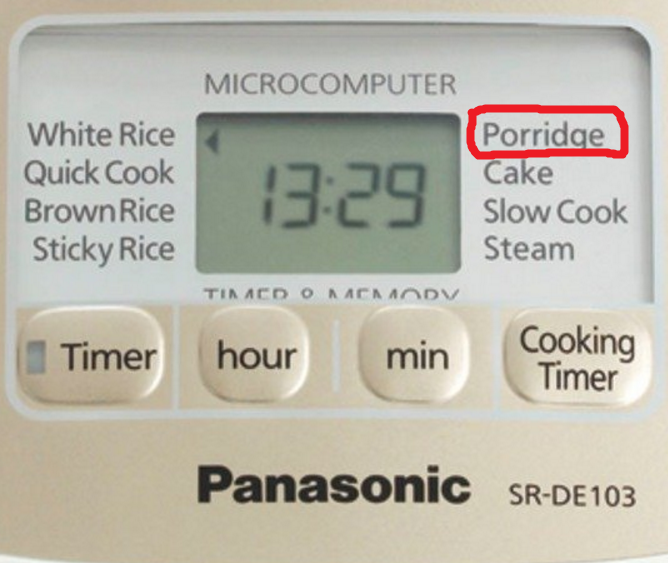 With black pan with white anodizing for better tasting rice, 12-Hour keep warm, 24-hour clock, and large orange LCD read-out, this cooker is able to cook up to 10 cups of restaurant-quality rice, from the convenience of home.
The unit comes with a rice spatula that is a must to avoid scratching the pot surface, but you should also consider buying a rice washing bowl that really helps. It is easy to set for cooking oatmeal the night before to have for breakfast.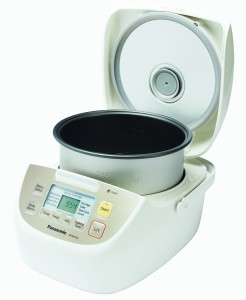 Check Price
Or in case you have to go to work, it will have things ready when you return home. Also, it has a warming feature that rolls over to keep your contents warm if you are running late or just want to wait. The footprint is small enough you can keep on the counter or put it away.
It is good to know that the clean-up is very easy when compared to cooking on a stove top.
This particular unit is well suited for a small family or a single person. Five cups of rice is a lot of rice. The outcome is far better than cooking rice on a stove top.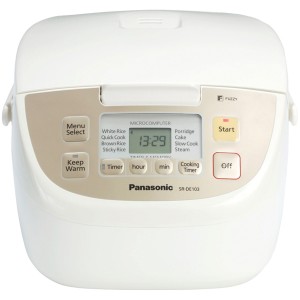 The countdown timer is great and Keep warm mode is effective without drying out the rice.
Just follow the instructions of stirring after the timer beeps then close it up to keep it fresh. And do not forget to try Chinese rice porridge with chicken, steamed bau, fresh veggies and Asian desserts made from rice flour and coconut too.
With VitaClay VF7700-8 Chef Gourmet 8-Cup Rice and Slow Cooker, you get an unglazed clay cooking pot enhances the flavor and texture of food.
The clay pot is free of aluminum and artificial non-stick glazes. And the menu settings include white rice, brown rice, soups, and stews (and extendable for beanpots, porridge, etc.).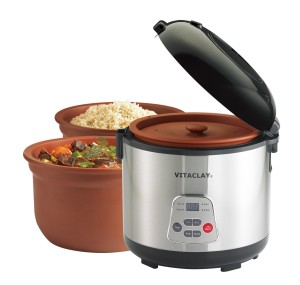 This slow cooker's pot or vessel is made of unglazed clay. It gets your food hotter in quicker time than traditional slow cookers with glazed vessels.
It cuts cook time in half using up to 50% less energy. As far as rice cooking, it cooks every variety of rice perfectly, supposing you can figure out how much water to pour in. It cooks cous cous, as well as beans, lentils, etc.
The operation is quite simple and easy to use. Basically, there is a rice button which cycles between four types of rice and a slow cooker button which lets you select a few modes of slow cooking.
Then there is timer button to override the default cooking duration and a cancel button to reset the cooking and turn off the pot.
Designed with thirty-minute to 12-hour programmable cooking time with 30-minute increments, this rice cooker can be recommended to anyone that genuinely cares about their health; you will fall in love with it and use it many times.
Check Price
As a suggestion, the 8-cup cooker is great for families while the 6-cup can be a bit too small for stews and slow-cooking.
It is so great to not have to worry about the non-stick coating found on almost all other rice cookers. And clean up is super easy: if stuff gets stuck to it, let it soak with water and it is easy to get clean.
Cuckoo CRP-M1059F 10 Cup Induction Pressure Rice Cooker, 110V, Red can feed up to 10 people. With X-Wall Diamond coating (inner pot) and Korean voice navigation only, this rice cooker allows you to cook GABA rice.
Forget about spending a lot of time to cook amazingly delicious rice with this Cuckoo CRP-M1059F IH Rice Cooker!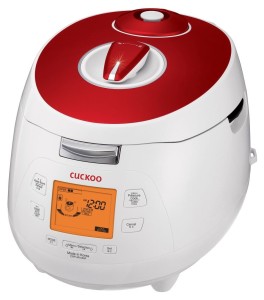 The rice cooker cooks white rice really fast at its Turbo speed setting. The 10-cup capacity is good for those days when you have the whole extended family over.
It is kind of cool that the rice cooker talks, but it is really not necessary.
The quality of the cook pot is very nice, but you may find the rice scoop and measuring cup a measly standard.
You can use your own rice measuring device and rice scoop. The steamer is also the same measly standard, but you can be confident as it will get the job done.
There is English on the buttons and reading the manual is pretty self-explanatory and it helps a lot. It cooks perfect rice every time, and it speaks to you in Korean which you can also disable.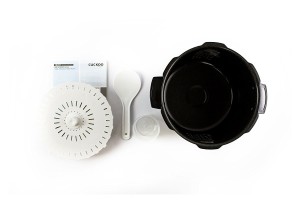 Check Price
Everyone who likes rice will like it. This machine is very versatile and fast.
As it comes with many cooking options (express, white rice, various grain, sushi rice, porridge, etc.) and a timer; also, rice will be ready when you come home, if you are interested.
It can cook 2 cups of glutinous rice in about 15 minutes, so it is highly recommended. Prepare yourself to get excellent performance with good price!
Conclusion
Any of these 6 affordable rice cookers with porridge setting can be a great kitchen appliance.
You should consider the capacity of the rice cooker that you need and also, the menu settings that such a unit should include.
Once you have considered all these features, you have to make a decision that definitely will change your way of cooking and eating rice.
Comparison Table
Zojirushi NS-VGC05
Midea MB-FS5017
Tiger JAX-T18U-K
Panasonic SR-DE103
VitaClay VF7700-8
Cuckoo CRP-M1059F
Capacity
3-cup rice cooker and warmer
5L capacity
10-Cup
10 cups
6 cups or 8 cups of rice
10 cups
Color
Beige
Brushed Brown
Stainless Steel Black
white
Stainless Steel Black
Red
Interior
Nonstick Inner Cooking Pan
non-stick coating
Nonstick Inner Cooking Pan
Nonstick aluminum pan
clay pot is free of aluminum and artificial non-stick glazes
inner pot material is made out of aluminum and is coated with
Xwall diamond coating
Detachable
inner lid
convenient detachable inner lid
Partical lid
easy to remove and wash inner lid
a domed lid
N/A
Yes
Display
Easy-to-read LCD control panel
Easy to read clock and LCD display
LCD display
large orange LCD read-out
Easy to read LCD display
large orange LCD read-out
Programmable
Timer
Yes
Delay timer
delay timer
24-Hour Preset Timer
Yes
Yes
Cord
detachable
power cord
The
cord is not retractable
the
cord is not retractable
Detachable
Power Cord
N/A
Automatic
Keep Warm
Yes
Yes
Yes
12-Hour
keep warm
No
Yes
Cake setting
Yes
No
No
Yes
No
No
Acoustic
signals
Yes
N/A
N/A
N/A
N/A
Yes,
Korean Voice Navigation Only
Weight
5.1
pounds
12.6
LBS
9 pounds
7.3-pound
1
pounds
15.2
pounds
Dimensions
10.9
x 7.9 x 8.8 inches
16.7
* 12.5 * 12.5 inch
11.1-Inch
W x 14.6-Inch L x 9.8-Inch H
13-1/8-inch
(L) by 9-7/8-inch (W) by 8-1/4-inch (H)
10.6
x 11.3 x 11.3 inches

15.6 x 11.6 x 11.4 inches

Heating
system
micro
computerized Fuzzy logic technology.
Fuzzy
logic technology
automatic
cooking logic system
micro-computer
"Fuzzy Logic
computerized
clay-heating technology
N/A
Menu settings
white/mixed/sushi,
porridge, cake, rinse-free and quick cooking.
White
rice, Congee, Quick rice, Brown rice(Wholegrain or Wild rice), Baby porridge,
Oatmeal, Soup(Broth or more liquid based cooking), Steam, Stew(Roast or
Beans, or less liquid cooking), Slow cook(up to 10h) and Reheat.
Synchro-cooking,
plain rice, quick rice, porridge, mixed rice, sweet rice, brown rice,
multi-grain rice, slow cooking, steam cooking
white/brown/sticky
rice, porridges, steam, slow cook, 15-minute cook and cake
white
rice, brown rice, soups, and stews (and extendable for beanpots, porridge,
etc.)
GABA
rice, porridge and stew
Accessories
thick
spherical inner pan; rice spatula, 2 measuring cups, and recipes included
1
* Rice Spoon
1 * Soup Spoon
1 * Measuring Cup
a
plastic paddle
Rice
scoop, measuring cup, and steaming basket included.
N/A
N/A
Price
Check Price
Check Price
Check Price
Check Price
Check Price
Check Price