PolyScience Culinary CMC850BSSUSA – get ready for the new gold standard for induction cooking!
Precision and control are the key aspects of the induction cooking; but is it possible to have something more?
What about holding cooking temperatures or programming recipe settings? Or automatic adjustment of the speed in order to set the temperature?
If you always want a cooktop that controls the temperature variation, now you can have what you desire with PolyScience Culinary CMC850BSSUSA
: this induction stove will continue to surprise you after every use as it is manufactured for reliability and has numerous functions for a great experience in your own kitchen or the kitchen of your restaurant.
1. Controls
Have you ever used a Control Degree Freak induction cooking system?
This one is the exactly cooktop that you may need as it measures, sets and holds 397 cooking temperatures from 86-482 Degree F: it is a unit which does what it says and much more as you are going to cook with incredible precision in a way that has not been possible before.
In order to operate the cooktop, you have control knobs for power, timer, temperature and power level adjustment and near the display, you will find Settings, Pause/Cancel, Probe, Menu, Create and Medium buttons.
The 72-hour timer has the following functions: Repeat, Continue, Keep Warm and Stop Cooking.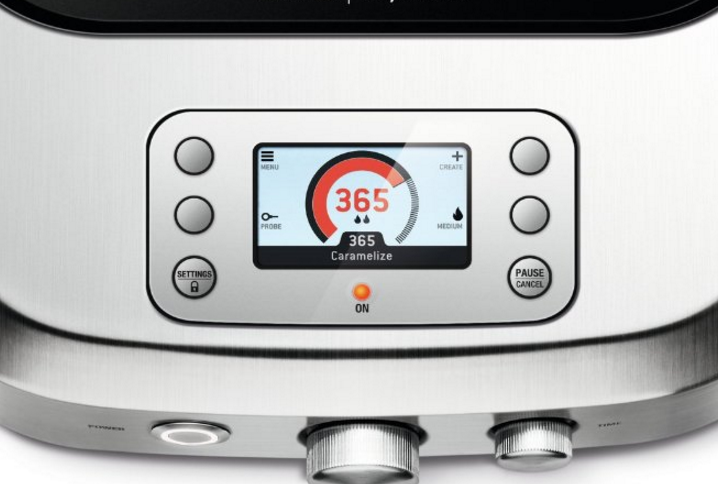 You have also the "Intensity" function that gives incredible control over the heat-up speed to the set temperature and a "Create" function used to store frequently used custom temperature profiles for simple one-touch recall.
2. Surface
PolyScience Culinary CMC850BSSUSA is made of high-heat resistant ceramic glass with Tritan Polymer LCD display and color TFT screen.
For those who continue to have doubts, its temperature precision and stability coupled with durable commercial construction assure consistent operation in the toughest environments; the ability to store cooking profiles and to program gives users complete consistency in their recipes and applications.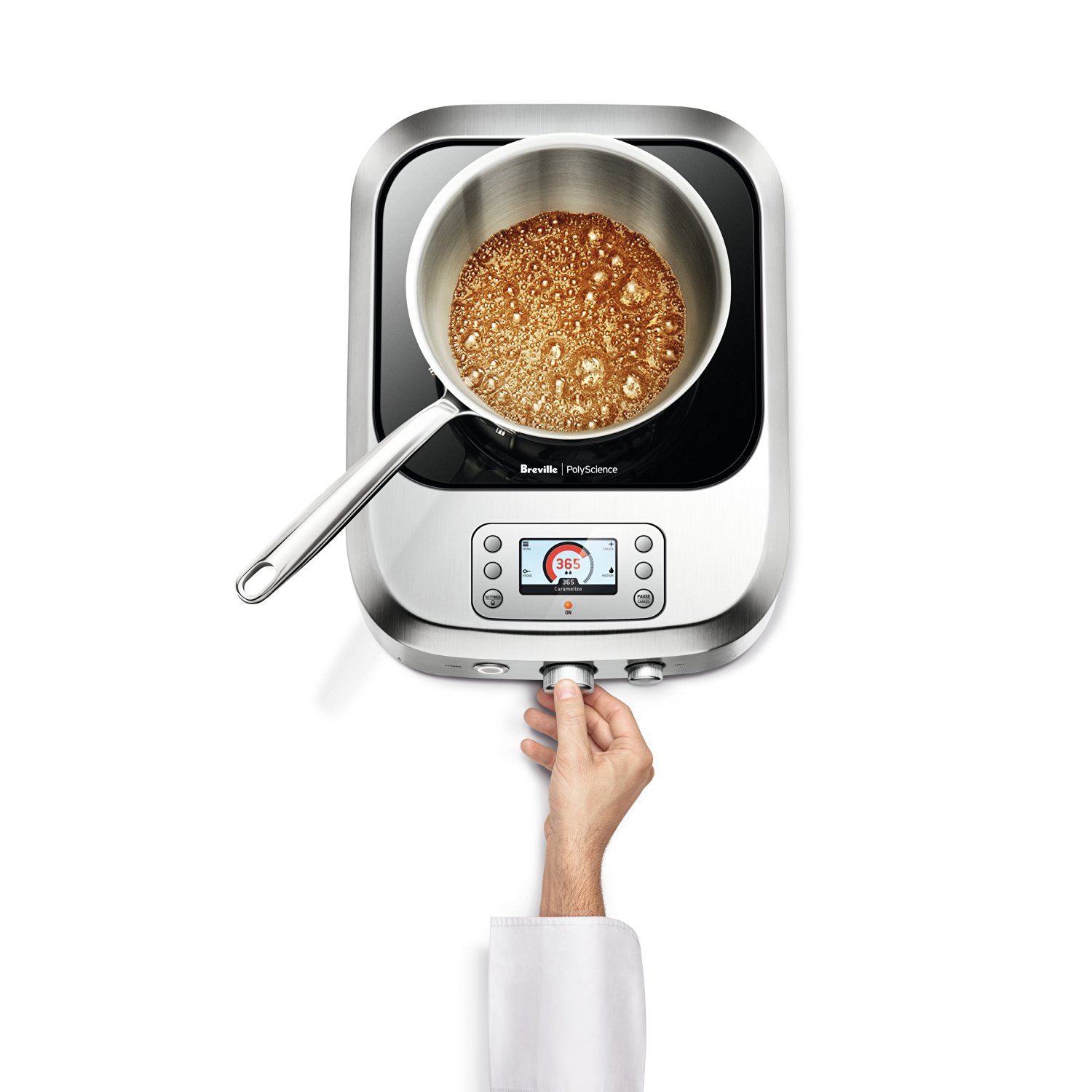 3. Heating Elements
The item is designed with a burner with durable stainless steel housing that is very easy to clean; in case you wonder, the control knobs are dishwasher safe.
With this burner with Probe Control, you can hold a pan at 397 different temperatures (from 86 °F to 482 °F), within ±1°F / ±1°C of stability.
And take into account the revolutionary Probe Control with pot clip that communicates and controls the precise temperature of both water and fat-based liquids.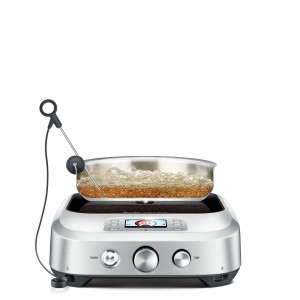 4. Power/Watts
With a power range between 100 and 1800 Watts, you will have a product that can be used with any induction compatible pot or pan: just enjoy the Control Freak that checks temperature 20 times a second to make virtually instantaneous adjustments to power to keep temperature variation to a minimum.
5. Sensors
Having this induction cooktop, it allows you to automatically adjust the speed to set temperature like never before: everybody knows that when cooking delicate dishes you often need to raise the temperature slowly to allow heat to distribute evenly or when cooking at searing temperatures you often need to ramp the heat up fast.
The automatic adjustment will be possible in a second.
Designed with a system that directly takes the temperature of the pan or the food, it gets to detect almost immediately any change, like adding cold ingredients.
Also, power is applied and regulated to return back to set temperature as quickly as possible. And, the through-the-glass pan temperature sensor allows the thermostat to touch the pan directly.
6. Ventilation
With a dual fan cooling system, there is nothing to worry about the heat produced while cooking: the Control Freak's patented twin fan cooling system keeps you cooking all day and night, even at searing temperatures in the hottest kitchen.
Despite the fact that other models have only one fan, this cooling system efficiently and effectively cools all the machines internal components, extending the life of the Control Freak and eliminating overheating.
7. Safety Features
In terms of safety features, you have to deal with two types of control for PolyScience Culinary CMC850BSSUSA
: first of all, you have a Probe Control for wet cooking and this means that the probe control is directly sensing the temperature of the ingredients and can hold temperature stability of ingredients to within ±1.8°F.
This function is ideal for so-called wet cooking and remains accurate in liquids as shallow as 5mm deep.
Then, the Pan Control for all cooking guarantees you another way to know the temperature of the pan, without measuring it directly. Pan Control can hold temperature incredibly stable even at the highest searing temperatures.
8. Accessories
Despite the induction cooktop, the power cord, and the user manual, those who choose PolyScience Culinary CMC850BSSUSA will find in the packing box a series of accessories: a probe, a probe holder, a USB drive and a carry bag.
With the probe, you will sense the temperature of both water and fat-based liquids. The probe holder will allow you to easily attach the probe simple and effortless to the side of the pan.
The USB drive is excellent as you no longer have to remember cooking times and temperatures. You have the possibility to save them and recall them as required, or copy them to other machines for repeatability and consistency.
And in case you want to take this PolyScience Culinary CMC850BSSUSA with you, you have a carry bag in order to transport the item from location to location with ease: the carry bag features an adjustable shoulder strap as well as hand straps.
9. Dimensions
19 x 13.5 x 5 inches
Item weight: 16.2 pounds
Shipping weight: 24.7 pounds
10. Pros
11. Cons
12. Consumer Ratings
PolyScience Culinary CMC850BSSUSA is a new product launched on the market: considering this aspect, a consumer rating is not established as customers have not the opportunity to provide their feedback and their reviews.
13. Price
Such an induction cooking system has a price of check on Amazon
: once you decide to order PolyScience Culinary CMC850BSSUSA, you should know that you have nothing to pay for the shipping.
PolyScience Culinary CMC850BSSUSA brings great design and unparalleled precision to the culinary world: all you have to do is to try it in your kitchen and certainly, you are going to be impressed by the functionality and precision.
PolyScience Culinary CMC850BSSUSA
Manufacturer
PolyScience Culinary
Destination use
suitable for comercial use
Controls
9 (power, timer, temperature and power
adjustment controls, Settings, Pause/Cancel button, Probe, Menu, Create and
Medium buttons)
Control Panel
easily navigable digital display
Functions
Timer with "Repeat,
Continue, Keep Warm and Stop Cooking" functions, Intensity and Create
function
Surface
high-heat
resistant ceramic glass.
Color
Silver/Black
Power Source
N/A
Output Power
100-1800 Watts
Power levels
N/A
Temp Levels
86°F – 482°F / 30ºC – 250ºC
Temp step increment
Temperature Stability ±1°F/ ±1°C
Programmable Time
Yes , 72 hr with "Repeat, Continue, Keep Warm and Stop Cooking" functions
Function Lock
N/A
Warranty
2-year warranty
Acoustic warnings
N/A
Weight
16.2 pounds
Shipping Weight
24.7 pounds
Dimensions
19 x 13.5 x 5 inches
Cord Length
N/A
Led Display
Color TFT screen
Safety Feature
through-the-glass pan temperature sensor, two types of control: Probe Control for Wet
Cooking and Pan Control for All Cooking
Error Codes
N/A
Pan size (bottom diameter)
N/A
Cookware material
any induction compatible pot or pan
Free PAN
N/A
Around Clearance
N/A
Made In
USA
Price

Check Price on Amazon