Midea MC-STW1506 Portable Induction Cooker
As technology evolves, we realize that there are more options than we can count when it comes to adding new kitchen appliances. They are all nicely designed and come with long lists of technical specifications.
But wouldn't it be nice to be able to find kitchen appliances that are both inexpensive and efficient? If you are looking for an induction cooktop and you're on a budget, then you should take a look at the Midea MC-STW1506
1500W induction cooker.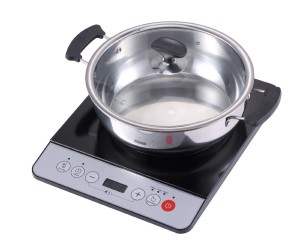 We did and discovered that it is quite complex. Here are its main features:
1. Controls
This induction cooktop has plenty of functions that are really helpful on a daily basis. The control panel has touch controls that are easy to comprehend and use:
• Power button – it is used to turn the cooktop on and off after plugging it in. Pay attention
when turning it on! The induction cooker automatically turns off if no other button is pressed for 10 seconds.
• Power regulating control – this key helps users set the desired wattage, up to 1500W.
• Timer regulating control – this button allows users to set the desire cooking time, up to 3 hours.
• Function selection – this button must be pressed every time the cooktop is switched on. It helps select the temperature and power modes, as well as the Keep Warm mode.
• Preset control – allows users to preset a certain time before the normal working mode, by pressing this button, followed by the + and – buttons.
• + and – – these adjustment buttons can be used to adjust the temperature, wattage and time.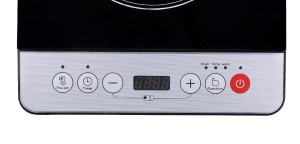 2. Surface
The Midea MC-STW1506
induction cooktop's surface is made of ceramic glass and serves as a plate for induction-ready pots and pans.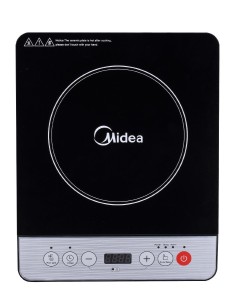 3. Heating Elements
This device has a single burner that can use up to 1500 Watts to heat food or water. There is a cooking zone indicator that lets the user know how big the cookware's bottom should be.
4. Power/Watts
The 1500 Watts are ideal for fries and heating food and the cooktop's temperature control is quite good.
It can be plugged in to 120Vac with a frequency of 60Hz, which means that it is suitable for home use.
5. Sensors
This product's sensors help users work with a highly-sensitive touch control panel and cook safely, knowing that the cooker will automatically shut-off whenever the cookware is not compatible or there is no activity detected for more than 1 minute.
The sensors' role is to protect the induction cooktop from overheating.
These sensors detect any glass, ceramic, aluminum or copper pots and pans and shut the device down immediately. The only compatible cookware are the iron oil frying pan, the stainless steel pan, the iron pan, the iron kettle, the enamel stainless steel kettle, the enamel cooking utensil or the iron plate.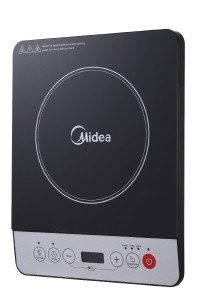 6. Ventilation
The induction cooktop has a ventilator that is positioned underneath the induction system. It has 2 exits: one for the air entry and one for the air vent. It is recommended not to insert any objects in the cooktop's holes that could block the air entry or ventilation ports.
7. Safety Features
Except for the sensors' protection role, there are other safety features that will help users work safely. The Lock function can be used by pressing the + and – buttons at the same time. It is meant to avoid the children's use.
8. Accessories
This product's manufacturer doesn't recommend the use of additional accessories or attachments. The cooker's box contains a power cord and the cooker itself.
9. Dimensions
At its size of 380 x 290 x 61 mm and its weight of only 2.5 kg, this induction cooker can be easily stored anywhere in the kitchen. Also, it is very easy to transport it thanks to its small size.
10. Pros
11. Cons
12. Consumer Ratings
Buyers are usually impressed by its functions and ease of use, but not so impressed by its power.
Although 1500 Watts are just enough for regular cooking, sometimes higher wattage can help users cook faster.
Based on customer ratings and the fact that this product offers great value for money, this product gets 4 out of 5 stars
.
13. Price
For a great price on Amazon
, this is an inexpensive product that has a great design and is perfectly capable of cooking a variety of meals. Its price is fair and some might even say that it could be more expensive, giving what it offers.
Manufacturer
Midea
Destination use
Home use
Controls
Touch controls (on/off, power, timer,
temperature, preset, + and -, function)
Control Panel
Touch
Functions
Power, Timer, Temperature, Preset, Child
Lock, Keep Warm
Surface
Ceramic Plate
Color
Black
Power Source
120Vac, 60 Hz
Output Power
1500W
Power levels
10
Temp Levels
10
Temp step increment
N/A
Programmable Time
3 hours
Function Lock
Yes (+ and -)
Warranty
1 year
Acoustic warnings
Yes
Weight
2.5 kg
Shipping Weight
3 kg
Dimensions
380 x 290 x 61 mm
Cord Length
N/A
Led Display
Yes
Safety Feature
Lock Mode, Auto shut-off
Error Codes
E1, E2, E3, E4, E5, E6, E7, E8, Eb, EC
Pan size (bottom diameter)
20 cm
Cookware material
Stainless steel, iron, enamel stainless steel
Free PAN
NO
Around Clearance
N/A
Made In
China
Price
Amazon Discount Link