5 Best Kitchen Aprons Made in USA with Reviews
There are a lot of reasons why you should consider wearing aprons in the kitchen while cooking.
Wearing an apron keeps you away from stains; certainly, you do not want to mess up your clothes especially if you are hosting and if you use an apron, you are going to protect the clothes.
Also, the apron prevents your clothes from coming in contact with the food, hence any germs, dust, hair etc, reducing the risk of getting infected and suffering from serious illnesses.
Forget about clothes catching fire, minor burns as the apron tucks in all the loose clothing!
But, the aprons do not only keep our bodies protected and our clothes free of food; these aprons can be used for drying hands, opening jars, and wiping up a quick spill.
If you cannot find the oven mitts, you have the apron in case you need to grab something from the oven.
Here you have several aprons made in USA with excellent fabric in order to combine overall comfort with reduced maintenance requirements.
This simple piece of cloth that makes a difference is an effective safety item during your cooking.
1. Kitchen Aprons Made in USA for Men
Personalized Made In 2-Pocket Bib Adult Apron Made in the USA is made of the highest quality 7.5 oz. 65/35 Poly/cotton twill fabric in order to last.
It is available in 19 popular colors and you can choose from black, charcoal, hot pink, navy, purple, royal, turquoise, etc.
These aprons made by The Apron Place are color steadfast and have a soil release and wrinkle resistant finish. It has an adjustable neck strap and extra long finished ties measuring approx. 37″ on each side (total span of apron and ties of 98″).
This apron has conveniently located split center pockets measuring approx. 7″ wide x 8″ high each in order to easily handle all of your utensils or tools. You get it available in 2 sizes: Adult Regular 28″L x 24″W and Adult Long 34″L x 24″W. Some care instructions are: machine wash warm, tumble dry low, do not bleach, do not iron.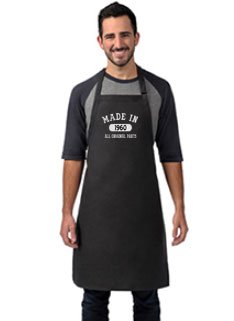 The apron itself is very good quality and you can choose anything you want for its personalization; choose a hit that your husband or friend loves or why not, choose to embroider on it his or her birth. It will be a real surprise and he will be impatient to use it.
The design and text of The Apron Place – DA-MadeIn Personalized Apron Made in USA are embroidered not printed.
This high-quality washable apron can be ordered as a gift (perfect for birthdays and anniversaries) and you can select the year that is going to be embroidered in the gift message.
Fiumara Apparel Bib Apron-Navy with 2 Patch Pockets 30″L X 24″ W is made of high-quality American 7.5 oz. 65/35 poly/cotton twill fabric. Bib Apron is 30" long by 24″ wide with 2 patch pockets and adjustable fabric neck strap for fit and comfort.
Fiumara Apparel's professional two pocket bib apron is a must for any prep kitchen area or for weekend barbecues.
With a superior styling and construction combined with a refined classic look, it is available in three colors: white, black and navy blue.
As you probably know, Fiumara Apparel offers a broad range of uniforms and work wear designed for the most discerning professional.
The apparel line comes with sophisticated quality and practical durability, marrying classic elegance with modern couture to provide top professionals with carefully crafted products.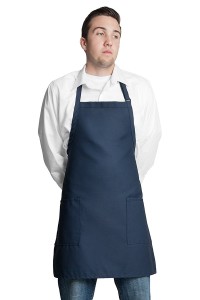 With soil release and wrinkle resistant finish, Fiumara Apparel Bib Apron – Navy FCB023-NBL Made in USA gets reinforced stress points and extra long 35″ finished ties.
Those who work in kitchens will find this apron very sturdy and well-made: with good body coverage and excellent adjustability (both at the waist and the neck), it is comfortable and easy to wear.
You can see the difference in quality by looking at areas that experience a lot of stress, like the waist ties, pockets, or the neck band, but those are all holding up very well, while the pockets are roomy. Also consider that the fabric is not flimsy, and is easy to care for.
2. Kitchen Aprons Made in USA for Women
Simply Savvy Co Made in USA Bella Cute and Stylish Apron For Women Red with 3 large pockets is made of nylon polyester fabric and fits women between size 0-12. Proudly made in USA, this is a great apron to work in.
This Simply Savvy Co 'Bella' apron has three large pockets at your fingertips, a form fitting the waistband and accent pleats. With its tapered skirt and damask print, you get a beautiful fun apron for you or your friends.
This apron has a haltered back, is machine washable, low heat tumble dry and iron at low setting.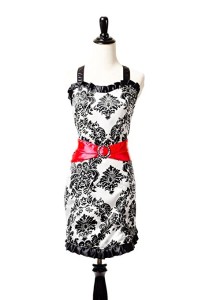 With form fitting and stylish design, you will really enjoy this apron. You are invited to consult all the extensive collection for salons, women, and children of Simply Savvy Co; for your lifestyle needs, you should choose Simply Savvy Co items.
The great style and good design of Simply Savvy Co Made in USA Bella Cute and Stylish Apron For Women Red make it seem like a dress; it is adorable and can be a great gift for your wife or another woman.
Raw Materials Design DCAGC Demi-Chef Apron, Made in USA for Women is made from heavy duty 8.5oz. cotton canvas.
With generous lap pocket, it is available in the following size: 33-1/2″ h x 27-1/2″ w.
It provides 1″ cotton webbing adjustable strap and extra long 42″ waist ties.
This apron has a functional, no-nonsense design and construction and is built tough as nails and made to stand up to even the toughest conditions.
Pre-washed for minimal shrinkage, this apron is proudly manufactured in the US by skilled workers paid a living wage.
This Bib-style apron with medium length and dyed cotton canvas is not only for cooking but for housework and gardening.
Such an apron is very well made and so, turns to be a great gift; it is available in the following colors: carmel canvas, graphite canvas, herringbone denim, moss canvas, navy canvas, railroad denim, sierra red canvas, etc.
3. Unisex Kitchen Aprons Made in USA
This Jennice House 100% Cotton Professional Kitchen Chef Bib Gingham Aprons with Pockets in Large Size is available in navy, blue and red.
It is made of 100% high-quality cotton, very soft material.
It has a large size (33-inch length by 27-inch width) to provide the perfect fit and long ties that can be tied in front or back.
The two patch center divided pockets hold cooking essentials. The apron is machine washable and easy to clean and features bright prints and colors.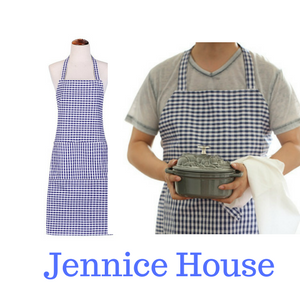 It is a great gift for Christmas, Holidays, Birthdays, Mother's Day, Father's Day, dinner parties, and etc. and the same style apron for kids and table cloth are on sale in the store of Jennice House.
This apron is very simple but stylish. It hangs easily on the neck, has two pockets conveniently on the hip area, and is breathable.
The cotton is a plus and is washable; the cotton canvas is not too thick and has convenient pockets for whatever you may need to have on hand like a cooking thermometer, for example.
This is mainly a summer style due to the bright gingham but you could wear it year round in your kitchen. This perfect apron for use in the kitchen keeps your clothes clean in the kitchen and if you look for a very high-quality product that looks great, this is what you should purchase.
Conclusion
If you may need an apron while cooking or you search for a gift, these 5 best kitchen aprons made in USA with reviews are a great choice and you may take them into consideration while choosing the right one.
Purchase a functional apron for moments when you are cooking!