5 Best Induction Ranges with Warming Drawer and Reviews
Everyone has heard about warming drawer at least once; but what exactly is a warming drawer? This term refers to an appliance that is used to keep food properly heated and this is possible without needing to use the oven.
Most frequently, these warming drawers can be found at the bottom of a freestanding or slide-in range, but you will find these warming drawers as independent kitchen appliances on the market in order to be built into your cabinets. These appliances come with settings of different temperatures for accommodating different types of food.
Each kitchen should have a warming drawer especially for family dinners, like Thanksgiving dinner and other holiday spreads, or for frequent dinner party hosts.
In case you want that your food stays warmer a long time, you should hold it in a warming drawer before starting to serve.
With a warming drawer, you are able to warm plates and platters before serving, to hold side dishes at a safe serving temperature, to heat bread or rolls for a meal and, of course, to keep pies and other desserts warm during dinner.
If you do lots of entertaining, you may need a warming drawer; also, if you want an ultramodern cooking appliance, your range may come with this warming drawer.
Let's see some induction ranges with warming drawer that will keep your food in there for hours maintaining the proper heat and moisture levels.
SAMSUNG NE58H9970WS Slide-In Induction Range, 30-Inch, Stainless Steel comes with 4 burners, 5.8 cu. ft. convection oven with Flex Duo oven option, gliding oven rack and LED Virtual Flame technology.
The induction elements have the large one on the right, the smallest in rear center and the two on the left are medium sized and all are very high powered with the exception of the smallest.
The upper oven is small but actually heats up extremely quickly. The lower oven is great especially when you need to cook two things at once.
But you can use both as follows: the top oven can be used in order to defrost a couple of frozen dinners and a pizza for guests while the bottom one can cook a ham for others.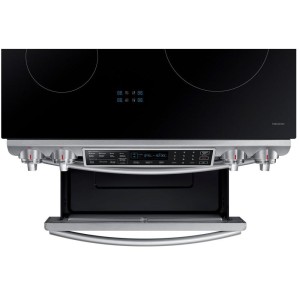 The induction cooktop is quicker and provides even heating, getting to be cool to the touch, and easy to use; there are some particular features as enhanced lighting, the auto-detection that shuts off the range when no pot is detected, and of course, the virtual flames.
The pots heat up so much quicker and as one expect, it is the pot or pan that heats up, and not the cooktop itself, saving time and energy, while the clean glass surface just looks so elegant.
You get convection, regular and steam oven with a temperature probe and warming tray at the bottom; main oven cavity can be divided into two, with two timers and timed cook settings for the oven.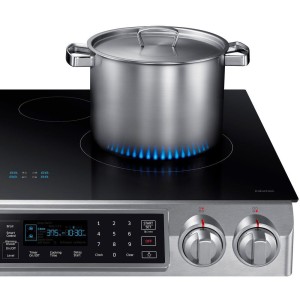 Check Price on Amazon
If you are concerned about any noise, you should know that you are going to notice a white noise like the fan sound of a computer, but this is just like any noise you would expect from an electronic machine being turned on.
Overall, it is certain that you are going to love everything about your new range.
On the other hand, you have GE PHS920SFSS Profile 30″ Stainless Steel Electric Slide-In Induction Range – Convection: the range has 4 heating elements, 5.3 cu. ft. True European Convection Oven with Fast Preheat function and a self-clean roller rack.
It is time to test this induction range that is amazingly fast and responsive; the range can vary temperature with even greater control than gas and does do the "on/off" switching at low settings.
The burners automatically turn off when then lose contact with the appropriate type of pan.
It detects pan sizes and will not turn on if the pan is off the burner or is too small. This is great as it prevents accidentally heating a stainless steel wedding ring, for example, or a steel spatula. But, it also prevents you from using small pans on large burners.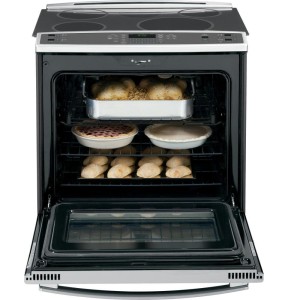 This range does have a warming drawer with 3 temperature levels. It is great for warming plates and keeping food at a good temperature without needing to cook it again. This induction range is a wonderful addition to your kitchen.
As you probably intuit, it works with compatible induction cookware. If a magnet does not stick to your pan's bottom, certainly it will not work at all.
The pan's bottom surface must be made from most types of stainless steel, mild (ordinary) steel, or cast iron.
The oven is convection, so, it is recommended that when opening the door, you must stand back for a second in order to let the blast of heat leave.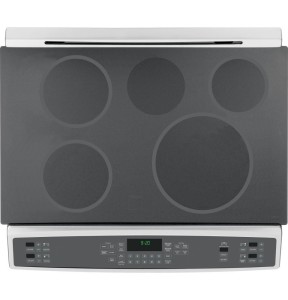 Check Price on Amazon
If you want to bake, you will see that it is easy and intuitive and the self-clean feature is great, because you do not need to remove the racks for the cleaning process.
Electrolux EW30IS80RS 30″ Freestanding Induction Range provides you 4.6 cu. ft. oven, 4 burners, Perfect Taste Dual convection, professional temperature control and temperature probe in stainless steel.
As it incorporates bread proof and slow cooker features, it is the right moment that you get rid of those ugly counter top appliances.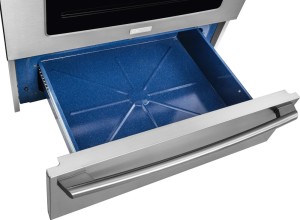 With this Electrolux freestanding induction range, you get an induction cooktop that adapts to different pot and pan sizes because it heats the pan instead of the cooktop; this means that you get perfectly consistent heat throughout the pan for delicious results.
Perfect Taste Temp Probe is great not only for measuring the internal temperature but also because the probe alerts you when food has reached the desired temperature; it is able to automatically adjust to the Keep Warm setting and so, you never overcook your food.
With the dual-fan convection oven that circulates air more evenly throughout the oven for an even cook, you are going to obtain consistently delicious taste and texture of your meals.
You have two variable speeds that work in tandem with three heating elements (bake, broil, and roast) and this will guarantee you delicious results every time.
With this oven, you have a helpful variety of cooking mode to choose from: you can select from modes as bake, broil, convection bake, convection roast, convection broil, keep warm, and slow cook.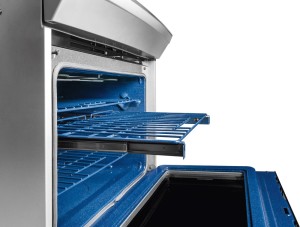 Check Price on Amazon
As you may attend, convection oven works great, with the lower oven pretty good to roast vegetables, and the bottom one perfect to brown but not the top.
The oven heat comes out of the front, not the back. You will see that with the meat probe, convection conversion, etc., maybe you will have to open the oven just once to check on the progress but mostly, you will do not need to open the door.
Purchasing a Verona freestanding induction range, you will get a hand-made, quality cooking appliance exquisitely designed and manufactured in Italy.
These durable and beautiful European professional appliances are among the preferred appliances featured in designer kitchens throughout Europe.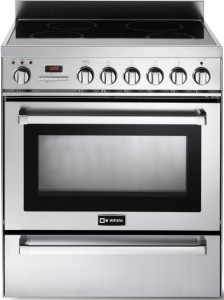 Verona VEFSIE304PSS Freestanding Induction Range
is designed with 4 zones, 3.6 cu. ft. Self-Cleaning oven with European convection, a black ceramic glass top, and stainless warming drawer.
If you want to enjoy the power of gas cooking in a fully electric stove with the 21st-century power of induction cooking, this is the item that you should buy.
You may choose this freestanding induction range as it is a full-feature appliance that is ideal for a small or large kitchen. Its induction cooktop is equipped with four vitro ceramic induction zones ideal for handling a variety of big or small cooking tasks.
Regarding the oven, you work with a European fully equipped convection oven that can be easily programmed with the digital clock and timer. Certainly, such a Verona induction range delivers the ultimate in professional performance.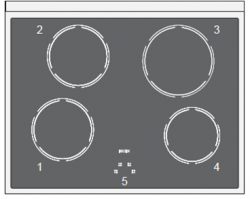 Check Price on Amazon
With this European convection oven, you can test it with all your baking and broiling tasks, while the versatile warming drawer covers a broad range of settings in order to keep your food warm, to proof dough, to dehydrate, or even to slow cook a variety of dishes.
And once you finish with all cooking, all you have to do is to adjust the self-cleaning feature; this feature helps speed along the task of clean-up and let you enjoy the company of your family or guests.
This range is all you may want for your daily cooking.
5. Whirlpool WFI910H0AS Freestanding Induction Range with Warming Drawer
Get inspired to prepare delicious family meals with the help of the large 6.2 cu. ft. capacity range and induction cooktop that features four Induction Boost elements provided by Whirlpool WFI910H0AS Freestanding Induction Range!
With the Induction Boost element, you are going to boil water in less time than traditional gas burners. 5,000 BTU AccuSimmer Burner gives you the precise temperature control for melting chocolate or simmering sauces.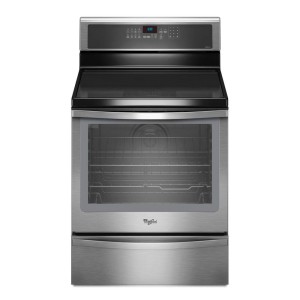 You also have a cooktop that offers the industry's most efficient cooking technology for efficient use and easier cleaning.
The touch controls in the front center prevent having a large burner up front. The burners are very responsive and heat up and cool down quickly. The surface is easy to keep clean with just a quick wipe with water and paper towel.
6.2 cu. ft. super oven capacity is the exact capacity that you need to cook a main dish and side dishes at the same time.
This means that you are ready for any large family meal or any treat for a bake sale. A built-in sensor monitors oven temperature and controls the cooking elements to deliver consistent and delicious results every time.
The oven is very accurate. It does take only 15 minutes to preheat and probably, you will have to get used to, but it bakes like a dream and this is exactly what any chef needs in his or her kitchen.
This oven will beep at you for a number of different reasons, for example when you have something set on top of the controls, or when it thinks the oven is empty and turned on, etc. and as you probably see, most of the time it is very helpful.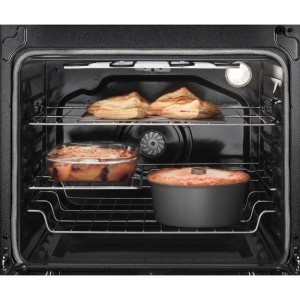 Incorporating a separate warming drawer means that it ensures that food done ahead of schedule does not get cold before the entire meal is ready to serve.
And for the cleaning, this freestanding induction range includes AquaLift self-clean technology that uses water and low heat to release baked-on foods and deliver easy and odor-free oven cleaning in one hour or less.
Conclusion
If you are searching for induction ranges with warming drawer, the above-mentioned examples are a great choice that you should consider.
With diverse features that transform your cooking into a fast, simple and easy experience, such ranges will find their place in both large and small kitchens. Just pick the one corresponds to your needs!