3 Induction Chafers for Catering Comparison
Chafers or chafing dishes are known as the traditional way to serve hot food anywhere.
If you need to maintain the temperature of already-hot food, you have the perfect occasion to try chafers that use oil- or gel-based fuel cans.
Or you can forget about these fuel cans and try induction chafers.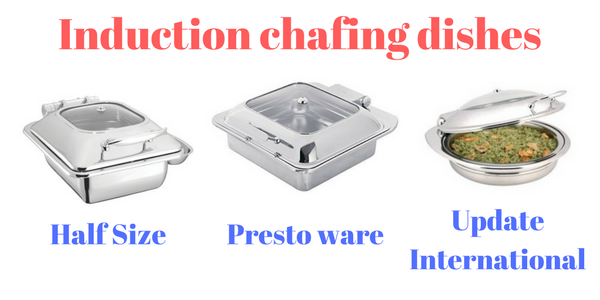 It is sure that with such appliances, you are going to enhance buffets with elegant chafing dishes or save space in commercial kitchens with standard chafers.
Be sure you buy all the accessories as food pans, chafers, chafer frames, and chafing pan lids for caterers, restaurants, hotels, and churches.
Consider the fact that when cared for properly, chafers can last a lifetime so they are a great investment.
On the market, you will find chafing dishes available in a variety of shapes and sizes, including round, rectangle and oval. Also, they can be made of stainless steel, with the chafing dishes themselves made of stainless steel, silverplate or copper options.
Choose chafing dishes and chafer accessories that are sure to meet your needs. Now it is the time to browse through the 3 induction chafers for commercial kitchens and restaurants and select the one that is going to guarantee you a way to keep all of your food warm.
This PrestoWare PWI-602, 6-Quart Induction Square Chafing Dish with Glass Top, Drop-In for Catering measures 400x400x210mm (15.7″x15.7″x8.2″) and provides a working capacity of 325x354x65mm (12.8″x13.9″x2.5″). Its volume is 5 liters / 1.32 Gal, while its weight 6 kg / 13 lbs.
Purchasing such an induction chafer, definitely, you will get an elegant and versatile solution for your buffet or catering operation.
Prepare yourself to serve all of your hot appetizers, sides, and entrees with this square induction chafer.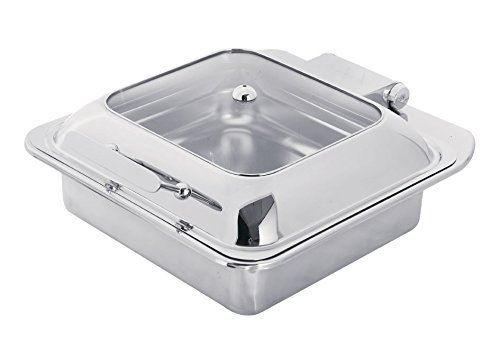 With this PrestoWare PWI-602, 6-Quart Induction Square Chafing Dish with Glass
Top, Drop-In for Catering, you will not need any more chafer fuel because the unit can fit directly into induction cookers. As it has a glass top design, you can have a view of the food without opening the chafer.
Having a stainless steel construction, the item is extremely durable and long lasting. For more information about the product, you should contact Presto Ware and so, you will get the answers to all your questions.
Update International ICH-21 Round Induction Chafer with Glass Lid 6.8 L Gift Box has a stainless steel body, a glass lid, and a chrome plated handle.
Its dimensions are overall height top to bottom of 5.5", overall width side to side of 14.19", overall depth, front to back of 14.19", and overall product weight of 11.92 lbs.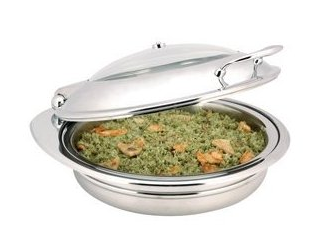 With a capacity of more than 5 quarts, you will get an appliance that will turn to be very helpful for your needs.
Certainly an absolute necessity for any commercial kitchen, this Update International ICH-21 Induction Chafer is one of the best bargains around.
Having a built-in slam resistant mechanism, rear stabilizer leg, mirror polish, there is nothing that you may want for your catering activities.
Be sure that no matter how busy things get, the Update International ICH-21 Induction Chafer
will serve your kitchen well.
Use it directly on an induction cooktop and there will be no problem. So, you are going to have your own chafer, an absolute essential unit for nearly any catering job or buffet-style event. If you want to save space, this is the chafer that you need.
Last but not the least, Half Size Stainless Steel Induction Chafer Chafing Dish With Glass Lid has a 4.25 Qt half size capacity with the following dimensions: 18″ x 12.6″ x 8.25″.
It includes water return system that keeps condensation out of food.
In order to use the hydraulic self-closing cover of this chafer, you have to gently press down lid and it closes automatically and silently.
Another advantage is represented by the fact that the lid may also stay open at 90° and 60° and is removable for easy cleaning.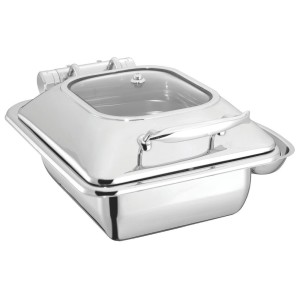 Lifting pin allows food pan to be easily removed. Chafers manufactured by Hubert include water and food pans, spoon holders and self-closing hydraulic lid.
It is made of stainless steel and this means that this chafer provides tough durability for long-lasting use.
This stainless steel chafer features a glass top to attract the customer's attention while providing you a window to monitor your tasty creations. Canned fuel can be used with the optional frame. Get a modern way to prepare and present your most popular dishes.
Conclusion
If you are going to be using a chafer frequently, such as in cases of buffets and catering businesses, you might want to consider an induction chafer.
Being the most efficient way to keep food warm and also probably the most elegant features of your buffet or catered event, a chafer with its sleek and shiny surface and graceful curves can give your wedding or formal dinner a touch of class.
You have the occasion to consult three induction chafers for induction in different shapes, sizes, materials and functions.
It is up to you to make the right decision and with a thousand varieties of catering supplies and equipment varying in size from very small devices and gizmos to huge catering carts, you will have what to choose in order to make the caterer's job less difficult and much more efficient.
PrestoWare PWI-602
Update International ICH-21
Half Size 48085
Dimensions
400x400x210mm
(15.7″x15.7″x8.2″)
overall height – top to bottom:
-5.5″; overall width – side to side: -14.19″; overall depth – front
to back: -14.19″
18″ x 12.6″ x 8.25″
Volume
5 liters / 1.32 Gal,
6-Quart
6.8 L, more than 5 quarts
4.25 Qt Half Size Capacity
Weight
6 kg / 13 lbs
11.92 lbs.
Material
Stainless Steel
Stainless steel body
Stainless Steel
Color
Steel, Clear
Steel
Silver
Accesories
Glass Top
glass Lid/chrome plated handle
Self Closing Hydraulic Lid, Water
Retun System, Spoon Holders
Manufacturer
Presto Ware
Update International

Hubert

Price
Check Price
Check Price
Check Price