5 Induction Buffet Systems , Warmers and Tables
An induction warmer is a holding equipment that keeps food at the right temperature improving your presentation and overall quality.
These commercial induction warming systems provide holding accuracy, flexibility and improve buffet presentation.
If you plan to buy an induction warmer, you should know that the appliance turns your counter into an induction cooktop.
All you have to do is to mount the warmer beneath your countertop and then, you can heat dishes or keep them warm away from your traditional cooktop.
On the other hand, you have induction buffets: such buffets need more space than induction warmers for maximum efficiency.
Designed to serve different purposes and to meet your different needs, these buffets systems come to customize your food service facility and revolutionize your food preparation.
Although they represent a substantial financial investment, induction buffets systems are an integral part in a hotel and restaurant because they allow for creative meal presentations and help feed lots of people very quickly.
If your plan is to create a perfect presentation for catering or buffet operations, you will have to choose one of the solid buffet tables feature cutting-edge induction drop-in warmers built right in available on the market.
In a variety of sizes to cater to every business' demands and in a range of prices to meet every budget, certainly, you will get what you need.
In the case of induction buffet tables, the beauty comes from the table base; you can purchase an induction buffet table that incorporates a solid and durable wooden base. And this wooden base is going to aesthetically match your existing decor.
Designed for commercial use (for example, restaurants and other similar places), induction warmers, buffet systems, and tables change everything when it comes to cooking, serving and preparing lots of food.
Banquets, events, meetings, feasts, etc. are impossible to organize if you do not own such appliances.
Induction Warmers
The newest warmer models come with the warmer, a trivet-like surface on which you put your cookware and a temperature control panel. Just take your time to install the induction warmer for keeping chafing dishes warm on a buffet.
Smart Buffet Ware 1AIW110V4 – SMART Induction Warmer is known as the most economical warmer on the market today.
You can purchase this 110-volt model, or you can choose the 230-volt model (1AIW230V2). This unit provides consistent temperatures, heats chafers, not the room, is safe and secure without fire hazards.
It is a great choice as it uses 66.29% less energy and provides no flames, no fumes, and no smell. Such an appliance can be used only with the medium Smart round chafer bases (models 1A11260 and 1A11264) when used with the corresponding chafer base.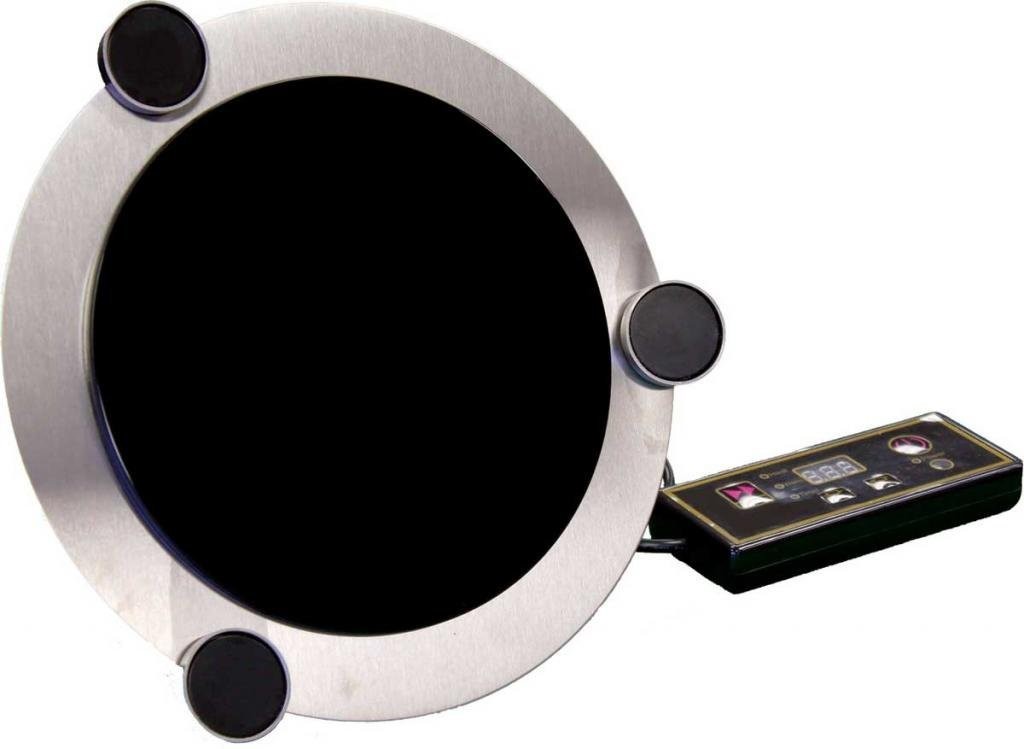 For a great performance, this warmer only requires 200 watts/ 1.82 amps per chafer. This means that you can run up to 10 warmers on a single 20 amp circuit.
As you probably know, most manufacturers have a limit of two chafers per 20 amp circuit, but this is not the case for Smart Buffet Ware 1AIW110V4 – SMART Induction Warmer.
Another important aspect concerns the fact that this induction warmer is single phase, 50/60 converting from canned fuel to induction the largest expense is rewiring, not purchasing of the heaters.
With such a low power requirement, you will be able to easily set up buffets in meeting rooms, or on the fly without fear of tripping breakers.
With adjustable automatic shut-off controller, auto temperature control between 170℉ and 180℉ and auto timer for 1-9 hours (preset at 6 hours), this induction warmer is exactly what you need.
You should purchase this warmer because it is induction compatible and this means that it enables you to help conserve materials, keeps used fuel cans out of landfills, and eliminates greenhouse gas emissions, but also, it allows you to warm food and for this, it uses 69% less electricity; and so, it will impress your guests with your conservation efforts.
APW Wyott IBB-05F Drop-In Flush Mount Champion Buffet Induction Warmer is a drop in buffet induction warmer perfect for holding foods in banquet halls, upscale catered events, or at your hotel buffet.
It features a cookware placement guide in order to ensure that your pans are placed in a way that guarantees you maximum heating efficiency.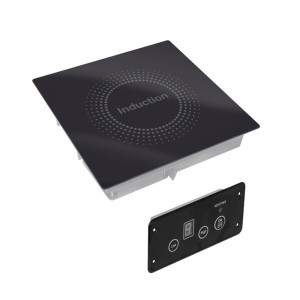 With an easy-to-read display with a heating indicator light and one-touch on/off button, you can operate your drop in induction warmer.
As it is an induction warmer, it is time to forget about the dangers that can appear while operating a open flame unit or an exposed burner in high volume areas.
With such an appliance, you are promoting a cooler working environment for the staff as they prepare delicious dishes for guests.
APW Wyott IBB-05F Drop-In Flush Mount Champion Buffet Induction Warmer works with ferrous stainless steel and iron and cast iron cookware. With a glass top and plastic base, this induction warmer has the following electrical requirements: 120v/50/60/1-ph, 480W, 4.0 amps, NEMA 5-15P.
In order to get an idea about the precise product dimensions, here are the dimensions provided by the manufacturer: 10 (height) x 12.63 (width) x 12.63 (depth). Regarding the warranty, you receive a 1-year limited standard warranty.
1.3. Cadco BIR-1C Induction Warmer
This Cadco buffet induction range is designed with Brushed stainless housing and Schott Ceran glass-ceramic cooking surface.
You may adjust the temperatures from 160 to 450 degrees F and the timer from 1 to 99 minutes.
It handles pots or pans from 3″ to 10.25″ diameter. The three rings in the middle have different sizes that can be used. You can set which burner size you need depending on the size of the pan. It is effective to 6'' and takes a little longer to come to a boil than a previous brand.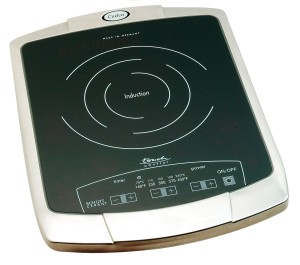 Being used for both commercial and home use, this induction warmer is made of ceramic glass and durable stainless steel.
The stainless steel surface or the surrounding area of the element should be cleaned using a soft cloth and induction-compatible sprays or solutions after cooling down. It guarantees you an easy and comfortable operation with its touch controls.
This Cadco BIR-1C Buffet Induction 120-Volt Hot Plate is able to recognize pans if they are or not induction compatible. It incorporates residual heat safety light over 160 degrees F. It is great for household, every day use and does not require a special outlet.
In order to prevent the overheating, if any activity is not being detected for 30 seconds or if there is no compatible cookware on the burner, the induction warmer will turn off automatically.
In the case of low or high voltage, the warmer is protected and its internal monitoring functions will lead to error displaying on the tiny screens.
2. Induction Buffets
There are some induction buffets that are more comfortable, have a compact design and can be transportable and stored.
This example fits easily into any food preparation setting in order to get a flexible work environment.
Bon Chef 50158 Contemporary Induction Buffet with Five Induction Stoves is a buffet station for cooking food and keeping it warm for service. It is made of stainless steel and has a number of five built-in
1,800W Bon Chef 12083 induction stoves.
As you already know, the heat on induction cooktops typically can be adjusted more quickly and precisely than on electric cooktops, and induction cooktops typically use less energy than electric or gas cooktops.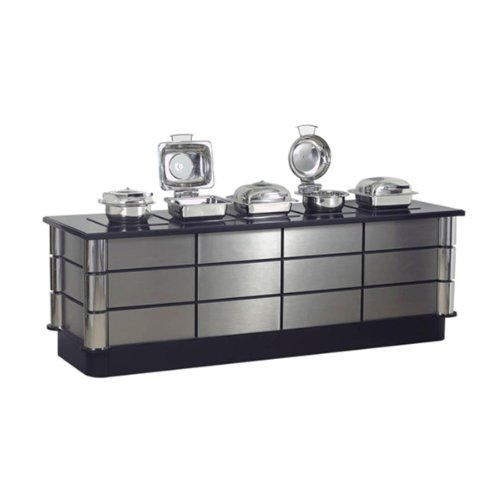 This is also the case for Bon Chef 50158 Contemporary Induction Buffet, a contemporary induction buffet with an induction stove.
As Bon Chef 50158 Contemporary Induction Buffet is made of stainless steel, there is no risk of corrosion because stainless steel resists corrosion. Its smooth surface may be quickly cleaned; you have to wipe it once cool.
With a weight of 700 lb., Bon Chef 50158 Contemporary Induction Buffet measures 96-inches length by 30-inches width by 34-inches height.
Being soy-based adhesive, this buffet station is made in the USA and incorporates non-toxic technology. This means also that the electrical requirements correspond to USA standards: each stove is rated for 110V and requires a 15 amp breaker.
It is constructed with only North American wood products and engineered with LEED certified soy-based, formaldehyde-free adhesives.
Another important aspect concerns the fact that there are used traditional, time-tested fabrication techniques and only the finest furniture grade materials are used.
There is no MDF or particle board, but only quality veneers and solids and it is finished with durable and low-emitting HAP-free lacquer.
3. Induction Buffet Tables
Certainly, having an induction buffet table means having an equipment with high technological functionality and elegant form. Despite restaurant, how about considering an induction buffet table for such as banquet hall, buffet line, or any showcase cooking?
Vollrath's Induction Buffet Table is available in three or four hob configurations, with a solid construction and five stain color options that provide the flexibility and beauty to compliment any space.
As you may intuit, this appliance is intended for use with induction-ready cookware. It is available in 60″ lengths with three induction hob stations or 76″ with four induction hob stations. And the durable ceramic glass countertop features an elegant black granite pattern.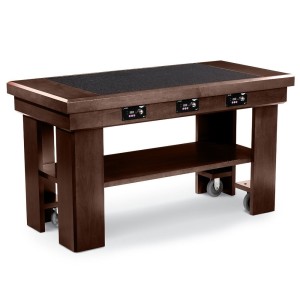 You can choose between wood laminate or solid surface tops; both provide a clean and sleek presentation. For easy maneuverability, you get also 5″ heavy-duty casters and Vollrath 5950145 induction warmers, mounted under-counter for a seamless look.
With 5-level controls on the front face of the table, Vollrath's Induction Buffet Table comes with 3 induction warmers that are going to keep foods at safe serving temperatures.
In order to operate the buffet table, each 450W warmer is mounted beneath the ceramic counter surface and has an individual control with a LED digital readout for easy monitoring.
There is also an 180-minute timer that can be adjusted separately between heating levels 1-5 and this is very helpful in order to accommodate a variety of different types of products.
You can use an induction-ready pan or chafer up to 14″ x 14″ for each hob. And this unit requires a 120V electrical connection for operation.
As it is mounted on 5″ casters, you can transport or store your display table at the end of your banquet or event without any issue. A very important aspect concerns the fact that this item is made-to-order and cannot be canceled or returned once your order is placed.
Conclusion
As long as you have an idea about the functionality and utility of these induction buffet systems, tables, and warmers, now it is up to you to make a decision considering if there is any appliance that may help you with your work.