Best Smart Choice: Frigidaire FGIC3067MB 30″, Drop in cooktop with 4 intelligent burners
Thank you Frigidaire for making such an excellent induction cooktop at an affordable price! – this sentence best describes how pleased are customers with their purchase for Frigidaire FGIC3067MB
. Let's see why.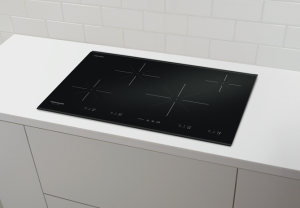 If you like cooking meals that need many cooking zones at the same, this 30″ induction cooktop with 4 burners should be the best solution for you.
Unlike many other similar cooktops with circle rings marking the burners, Frigidaire FGIC3067MB has stainless steel trim and each cooking zone is marked by 4 lines (in a + symbol). It looks very cool and sophisticated.
Apart from the overwhelming design, this drop-in induction cooktop is equipped with the newest features for very precise control of temperature. The burners have different sizes from 6 to 10 inches and each of it can be set using the separate touch control pads that are very subtle, yet very intuitive. The timer helps you with recipes that call for keeping track of time and allows you to do other things
while cooking.
Let's see the other pros and cons for this modern induction electrical cooktop.
1. Controls
The touch pad controls are placed right in front of you and they are easy to access when having a pan or pot on the heating areas.
At first sight, the control panel can seem quite difficult to use, but this is not true because each cooking zone has its separate quick control pads. For each cooking zone you will find these controls:
– Cooking Zone Power Level Display – the cooking zones will provide 15 power levels. The half power levels between 2 and 7 will be indicated by lighting the display decimal point.
– Decrease Power Controls
– Increase Power Controls
– Element On/Off Control (with an indicator light)
The main cooktop controls are placed right in the middle:
– Minute Timer Display Area. You can program it from 1 to 99 minutes. When it reaches 00 you will hear a long sound every 5 seconds until you press any button.
– Minute Timer Setting Up and Down Arrow Key pads
– The Lock Button (with an indicator light)
– Warm and Hold Setting Key Pad
– Cooktop Power Key Pad (with an indicator light) – activates the cooktop. Press this key pad for 2 seconds, you will hear a sound and you will see a power led glowing. The unit enters the Ready mode for 10 seconds.
When using the touch control panel you have to be sure to put your finger in the center of the touch pad.
2. Surface
The cooking surface is black and is made of qualitative ceramic glass that is very easy to clean. Proper cleaning is very important if you want to maintain the ceramic glass cooktop in good shape for a long time.
According to the manufacturer's advice, you should not use cookware with rough bottoms because these can mark or scratch the surface.
Also, you should not slide a pan across the cooktop (just lift it) because over time the overall appearance of the cooktop will be altered and cleaning the surface will become difficult.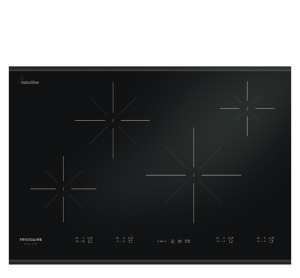 3. Heating Elements
There are 4 induction heating elements, each with different sizes that offer superior cooking versatility. The 10″ induction heating element can go up to 3400W. This means you can boil water rapidly.
Here you can see the size and power for each heating element:
– the left front heating element: 7″ with 1800 – 2600 Watts
– the left rear heating element: 8″ with 2300 – 3200 Watts
– the right front heating element: 10″ with 2500 – 3400 Watts
– the right rear heating element: 6″ with 1450 – 2000 Watts
4. Power/Watts
As we have seen the maximum power is 3400W on the 10″ heating element. The voltage rating of the cooktop is 240C/208 V and 60 Hz while the minimum circuit required is 40A.
The power is shared and when you use more than one cooking zone at a high power level on the same generator, this will have to share its power to both cooking areas, while lowering the power level of one of the cooking areas. So the cooktop has more cooking zones than induction generators and each of these generators is assigned to power a specific cooking area.
Frigidaire FGIC3067MB
has 4 cooking zones and 2 sections and if you want to get the highest power
output from one cooking zone, you have to cook with one pan per heating section.
When you want to use two cooking zone at the same time, jus starts cooking on only one cooking area within the heating section. The second pan should be added on the second heating element when the first one has reached desired the cooking temperature.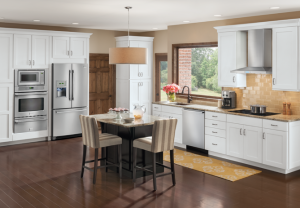 5. Sensors
There is a magnetic detector that automatically eliminates accidental turn-on and a pan size sensor that automatically detects and adapts the cooking zones to the cookware sizes that you use.
For every cooking zone, you will see a Pan detection message on the display. If no compatible pan is detected you will see the power level flashing in the specific cooking zone display. The cooking zone will automatically turn off after three minutes if you don't place any compatible cookware on the heating element.
6. Ventilation
To ensure proper functioning, you have to pay attention never to block the vent holes. If these get blocked the cooktop will eventually shut off in order to avoid overheating.
When Frigidaire FGIC3067MB
is running 2 or more cooking zones at the same time or when a cooking zone is set at a very high power level, a soft sounding cooling fan will be activated.
7. Safety Features
For safety purpose, the control panel can be easily locked when you don't want to activate the controls by accident. Just touch and hold the Lock key for 3 seconds, you will hear a sound and you will see a glow. Follow the same steps to unlock the menu.
The Frigidaire FGIC3067MB
induction cooktop is safer than any other gas or electric stove. The surface doesn't get hot, there are no open flames and the cooktop shuts off automatically if you don't place a compatible cookware right in the middle of the cooking zone. If you have children you will understand this cooktop is indeed very safe to use when they are around in the kitchen.
If any fluid or object is lying on the control area, the cooktop may display an error code and will turn off by itself. The same, if you remove the cookware from the center of the cooking zone for any reason, the sensor will detect this and the cooktop will no longer get heated.
8. Accessories
No induction cookware in the pack so you have to make sure you already have it or you will have to purchase new cooking sets. The manufacturer recommends you to use heavy weight quality cookware – in this way you will prevent scratches on the ceramic surface. However even quality pots can scratch the surface, so you have to lift it up when removing it from the burner instead of slid it over the surface.
The bottom of the cookware should be magnetic (test with a magnet) and flat in order to make good contact with the surface (test with a ruler).
In the package, you will find a very useful manual with many information and tips, including those needed to fix minor problems that may appear. The unit has a clever error code display message system and this should guide you to understand why some errors appear on the display. The error code will be display and will flash in the zone that has the error.
9. Dimensions
Here are the Frigidaire FGIC3067MB
and cutout dimensions:
Depth: 21-1/2″
Height: 4-3/8″
Width: 30-3/4″
Cutout Dimensions
Width (Min.)/(Max.): 29-5/8″/29-3/4″
Depth (Min.)/(Max.): 20-3/8″/20-1/2″
Height: 4-1/2″
The required clearances are min 1-1/2″ x 2″ x 2 " x 2-1/2″. The cabinet opening width must be minimum 30-3/4″ and the power supply must be placed right rear. For all built-in specifications and other required dimensions please see the manufacturer's manual. You will find it in the pack and all these things are very well explained so you will get it correctly and rapidly installed.
Frigidaire FGIC3067MB weights 41 pounds, but there are no delivery costs if you order it from Amazon.
10. Pros
11. Cons
12. Consumer Ratings
Both on Amazon and on the manufacturer's website customers have expressed their satisfaction about purchasing this unit. On Amazon, customer ratings are 5 stars of 5. This is impressive.
13. Price
Current price on Amazon is with 9% discount
plus free shipping.
Manufacturer
Frigidaire FGIC3067MB
Destination use
Home/
Professional
Controls
Minute Timer Display Area.
– Minute Timer Setting Up and Down Arrow Key pads
– The Lock Button
– Warm and Hold
– Cooktop Power Key Pad –
Cooking Zone Power Level
– Decrease Power Controls
– Increase Power Controls
– Element On/Off Control (with an indicator light)
Control panel
touch key pads
Functions
Power, Timer , Lock
Surface
Crystal Ceramic Glass
Color
Black
Power Source
220V
Output Power
1450W– 3400 W
Power levels
15
Temp Levels
NA
Temp step increment
NA
Programable Time
99 min
Function Lock
yes
Warranty
1 year
Acousting warnings
yes
Weight
41 pounds
Dimensions
Depth:21-1/2″
Height: 4-3/8″
Width: 30-3/4″
Cord Lengh
NA
Led Display
NA
Safety Feature
shuts down in case it overheats or doesn not recognise the pan, Lock function
Error Codes
yes
Pan size (bottom diameter)
4 – 12 inches
Cookware material
Stainless Steel with a magnetic base .Enameled iron and steel.Cast iron
Free pan
NO
Around Clearance
min 1-1/2″ x 2″ x 2 " x
2-1/2″.
Price
Check Discount on Amazon