10 Best Freestanding Induction Ranges with Reviews 2018 – Essential Guide
Freestanding or slide-in induction ranges?
This is the first question to which you should answer when you consider the kitchen of your new house or an upgraded cooking space following the latest trends.
Nowadays, you are about to discover the best features of freestanding and slide-in induction ranges that manufacturing companies combine in order to create the range that the buyer desires and corresponds to all his or her cooking needs.
Slide-in ranges should be the perfect choice for those who want a custom or built-in look without other investment of a cooktop and wall oven combination.
Slide-in ranges slide into an open space and are only 30'' wide with unfinished sides so they are truly designed to be fit in between two cabinets and about 2" wider on top so they overlap the countertop.
You should consider the slide-in if you want to enjoy a special design and cleanability.
On the other hand, you are not going to have any problem with space for a freestanding induction range: freestanding ranges have finished sides and can be placed anywhere in the kitchen as do not require counter tops on both sides to hide their unfinished sides like slide-ins.
The majority of traditional freestanding ranges are 30'' or 36'' wide, but you are going to find models with 40'', 24'' or 20'' widths.
Most people who buy freestanding ranges are impressed by affordability at the lower end and more features for the price at the medium as well as the higher end.
If you want to be among them, this is the ideal occasion to discover the best 30'' and 36'' freestanding induction ranges with reviews: use this information that you are going to find in this guide as it can help you decide what it is right for you and all your needs.
30-inch Freestanding Induction Ranges
First, you have the best 30-inch freestanding induction ranges that give you power and speed similar to gas, efficiency and performance without taking up valuable counter space. Compare these products in order to choose the one which has all the characteristics and functions that you want.
Samsung
Samsung Freestanding Induction Range: NE595N0PBSR/AA -30 inch
This freestanding range features a 5.9 cu. ft. oven capacity to prepare large meals for all your family and its induction cooking allows you to quick boiling or cooking off your cooktop, providing safety, easy cleaning and energy efficiency.
As induction is also more efficient than radiant and gas ranges, you are going to cook with the control of gas cooking, while you, your kitchen, and the cooktop stay cooler thanks to Samsung induction technology.
This large-capacity induction range offers all of the modern cooking conveniences. It also includes smart features, like a sensor that will actually lower its own temperature to prevent boil over.
Inside you will find a True Convection oven, a master of efficiency both in energy use and shorter cook times: True Convection has a heated fan system that is great for baking and boiling, heat is distributed thoroughly and food cooks more evenly.
With Samsung Freestanding Induction Range: NE595N0PBSR/AA -30 inch, you do need to learn how to use the new cooktop but it is not difficult.
This product lives up to what everyone else has said about it: the oven works great, but the stovetop is very hard to keep clean; the keypad looks dirty just as soon as you touch it, the stove top always is dirty after every use, but you can use newspaper to catch spillovers on range top (or sill pads).
However, stovetop heats extremely quickly and evenly (searing meat has never been easier) and you must have no worries of gas going up the sides of the pot or pans.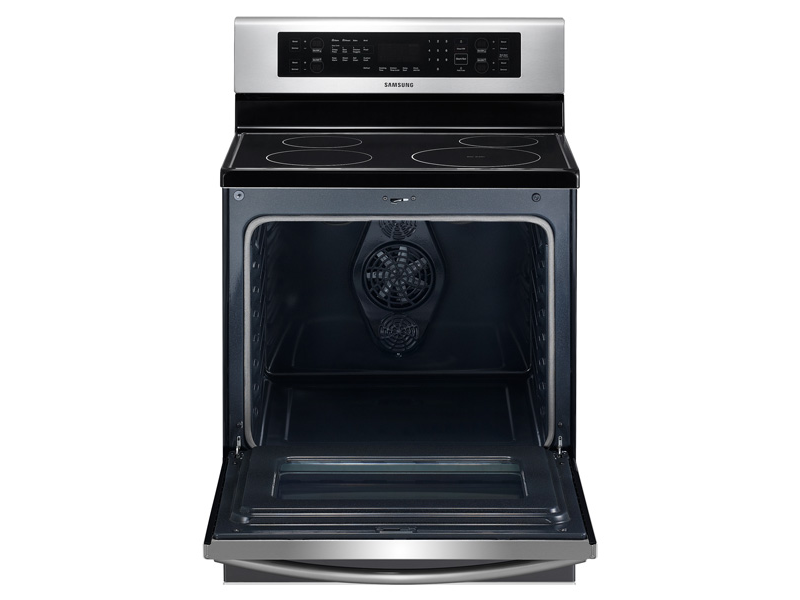 Although the pots or pans show they will work with induction as a magnet sticks to them and it meets the minimum size for the burner you are using, it does not always work; cast iron works best. Overall, you are going to have a freestanding induction cooktop with attractive design, high-powered burners, easy to clean and safer than gas.
Electrolux
Regarding Electrolux freestanding induction ranges, here you have the great occasion to meet Electrolux EI30IF40LS Freestanding Induction Range, a product that will do a great job in your cooking space. Just be prepared to start cooking in a faster, safer and easier way.
Electrolux EI30IF40LS IQ-Touch 30″ Stainless Steel Electric Induction Range – Convection provides 5 cooking elements, 6.0 cu. ft. convection oven, luxury-glide rack, Warming Drawer, and Fresh Clean Self-Clean.
You should do a full clean when you first purchase the unit according to the indications, to get rid of any residuals from the manufacturing process.
It is a durable interface, just be aware that if the control panel goes (which they do have problems with) nothing works and it is a lengthy and expensive repair.
The ramp-up designer halogen lighting is as beautiful as it is functional. The touch controls are plastic membrane buttons, reliable but it does require some force: it seems to be good plastic, no warping, bubbling or other after lots of use.
The controls are not for temperature, but for some abstract numbers from 1 to HI (which is 10): 1 to 4 is controlled in smaller increments, like 0.2, and then the increment is 0.5.
The actual temperature depends on the burner you are using (the smallest one has much lower temperatures for the same value of the control), and on the cookware.
It requires pots that will hold a magnet and that have flat bottoms: cast iron, enamelware, and most stainless steel will work. And you can use smaller pots on bigger burners, even a 12-inch pot (canner) on the largest (10-inch) burner.
This oven displays both the timer and oven temperature simultaneously: you can see the clock and temperature simultaneously, or the timer and temperature simultaneously, but not the clock and timer simultaneously.
With Convection Conversion, it automatically adjusts standard baking temperatures to convection temperatures, for perfect, consistent results.
With the "My Favorite" setting, you are going to discover a setting that you can customize to meet your needs, so the option you want is available at the touch of a button. And of course, the 6 cooking modes (Bake, Broil, Convection Bake, Convection Roast, Keep Warm and Slow Cook) assure you a fantastic cooking experience.
GE Freestanding Induction Range
If you may want to consider GE freestanding induction range, you may have a look at GE Profile 30 Freestanding Induction Range PHB925EJES or GE PHB920SJSS Stainless Steel Electric Freestanding Induction Range; such products will definitely find their place in any modern kitchen and certainly, you need to know more about their features.
GE Profile PHB920EJES 30″ Free-Standing Convection range with induction comes with 5.3 cu. ft. capacity, 5 Elements, True European Convection with precise air and WiFi connection.
You are going to discover a wide array of features that make your time spent in the kitchen more convenient.
First of all, you have a fifth element warming zone that allows you to keep cooked food warm until it is ready to be served.
And True European Convection with precise air means enjoying perfectly even results without turning the pan for an innovative, fast and efficient cooking.
The edge-to-edge cooktop provides a large and seamless gray patterned ceramic glass surface that makes it easy to wipe away messes.
Having synchronized elements, you can control two elements with the touch of a single button, and create a larger cooking surface for big cookware like griddles.
And of course, the innovative Chef Connect feature has the ability to synchronize your vent and surface light with your burners so that when you turn one burner on, the light and vent will turn on with it; so, you will never forget to turn on the vent before it is too late again.
Some of the oven features are the following ones: Audible Preheat Signal, Auto Oven Shut-Off with Override, Auto Recipe Conversion, Auto Self Clean, C° or F° Programmable, Certified Sabbath Mode. Chef Connect, Control Lock Capability, Convection Bake, Delay Bake Option (Time Cook), Delay Clean Option, etc.
The self-clean oven racks are constructed with a durable material that can withstand the heat of the oven.
They can be left inside during the self-clean cycle for a quick and easy clean. There is also a steam clean option to help with smaller soils and messes; in this way, you can conveniently clean your oven and racks together.
GE PHB920SJSS Stainless Steel Electric Freestanding Induction Range has most of the features that GE Profile 30 Freestanding Induction Range PHB925EJES incorporates; as you probably guess, both represent an ideal choice for any kitchen.
The compact GE PHS920SFSS Induction range is designed with efficient cooking burners and a convection oven. Its stainless-steel design is gorgeous, and it includes a powerful induction cooktop and convection oven.
The 5-element electric range includes 5th element warming zone to keep foods and sauces on low heat without burning them.
This a really nice stove: the keypads are glass covered, not plastic, and have a good look and the oven gets very hot and makes great pizza.
And what about the Wi-Fi Connect that gives you the ability to control oven functions from anywhere inside or even outside of your home: certainly, cooking will not be anymore a simple task, but a smart one.
With a GE's new glide control-equipped monogram, now you can control a much more intuitive cooktop: the interface is easy to clean since it is a flat and unbroken surface.
The range's control panel is sleek and subtly angled: it lacks physical knobs to control its cooktop burners and this is why the panel's small keys are tricky to locate and you cannot tap without looking at them directly.
Its 5.3-cubic-foot capacity cavity is relatively small, but it is perfect to cook multiple dishes at once, perfect for large gatherings.
The GE does boast a fan and a linked heating element that promises convection baking and roasting: True European Convection feature uses a fan to circulate heated air over, under and around food to seal in flavor and juices.
The large oven window provides better visibility of the oven interior, allowing you to monitor cooking progress without opening the door, keeping oven temperatures steady and undisturbed.
The 3 oven racks can be configured in 9 different positions to accommodate a variety of baking needs and hidden bake oven interior makes cleanup easy.
Do you want to have delay bake mode that lets you program the oven to begin baking at a preset time for added convenience? With GE PHB920SJSS Stainless Steel Electric Freestanding Induction Range, this is possible and you have more other features: Delay Clean Option, Electronic Clock/Kitchen Timer, Fast Preheat, Hi/Low Broil, Oven "ON" Light, Self-Clean Cool Down Time Display, Steam Clean, etc.
Frigidaire Freestanding Induction Range
But what about Frigidaire Gallery 30 freestanding induction ranges? You have the possibility to upgrade your kitchen with Frigidaire Gallery FGIF3061NF 30″ Freestanding Induction Range or perhaps with Frigidaire Gallery 30 Freestanding induction range CGIF3061NF. The most important features of these two products are presented below.
Frigidaire Gallery FGIF3061NF 30" Freestanding Induction Range is the perfect addition to your kitchen.
And here are the reasons: you are going to use an induction cooktop that is faster, safer, and cleaner than their gas and electric counterparts, while the oven contains a convection fan that circulates hot air throughout the oven for faster and more even multi-rack baking.
Certainly, you know that selecting a home appliance from Frigidaire, you are going to discover a product of exceptional performance, convenience, and style: such an appliance has been designed to work in harmony with the way you live.
The induction cook top provides the necessary heat and its surface is very easy to clean.
The most interesting aspects concern the fact that this freestanding range incorporates the Effortless Temperature Probe; you can set the desired finished temperature and you are going to know when that temperature has been reached.
Also, the oven holds the desired temperature of the meat by switching to a keep warm function for better cooking results.
As you have the same kind of control of your temperature as you have with gas, it is a big selling point for you.
For operating the item, you have one-touch controls in order to easily select an array of cooking options such as bake, broil, and pizza: Smudge-Proof stainless steel resists fingerprints and makes clean up easy.
The controls allow the user much better control over regulating the desired temperature, while the touch controls for the oven are self-explanatory and very easy to navigate.
The keep warm setting is designed to keep your meals at the perfect temperature until everyone is ready to eat. With Quick Preheat, this range is going to preheat in just minutes: you can get dinner on the table quicker than ever before.
And even if you forget, Frigidaire has you covered: the oven automatically shuts off as an extra safety precaution.
Enjoy great temperature control and sense the pan heats instead of the stove top you never have food crusted on the stove top: an induction stove plus a good set of pans makes cooking a dream, this is for sure.
Frigidaire Gallery 30″ Freestanding induction range CGIF3061NF
Another home appliance produced by Frigidaire is Frigidaire Gallery 30 Freestanding induction range CGIF3061NF: this product is available in Canada and has the same features and characteristics as Frigidaire Gallery FGIF3061NF 30" Freestanding Induction Range.
As you already know, Frigidaire brings meaningful innovations: the used technology creates appliance designs that are uncluttered, controls that are intuitive, and features that are as useful as they are smart.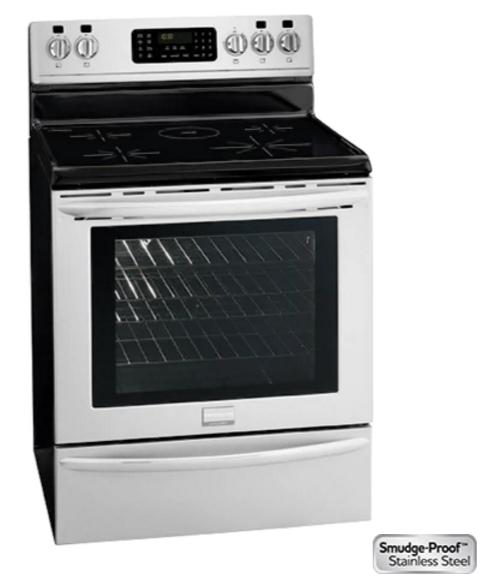 This item heats up really fast and is easy to clean because things do not become burnt to the top like a regular electric top.
With four elements with induction technology and an extra-large 5.4 cubic-foot capacity convection oven, this innovative 30-inch Frigidaire CGIF3061NF guarantees you power and safety, but also uniform results while baking, roasting, boiling, etc. It is important to know that you can install this range as a freestanding or a built-in unit.
Discover the versatile induction elements: it features four elements with induction technology, including a powerful 10″ element with up to 3,400 watts of power to bring water to a boil quickly.
As with Frigidaire Gallery FGIF3061NF 30″ Freestanding Induction Range, it will be a pleasure to cook giving features such as Effortless Temperature Probe with Auto Keep Warm, 6 Minute Quick Preheat, Auto Oven Shut-Off, etc.
It offers plenty of room to cook more at once; just let you really impressed with the quality: you will love the warming zone and the meat thermometer.
This product is a great choice if all you are looking for is something energy-efficient and high-performance. Christmas dinners will be extremely delicious as long as you are using the delay bake function and so, you can set the oven cook according to your schedule, up to 24 hours after setting the timer.
Prepare yourself for more versatility with Frigidaire Gallery 30″ Freestanding induction range CGIF3061NF as all its features enhance your cooking performance: just be sure you use either stainless steel or cast iron cookware.
Fisher Paykel Freestanding Induction Range
Fisher & Paykel is a famous manufacturer as all its work concerns designing and producing premium award-winning home appliances.
Fisher & Paykel believes that behind every product is a story and that story starts with a consumer. As your home is an expression of who you are and how you enjoy life with others, the role of Fisher & Paykel is to create better experiences that turn a routine into a ritual and a meal into a pleasure.
With Fisher Paykel OR30SDPWIX1 30 Freestanding Induction Range, it is all about the flexibility to prepare several meals simultaneously.
You have an extra large oven, combined with a 4-zone induction cooktop, but the unique design and clean lines in black reflective glass and stainless steel are exactly the factors that complete the style and elegance of any modern kitchen.
The cooktop provides a PowerBoost function that delivers 3700 watts of instant intense heat for your needs and the gentle heat setting can be used for slow and continuous simmering.
If you want to know the precise control benefits of induction, you should have in mind fast heat-up times immediate response and precision cooking, cooler temperatures on the glass and greater energy efficiency than that of either gas or electric.
The cooktop has a pan detection system that alerts you if there is no pan in place or you do not use induction compatible cookware.
With fluid control knob settings from 1-9, you can control the cooking surface very easy. With the mechanical controls and the tiny display, you are going to adjust the temperature or the cooking time; also, right under the display there are 6 tiny LEDs and you will know when the functions are enabled.
The small oven has a 3.6 cu. ft. total oven capacity, but Fisher & Paykel have incorporated a nice multi-pass broil element for upper broil coverage and also have a multi-pass design bake element.
The interior oven racks are all glide racks and so, the side rack mounts are removable for easy cleaning of the oven.
With such an oven, you are going to obtain perfect results and professional performance as the product is designed with eight oven functions and this is perfect for any culinary requirements.
The Easy Cleaning function is made simple with the flat surface of the induction cooktop; the self-cleaning oven function and easily removable oven door.
A triple glazed door makes the oven safe to touch and also, the door and oven cooling system keep heat away from cabinetry.
Kenmore Freestanding Induction Range
Regarding Kenmore freestanding induction range, you may consider the following products: Kenmore Elite 95073 Freestanding Induction Range, Kenmore 9510 Freestanding Induction Range 9510 or Kenmore Elite 30″ Freestanding Induction Range 9991. Certainly, whatever your choice may be, you will have the best introduction to induction cooking.
Kenmore Elite 95073 Freestanding Induction Range
If you are used to your gas or electric stove, here you have Kenmore Elite 95073 Freestanding Induction Range: speed, responsiveness, energy efficiency and easier clean-ups are things that are waiting for you and so, you can say that you will have all you need in terms of today's most advanced cooking technology is induction.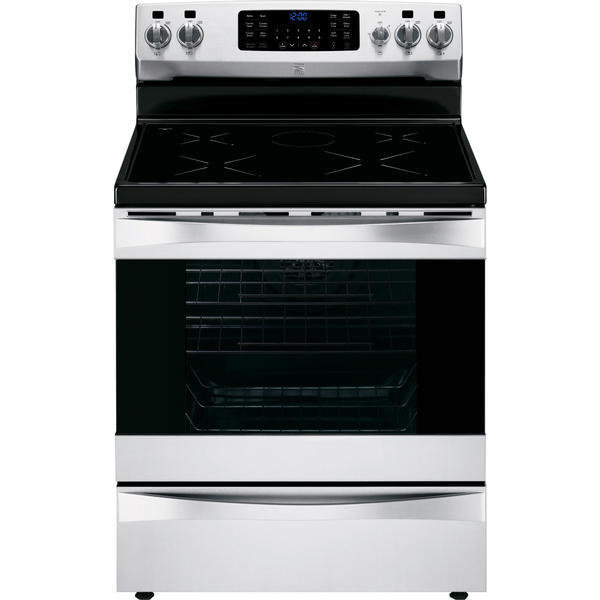 First of all, you have extra heat with Power Boost: it boosts induction output to pots, skillets, and pans, helping deliver the necessary temperature to crisp sandwiches, melt cheeses and speed meals to the table.
It should also mention the feature that produces a magnetic field which directly heats pots and pans and in this way, cutting-edge induction cooking brings your favorite meals to a boil quickly, saving time and resources.
The pan size detection sensor tailors energy output to fit pots and pans of varying size, so over- and under-heating is eliminated and cooking is consistent.
You have the chance to select 25 cooking functions using precise set electronic controls and so, you can cook whatever you like with just a few taps on the control pad.
You are going to have a True Convection fan, a powerful fan with a hidden heating element to surround your dish with equal heat, helping bake and brown everything from turkeys to pies perfectly.
And you have a Variable Self Clean feature that lets you choose the cleaning time from 2 to 4 hours, so you can save time and energy when the oven only needs a quick touch-up.
Kenmore 9510 Freestanding Induction Range
Kenmore 9510 Freestanding Induction Range does not differ too much than Kenmore Elite.
First, the racks in the 95073 are porcelain, while in the 9510 chrome. The freestanding induction range 95073 has a warming drawer and this is not the case for Kenmore 9510 Freestanding Induction Range.
Both have convection ovens, but the 95073 Freestanding Induction Range is bigger (6.1 cu ft) than the Kenmore 9510 (5.4 cu ft).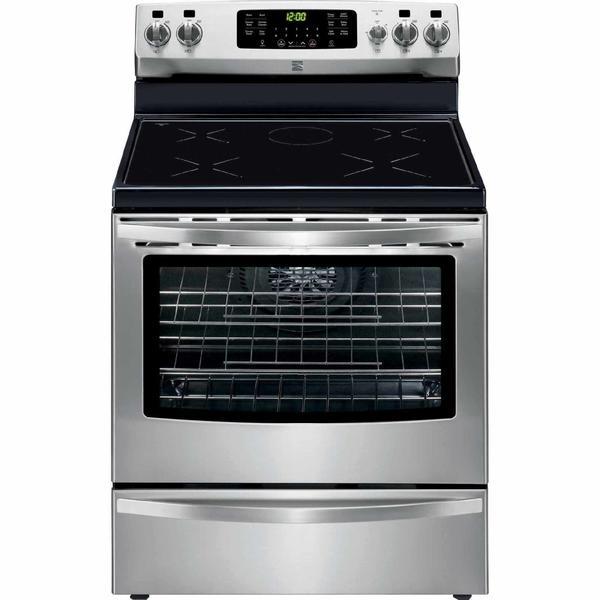 The configuration and power of the burners are also a little different. For the 95073 model, you have the following configuration: 1 of 10″ and 2600/4100W Power Boost, 1 of 8″ and 2400/3400W PB, 1 of 6″ and 1450/1900W PB, 1 of 5″ and 800/1000W PB, 1 warming zone of 100W, while for the 9510 model: 1 of 8″ and 3400W; 1 of 6″ and 1900W; 1 of 5″ and 1000W; 1 of 7″ and 2640W, 1 warming zone of 120W.
Although these differences exist, you should know that Kenmore 9510 freestanding induction range has some responsive burners; the hobs are on the slightly small size which is perfect for your pans, but you need to factor that in.
The only recommendation is to find the oven's user guide and read it so you know what cookware you need (magnetic bottom), what size the pans should be to fit them to the burners, and other advice.

The oven temperature is accurate (you can test it with an oven thermometer), but because of the convention, things cook a little more quickly.
You have to get used to the quicker cooking time because the controls are very easy to use. And do not forget that it is very important to follow the instructions in the owner's manual before you first test the oven and there will not be any smell.
Kenmore Elite 30″ Freestanding Induction Range 9991
There is another Kenmore 30″ Freestanding Induction Range that should be mentioned: Kenmore Elite 30″ Freestanding Induction Range 9991 is the first ever freestanding range with an induction cooktop, but unfortunately, this is not manufactured anymore.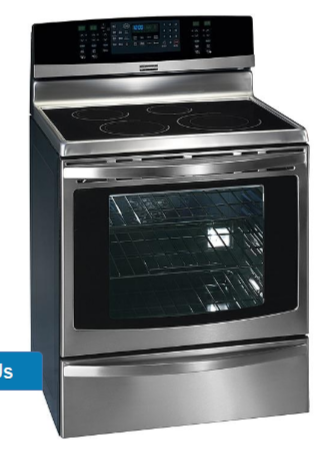 With a fast and cooking surface, you will get more responsive cooking with near instantaneous temperature changes. The freestanding range is designed with four induction elements (one of 10 in., one of 8 in., one of 7 in. and one of 6 in.) to provide maximum cooking flexibility and a 5.8 cu. ft. oven capacity to handle all of your cooking needs.
Induction cooktop features Power Boost to let you go from a low simmer to a rolling boil twice as fast as gas or electric cooktops; take your time to enjoy super fast heating times using less energy.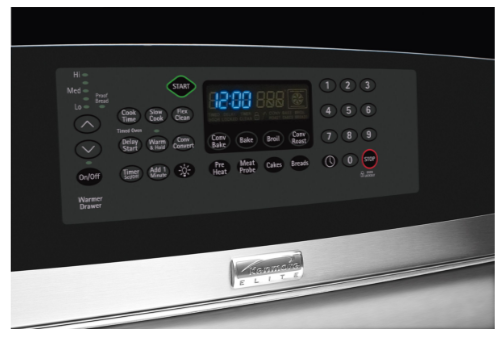 Exclusive AirGuard system of the range virtually eliminates unwanted odors from cooking or self-clean cycle; from now on, you have the choice to turn the feature on to remove odor, or off to let pleasant aromas fill the room.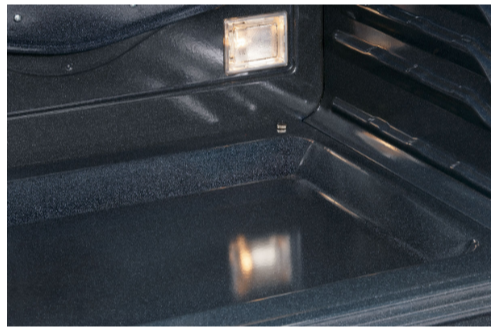 With Convenient Temperature Probe, you can get the desired degree of doneness every time as it takes the guesswork out of cooking; you have to just set the oven temperature to the required setting and to insert the probe into the roast.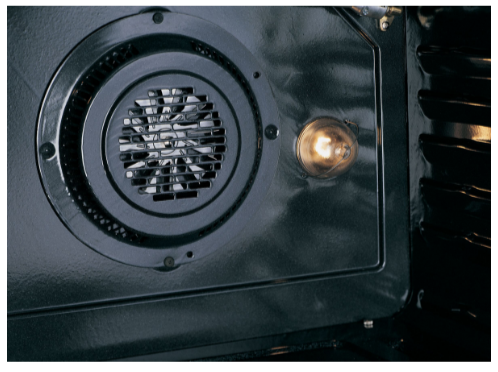 Utilizing one fan and the addition of a hidden third heating element, True Convection prepares evenly baked and beautifully browned foods throughout the oven, even when filled to capacity.
Whirlpool Freestanding Induction Range
Whirlpool comes with a great product on the market: Whirlpool® WGI925C0BS Freestanding Induction Range is designed to cover all your cooking needs as it incorporates the newest features and technology. Have a look at its description and establish if this is what you need.
Whirlpool® WGI925C0BS Freestanding Induction Range
Whirlpool is known as a leader in cooking consistency and control and gives you the chance to meet the industry's first induction double oven freestanding range.
The smooth glass cooktop withstands intense heat while resisting cracking and chipping and so, you will always have the sleek look of your cooktop for years to come.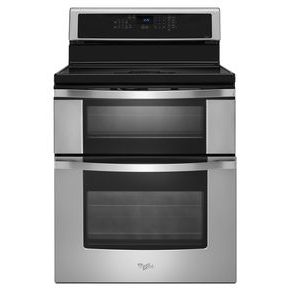 This advanced cooktop offers efficient cooking technology and easier cleaning. The 11″ Induction Boost element boils 6 liters of water in 50% less time by transferring energy directly into any magnetic cookware.
AccuHeat induction technology transfers energy directly into magnetic cookware, so you get powerful cooking without feeling some heat from the cooktop.
Regarding the oven, this Whirlpool 6.7 total cu. ft. electric model also features an AccuBake system.
It uses a built-in sensor to monitor oven temperature and the baking elements to deliver consistent, delicious results every time. And, when you need tastier roasts and baked bread, TimeSavor convection cooking distributes hot air more efficiently to seal in flavors and juices.
Now you can take home an oven that senses and adapts to your needs to deliver the delicious results you want.
As you probably guess, you will be able to cook multiple dishes for a large family meal or prepare a feast for a dinner party in this large double oven. With a 2.5 cu. ft. upper oven and 4.2 cu. ft. lower oven there is always enough room to handle even your largest meals.
The upper oven preheats in just 4-1/2 minutes faster than a full-size oven. Plus, its convenient size is great for everyday meals and offers the power you need to handle what you cook the most.
The Keep Warm function needs low heat to keep food warm inside the oven, so you can keep completed dishes from getting cold while you work on the rest of your meal.
And SteamClean Option should be used periodically to clean light spills on the bottom of the oven as it keeps the oven clean and reduces the need for frequent self-clean cycles.
For the induction cooktop, you should consider the fact that it has a SpillGuard design and this means that its raised edges help contain spills and help deliver the complete cleaning package.
Maytag Freestanding Induction Range
Searching for a Maytag freestanding induction range? Certainly, you may want to see how Maytag MIR8890AS Freestanding Induction range looks and works: such a product is definitely a great acquisition that you may consider for your kitchen. Here are all the details that you must know.
Maytag MIR8890AS Freestanding Induction range
With Maytag MIR8890AS Freestanding Induction range, get ready for a powerful freestanding induction range that will help you every time you have to cook for two people or for large families: this product has the space to get it all done and the power to get it done fast.
From now on, you will not know how you ever cooked without features like powerful induction technology with Speed Heat elements that boil 40% faster, 8-minute Power Preheat,
EvenAir true convection with Auto Conversion and a 10-year limited parts warranty on the ceramic-glass cooktop and oven and cooktop elements protecting your acquisition.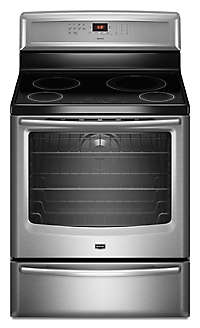 With AquaLift self-clean technology, you have your oven clean in less than an hour and this means added convenience, odor-free, low temperature, etc. Plus, you can be proud because this new innovative range is designed, engineered and assembled in the USA.
Maytag MIR8890AS Freestanding Induction range allows you an instantly control of the heat with the sliding touch controls of this induction Power Center cooktop: the induction cooktop features an 11″ 3,700-watt Speed Heat element that boils 40% faster, a 9″ 3,200-watt induction element and 2 elements of 6″ and 1,800-watt to provide the power the necessary power.
Regarding the oven, you should know that it is designed with extra-large oven windows that provide better visibility of the interior, allowing you to monitor cooking progress without opening the door, keeping oven temperatures steady and undisturbed.
You have a broil element that is located in the top of the oven cavity for easier access and can be adjusted for precise, consistent cooking results.
This cooking system combines Precise Preheat, Precise Bake and Precise Broil to provide dependable, even cooking throughout the oven for exceptional results and optimal performance.
Incorporating AquaLift Self-clean Technology, it means that you have an innovative coating on the oven interior: the surprise is the fact that this interior activates with water and heat, to release tough baked on soils, from underneath so food easily wipes away.
Miele Freestanding Induction Range
Miele Freestanding Induction Ranges comes with a variety of size and power configurations: you are able to choose from products with 30″, 36″ and 48″ widths and all gas, electric, induction or dual-fuel configurations.
Miele HR 1622 Freestanding Induction Range is a 30-inch induction range with touch controls, moisture, plus and wireless roast probe.
Miele HR 1622 Freestanding Induction Range
Miele is a German manufacturer of high-quality domestic appliances and machines for commercial applications: with its products designed for life, you are going to experience the uncompromising performance which boasts reliable and gourmet cooking results.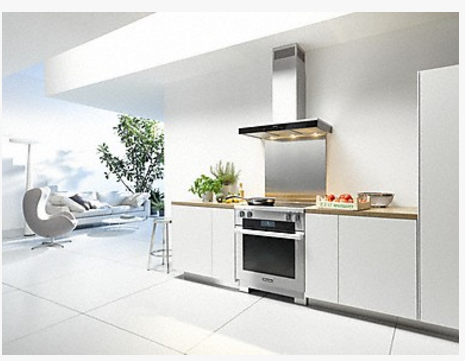 You will also find that the cooktop stays cool to the touch, and any spills will not burn on or leave you with a mess to scrub off.
Other nice features on this Miele range include heavy-duty knob controls and a variety of bells and whistles in the oven. It may take some time to get used to operating those touch screen controls, but at the end, you will be impressed.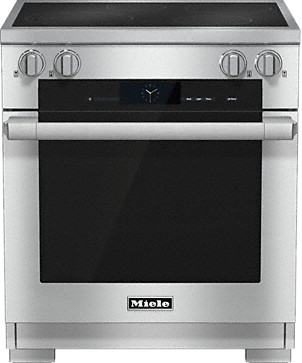 As the cooktop elements are induction, they are super responsive; you can bring 6 quarts of water to a boil in under 15 minutes.
The Miele HR 1622 Freestanding Induction Range is designed with EasyClean Ceran surface with 4 variable cooking zones: one burner of 4-7" diameter, 450-1900W, one burner of 5 1/2-8" diameter, 1700-2250W, one burner of 7-9" diameter, 1950-2600W and one burner of 7-11" diameter, 2500-3850W.
There are a lot of features that Miele HR 1622 Freestanding Induction Range provides: some of them are swivel handle, induction cooktop, touchscreen controls, system lock, wireless roast probe, auto heat up, warming zone on range top, MasterChef automatic programs, rapid preheat, Sabbath mode, slow roasting, pizza setting, keep warm, etc.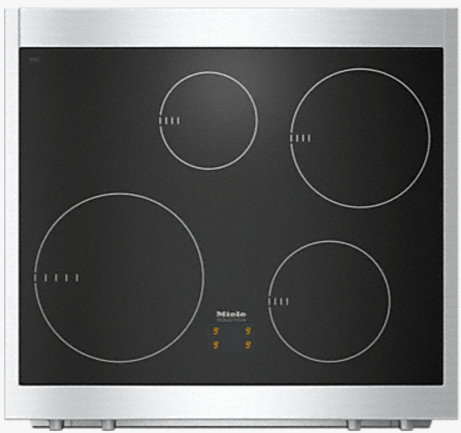 The manufacturer does not include a power cord with this item due to different outlet configurations, and so, you have to check your outlet configuration to determine which cord is required.
Viking Freestanding Induction Range
Viking manufacturer introduces professional cooking to the home: with that same exceptional performance that extends into every corner of the kitchen even the backyard, you may choose refrigerators, wine cellars, dishwashers, grills, cookware, cutlery, small appliances, etc produced by Viking.
For example, Viking VISC5304BSS Freestanding Induction Range creates a complete cooking environment in your kitchen and so, you should discover these ultra-premium features.
Viking VISC5304BSS Freestanding Induction Range
Using magnetic power, the Viking electric induction range does not only deliver professional power, it does so with fantastic efficiency: the user has MagneQuick induction elements that actually transform the cookware into its own heat source and then underneath, an electric self-cleaning convection oven offers ultra-premium features.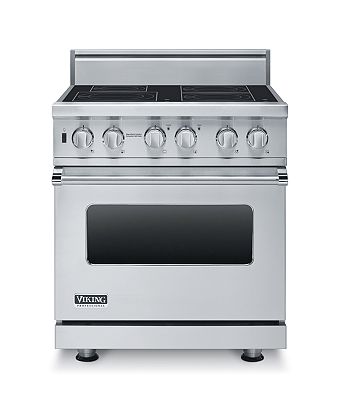 The ultra-premium features are high-performance burners, convection baking, and infrared broiling and you can easily handle everything from crème brûlée to rack of lamb.
Do not forget that Viking ranges are available in gas and electric models, as well as an array of sizes and finishes to fit any kitchen, considering all the needs and preferences.
If you are looking for 30″ commercial-type electric induction self-cleaning range, Viking VISC5304BSS Freestanding Induction Range can be a perfect choice with its heavy-duty metal knobs and stainless steel finish; the elements and wattage are 7″ 1,850 watt element (right front), 7″ 1,850 watt element (right rear), 8″ 3,700 watts boost / 2,300 watt element (left front) and 6″ 1,400 watt element (left rear).
The 4.7 cu. ft. oven has six rack positions with two TruGlide full extension racks and one standard rack. Patent-pending Vari-Speed Dual Flow convection system has the largest convection fan in the industry: this 8-1/2″ fan works bi-directionally for maximum airflow and excellent cooking results. Some high-performance cooking modes include: Bake, Convection Bake, TruConvec Convection Cooking, Convection Dehydrate, Hi, Med and Low Broil, Self-Clean.
With a strong, wear-resistant glass ceramic surface for excellent cleanability, self-cleaning porcelain oven and concealed 10-pass dual bake element makes for easy clean up of the oven cavity, you are going to have a freestanding induction range with superior power, responsiveness, and efficiency.
Dacor Freestanding Induction Range
When it comes to Dacor, you should know that this American manufacturer provides luxury kitchen appliances for three generations: Dacor manufactures a full line of innovative products designed to appeal to a broad segment of the luxury kitchen appliance market.
If you think about Dacor freestanding induction ranges, you should know that you can select various models as Dacor RNR30NS Freestanding induction range, Dacor RNR30NFS Freestanding induction range or Dacor RNR30NC Freestanding induction range.
Dacor RNR30NS Freestanding Induction Range
All Dacor freestanding induction ranges are characterized by sophisticated styling, advanced engineering, and quality craftsmanship.
The products use electromagnetic energy to stimulate iron molecules to heat the cooking vessel itself and the glass-ceramic surface of the induction element stays cool to the touch, unaffected by the magnetic field.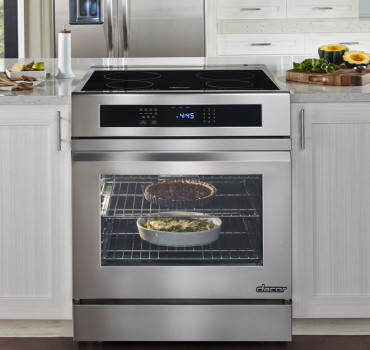 There are only a few differences between Dacor RNR30NFS, RNR30NC, and RNR30NC.
Dacor RNR30NS freestanding induction range is a Renaissance 30″ Freestanding Induction Range, in stainless steel and black ceramic glass, with Epicure style handle in stainless steel with chrome trim, and 6″ back guard with full-depth side panels.
The RNR30N 30″ Freestanding Induction Range has an induction cooktop that features 4 SimmerSear zones that provide up to (2,800W watts) for powerful and precise heat distribution and an oven with a hidden bake element that allows for exceptional even baking and browning.
The Exclusive Four-Part Pure convection system consists of a fan, heating element (2200W), air baffle and convection filter and reduces cooking time, provides superior heat distribution, and eliminates flavor transfer.
SenseTech induction technology automatically detects the presence and size of your cookware and matches the energy transference with no residual heat loss: the induction cooktop turns off automatically within 30 seconds if no pan is detected or if a non-conductive pan is present.
And the control panel is designed with digital glass touch control panel with delay timed cooking, automatic hold, clock, 2 timers and 10-key touchpad.
With six cooking modes (Convection Bake, Convection Broil, Convection Roast, Pure Convection, Bake, and Broil), a GreenClean steam cleaning technology that cleans light oven build-up in 30 minutes without the use of high-heat or harsh chemicals and large, clear tempered glass oven window and halogen lighting (20W) for a clear view, there is no more that you may want from your oven.
Dacor RNR30NFS Freestanding Induction Range
As you probably notice, RNR30NS and RNR30NFS models are designed with a 6″ back guard and full-depth side panels.
Dacor RNR30NFS Freestanding induction range is a Renaissance 30″ Freestanding Induction Range, in stainless steel and black ceramic glass, with flush handle, and 6″ back guard with full-depth side panels full side panels.
Induction cooking heats cookware faster and more energy efficiently than gas or radiant cooktops, while keeping the cooktop cooler to the touch. Having a clean and modern design with stainless steel and black ceramic glass finish,
Dacor RNR30NFS Freestanding induction range will definitely fit in your space; with residual heat indicator lights, you are going to see lights when ceramic surface is still hot after use.
Having a wide variability of power for a range of temperature control (11 induction power settings) and pre-set options that let you instantly switch between melt, simmer, and sear (3 pre-set options), it is impossible to want more: the panel is adjustable for ease of use and viewing and the oven includes 2 glide racks with easy pull handles that are adjustable to 7 rack positions and removable for easy cleaning.
Dacor RNR30NC Freestanding Induction Range
Dacor RNR30NC Freestanding induction range is a Renaissance 30″ Freestanding Induction Range, part of DacorMatch Color System. It includes black ceramic glass, with Epicure style handle and 6″ back guard with full-depth side panels.
Dacor RNR30NC Freestanding induction Range includes the features of Dacor RNR30NFS Freestanding induction Range and Dacor RNR30NS Freestanding induction Range. The door styling is available in Epicure stainless steel handle with chrome trim as Dacor RNR30NS Freestanding induction range.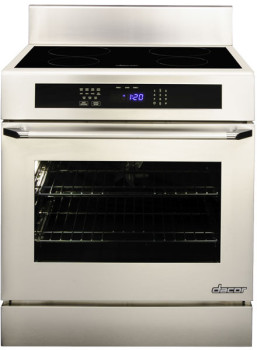 With digital temperature probe, it connects to controls and switches oven into Automatic Hold when desired internal food temperature is reached.
The power boost brings large quantities of food to cooking temperature faster by increasing the induction element power.
It comes with 2 glide racks and 1 chrome rack in each oven cell; glide racks fully extend out of the oven using a smooth gliding ball bearing system for moving heavier dishes in and out of the oven easily. Glide racks and chrome racks are equipped with a convenient handle in front for a secure grasp.
Kitchenaid freestanding induction range
Keep your kitchen in perfect order Kitchenaid appliances: from ranges to refrigerators and dishwashers to microwaves, there is always something that fit your needs and preferences.
You may consider 30-Inch 4-Element Induction Freestanding Range, Architect® Series II and you will see the reasons why you should trust in this brand.
Kitchenaid freestanding Induction Range Architect® Series II KIRS608BSS
Kitchenaid freestanding induction range Architect® Series II is a perfect range as the induction technology gives you power and speed similar to gas and the Even-Heat True Convection oven gives you the most even baking across all racks.
It produces flawless results and the unique design and convection fan ensure that the inside of the entire oven is heated to and stays at the perfect temperature.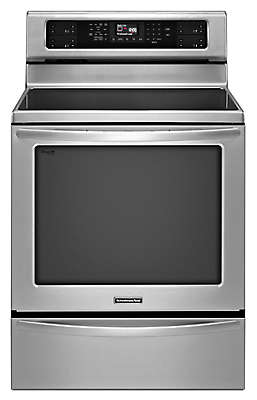 Its induction cooktop is fantastic and heats water to boiling in 2 minutes; you can use cast iron pans on it without risking scratching the cooktop surface by placing a paper towel under them thanks to induction heating. It is hard to get that smudge-free clean look on the cooktop because it is black and very high gloss, but it is so easy to clean up spills that you can live with it.
The cooktop and oven perform very well; you will get satisfied with fast heat times and great temperature control. With a 6.2 cu. ft. total capacity, the oven provides more room to cook large quantities or multiple dishes at the same time.
Takes the guesswork out of convection cooking and you will get exceptional results when experimenting with new or familiar recipes choosing Kitchenaid freestanding induction range Architect® Series II.
And having Slow Cook warming drawer with SatinGlide System, it means you can cook food slowly at a low temperature: it eliminates the need for a separate appliance and glides out smoothly for easy access.
But what about cleaning? You can clean your oven in less than an hour without odors and at a temperature below 200°F. AquaLift Self-Clean Technology is an innovative system that combines low heat with water to release baked-on spills.
In case you are interested in Kitchenaid freestanding induction range Architect® Series II, this appliance is similar to the models offered by the other related brands (Whirlpool and Maytag), but you should know that only this range has the control panel on the back of the oven, rather than on the surface (as the similar models) where the electrical controls can heat up and malfunction.
Enjoy precision at all temperatures; performance boost adds extra power for getting water to a boil quickly and pan size detection ensures cookware is suitable for the element selected.
You may know that the oven takes a long time to preheat (about 20 minutes), so you have to take that into account when cooking.
Bosch freestanding induction range
Bosh prizes the ability to overcome technological obstacles in order to produce precise, powerful appliances that perform better, are more intuitive and use fewer resources, while delivering world-class performance.
This manufacturer knows the exacting work it takes to produce elegant, stylish products with the most advanced technology available, but one thing is for sure: with Bosch, you get consistently superior performance and an appearance to match.
In case you may search for Bosch freestanding induction ranges, it is important to know that Bosch only produces slide-in ranges.
So, if you are interested, you can buy a slide-in range with 17 power levels as well as 11 specialized cooking modes, making gourmet cooking easy, meat probe, optimal temperature control, a full-extension telescopic rack for safe access to the oven cavity and a warming drawer that keeps everything you cook warm and ready to serve.
LG Freestanding Induction Range
LG appliances guarantee you cooking ways with power and precision, so you are invited to discover the innovative technology for restaurant and home-worthy performance.
Unfortunately, you will not find out any LG ranges as this manufacturer does not produce such appliances; but however, you have the opportunity to consult and select other products that feature the latest technology.
In this way, you are going to cook whatever you like to perfection every time: with LG products, you will not go wrong when you have guests to dinner or you want to prepare something delicious for your entire family.
LG is one of the most trusted brands and this is what you must always have in mind and so, you will get professional performance and true cooking convenience.
Conclusion
These 30″ freestanding induction ranges give you ideal ways to replace an existing freestanding induction range or to upgrade your cooking space considering the newest technologies.
All you have to do is to consult all these ranges belonging to different brands and make a decision: certainly, you will find that appliance which gives you the flexibility to prepare several meals simultaneously with an extra large oven combined with a great induction cooktop.