Induction boosts Technology: Fisher Paykel CI365DTB1 36 inch with 5 PowerBoost burners and circular touch pads
Fisher & Paykel is a New Zealand brand that is now becoming more and more popular in Europe, Asia, and the USA. CI365DTB1 36 inch
is one induction cooktop that can be dropped in countertop, has 5 burners and eight heating levels.
The PowerBoost function is available for each cooking zone and the control panel has user-friendly circular touch pads.
This is a perfect solution if you usually use several burners at once when you cook meals if you want an innovative and sleek induction cooktop in your kitchen. Enjoy this device that is safer in comparison to traditional cooktops, allows you to save space (it has small dimensions and it is slim), energy and time.
There are few induction cooktops with 5 burners on the market and this will definitely suit you if you want a larger surface for cooking all sort of foods.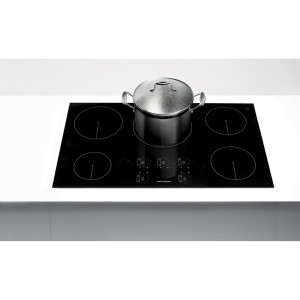 Although there is no timer built in, you may discover that the good looking control panel and the easy to operate controls make the difference and help you take a final decision.
Let's take a closer look to all its features, advantages, and lacks.
1. Controls
Unlike many other similar counter-drop units, this one has circular intuitive touchpads, easy to
use and very good looking.
In fact, the control panel is placed right on the surface, under the centered largest heating zone and its pads are very subtle, yet very easy to understand and operate.
Each cooking zone has its own set of controls and indicators, as it follows:
a) the on/off control
b) the on/ off indicator
c) the "no pan" indicator
d) the "hot surface" indicator
e) pad for decrease heating
f) pad for increase heating
g) heat setting indicators
h) power boost indicator.
The controls respond to commands very easily so there is no need to press hard on them. Just use the ball of your fingers. Every time a touch is recognized the cooktop will beep. This can guide you to rapidly set the desired levels of heat. However, the controls must always be cleaned and dry because water will be an impediment on using the touch panel.
The heat can be set from 1 to 8 level, where 1 is the least heated and 8 is the most heated.
Here are the manufacturer's recommendations in what concerns choosing the right heating level for your recipe:

As for PowerBoost, these can be used for boiling water very quickly.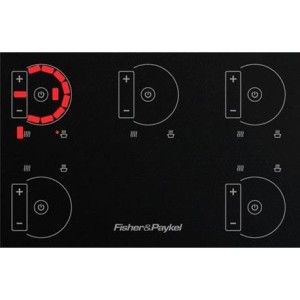 2. Surface
The ceramic glass is all black with slim white rings marking the five cooking areas. The largest heating element is placed in the center of the surface while the other four are placed on its left and right. Because the touch control panel is not separate from the surface, it will be very easy to clean them at once.
If you want the surface to look as new as long as possible you have to clean it after each use (this is very easy to do), never use hard detergents, abrasive sponges or steam cleaner on it because these can scratch it. An interesting tip from the manufacturers says that you should always lift the pan off the surface and never slide it along the cooktop because the ceramic glass can be scratched.
3. Heating Elements
There are 5 heating elements on this cooktop and all of them can be boosted. This is how the
power is distributed among them:
• 2.3 kW (can boost up to 3.2 kW); this is the front left heating element with 9″
• 1.4 kW (can boost up to 1.8 kW); this is the back left heating element with 7″
• 2.4 kW (can boost up to 3.7 kW); this is the center heating element with 8″
• 1.85 kW (can boost up to 2.5 kW); this is the front right heating element with 6″
• 1.85 kW (can boost up to 2.5 kW); this is the back right cooking zone with 8″
So there are 4 different diameter cooking zones and knowing this you can select the cookware you want to use. You can use more than one heating elements at once.
But let's see exactly how power boost works. You must know that this allows you to sear meat or boiled liquids (milk, tea, water, soup)very quickly. When you set a cooking area for PowerBoost, it will use more than 100% of the power of that cooking area. The result is a boost of intense heat.
The cooktop allows you to set a maximum of three cooking areas for Power boost at the same time, but with the amendment that one is not behind another.
4. Power/Watts
The required power supply for this induction cooktop is 240V~, 48A, 60Hz.
You must connect it to a grounded and metallic wiring system or use a ground connector to link it to the ground terminal.
The minimum power is found on the 7-inch cooking zone that has a power of 1.4 kW while the maximum power can be achieved on the 8-inch heating element and it is of 2.4 kW. The maximum power can be 9.8 kW.
5. Sensors
The unit has a pan recognition sensor. If the no pan indicator glows you have either placed a pan on the incorrect cooking area, either the pan you use is not induction compatible or the cookware is too small or not centered as it has to be on the cooking area.
If the cooktop detects liquid on it, you may hear a beep and eventually the cooktop will shut off automatically.
Also, if there is an electrical problem, the induction cooktop will turn off (all of it or only just a few cooking zones).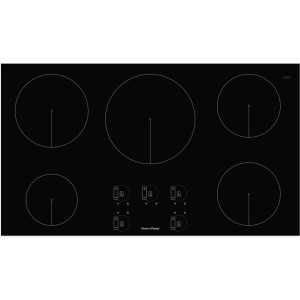 6. Ventilation
As any other induction cooktop or electrical device, this one must also be very well ventilated. It needs an adequate supply of cool air in order to function as it has been designed. Its bottom must have unrestricted ventilation and you must follow the manufacturer's requirements when installing it in a countertop. Fully details are given in the user manual.
Also, the manufacturer recommendations are that you should avoid putting cabinet storage above the surface. 762 mm is the minimum clearance between the top of the cooking surface and the bottom of an unprotected metal or wood cabinet.
When installing an oven below the cooktop make sure it has a cooling fan.
7. Safety Features
Fisher Paykel CI365DTB1
is equipped with complete safety features:

For safety purpose it is vital to properly ground this induction device.
8. Accessories
The cooktop comes with no induction pan or pot. So you must understand that you need special cookware to use with this cooktop.
The manufacturer recommends you to use pans and pots with smooth bottoms that are suitable for induction cooking. Check the induction symbol on the pan you want to buy.
Please note that cookware made from pure stainless steel, aluminum and copper with no magnetic bottom cannot be used with this equipment. Also, cookware with jagged edges or curved bottom will not work.
The bottom of the pan must sit flat on the glass and its size must be the same or similar size as the cooking area. You must center the cookware very well on the cooking area.
In the pack, you will find the user manual that is very well documented and it will really help you understand how this new great device works and how can it improve your life for real.
This is a big plus, as you will find lots of similar cooktops on the market that have little information on the technical features and guidelines on how to use it.
9. Dimensions
Fisher Paykel CI365DTB1
is 60 pounds weight and it measures 21 inches width, 36 inches length and only 5 inches high (it is very slim).
When installing it, you must follow some rules from the manufacturer:
– the minimum clearance from the rear edge of the cutout to nearest combustible surface must be 2 3⁄16"
– the minimum clearance from the side edge of the cutout to nearest combustible surface must be 3 3⁄16"
– the minimum distance between cabinets must be 36"
– the maximum depth of overhead cabinetry must be 13"
Complete dimensions notes can be checked in the owner's manual.
10. Pros
11. Cons
12. Consumer Ratings
No customers rating are available online until this moment, partly because this cooktop is rather new on the market and because it is rather an exclusivist taking into account its features and price.
13. Price
This cooktop is designed to meet the latest requirements in what concerns induction technology, so don't expect it to have a very low price.
However taking into account all its best points you would definitely agree that it has the correct price. For things to be more tempting you can find it at a special price, with a significant discount on Amazon
. The shipping is free.
Product
Fisher Paykel CI365DTB1
Manufacturer
Fisher Paykel
Destination use
Home
Controls
– the on/off control
– pad for decrease heating
– pad for increase heating
Each burner has its controls
Control panel
circular touch pads
Functions
Temperature
Surface
Ceramic Glass
Color
Black
Power Source
240V~,48A, 60Hz.
Output Power
3700W
Power levels
8
Temp Levels
NA
Temp step increment
NA
Programable Time
NO!
Function Lock
yes
Warranty
2 year
Acousting warnings
yes
Weight
60 pounds
Dimensions
21 inches width, 36 inches length and only 5 inches high
Cord Lengh
NA
Led Display
NO display!
Safety Feature
– safety timeout.
– Spillage auto-detect and shut off
– it will switch off if it doesn't recognize any compatible cookware
– childproof lockout
– it has indicators that show that warn you when the surface is hot
Error Codes
yes
Pan size (bottom diameter)
6 – 9 inches
Cookware material
Stainless Steel with a magnetic base .Enameled iron and steel .Cast iron
Free pan
no
Around Clearance
– the minimum clearance from the rear edge of the cutout to nearest combustible
surface must be 2 3⁄16"
– the minimum clearance from the side edge of the cutout to nearest combustible surface must be 3 3⁄16"
– the minimum distance between cabinets must be 36"
– the maximum depth of overhead cabinetry must be 13"
Price
Amazon Discount Link