Fagor IFA90AL vs Fagor IFA90BF 36″ Induction Cooktops
What we have here is a couple of large induction cooktops, 36" in size, to be more precise.
Yes, it is another comparison. Seemingly, there is no significant difference between the two cooktops. They are both large, five-element induction devices with similar designs and identical features. Nevertheless, what is that one has got and the other hasn't?
Are there any "hidden" tricks that will only reveal themselves upon closer inspection? Read on to find out all about it.
The Fagor IFA90AL is the more expensive one. But when it comes to features, it is no different from its cheaper counterpart, the Fagor IFA90BF.
Being induction cooktops means that the two appliances have all the technical gizmos an induction cooktop is supposed to have: inverters, heating elements and so on. What is a bit out of the ordinary for these two devices is the power output and the power sharing features they have.
Separately, each heating element has a maximum nominal power output (the 9" heating zone has 2.8 kW; the 61/2" heating zone has 2.0 kW.). But when two adjacent elements are used simultaneously, they share power, that is the internal microprocessor automatically activates the power sharing feature which means the two heating zones will have a top power output of 3600W/3.6 kW.
When operating in power sharing mode the display will show you that the feature has been enabled and the controls will not allow for setting the maximum power for either of the elements. Speaking of power, you can set the desired level using the +/- touch controls for each element or you can use the three preset levels as in the table below: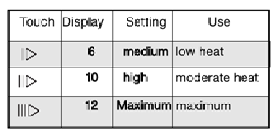 Apart from these features, the Fagor cooktops (IFA90AL and IFA90BF) come with some safety sensors designed to avoid risk of injuries and/or wasting power.
Each heating zone is equipped with a pan sensing device that will not allow the heating element to turn on unless it senses an appropriate pot or pan (when there is no such pot or pan the digital display will flash).
Furthermore, small objects such as spoons, forks or knives will not be mistaken for pots or pans, therefore the sensors will not be triggered.
Suppose you put a pan on the heating element, but the pan is not induction-ready cookware. Well, another sensor kicks in and prevents the element from running.
Replace the pan and you'll see the "0" on the display flashing, letting you know the device is ready and you can select the desired power level.
If you fail to do so, the power will be automatically turned off for that element. Since we are talking about sensors, it is good to know that there is a sensor which constantly monitors the temperature at the base of the pan and adjusts it in order to prevent overheating the cookware and burning the food.
And, to conclude our revision of the sensors, we'll tell you that the Fagor IFA90AL
and its counterpart come with an over-spilling sensor which will turn off the heating element if it detects a damp cloth or any kind of moisture/over-spill on the heating surface.
Obviously, you need induction ready cookware for these cooktops, such as pots or pans made of enamel coated steel, cast iron or stainless steel cookware specifically designed for induction cooking.
The Fagor IFA90BF comes with all the sensors presented above, so there is nothing new to add here.
We'll tell you a bit about other technical specs. As said in the introduction, the Fagor IFA90BF
has five heating elements: two 6.5" elements with 2.kW top power output, two 9" elements with 2.8kW top power output and one central 11" element with a 3.6kW top power output.
But you should bear in mind that these are individual specs, the power is reduced accordingly when two elements are used in power sharing mode. Each heating element has its own illuminated touch controls panel and digital display.
The cooking surface is made of extremely durable Eurokera ceramic glass which ensures proper heat transfer, but it can be scratched quite easily, so you should not use any abrasive cleaning agents on it.
Also, it is advisory that you clean it as soon as it gets dirty, as any stains or spillovers will burn and/or harden in time (despite the fact that the cooking surface is made of vitroceramic glass that barely gets hot during cooking), thus making it even more difficult to clean the surface properly. If you need to remove such burnt food, use some soapy warm water first to soak it, then wipe it clean with a soft cloth.
To conclude our general presentation, we should let you know that you must take proper measures during the installation of either of the cooktops in order to ensure proper wiring and venting and to avoid any damage to the appliance and/or risk of injury. As always, it is highly advisory to have it installed by a qualified technician.
For further information about the installing and wiring procedures, please see the owner's manual.
The Differences
So far we have seen what the two Fagor induction cooktops have in common. Now, it's time to have a look at the differences.
It is a matter of looks, not specs, really. The cooking area is the same, a black glossy vitroceramic surface; it is the seemingly insignificant detail of the casing/edges that makes the difference.
While the Fagor IFA90AL
has a nice, shiny stainless steel frame, the Fagor IFA90BF
is frameless, with a beveled edge which gives it a nice look as well as a safer operation (no 90 degree angle on the edge means no sharp edge, therefore less risks of accidental scratching during use).
The two Fagor devices even share the same lack of a child lock safety device or an internal error and troubleshooting system, two features that are quite frequent even in less expensive induction cooktops.
Conclusion
And now the final question: which one to buy? And the answer is: it depends. It depends on your budget and your tastes.
If you cannot or will not spend the almost $200 difference in price between the two cooktops, then you should go for the Fagor IFA90BF
which is cheaper, with the same features. If money is not a problem, then choose whichever you like best.
Fagor IFA90AL
Fagor IFA90BF
FEATURES
Destination use
Home
Home
Design
Stainless steel frame
Beveled edge
Cooktop Surface
Extremely durable Eurokera ceramic glass
Extremely durable Eurokera ceramic glass
Cooktop Burner Type
Induction
Induction
Power source
240 V~ 60 Hz, 40 A
240 V~ 60 Hz, 40 A
Total output power
7200 W 30A
7200 W 30A
Power levels
50W-3600W
50W-3600W
Temperature levels
No
No
Heating elements
5
5
Element – Left Front (Size)
9"
9"
Element – Left Front (W)
50 – 2800W
50 – 2800W
Element – Left Rear (Size)
6 ½"
6 ½"
Element – Left Rear (W)
50 – 2200W
50 – 2200W
Element – Right Front (Size)
6 ½"
6 ½"
Element – Right Front (W)
50 – 2200W
50 – 2200W
Element – Right Rear (Size)
9"
9"
Element – Right Rear (W)
50 – 2800W
50 – 2800W
Element – Center (Size)
11"
11"
Element – Center (W)
50 – 3600W
50 – 3600W
Temperature range
Low, medium, high
Low, medium, high
Programmable time
No
No
Control Location
Front (individual controls for each element)
Front (individual controls for each element)
Control Type
Illuminated touch controls
Illuminated touch controls
Power Cord Length
Improper Connection Protection:
LCD (individual displayFor each element)
LCD (individual displayFor each element)
Function Lock
No
No
SAFETY SENSORS
Child Lock System
No
No
Pan Detection System
Yes
Yes
Small utensil protection
Yes
Yes
Error Message System
No
No
Overflow Safety
Yes
Yes
Anti-Overheating
Yes
Yes
Improper Connection Protection:
Yes
Yes
Too Low/Too High Voltage Signal
Yes
Yes
APPEARANCE
Color Appearance
Black/Stainless Steel
Black/Stainless Steel
Frameless
No, stainless steel frame
Yes, beveled edge
WEIGHTS & DIMENSIONS
Approximate Shipping Weight
60.6 lb
73 lb
Dimensions (WxLxH)
20.4 x 36.9 x 2.8 "
20.4 x 36.9 x 2.8 "
PRICE (on Amazon)
Check price
Check price