Electrolux EW36IC60LB IQ-Touch 36 " Induction Cooktop – for when you need a lot to cook in little time [Review]
Do you have a large family and need to do a lot of cooking? Do you often throw large parties? Are you looking for a powerful and fast cooktop for your small restaurant?
If the answer is `Yes` to any of those questions, then we have the solution for you: the Electrolux EW36IC60LB IQ-Touch
36" induction cooktop. Sporting two different looks – a black frameless design (B model) or a stainless steel frame (S model) – this cooktop is a powerful, five-element cooktop packed with almost anything you would need to make your cooking time both short and pleasant.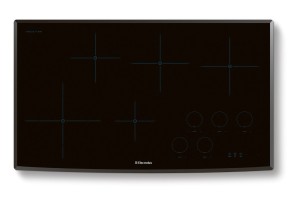 In what follows we will go a bit into the details about it, so that you can make an informed choice.
1. Controls
This Electrolux model has two types of touch controls: the main controls, placed at the right front part of the device, and the individual controls for each cooking zone, including a Glide-2-Set touch gliding control for easy adjustment of temperature.

Main controls:
1. Power light indicator
2. Control lock light indicator
3.Power ON/OFF button
4. Controls lock button
5. Timer ON/OFF button
6 – 7 Tiner +/- setting buttons
8. Minute timer display (up to 99 minutes)
Cooking zone Controls: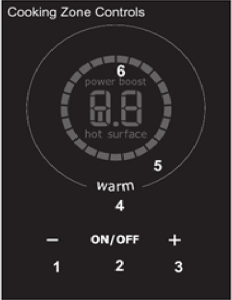 1. the – pad
2. ON/OFF keypad
3. the + pad
4. Keep warm button
5. Glide-2-Set rotary touch slider (up to 25 power levels)
6. Power level display
As you can see, the touch controls are very intuitive and easy to use. A special note should be made on the Glide-2-Set slider: setting the desired power level can be made in three different ways:
– slide the finger clockwise on it until you reach the desired level.
– directly touch any position on the ring
– use the -/+ keypads to accurately set the power level.
Moreover, if you touch the + keypad directly after turning the cooking zone on, the Power Boost feature will be activated, setting the power to the highest level available for that cooking zone.
2. Surface
The Electrolux EW36IC60LB IQ-Touch
36" cooktop comes with a glass ceramic surface that can be scratched quite easily, so proper care should be taken when using the appliance and/or cleaning it.
Use only soft cleaning creams and cloth to clean the surface area. For heavily burnt food you can use a scraper which must be held at a 30 degrees angle to the surface. For further information see the owner's manual.
3. Heating elements
There are five magnetic cooking zones, one of which being a dual element – 7"/11" in size and 3700W/4800W of top power output.
The five cooking zones are divided into three sections, with the left dual element in one section, the center section and the right section.
The center and right sections can share power, that is the two elements can share power and can be controlled as a singe heating unit. When in power sharing mode, the maximum individual power for each element is lowered so as to avoid damage to the induction generators.
4. Power/Watts
The Electrolux EW36IC60LB IQ-Touch
36" requires a 208V/240V/60Hz, 50A power source, since its heating elements have a power output which ranges from 1450W to 4800W when used individually.
For specific power levels please see the table at the end of this article.
It is advisable to have the appliance installed by a qualified electrician, as the device requires proper wiring and circuit breakers.
5. Sensors
Although the Electrolux EW36IC60LB IQ-Touch 36" does not have all the sensors you would expect from such a device, it has some useful sensors that make cooking easier.
First of all, it has a pan detection sensor that will automatically adjust the cooking zone to the size of the cookware. There is also a magnetic detector that prevents accidental powering the device if the cookware used is not suitable for magnetic induction cooking.
6. Ventilation
The Electrolux EW36IC60LB IQ-Touch 36"
does not have a downdraft ventilation system, but there is a cooling fan inside which helps keeping the inside temperature at low levels.
Also, proper installation is required in order to ensure ventilation of the device. Keep in mind not to apply any sealant around the device after installation, it must breathe freely.
For further details you can check the installation procedures that come in the package.
7. Safety Features
The Electrolux EW36IC60LB IQ-Touch 36" has a control lock button that prevents the appliance from being accidentally turned on and can also function as some sort of child lock system.
Each cooking zone has hot surface light indicator which warns the user that the zone is under power and hot. Apart from that, there are no other safety features such as an error and troubleshooting system or low/high voltage protection.
8. Accessories
There is an optional Granite countertop installation kit which may come in handy if you use granite countertops.
Speaking of installation, it is quite difficult an operation ,so it should be done by trained technicians in order to avoid damage to the device and/or risk of injuries.
Of course, being a magnetic induction cooktop, it requires suitable cookware, so make sure you check with the manufacturer or read the labels before buying/using any cookware.
9. Dimensions
The size and shape of the cooktop require careful installation, with minimum and maximum cutout dimensions as shown in the table below.
10. Pros
11. Cons
12. Consumer Ratings
There are few consumer ratings available online, the majority of them complaining about the loud buzzing heard when the device operates at high power levels (which, according to the owner's manual, should be normal as the noise comes from the magnetic generators and/or the cooling fans inside the casing).
One other complaint was that the beveled glass edge of the S model is very brittle and breaks even at not so hard hits.
13.Where to buy Electrolux EW36IC60LB IQ-Touch
You can try Amazon where you will find it a great price
PRODUCT
EW36IC60LB IQ-Touch
MANUFACTURER
Electrolux
FEATURES
Cooktop surface
Glass ceramic
Cooktop Burner Type
Induction elements
Number of cooking zones
5
Left front type
dual
Left front power
3700W / 4800W
Left front size
7"/11"
Left rear type
single
Right front type
single
Right front power
1450W/ 2000W
Right front size
6"
Left rear type
single
Left rear power
1900W/2600W
Left rear size
7"
Right rear type
single
Right rear power
2300W/ 3200W
Right rear size
7"
Center rear type
single
Center rear power
2300W/ 3200W
Center rear size
8"
Controls Position
front right (main controls); each cooking zone has its own controls
Control Type
Electronic touch controls
Indicator Lights
Hot Surface
Power ON/OFF
Surface Element "ON"
Power Cord Length
N/A
Power Level Indicator
yes
Keep Warm Setting
yes
Hot Surface Indicator Lights
yes
Sealed Spill Control Cooktop
yes
Display
yes, blue LED
Sabbath Mode
no
Timer
yes
Control Lock
yes
Downdraft ventilation
no
Magnetic cookware detection
yes
Automatic pan size detection
yes
APPEARANCE
Color Appearance
Black (B model), Stainless steel (S model)
Frameless
Yes (B model), No (S model – glass frame)
WEIGHTS & DIMENSIONS
Approximate Shipping Weight
75 Lbs
Net Weight
60lb
Cooktop Size
36 in
Overall dimensions (Width x DepthxHeight) (In.)
41″x25″x8″
Price: Amazon Discount Link