Copper Chef XL Induction Cooktop and 11″ Casserole 5 pc Set – no more guesswork, but precise and efficient cooking!
If you are looking for an induction cooktop, you should have a look at Copper Chef XL Induction Cooker
and 11″ Casserole 5 pc Set.
This set is perfect in any kitchen, or small cooking space thanks to its compact dimensions.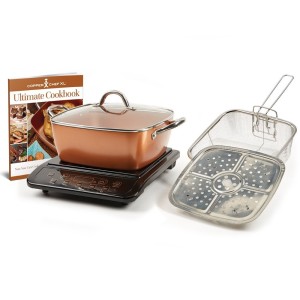 From now on, you can set and adjust the temperature and time to suit your recipe. Rapid increases in temperature can be achieved and maintained and tasks including simmering, cooking rice and stir-frying are also guaranteed.
1. Controls
With Copper Chef XL 11″ Casserole 5 pc Set & Induction Cooktop , you get exactly what you may want: 6-in-1 pan (this pan is going to replace your stock pot as it can be used as rice cooker, frying pan, roasting pan, wok and baking dish), 11″ casserole pan and a stainless steel induction plate with rapid, even heat technology.
The control panel of the induction cooktop has a digital display with adjustable 10° increment time and temperature controls.
Certainly, the series of preset functions combined with full control of precise, maintainable heat settings and time, guarantees perfect results. Let's discover the controls:
• Induction Timer button – allows to add or decrease time in 1-minute intervals up to 150 minutes (2.5 hrs.)
Once the time has elapsed, the digital display will go to OFF position. Default time setting is 2.5 hours.
• Keep Warm button – presets temperature to run continuously at 175°F to keep food warm.
• Temperature Decrease button – allows to lower temperature or decrease time.
• Low button – sets the temperature to run continuously at 100°F.
• LED display – indicates time, temperature, OFF.
• Medium button – sets the temperature to run continuously at 275°F.
• High button – sets the temperature to run continuously at 425°F.
• Temperature increase button – allows to raise the temperature or increase time.
• Sear button – sets the temperature to run continuously at 500°F. The digital display for this selection will show "SEAR."
• ON/OFF button – select ON/OFF button to begin cooking cycle or to power on/off the device.


2. Surface
The cooktop surface is made from durable, heat-resistant ceramics. As you may know, ceramic glass is very tough, but if you drop a heavy item such as a cast iron skillet, it may crack.
In everyday use, however, it is highly unlikely to crack. Scratching can occur from carelessness and so be careful not to slide rough-bottomed cookware on the surface.
While cooking, the cooktop surface that makes contact with your cooking vessel will become very hot. To avoid personal injury, never place hands on the cooktop surface until it is thoroughly cooled down.
And with no carbon build-up to worry about, cleanup is a breeze. Just use a damp cloth and wipe over the smooth, easy-to-clean ceramic glass surface.
3. Heating Elements
With one heating element, it has a continuous surface with no dirt traps, and the controls are touch-sensitive, so there are no knobs to clean around.
The cooktop itself barely gets warm, except directly beneath the cooking vessel. Once the pan is removed from the stovetop the cooktop turns off and automatically cools down.
4. Power/Watts
This appliance complies with all standards regarding electromagnetic fields (EMF). These are the technical specifications:
Temperature range: 100°F-500°F
Voltage: 120V/60Hz
Maximum power output: 1300 Watts
5. Sensors
This cooktop will detect if you are using special cookware for induction cooking.
Only pots with a ferrous or iron composition will work on induction (items made of glass, copper, ceramic, or aluminum will not work, but cast iron, enamelware, and some stainless steel will work).
6. Ventilation
Air vents are located on the underside and back of the Copper Chef Induction CooktopTM are critical to its operation.
Just make sure the unit is not pushed up against a counter backsplash and the underside is on a smooth, level, heat-resistant surface before operating.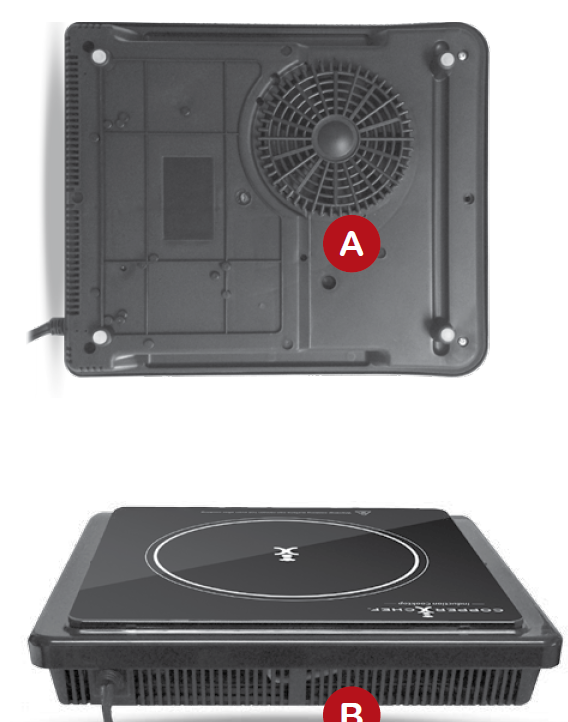 7. Safety Features
There is no open flame, red-hot coil or other radiant heat sources to ignite fumes or flammable materials. Induction cooking prevents burns and kitchen fires.
The appliance is recommended for normal household use and not for use in commercial or retail environments.
For a proper operation, you should consider using induction compatible cookware.
When you remove the pan from the induction surface, the unit immediately goes into Standby Mode, and so there is no energy wasted.
And the appliance has a built-in timer and will automatically shut down when the countdown reaches zero.
8. Accessories
The set includes the induction cooktop, the pan, lid, steamer plate, fry basket, and small cookbook.
The pan can be used on a gas, induction, electric or smooth top stove, and in a gas or electric oven.
The other brands of Copper pans will not work with the induction unit, only Copper Chef will work.
9. Dimensions
The Induction Cooktop measures 11.5 " by 11.5" by 4".
10. Pros
11. Cons
12. Consumer Ratings
People who have tried Copper Chef XL Induction Cooker and 11″ Casserole 5 pc Set are extremely happy with their acquisition and this can be proved by the consumer rating on Amazon
.
The 7-quart capacity of the pan and the multiple possibilities of cooking are the reasons why those people have chosen the set.
13. Price
Copper Chef XL Induction Cooker and 11″ Casserole 5 pc Set is available at this price
and all you have to do is to order it from Amazon.
Also, you will receive a warranty for 60 days from the date the product is received.
14. User manual
Copper Chef XL Induction Cooker
Destination Use
Home
Design
Black ceramic glass cooktop very resistant to heat
Power Source
120V/60Hz
Output Power
1300W
Power Levels
N/A
Temperature Levels
100°F-500°F
Programmable Timer
a digital timer
Function Lock
No
Warranty
60 days from the date the product is received
Acoustic Warnings
No
Weight
N/A
Dimensions
11.5 " by 11.5" by 4".
Cord Length
2 prong design of power cord
Glass Cooktop Size
N/A
Safety Sensors
auto-pan detection feature
Induction Cookware Sensor
Yes
Induction Overheat Sensor
N/A
Glass Cooktop Overheat
N/A
Free pan
Yes, 11″ Casserole Pan and 1 XL Capacity Family-Size Pan
Price
Amazon Link