7 Best BPA FREE Electric Kettles with Reviews
The term of BPA stands for bisphenol A. As you probably intuit, BPA is an industrial chemical that has been used to make certain plastics and resins since the 1960s.
While polycarbonate plastics are found in containers that store food and beverages, the epoxy resins are necessary in order to coat the inside of metal products.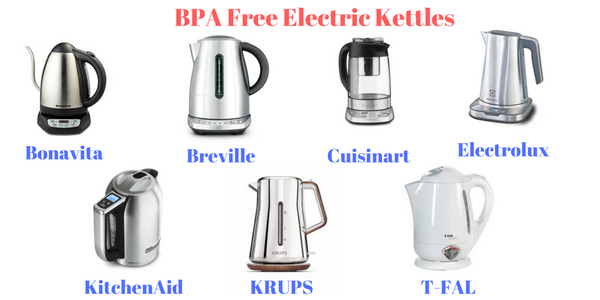 Exposure to BPA leads to possible health effects of BPA: brain, behavior and prostate gland of fetuses, infants and children may be affected. Some studies demonstrate a possible link between BPA and increased blood pressure.
BPA-free products do not contain BPA and can be an alternative for your cookware in order to prevent leaching chemicals into beverages and food. BPA and BPA-free products are safe at the very low levels that occur in some foods, but you may consider avoiding plastic and using glass or silicone.
If you are interested in BFA free electric kettles and you want a product with few plastic parts that come into contact with water, the following examples can be great options. Take your time to find out all their features.
T-fal BF6520 Vitesses 1.7-Liter Electric Kettle with Variable Temperature, White is a 1750-watt high-speed kettle that boils 7-cups of water in just 5 minutes.
Being a product built to North American Electrical Standards, this item guarantees you boil-dry protection with automatic shut-off and variable temperature control.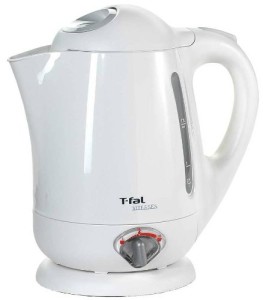 With this kettle, you have On/Off button located on the handle, exterior water-level indicators, concealed heating element and anti-scale filter.
This kettle is perfect in order to brew the perfect cup of tea by controlling the water temperature depending on your tea choice (white, green or black).
You are able to see the water level thanks to its exterior viewing window; also, you get a 360° rotating base that makes prepping and serving your hot water needs easier than ever. Its anti-scale filter collects unwanted impurities in water and is removable for easy cleaning.
The plastic exterior does get hot to the touch, but the handle stays cool. Also, the interior is plastic except for the steel bottom, which encloses the heating element. The spout and handle shapes make it easy to pour, and the locking top makes it pretty tough to spill.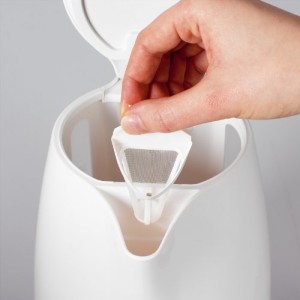 Check Reviews on Amazon
The power of the kettle is a big advantage: this electric kettle draws more power than most, but the result is a faster boil time. You can boil up a full load of water with this kettle in about the time it may take to set up the teapot. And the temperature control allows you to be able to set and forget for green tea.
This KRUPS BW600 Silver Art Collection Cordless Electric Kettle with Chrome Stainless Steel Housing, Silver is a 1.7-liter/57-ounce cordless electric kettle with exclusive design of stainless steel, chrome and wood optics.
It comes with automatic opening lid, 360-degree rotational base and removable anti-scale filter for excellent-tasting results.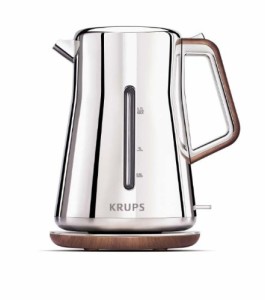 An outside water level indicator window is available on both sides and there is an illuminated on/off switch for more precision.
You can use this kettle to boil water for a variety of teas, instant coffee, soups and more things. And keep in mind that it keeps water hot for long periods of time.
Once the kettle is turned on, the light at the back lights up and as the light is quite bright, you always know when the kettle is on.
The handle is actually plastic but it looks and feels almost like wood. And there is a button on top of the handle that you push to open the lid. It is a flip top lid which opens in the middle of the top of the pot.
This product is a good size and lights up when the water is heating, is sleek and looks nice on the counter. This kettle is extremely quiet: you barely hear anything whilst it is heating and even when boiling the sound is not too loud.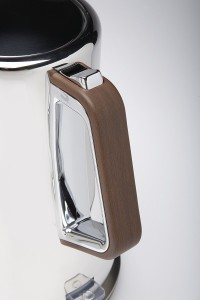 Check Reviews On Amazon
This electric kettle looks beautiful, boils water very quickly, and turns off immediately after boiling for safety reasons. If you are looking for a reliable kettle that will last you for years to come as well as a gorgeous work of art for your counter top, this is your kettle.
Bonavita – 1.7-Liter Variable Temperature Digital Electric Kettle, 1500 watt is a cordless kettle with 1.7-liter capacity.
It can heat water from 140 to 212 degree F (heats in one-degree increments) and these variable temperatures guarantee you the exact temperature of coffee brewing or tea extraction.
If you are looking for a great kettle for coffee, tea, hot cocoa, ramen noodles, or whatever, this one must be your choice. The ability to stabilize the temperature at 87 degrees C, 93 degrees C, or 95 degrees C (dependent on bean and grind) are essential for a good cup and the slender curved spout allow good technique in pouring from the center while the coffee drips.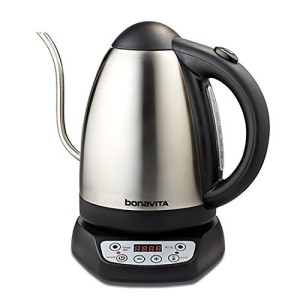 Once you fill the pot, you have to set the temperature, to press the hold button, within a couple of minutes, and you get the water at the exact temperature you need, which will stay at that temperature after you pour the first infusion, ready for the second and third when you are ready.
You should know that the kettle heats up to the set temperature and then, it shuts off. It will display the temperature for an hour as it cools down and then turns off.
After returning the kettle to the base during the hold feature, it will display the temperature for seven minutes and then turn off unless you reactivate the hold feature.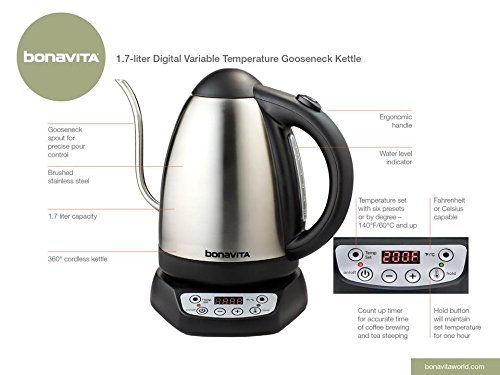 Check Reviews on Amazon
The goose neck spout gives you greater control in the amount you want to pour and the area that you want to pour.
It is solid and does not slide around on your counter and if you want something that will go the distance and that will last a long period this must be your choice.
Electrolux ELKT17D8PS Expressionist Kettle, Stainless Steel has a stainless steel body with easy to wipe clean control panel.
With eight programmable temperatures from 122 degrees F to 212 degrees F (from 50 degrees C to 100 degrees C) and pre-set programs, you have a perfect kettle for coffee, oolong tea, white tea or green tea.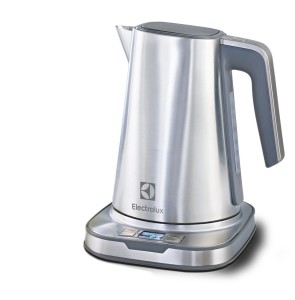 Kettle beeps for three times when your water is ready and you can watch the digital screen on the bottom as it shows the temperature that goes up as it is working its way.
It works perfectly and you can set the temperature to make hot chocolate that is not too hot to drink right away. You may also use it to steep various teas to the right temperature.
The kettle itself is cordless; the base has an electric cord which you plug into an outlet. The kettle makes contact with the base via metal contacts which allow it to rotate freely.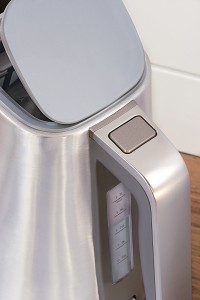 You can wind the cord on the base to take up slack. You do not need to clean the kettle: if you have hard water, they recommend using a scale remover.
The Electrolux Kettle is also designed with an easy to read and wide angle display and safety first system with 3-way auto shut off and hidden heating element.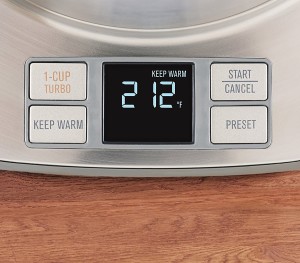 Check Reviews on Amazon
The heating occurs in the pot as when the pot is removed, the base goes into a pause mode. According to the product page on manufacturer website, this is a BPA free kettle.
Cuisinart TEA-100 PerfecTemp Programmable Tea Steeper and Kettle is a cordless glass kettle that holds 1 liter for tea steeping and 1.2 liters as a water kettle.
Purchasing this product, you get a removable stainless steel tea infuser with programmable controls; there are 6 preset temperatures (for delicate, green, white, oolong, herbal and black teas).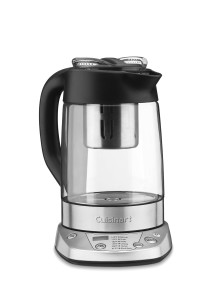 This product is BPA free, and there is also no plastic that touches the water while heating. This is a kettle that heats the water very efficiently and quickly with highly accurate temperatures for various tea types.
Tea steeping parts are all made of stainless steel and steeping holes are small enough so it does not allow tea leaves to escape.
For everyone, it will actually be quite interesting to know brew tea at the right temperature and for the right time.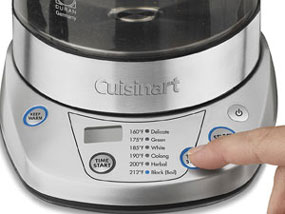 Its adjustable countdown steeping timer flashes to remind you to activate the timer when you are ready to begin steeping.
The audible alarms tell you when to start steeping and when it is done. This product is easy to clean out and has a nice filter built in to keep tiny pieces of tea leaf from getting into your cup.
This kettle is an investment and is well worth the price for everyone especially since you drink so much tea.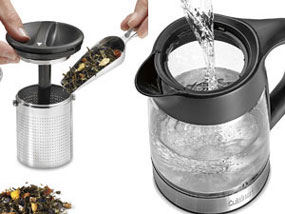 Check Reviews on Amazon
With this electric kettle, you are able to boil water and make tea in one device. With this pot, you just refill and bring the temperature back up and drop down the infuser and you have another pot of tea.
Breville BKE720BSS The Temp Select Electric Kettle, Silver comes with soft opening lid that slowly releases steam and prevents splashing, dual water window for left or right-handed viewing and cordless jug.
You also get an electric kettle with 360̊ multi-directional base with cord storage wrap and safety auto shut-off and boil dry protection.
With a large 7-cup capacity, this kettle is designed with programmed settings for green tea, white tea, oolong tea, black tea, and French Press coffee.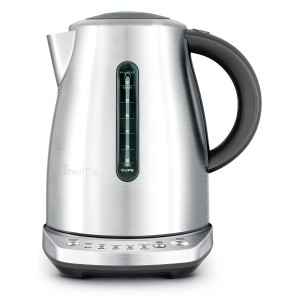 The water window and lid are plastic and not glass. Water and steam may come into contact with these parts, but the model uses BPA-Free plastics. The item looks nice and heats quickly, and specific temperature controls and a reheat button are all nice features.
It pours generously with a comfortable handle and a lid that closes quietly and tightly; so, you get little to no steam escapes.
It cools down quicker so your water does not keep boiling which can make it taste off. The controls work well and the temperatures are accurate. The BKE720BSS is designed in Australia and manufactured in China.
This KitchenAid KEK1722SX 1.7-Liter Electric Kettle with LED Display – Brushed Stainless Steel has a 1.7 L capacity with the option to heat a minimum of 250 ml of water. The soft grip handle is designed for maximum comfort and performance and clear water window comes with blue LED.
You will observe one blue digital display on top of the handle, which shows the temperature. And once the kettle is turned on, the transparent water-level indicator illuminates in blue.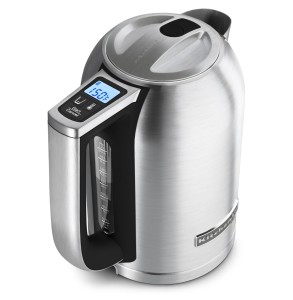 It is all stainless steel inside with the exception of two small BPA plastic covers over two bolts at the bottom, of course, the plastic window on the side.
The 30 minute hold temperature function maintains the temperature while on the base, but you have also other variable temperature settings that can be adjusted from 122° F to 212° F in order to achieve optimal results. Cord wrap is located underneath the base and the 360-degree rotation ensures easy transfer of the kettle.
The pouring spout is well designed and does not drip or leak and the lid is designed to flip up with the press of a button.
With this kettle, you receive a removable mesh filter that traps scale deposits from hard water; it is easy to remove to clean, and easy to place back in the kettle.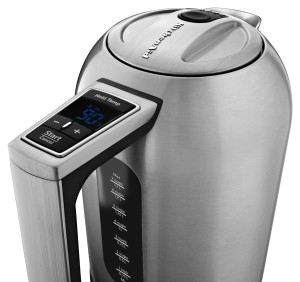 Check Reviews on Amazon
The most notable thing is how the kettle can be set for several temperatures and then, for holding the one chosen.
The beep is helpful if you leave the kitchen and get sidetracked: the beep sound reminds you to get back to the important task of sitting down with a cup of tea.
Conclusion
Here you have a list of 7 best BFA free electric kettles with reviews that you may consider before purchasing a product.
If you find a product that fits your needs, all you have to do is to purchase it and discover the advantages of a teapot, kettle, a French press coffee, etc. using only one electric kettle.