Avalon Bay IC100B Portable Induction Cooktop – simply cooks faster with less power!
Do you need an extra burner or simply a cooktop for your holidays?
Your problem has one ideal solution: Avalon Bay IC100B Portable Induction Cooktop
is what you may look for as it is the right choice of cooking appliance for people living in RVs, apartments, dorms, or single rooms.
The compact size of this portable induction cooktop makes it a perfect apartment stove. It can be easily placed inside a cabinet when not in use.
1. Controls
The induction cooker cooks faster and makes use of less power.
For precision induction cooktop, it features electronic controls and settings, which allow the cook to select the right settings for cooking their favorite meal.
It simplifies cooking with easy-to-use controls, and a semi-automatic operation.
It comes with a temperature setting, power level setting, and programmable timer, all of which enable the cook to semi-automate the cooking process.
A built-in timer allows you to set the cooking duration and the timer will automatically send the heater into standby mode when the time is up.
Basically, just set the timer and come back to deliciously cooked meals.
2. Surface
You get a ceramic square hot plate that guarantees you uniform distribution of heat in all directions, cooking the meals thoroughly from all sides.
Clearly, this electric burner is safe to use, even in households with kids. It will not work on aluminum or any other non-ferric metal. As long as the metal is iron or any form of steel, the item will heat up.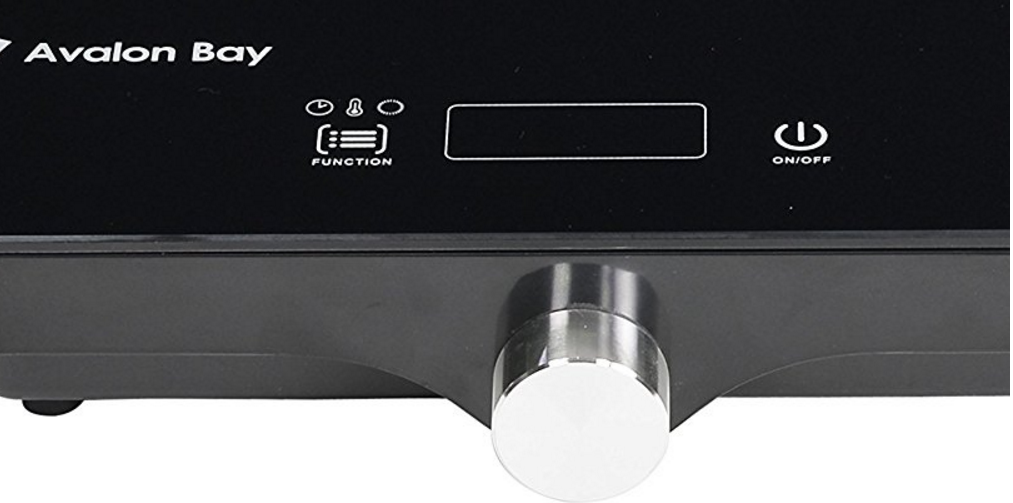 3. Heating Elements
There are 8 different power levels, starting from the lowest 300 watts to the highest 1800 watts.
There are also 8 different temperate settings, starting from 140°F to 465°F.
Changing the settings is as simple as pressing a button and rotating a knob.
4. Power/Watts
When it is time to use, all you need to do is plug it into a 120V power source.
The power light stays on as long as the unit is plugged in. This is a portable unit and should be unplugged if not in use.
For safety precautions, use pots or pans with a diameter of 5 to 10 inches of suitable material such as steel, cast iron, enameled iron, or stainless steel.
5. Sensors
Your Avalon portable induction cooktop will detect if you are using induction compatible cookware such as stainless steel with a magnetic bottom, cast iron, steel, or enameled steel.
This relatively lightweight induction hot plate can be easily transported from one place to another and cleaning it is as easy, which makes it a great portable hot plate.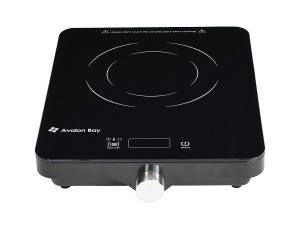 6. Ventilation
Definitely, you will not find the fan bothersome at all. You would not say that is loud but you can certainly hear it.
7. Safety Features
The portable induction cooktop has been designed in keeping with the safety standards of the industry. Its programmable timer makes it an absolute non-hazard.
The cooking timer allows you to set your favorite meal from 0 minutes to 3 hours.
Even if you forget to turn it off, the timer will automatically shut off the square hot plate after the set time.
Also, the induction cooktop will revert to standby mode automatically when the programmable timer reaches zero.
8. Accessories
Your induction cooktop comes with the warranty certificate, the power cord, and the user guide. Before using it, it is very important to read all the instructions.
9. Dimensions
The unit measures 18.5 x 13.2 x 4.5 inches and weighs 6.5 pounds.
10. Pros
The digital temperature, power wattage, and timer controls are simple to operate and understand
11. Cons
12. Consumer Ratings
With a consumer rating of this level on Amazon
, all those who have tried Avalon Bay IC100B Portable Induction Cooktop are extremely happy thanks to the fact that it brings water to a boil faster than the microwave and is very light weight and convenient.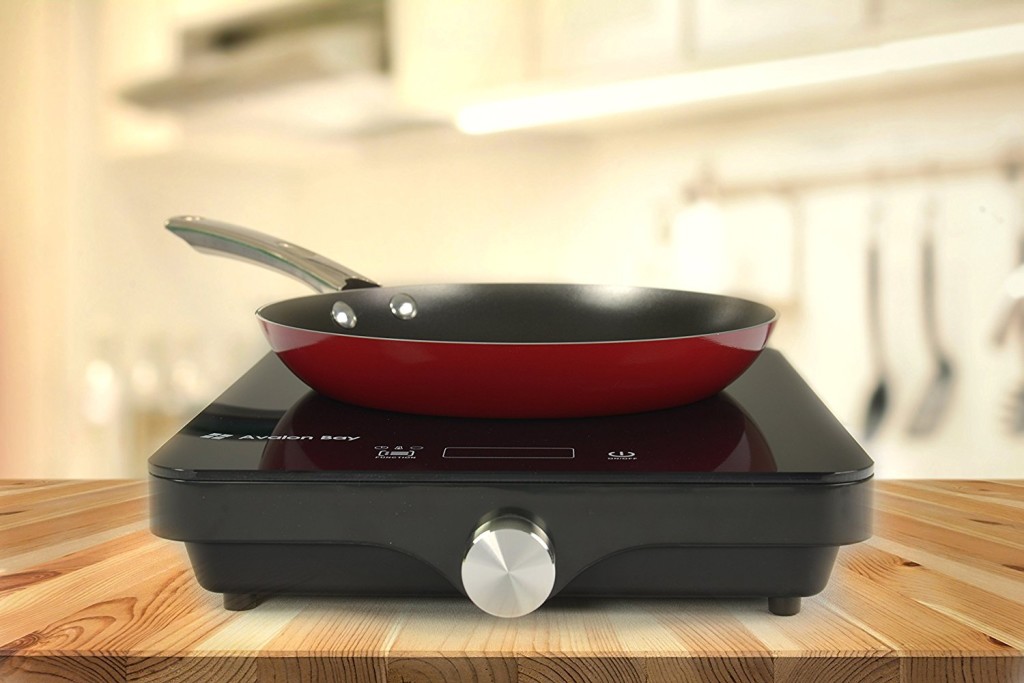 13. Price
For such a cooker, you have to pay only this price on Amazon
; certainly, it worth any dollar as it is a portable, efficient, and an eco-friendly kitchen appliance.
And of course, it heats up very quickly, so no waiting for your pan to heat up.
14. Summary Table
Avalon Bay IC100B
Destination Use
Indoor and outdoor use
Design
Black ceramic glass cooktop very resistant to heat
Power Source
120V, 15 amps of current
Output Power
1800W
Power Levels
8 different power levels, starting at 300 watts to the highest
1800 watts.
Temperature Levels
8 different temperate settings, starting from 140°F to 465°F
Programmable Timer
a built-in timer
Function Lock
No
Warranty
One year warranty
Acoustic Warnings
N/A
Weight
6.5 pounds
Dimensions
18.5 x 13.2 x 4.5 inches
Cord Length
N/A
Glass Cooktop Size
N/A
Safety Sensors
designed in keeping with the safety standards of the industry;
even if you forget to turn it off, the timer will automatically
shut off the square hot plate after the set time.
Induction Cookware Sensor
Yes
Induction Overheat Sensor
N/A
Glass Cooktop Overheat
N/A
Free pan
No
Price
Amazon Link