7 Asian Rice Cookers Brands You Should Take Into Account before Making a Decision
With rice cookers, the task of making rice becomes immediately an easy and hands-off activity.
However, if you are looking to make sushi rice or Asian rice, you may consider some Asian rice cookers brands that will definitely never disappoint you.
As you may probably intuit, the Asian market is quality-first. On top of this, the climate and temperature are subject to change in Asia, so well-engineered heating adjustment is essential.
As the result, the brands use quality materials and try to develop better technologies, and in other countries, the top priority is cost-performance.
Asian manufacturers (Zojirushi, Tiger, Panasonic, Media, Cuchen, Cuckoo, Tatung, etc.) make some of the best rice cookers in the world and probably the best stainless steel rice cookers, too.
But, there are differences between rice cookers manufactured by the Asian brands and those of other brands and if you enjoy Asian food, you need to try such a product.
Those who want to buy a rice cooker from a well-established, reputable Asian brand should know that Asian rice cookers use smaller cup sizes and so when the instructions reference a cup, you need to have the measuring cup that comes with the cooker or just about ¾ cup of a measuring cup.
Here you have a list of 7 Asian rice cookers brands that you should consider before making up your mind. Certainly, they will turn to be exactly what you need.
Available in a wide variety of sizes that are ideal for preparing rice for a family or a large group, these Asian rice cooker brands and models worth consideration.
Among rice cookers, just try Zojirushi NS-WAC10-WD Rice Cooker: you will discover an up to 5 1/2 cup capacity rice cooker and warmer with Fuzzy Logic technology.
With user-friendly LCD control panel and multi-menu cooking functions such as white/mixed, sushi, porridge, sweet, brown, rinse-free and quick cooking, you are going to have a unit that thinks for itself and make fine adjustments to temperature and heating time to cook perfect rice every time.
This dent resistant plastic body Micom Rice Cooker and Warmer features two delay timer settings for a reasonable price and a triple heater (bottom, side, and lid) that generates ideal temperature and automatic keep warm.
The rice cooker includes a detachable power cord for easy storage and several accessories (ice measuring cup, rinse-free rice measuring cup, nonstick rice spatula and spatula holder).
The best part is that you can use this like a crockpot. You can really cook some great dishes right in the cooker. Put the ingredients hours before dinner, set the timer and come home to a perfectly cooked rice meal.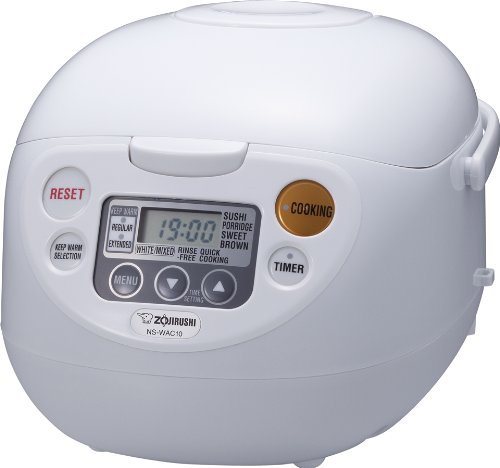 A mix of oatmeal and cooked rice with a hint of cinnamon and sugar make for a healthy, hearty breakfast that your family cannot get enough of.
It is important to know that if you are in the market for a rice cooker, take a serious look at this. It is not just a rice cooker: be sure to get a rice cooker cookbook to compliment it though as the recipes that come with the machine are not that exciting.
Consider the fact that the "fuzzy logic" in this machine works differently. It keeps track of how the rice is doing, not how the water is doing, and as a result, it never boils over.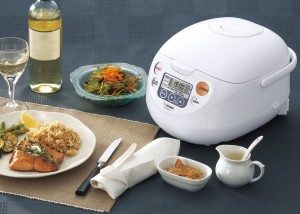 Check price
You are going to learn that this cooker has multiple settings, which allows you to cook white, sushi, and brown rice differently and also to cook porridges and other grains.
Tiger JNP-S10U-HU 5.5-Cup (Uncooked) Rice Cooker and Warmer, Stainless Steel Gray is made in Japan, works well every time, is easy to disassemble and clean as well.
The retractable cord is a great feature if you keep it under the counter. And although it is a bit pricey for a rice cooker, you are getting a durable product from a trusted brand that will last you a long time.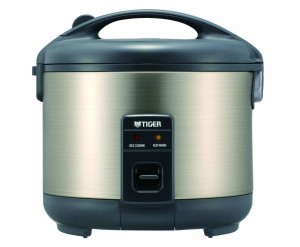 Get impressed by the astounding complexity of the device: it has exactly one button. You plug it in, add your grain and the appropriate amount of water, close the lid, turn it on, and that is it. It turns itself off (more exactly, to the "warm" setting) when the grain is cooked.
The only trick is keeping the lid closed for the appropriate number of minutes after cooking so that the grain can steam properly.
The simple approach is to not worry about it and just give yourself plenty of time to let the rice steam (about 10-15 minutes is always adequate).
You can safely cook about 2 cups (dry) of brown rice or barley or 2.5 to maybe 3 cups of dry white rice at a time.
It is not a good idea to overfill the cooker as it results in a bit of a mess. If you are not making your rice with Tiger, you may be eating substandard cooked rice and difference is a good meal versus a bad one. Seriously, though, you cannot go wrong with this rice cooker.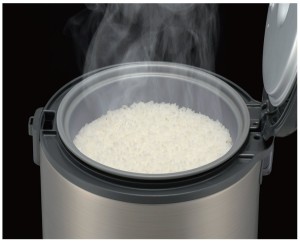 Check Price
Tiger does have factories in both Japan and China now but this version is still made in Japan and the Tiger quality is there. This is one of the best rice cookers you can get.
It is simple and easy to use and cooks rice really darn well. The inner well is heavy and it is usually recommended to get such cookers with heavier cooking pans because it more evenly distributes the heat during cooking.
It was a small size and Asian people recommended the Tiger brand: it really makes not only the dinner a breeze but also meal preparation for the week. Making rice is now the easiest thing in the world and it is way better than anything you could make on the stove top. It also frees up stove space.
Panasonic is a well-known brand and if you want to buy a Panasonic rice cooker, you should simply choose PANASONIC SR-ZX185 Microcomputer Controlled Rice Cooker (10-cup uncooked rice capacity).
This time is another Japan unit and its quality is ensured, and you have nothing to worry about.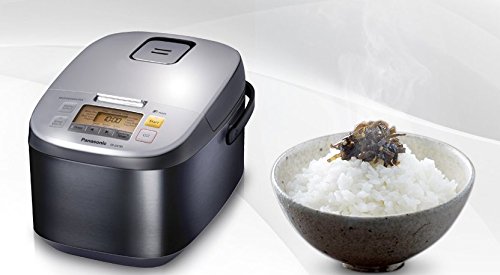 Just in case you are interested, this rice cooker and warmer has a really thick inner pan that makes cooked rice taste better, also warmer keeps rice fresh and rice. And be sure that this rice will not turn yellow even after 3 days!
With easy to see large LCD panel, Microcomputer Controlled Heating, and 6-layer diamond fluorine coated inner pan, this rice cooker allows you to cook 13 different varieties of rice and steamed foods; it is able to yield up to 10 cups of uncooked rice.
Having such a strong diamond coating of the inner pan, it is certitude that this unit can be brushed up to 100000 times. The entire cooking process is optimized by the heat-transmitting and heat-retaining materials that are used while manufacturing the products.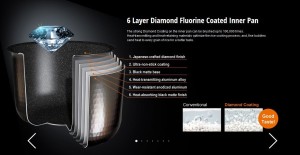 Check Price
With fine bubbles, the heat is sent to every grain of rice for a better taste. There are various local menu programs and so, these separate options can be used for cooking short and long grain rice.
The rice cooker is also designed with a large LCD screen on the top panel for simple operation and easy-to-see text.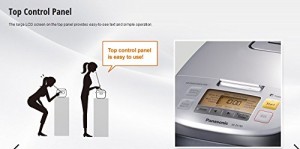 Use the water level lines every time you use this Panasonic product: these lines have clear, easy-to-read menu names and level markings. Also, the stainless steel frame is easy to wipe clean and the clean-up of the rice cooker is a breeze.
Midea is the most famous manufacturer in China and nowadays, comes with a revolutionary appliance: Midea My-CS6002W 7-in-1 Multi-Functional Programmable Power Pressure Cooker Stainless Steel, 6Qt/1000W.
This time, you have to do with a UL and ULC certified product with 10 proven safety mechanisms.
It provides an inner removable non-stick liner and stainless steel exterior that can be quickly cleaned.
Also, you get a 24-hour Delay Timer for flexible meal planning that makes your lives more convenience and 14 programmable menus of Rice, Soup, Meat/Rib, Chicken/Duck, Beans/Chili, Fish/Shrimps, Cake, Steam, Bake, Stew, Saute, and Yogurt.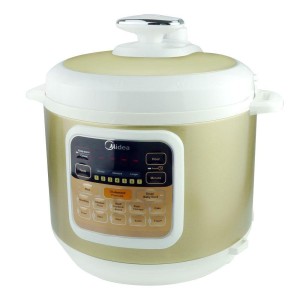 Consider using this Midea item as a multi-Functional Cooker because it can be a pressure cooker, rice cooker, saute/browning, yogurt maker, steamer and warmer. It is so convenient for you to use: for preparing the food, what you need to do is just pressing the button.
And there are so many automatic menus so that you can cook different delicious food for you and your family.
All the interior surfaces use stainless steel and there is no nonstick coating. Its inner diameter is 22 cm and the outer diameter is 24 cm. When you buy it, it is recommended to verify the shape of it with sealing ring seller.
Also, you do not need to put an extra pot inside; if you are going to make a cake, you just need to place the mixture in the pot and choose the bake function.
It is built to cook fast, and trying to slow cook something might make the meat spoil. But, your stew would be perfectly cooked on the stew setting. If you want to slow cook something, you may use a crock pot. You will get the same results, only it takes much longer.
Other features of the rice cooker may refer to some gaps between the inner and seal ring of the pot cover, so the gas can exhaust easily while it is staying in high-pressure condition.
Also, as a safety features, while the temperature is higher than 150 degrees C, the cooker automatically turns off, so as to prevent damaging the machine. The interlayer of the exhausting hole is made from the net structure, so as to prevent something get into the hole.
It is important to know that while the pressure is going up persistently, the air valve will be automatically opened and keep exhausting. It cannot be forced while the pot cover does not catch the machine; this design can prevent the pot cover from bumping open.
Try Cuchen IH technology pressure rice cooker and you will be able to cook rice in 14 minutes: this Cuchen Premium IH Pressure Rice Cooker 6 Cup WHA-VE0601G is designed with an inner pan with durable Diamond Queen coating that has dimples on both side.
This new premium IH pressure rice cooker can cook mixed rice in 29 minutes. So, it is the time to have this smart and speedy kitchen appliance calling as Wellbeing Appliance in your house.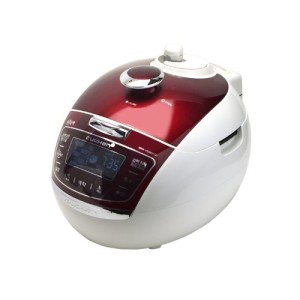 This rice cooker features reservation keep-warm function and makes the food retain so much more of its nutrients and flavor as newly cooked rice.
Get prepared to cook easily, healthfully and convenient with one-touch Self-cleaning function; it also incorporates reservation Keep-warm function and with this feature, you can control warm temperature and save energy.
There is a rectangle shaped LCD display and all the menus on the LCD display will glow when the power is on.
This is made in Korea but made for USA use. So, it is 110V and comes with 1-year warranty card from manufacturer. Also, it has display buttons in English and Korean but voice control is only for Korean at this model.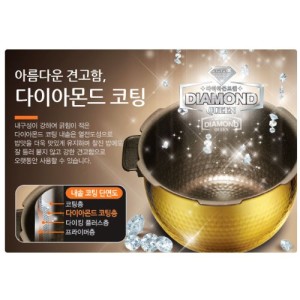 Check Price
There is a LCD display for the menu but the other buttons do not glow. And this model does not have a retractable power cord.
It has many cooking options and it speaks Korean; however, it is a 120 v unit made for American households. You may think that it is a little pricey, but it definitely worth the cost. The menu buttons are showing both English and Korean.
Once you cook your rice with Cuchen WHA-VE0601G Premium IH Pressure Rice Cooker, it is recommended to eat the cooked rice within a day because the nutrition would not be good on the next day. If you want to keep the rice longer, you can wrap the rice right after you cooked and put in a freezer.
It is certitude that there are lots of different brands on the market today for a rice cooker that range from $15 to $800. You can go with Cuckoo CR-0631F 6 Cup Electric Heating Rice Cooker, 110v, Pink that will give one of the best rice cooking results.
This appliance is superior in every way to a conventional rice cooker: it does a better job of cooking rice. It has a metallic bronze color, yet it repels water very well.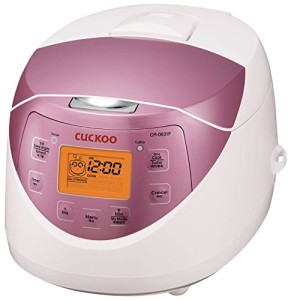 It is very easy to clean this pot, just using soapy warm water and a soft sponge, no scrubbing needed at all.
It keeps your rice on the warm setting for 2 days without it going bad. The rice is actually still good in day 3. If you are looking for a 1-3 people rice cooker, then this will do the job.
This product is made by one of Korea's most trusted and popular brand for rice cookers. There is a measuring cup included, and the markings for water correspond to a cup of that dry rice; the capacity of 180 ml is known as a hop in Korean (a gou in Japanese) that is the standard measurement for 1 portion of rice.
It is important to know that all U.S. Cuckoo rice cookers come with a standard 1-year manufacturer warranty that covers the cost of parts and labors.
Additional warranty extensions may be available depending on the seller/retail store, however, they do no to provide warranty extensions at the moment.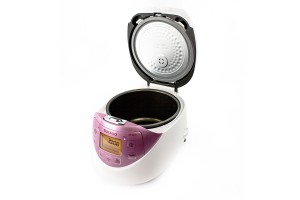 Check Price
It makes the fluffiest rice, has a lot of additional features, and even some recipes and definitely, worth the investment. One of the great things about Cuckoo rice cookers is that they keep rice super moist and just-made-tasting for days on end; the small size makes that capability obsolete.
If what you want is rice cooked to perfection then do not worry about all the settings for other things and just wash and rinse your rice well, put it in the cooker with the recommended amount of water on the package and let it sit for 30 minutes.
Thus, plug in the rice cooker, hit turbo cook on the top right and after it beeps about 20 minutes; later, you will have to unplug it and to let it sit for 10 minutes then just fluff it with the paddle (wetting it slightly helps keep it from sticking to the rice) and you will have the perfect rice.
Some of the essential elements that come with Tatung TFC-5817 Micom Fuzzy Logic Multi-Cooker and Rice Cooker, Champagne are large 8-cup capacity, up to 11 programmed cooking functions, programmable preset timer, automatic keep-warm function etc.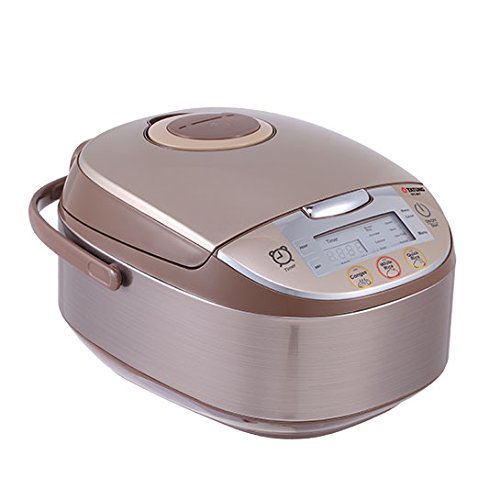 Definitely, the stylish, modern design with silver stainless steel body and light gold top cover makes it the ideal cooker to keep on your countertop.
It provides 16 cups cooked or 8 cups uncooked rice and 8 preset cooking functions: Brown Rice, Porridge, Slow Cooker, Steam, Stew, Soup, Oatmeal, and Reheat.
You will have to select between 3 Quick Cooking Programs: Quick Rice Cooking, White Rice Cooking, and Congee Rice Cooking. With Fuzzy Logic technology, the rice cooker also has a timer and LED display.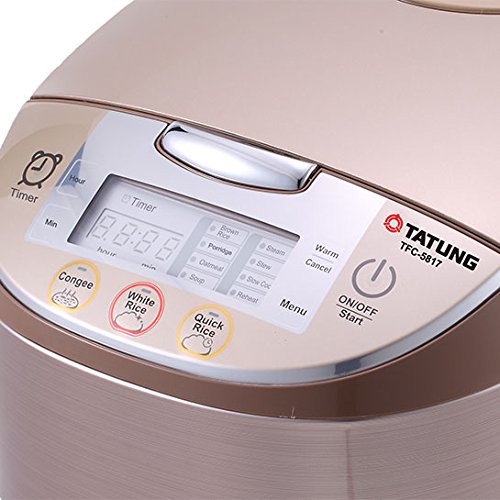 Check price
Such a unit is very easy to use: all you have to do is to add rice, water and to turn the rice cooker on. For more flexibility, do not forget to use the timer that will ensure time for other activities.
Conclusion
These are the 7 Asian Rice Cookers Brands you should take into account before making a decision.
Every item of this list will turn to be a great utensil in your kitchen, especially when you have to prepare different types of meals.
Considering the features that you need and the capacity of the unit, choose the one that is perfect for your cooking and your family meetings.