3 Best 5000W Induction Cookers (Commercial) with Reviews
For tasks such as brewing, but also cooking and warming food you may need a powerful induction cooktop, and if you consider commercial induction cookers, you should know that you will find on the market 5000 watts induction units.
As it is very important to find the right commercial induction range for your restaurant or business, let's find out if a 5000 watts cooker is a great acquisition for you.
For unbeatable temperature and power accuracy, these products represent a prime choice for commercial use: quick and consistent heating at the highest efficiency are guaranteed.
The following products are the best selling types of equipment in the portable commercial induction segment that are commercially rated with 5000 watts power.
Finished with stainless steel body and with a compact size, these 3 best 5000W Induction Cookers are exactly what you may look for. From now one, all you have to do is to compare them in order to decide which one you may purchase.
1. Mai Cook MDC-5000-FM 5000 W Induction Cooker
Mai Cook MDC Countertop Commercial Induction Cooktop Burner
, Electric Magnetic Stove is a 5000-watt commercial-quality induction cooktop with 13 power levels.
Those 13 power levels control provide from 400W to 5000W, while the unit is able to continue working 24 hours.
It is true that this induction cooktop is not like others in the industry, with simple and intuitive controls and power maximizing technology, but however, you will get gourmet results with speed previously unattainable.
This induction smooth ceramic glass cooking surface is also the most modern looking dual cooktop on the market.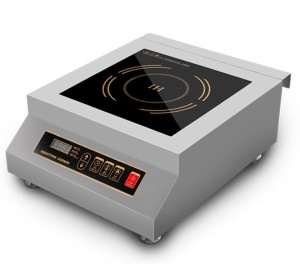 In order to adjust the temperature, you have to press "TEMP" button once. You should know that the pre-set temperature is 130℃, and you can press "arrow" buttons to select the temperature from 60℃ to 240℃ (there are 13 temperature levels: 60, 80, 100, 120, 130, 140, 150, 160, 170,180, 200, 220, 240℃).
For the timer, you need to press "TIMER" button once, and the display will show:"0:00″(hour: minute). Use" arrow" buttons to adjust the time, but be aware that the maximum time is "23:59". When the timer is time out, the cooktop turns automatically to standby mode.
The big heating zone is designed with International patent double induction coil for distributing uniform heating.
The unit is very sturdy and appears to support the 60 pounds of weight easily. The cooktop can handle about 200 lbs, but if the weight is over 170 lb, it is difficult to boil.
It has a temperature sensor and temperature switch double protection in order to better protect the operation of IGBT and fault self – diagnosis function. For a proper operation, you have to connect it to power, press "On/Off" button once, and the power light flashes and have a "Di" sound, and then the cooktop turns in standby state.
It measures 15.7" x 22.0" x 7.8" and the electrical requirements are the following: 220V~240V, 50~60 Hz. This is a very well made unit for a very reasonable price and works very professionally, exactly like those cooktops you get at Home depot or Best Buy. The magnetic switch control is very convenient.
2. Cooktek MWG5000 Induction Cooker
Also, you can consider Cooktek MWG5000-200 208-240V 3Ph Single Burner Free Standing MagnaWave Wok Induction Cooktop-5000 Watts With Glass Bowl Insert that boils a cup of room temperature water in about eight seconds.
Made in the USA, this item works with standard induction compatible (i.e. magnetic) woks and needs 208-220VAC 3 Phase. With 3 years limited warranty, this product has the following dimensions: 21.2 x 18.8 x 11.3 inches.
It has a counter-top design with stainless steel housing and heavy duty electronic components, while its 5000 watts are equivalent to 44,000 BTU. It comes with a high-impact, recessed glass bowl designed for commercial foodservice use. It is an easy-to-clean ceramic glass bowl.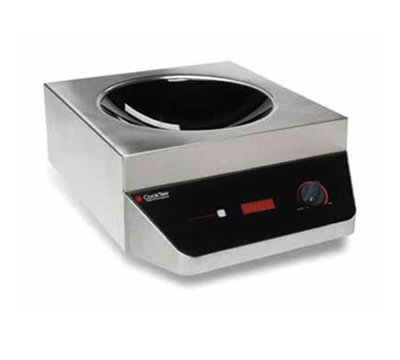 In order to understand the way in which the cooktop works, you should know that the induction coil surrounds glass bowl to maximize heating of an induction compatible wok pan.
Your unit has a control knob with 0 – 20 power cook settings. And Pan Maximizer feature achieves a maximum heating rate of an induction compatible wok pan.
Also, this Cooktek cooker provides a sloped front panel allows for easy viewing and operation. The red LED display shows power level (and any error codes).
Despite the safety features, you get onboard diagnostics monitor vital components at the rate of 120 times per second, checking for overheating, power supply, or other problems.
The unit will shut off and display error code to protect from any damage. Other features such as automatic pan detection will allow for instant energy transmission and there will be almost no energy used when a pan is not present, even the cooker is operated at a high setting. Automatic shut-off feature protects against overheating.
3. JIAWANSHUN 5000W Induction Cooker
JIAWANSHUN 80℃ – 300℃ 220V 5KW High Power Commercial Electric Cooker comes with a flat surface and is rated at 220V / 50Hz.
The flat surface cooking size is 300*300mm, and the maximum power of the unit is 5000W.
Be aware that this is a high power machine and it must be connected with a cutout switch, as you will see in the user manual.
This induction cooktop does not come with a plug and this is why you have to connect it with a cutout switch.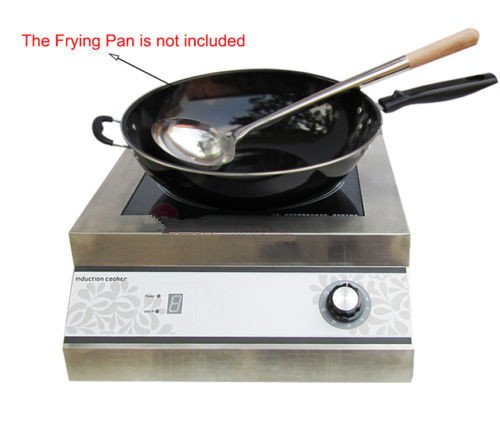 Its dimensions are 400 * 420 * 165 mm. With a temperature range from 80℃ to 300℃, this unit is exactly what you need when it comes to commercial cooktops.
It is all made of stainless steel, with a strong and compact design.
With a control knob, it is so easy to cook and warm with JIAWANSHUN 5000W Induction Cooker.
Also, take into consideration that the shipment will be arranged in 2-4 working days (not including customized products), and takes about another 5-9 working days to reach you.
4. Comparison Table
Mai Cook MDC-5000-FM 5000 W
Mai Cook MDC-5000-FM 5000 W
JIAWANSHUN 5000W
Destination Use
Commercial use
Commercial use
Commercial use
Design
Stainless steel body
Stainless steel body
Stainless steel body
Power Source
220V~240V, 50~60Hz
208-220VAC 3 Phase
220V / 50Hz
Output Power
5000W
5000W
5000W
Power Levels
400W to 5000W", total 13 power level: 400, 600, 800, 1000,
1400, 1800, 2300, 2500, 3000, 3500, 4000, 4500, 5000 (watt)
0 – 20 power cook settings
N/A
Temperature Levels
from 60℃ to 240℃, total 13 temperature level: 60, 80,100,120,130,140,150,160,170,180,
200, 220, 240 (℃)
N/A
Temperature range: 80℃ – 300℃
Programmable Timer
Yes, the max
time"23:59″,
N/A
N/A
Function Lock
N/A
N/A
N/A
Warranty
2 years warranty on parts and labor
3 year limited warranty
N/A
Acoustic Warnings
a "Di" sound when is turned on
N/A
N/A
Weight
26 pounds
N/A
N/A
Dimensions

15.7 x 20.5 x 7.8 inches

21.2 x 18.8 x 11.3 inches
400 * 420 * 165mm
Cord Length
N/A
N/A
N/A
Glass Cooktop Size
N/A
N/A
flat surface cooking size: 300*300mm
Safety Sensors
overheat sensor; auto shut-off Infineon IGBT,
On-board diagnostics, auto shut off, error codes, automatic pan
detection
N/A
Induction Cookware Sensor
Yes
Yes
Yes
Induction Overheat Sensor
Yes
Yes
N/A
Glass Cooktop Overheat
N/A
Yes
N/A
Free pan
No
No, High-impact,
recessed glass bowl designed for commercial foodservice use
No
Price
Amazon Link
Amazon Link
Amazon Link