3 Best 3500w Induction Burners/Cookers with Reviews (Portable)
Needing a commercial light-weight induction cooktop for your small restaurant? Or perhaps a perfect induction cooktop for home brewing?
Whatever your needs are, you should have a look on our list with the best 3500 watts induction burners with reviews.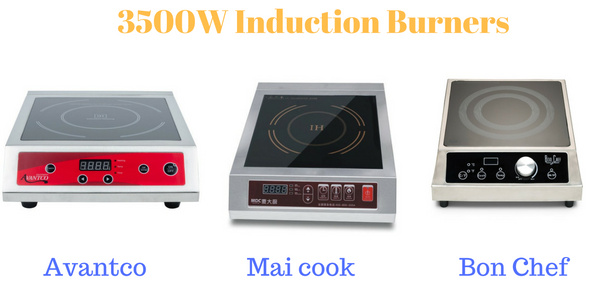 These models are extremely well made and durable: being great for indoor brewing and commercial use, you are going to use induction burners that heat quickly, are fairly quiet, and meet all expectations for the price range.
Let's see the 3 best 3500 watts induction burners with reviews that you may consider for home or industrial use.
The first 3500 watts induction burner that you should consider is Avantco IC3500 Countertop Induction Burner: you have an ideal cooktop that you can use in omelet stations, catering services, display cooking, home brewing, or anywhere you need an extra burner.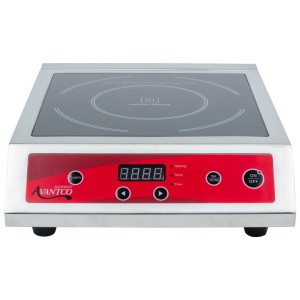 Also, it is much safer for your daily cooking than conventional countertop ranges since there is no open flame or flammable fuel source, and the heat dissipates quickly after the cookware is removed.
You can use it to brew beer and bring about 8 or 9 gallons to a vigorous boil with no trouble: you may need to turn the power down from the max 3500 to about 2800 to avoid a boil over in case you choose a Bayou Classic 10 gallon tri-ply kettle.
Regarding the construction, it is made of very strong glass, unlikely to break with normal use and even under heavier use.
It is 208/240 volt about 15.9 amps and so, be attentive that it cannot be used on a 120-volt line. Also, it is much less expensive than gas per batch: it provides great control with the temperature or watt settings and runs about 3-5 degrees over set temperature.
To cook with it, you have to buy an induction ready pot, pan or whatever: for this, you need a magnet and if the magnet does not stick, it likely will not work.
Avantco IC3500 Countertop Induction Burner heats wicked fast, and is easy to use once you try the buttons out. You need to let it heat the pan fast for about 30 seconds, then turn power down and set the timer.
And for home use it is overkill, yet it saves enough minutes that the cost comes back over time. The unit is lightweight and if you need quick heat and a timer, this unit is impossible to beat.
The next cooktop is Mai Cook Stainless Steel 3500W Induction Burner
: this time you have to deal with a 3500-watt commercial-quality induction cooktop with 13 power levels, auto shut-off, overheat sensor, digital timer and stainless steel body.
This induction smooth ceramic glass cooking surface is also the most modern looking dual cooktop on the market.
With simple and intuitive controls and power maximizing technology provided by this burner, you will cook with gourmet results with speed previously unattainable.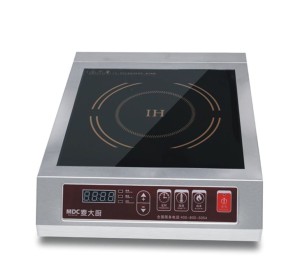 The heating area is 280 mm (diameter) while the size of the ceramic glass is 300X300 mm: the cookware material can be Ferrous stainless steel, iron, cast iron. It has both English and Chinese on controls and so, you do not worry about this operation: it is extremely easy.
This unit is powerful and works well: it is much, much better than gas as it is faster, more energy efficient, and easier to clean. Except for large boils, this is far too powerful for home use: even the lowest setting is hot enough for most regular cooking. It is a good unit for home brewing, but this unit needs 220v~240v AC.
Also, the unit will not run for hours for simmering: the built-in microprocessor has an undocumented limit of 256 minutes and it turns off even if timed cooking is not being used.
Mai Cook Stainless Steel 3500W Induction Burner is extremely well made and durable, the frame is high-quality stainless steel.
It comfortably holds our 18-inch pots still allowing easy access to the controls: it is really high efficient and energy-saving.
If you want something else, you should try Bon Chef 12084 Portable Induction Burner 3500W: it is a portable induction range that has a stainless steel cabinet, a glass cooktop with a 3,500W burner, and a LCD display.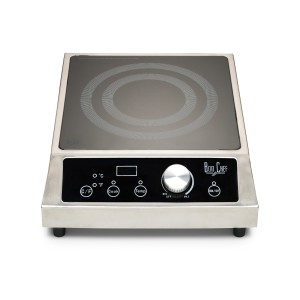 It is suitable for heating and cooking food using stainless steel or cast iron cookware.
Induction cooking means that the heat typically can be adjusted more quickly and precisely than on electric cooktops, and induction cooktops typically use less energy than electric or gas cooktops and can be wiped clean once cool.
The range is rated for 208-240V and requires a 14.6 amp breaker; it has an ETL Listed Mark certification for safety.
Bon Chef is a well-known brand as it manufactures serving ware for the food service and hospitality industries: with this new induction cooktop, you will enjoy stainless steel cabinet for corrosion resistance, LCD display with a timer that can be set for 0 to 180 minutes and glass cooktop for wiping clean once cool.
These are the 3 best 3500 watts induction burners with reviews that you should consider every time you search for an excellent unit in your kitchen: these induction cooktops are masters of the quick change as they become delicate enough to melt butter and chocolate, but powerful enough to bring six cups of water to a boil in just three minutes.
These cookers create heat energy inside the pan itself, instead of firing it in from outside and so, they cook food more quickly and safely with less energy.
Comparison Table
Avantco IC3500 Countertop Induction
Burner
Mai Cook Stainless Steel 3500W Induction
Burner
Bon Chef 12084 Portable Induction Burner
3500W
Manufacturer
Avantco Equipment
Mai Cook
Bon Chef
Destination use
Home, Industrial
Home, Industrial
Home, Industrial
Controls
5 (On/Off, < and >, power level, temperature level, timer)
5 (On/Off, Watt, Temp, Arrow, Timer)
5 (On/Off, Cook, Temp, C/F, Min/Max)
Control Panel
Digital
Digital
Digital
Functions
Power, Timer, Temperature
overheat sensor, auto shut-off
Cook
Surface
NA
induction smooth ceramic glass cooking surface
a glass cooktop
Color
Black surface, silver frame, and red control panel
Black/Silver
Black/Silver
Power Source
208/240V
AC 208V~240V
rated for 208-240V and requires a 14.6 amp breaker.
Output Power
3500 Watts
3500 Watts
3500 Watts
Power levels
500-3500W
total 13 power level: 400, 600, 800, 1000, 1200, 1500, 1800,2100,2400,2700,3000, 3300, 3500 watts
N/A
Temp Levels
10 (140-460 degrees
Fahrenheit )
total 13 temperature level:60, 80, 100,120,130,140,150,160,170,180,
200,220,240℃
Min-Max
Temp step increment
Yes
N/A
N/A
Programmable Timer
0 minutes to 180 minutes
Digital timer setting, max time 23:59
timer that can be set for 0 to 180 minutes
Function Lock
N/A
N/A
N/A
Warranty
6 Months
1-year warranty
90-day full replacement warranty
Acoustic warnings
N/A
Yes, the power light flashes and has a
"Di" sound, then the cooktop is standby mode.
N/A
Weight
12.25 lbs.
12 pounds
19 pounds
Shipping Weight
N/A
15 pounds
32.6 pounds
Dimensions
Left to Right: 12, Front to
Back: 15 1/2, Height: 4 1/4″
16.1 x 18.9 x 4.3 inches
13-1/2-inches length by 17-19/32-inches width by 4-29/32-inches
height
Cord Length
56″
N/A
N/A
Led Display
N/A
No, digital display
LCD display
Safety Feature
Automatically switches to
standby mode when cookware is removed from surface
N/A
Induction Cookware Sensor
Error Codes
N/A
N/A
N/A
Pan size (bottom diameter)
5″ to 10 1/4″
N/A,
the heating area is 280mm(diameter), the size of the ceramic glass is 300X300mm
N/A
Cookware material
cast iron
Ferrous stainless steel, iron, cast iron
N/A
Free PAN
No
No
N/A
Around Clearance
NA
N/A
N/A
Made In
USA
China
USA
Price
Check Price on Amazon
Check Price on Amazon
Check Price on Amazon