Which Zojirushi Rice Cooker to Buy in 2018?
Zojirushi is known as a manufacturer that provides durable and affordable food equipment characterized by reliable quality and value.
This Japanese multinational manufacturer began operation more than 90 years ago and its first equipment was a glass-lined vacuum bottle that revolutionized the new vacuum insulation technology.
All the products manufactured by Zojirushi are described by cutting edge technology in order to bring comfort, ease, vitality and affluence into the lives of all the customers worldwide.
There is no secret that Zojirushi works to improve customers' quality of life with its creation of innovative products.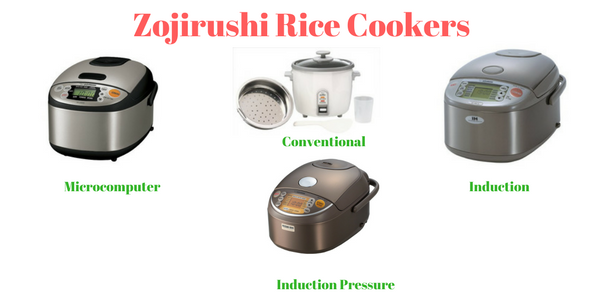 And regarding the Zojirushi rice cookers, you should know that these units have become increasingly popular in recent years; this is due to their advanced set of features that help everyone make perfect rice easier, faster and more convenient.
With their stainless steel, capsule-shaped bodies and sturdy, see-through glass lids, these rice cookers are efficient and smart at the same time. It is time to get convinced about the high quality of the products discovering the following Zojirushi rice cooker models.
1. Conventional (Standard) Zojirushi Rice Cooker
A conventional rice cooker is a unit that simply heats up to cook the rice, turns off when it is done and keeps the rice warm. Even so, cooking with a conventional can be great compared to cooking your rice in a pot.
These units incorporate the most basic of cooking control methods and indicators. But, some units may have a keep warm function also. However, you cannot adjust the cooking of different types of rice with a conventional rice cooker.
Zojirushi NHS-10 is a 6-cup (12-cup or 18-cup) cooker/steamer and warmer that steams foods to perfection and keeps them warm.
This rice cooker includes a stainless steel steaming tray and removable, easy-to-clean, nonstick inner cooking pan.
With this product, you also get a see-through glass lid and the handles are durable and stay cool for safe handling.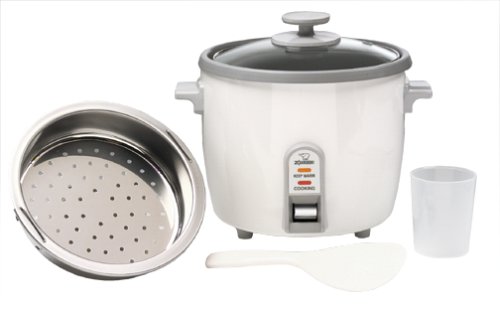 It includes measuring cup, spatula, and removable cord for easy storing. As you may want, the item is designed with an automatic keep-warm function that activates immediately after food is cooked.
It is simple but well made and does exactly what it is supposed to do. You can use the 10 cup model, as it would be great if you are cooking rice for more than 5 or 6 people.
If you follow the directions, you will wind up with the lightest, fluffiest, tenderest and delicious grains.
This is a good choice for those who want a rice cooker with a large capacity in order to do some vegetable steaming and one-pot cooking as well.
It is large enough to cook a huge amount for many servings and to use of freeze and it cleans easily and looks nice. Transform this rice cooker into the most active appliance in your kitchen.
All you have to do is to put in the rice and water, veggies on top if you want to steam them, and you are done. Do not forget to set your timer and the veggies will come out after about 10 minutes.
You should consider the type of rice you use as it can take anywhere from 15-40 minutes and your rice will be perfect every time.
2. Microcomputer (Micom) Rice Cooker
Microcomputer rice cookers are more advanced rice cookers with micro-computers that help automatically adjust the cooking temperature and cooking time according to the amount of rice that you should cook, the type of rice being cooked, and many other factors.
As these rice cookers utilize microcomputer chip technology, there will not be any problem if you want to change the heat and cooking time to the type and style of rice being cooked.
Also, you can cook brown rice and rice porridge without overflowing or overcooking.
On the other hand, you have Zojirushi NS-LAC05XT Micom 3-Cup Rice Cooker and Warmer, Black or Stainless Steel.
This 3-cup capacity rice cooker makes 6 cups of perfectly cooked rice every time. It has cooking functions: White/Mixed, Sushi, Porridge, Brown, and Quick Cooking.
The inner cooking pan provides even heating for better cooking and measuring lines for precise control of ingredients.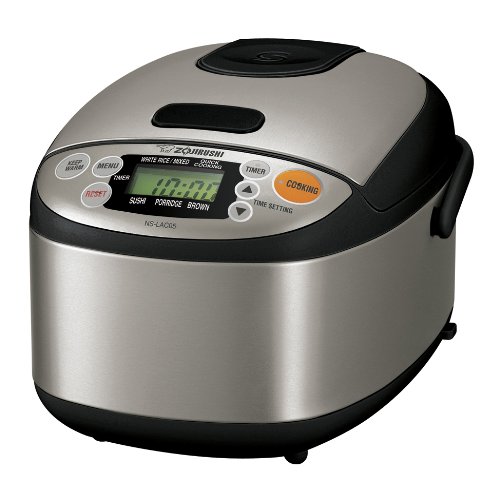 The rice cooker features detachable inner lid, easy-to-read LCD control panel, automatic and extended keep-warm setting, reheating cycle, delay timer with two settings and a built-in retractable power cord.
Other accessories include measuring cup, nonstick rice spatula, and spatula holder.
With this appliance, the rice is plus fresher, as good or better than from a restaurant, and as you may intuit, much, much cheaper to make at home.
The Zojirushi makes cute sounds when it starts up and finishes cooking. And it is so easy to clean: there is no nasty white residue and boiled over starch, or scalding steam or water.
The cooker is so simple to use, just use the timer to have the rice or oatmeal ready whenever you want it. It is important to read the manual in order to learn how to program it: you see that it is very intuitive.
If you follow all the directions, the cooker really does all of those things. Rice comes out great every time, and so it does steel-cut oatmeal.
If you happen to run late, the cooker keeps the rice warm and fresh for several hours. It is worth the extra cost as the rice does not come out clumpy like in a steamer or less expensive cooker.
You should see and feel the quality of the product.
3. Induction Heating (IH) + Micom Rice Cooker
If you purchase an induction heating rice cooker, you will discover another dimension to how the rice is heated.
Such a unit uses advanced induction heating technology to heat the cooking pan, but transforming the cooking pan itself into the heating element. This allows for higher, more precise and more uniform cooking temperatures.
With their quicker response time, induction heating rice cookers can adjust the heating temperature and time quicker for better tasting rice. Induction heating rice cookers are also Micom rice cookers.
You should take into consideration Zojirushi NP-HBC10 a 5-1/2-cup rice cooker and warmer with micro computer technology and induction heating system. It is designed with multi-menu cooking functions, LCD control panel, keep warm function and timer.
It includes a spatula, spatula holder, and rice-measuring cup. If you follow the recipes closely, the rice will always come out properly cooked and never crusted on the bottom.
The extended keep-warm function is incredibly effective if you have to hold the rice overnight; it will turn to be warm, moist, and not crusty the following day.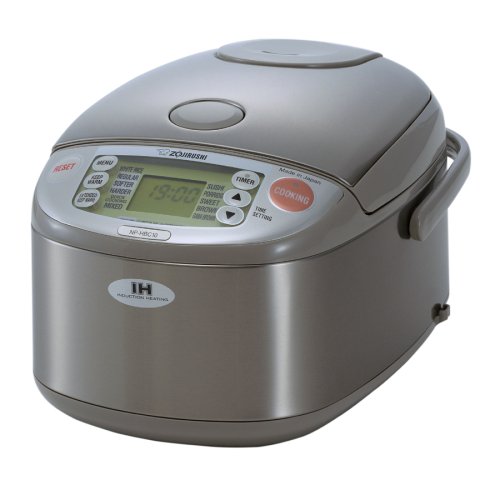 Build quality, workmanship, fit, and finish are excellent, while the control panel is clear and the interface intuitive. You may say that its cost is high, but if rice is an important food to you, this rice cooker is simply perfect.
You may make rice, short grain rice (to make sushi with), brown basmati rice, short grain brown rice, mahogany and wild rice mixed together, and even quinoa with it; this rice cooker makes excellent rice, but be prepared to wait, it may take a while.
This machine is just as excellent for cooking varieties of rice with different heats, times, as well as other dishes.
All you need to do is to just dump the rice and water in and then, to turn it on and it does the rest. Once the cooking is done it plays a song and switches into keep warm mode.
It is sleek and modern-looking and if you are looking for a good rice cooker, you cannot go wrong with this one.
4. Induction Heating Pressure Rice cooker
The difference between an induction heating pressure rice cooker and an induction heating rice cooker is that it applies pressure to elevate cooking temperatures to higher levels making it softer and easier to digest.
An induction heating pressure rice cooker gives you the possibility to have fresh rice for days, but not for hours.
You are going to discover lots of cooking options, there is nothing to worry: it is time to learn quickly how to cook rice in induction stove.
Another advantage of pressure rice cookers is that they can cook rice faster than the usual digital rice cookers.
This Zojirushi NP-NVC10 Induction Heating Pressure Cooker with a capacity of 5.5 Cups or 1.0-Liter comes with multi-menu cooking functions such as for white, mixed, sushi/sweet rice, porridge, brown, GABA brown and quick cooking.
The term uncooked is referring to Dry Rice (or rinsed), before cooking.
You get a rice cooker that keeps the taste and the texture of freshly cooked rice if you use the "keep warm" mode for 12 hours or longer.
If you eat rice occasionally, it is not worth paying extra, but if you eat rice often, and also, want to keep the rice warm in the cooker, or freeze leftover, you may consider this cooker.
With the GABA setting, you are going to make the most delicious soft nutty brown rice which is packed with good healthy amino acids.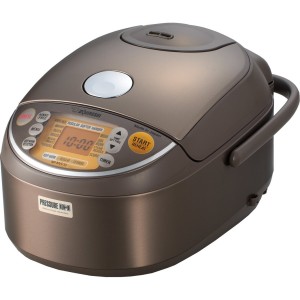 This feature is great for regular brown rice and you do not need to buy germinated rice which costs more and tends to be a bit lighter in color and texture.
In case you are curious, the larger model is more appropriate for families with 5 members and above or smaller families who may want to cook up a lot of rice and keep it warm for several hours.
With the timer, you can set it up in the morning or at lunch, and you will have absolutely perfectly cooked rice in the evening when you come home.
It is certitude that cooking rice is a breeze with this appliance, and although the cooker is expensive, there are a lot of advantages: the set-and-forget menu settings, timer settings, and quality of the machine itself, more than makes it a worthwhile purchase for each family.
5. Smart Induction Heating Rice Cooker
A smart induction heating rice cooker provides the most advanced electromagnetic heating technology, but also guarantees a modern micro-pressure heating technology that allows heating rice uniformly.
You get intelligent heat control that gives an unmatched thermal stability and permeability and can be adjusted according to different preferences and different rice types. What about controlling the operation of the rice cooker even at a distance or away from home?
This is possible with the app installed on a smart phone: it helps you cook soft, slightly sweet delicious rice remotely anytime, anywhere, just before you came home.
The app may recognize over 200 brands of rice: all you have to do is to scan rice packaging labels from the app when it is connected via WiFi.
Some examples of smart induction heating rice cooker could be Cuckoo 10-Cup Smart Induction Heating Electric Rice Cooker, CRP-HY1083F, 120V
or Xiaomi MiJia Induction Heating Pressure Rice Cooker White.
If you want to bring luxurious feeling into your kitchen, a smart induction heating rice cooker has all the cooking functions that you would expect from such an innovative unit.
Conclusion
Once you have already consulted the features of all these rice cooker models, let's see which one can be the best choice for you and which Zojirushi rice cooker you should purchase for your daily cooking.
A convention rice cooker is right for you if you want to take entire responsibility for pre-soaking the rice before and steaming it yourself, or if you do not want to spend too much money or to cook various types of rice.
You may choose a microcomputer rice cooker in case you want a rice cooker that does the pre-soaking before and the steaming at the end of the cooking cycle for you, makes adjustments to temperature and heating time during cooking and is perfect for various types of rice (for example, rice for sushi).
If you want a rice cooker that heats the whole inner pan instead of heating from just the bottom, if you want precision and more delicate temperature adjustments, and if you want to cook different types of rice like Sushi rice, white rice, Jasmine rice, brown rice, Basmati rice, etc. you should try an induction heating rice cooker .
An induction heating pressure rice cooker can be a great choice for everyone who it is worth to pressure cook the rice (with such a unit, the rice stays softer longer and it penetrates the rice better), to improve the rice cooking process and to select from a wide range of settings.
If you have to prepare your dinner and you do not want to stay in the kitchen for a long time, you can control the operation of a smart induction heating rice cooker even at a distance thanks to the application on your smart phone. So, it is up to you to consider all these units and features before choosing the right rice cooker.