Meet Windmax 31.5 inch AL021545399 with 4 Burners – an induction cooktop that surpasses your expectations! (Review)
When it comes to kitchen renovation, you should take into account all the possibilities: starting with the materials and finishing with home appliances, everything has to be chosen according to your available space. So, if you do not have more space, probably you should search for furniture and devices without filling the space.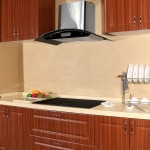 In terms of stoves, have a look at induction cooktops: this type of cooktop represents a product of future and you should take into account if you want a device that consumes less, do not present any risk of flames or burns and occupies very little space.
Windmax AL021545399
is such a product: continue to follow us and you will find more about this cooktop!
1. Controls
Once you connect Windmax AL021545399
to electrical energy, the unit will be in the standby mode.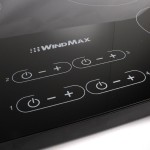 You will have to turn on the switch (On/Off electrical power switcher) and also, to press + or – button: as long as you do this thing, it will upward and downward as a default program.
In case you have a pan on a burner, the unit will begin to warm. If there is no pot, you will hear a buzzer at every 2 seconds and after 1 minute, the device will be in standby mode.
You can use the four burners at the same time.
Windmax AL021545399 works using protection points: if these points are exceeded or it detects dry heating, the cooktop will automatically turn off. This is available for each burner.
2. Surface
The surface of Windmax AL021545399
is black: it is a-grade black crystal panel with a metal bottom case and a copper coil.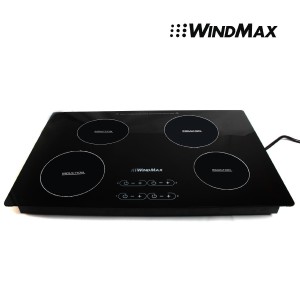 You can use this cooktop as it has a touch-sensitive led panel: there is also a digital LED display where you can see all the functions that you have set.
3. Heating Elements
Windmax AL021545399 is an ideal cooktop: it has 4 burners that can warm simultaneously, but for 6KW power restrictions.
The burners do not interfere and as you probably know, you will need special cookware for induction cooktops.
In case you do not want to replace the pans, you could buy an induction interface
: this will work for all cookware.
4. Power/Watts
This built-in appliance requires 240 volts. If you consider that you need some help during the process of installation, make sure you call a specialist: in this way, you will have this nice cooktop in your kitchen.
Here are the details regarding burner power: 2.0+1.3+2.0+1.3 KW/HR (6823+4435+6823+4435 BTU/HR).
5. Sensors
The automatic pot detection is very important for those induction cooktops: the unit detects if there is any pan on a burner and if it is so, it starts heating. Isn't it wonderful?
6. Ventilation
There is no information about ventilation or fans: as you probably imagine, the cooktop cools down once you remove the pot. Be careful at the glass: it may get hot while you are preparing or warming something!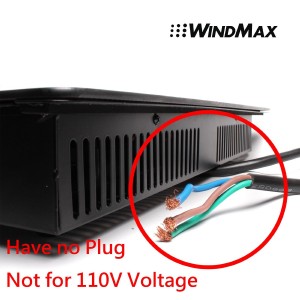 7. Safety Features
What is extremely important about Windmax AL02154539
9 is the fact that it has automatic pan detection: this means that the product will heat only if there is a pot on a burner. While the pot gets hot, the glass could be also hot but the heat will immediately dissipate if you remove the pot.
At the beginning of operation, you may see an E (from error) on display while you want to use Windmax AL021545399: you have nothing to worry about because this is a sign that no pots are on the burners yet.
Also, it is possible to have some problems with the installation of the cooktop: as you have only a user manual and no other documentation and instructions, you will have to deal with green, blue and brown wires: pay attention to the fact that the green wire (and not the white conductor) must be connected to the ground (green or bare wire)!
8. Accessories
If you consider that Windmax AL021545399 is exactly what you need for your kitchen, you must know that once you buy this product, you will receive a package with one 4 Burner Induction Cooker, 2M triple copper center energy cable and the operation guide.
No pan is included, so it is up to you to purchase all the necessary induction cookware.
9. Dimensions
Panel Dimension: 800×450 mm (31.5×17.7 inch).
Bottom size: 733×425 mm (28.85×16.73 inch)
Packing Size: 855 x 570 x 190 mm (33.66×22.44×7.48 inch).
Weight: 13.97kg or 30.8 lbs
10. Pros
11. Cons
Customers consider that Windmax AL021545399 deserves 4.3 of 5 stars on Amazon. People who have bought this cooktop and are not satisfied with this product have completely ignored the fact that it is an induction unit and need special cookware. So, enjoy a beautiful experience in your kitchen with this great product!
13. Price
If you are interested to know how much Windmax AL021545399 costs
, certainly, you will be more than surprised: on Amazon, the price of this cooktop is only $379.88. Now it is time for you to learn how to cook in a revolutionary way!