It's a breeze to cook with Waring Pro ICT100! (Review)
Searching for a new induction cooktop? Do you need a portable one? You can try Waring Pro ICT100 as you have numerous reasons why you should do it.
Firstly you will be impressed by the speed at which things heat up; and it is super quick to react to changes in power output. It is perfect if you want to take it outside and cook something for your family or guests.
Another nice feature of the induction cooking is the very little wasted heat. While cooking, you will feel a very little heat being emitted from the pan or burner area.
It is also the case for Waring Pro ICT200 (the two items have similar features, but Waring Pro ICT200 comes with a new design and 8, not only 7 heat settings like Waring Pro ICT100).
1. Controls
The controls are easy to use and the timer is very easy to operate: the control buttons are bubble type and feel high quality, as well as probably being water-proof.
Once the unit is plugged into an electrical outlet, you have to place your cookware on the glass top and press ON/OFF to turn the unit on.
The cooktop has seven heat settings, from Low (1) to High (7). To operate the heat control, you have to press the button labeled HEAT. In order to increase or lower the heat setting, you have + and – symbols and once adjusted, a LED light will indicate the current setting.
The same you will have to do with the timer (you have Up and Down arrows) after pressing the button labeled TIMER (the timer can be adjusted to a maximum time of 99 minutes).
The timer will beep three times at the end of the cooking, but pay attention: the cooktop will not shut off at the end of the timed cycle.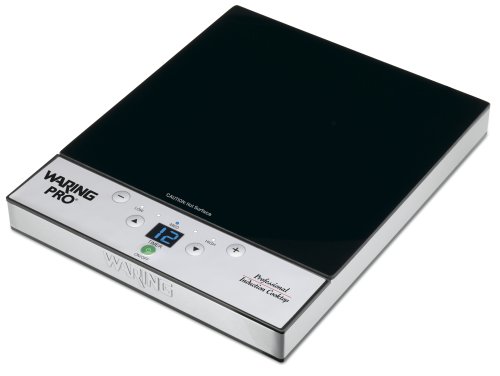 2. Surface
It features a smooth glass top; the glass surface does not get hot but will become warm or hot simply due to the hot cookware sitting on top of it. The glass is not quite as nice looking as brand new but it is held up quite well.
Since you do not have scorching heat going up the sides of your cookware, the cookware stays cleaner longer.
For cleaning, you should use a damp cloth with mild soap for the the control panel, or a nonabrasive cooktop cleaning product (specifically made for smooth tops).
3. Heating Elements
Waring Pro ICT100 uses electromagnetic technology to ensure quick heat-ups while consuming less energy than conventional burners. Do not forget that the heating element stops automatically 30 seconds after removing the pot or pan.
The burner gets hot enough to stir fry with a wok, but make sure your wok is made out of an induction-capable (magnetic) material such as cast iron or stainless steel as it will not work with aluminum pans.
4. Power/Watts
Waring Pro ICT100 consumes 85-percent less energy than conventional burners.
It provides seven power selection settings from Low to High (power range between 200W and 1400W, with a maximum output power of 1400W) and the speed at which things heat up is excellent and it is super quick to react to changes in power output.
This appliance is for 120V AC/60Hz only and should not be used with a converter.
5. Sensors
The unit detects if there is any pan on the burner or if you are not using induction compatible cookware.
Be sure you are buying the proper induction-ready cookware for the efficiency of your induction cooktop. Waring highly recommends using magnetic stainless steel, enamel, porcelain on steel, or cast iron.
6. Ventilation
For protecting all its components, this induction cooktop has a fan for proper ventilation.
When the unit is off, the fan may continue running for a minute or more. Although the fan makes a slight noise, there is no problem with it.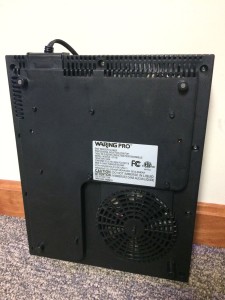 7. Safety Features
For more safety, this cooktop has a cookware detection sensor: the unit will automatically turn off after 30 seconds if the cookware is not induction compatible.
Also, if the unit is turned on and there is no cookware on the cooking surface, the unit will beep and turn off after 30 seconds.
If you remove the cookware from the cooking surface during the operation mode, the unit will beep and will automatically turn off after 30 seconds.
It provides overheat protection and so, if your cookware overheats, the unit will give a long beeping sound and will automatically turn off.
Built-in surge protection means that the unit automatically turns off when cookware exceeds the temperature limit in order to prevent burning empty pots.
The fact that the surface stays cooler and that it will even turn on if there is no pan on the burner makes it extremely safe.
8. Accessories
Your Waring Pro ICT100 Professional Induction Cooktop is delivered with a short power-supply cord supplied to reduce the risk resulting from becoming entangled in or tripping over a longer cord, a warranty certificate, and a user guide.
Before starting to use this cooktop, it is recommended to read and follow all the instructions indicated by the manufacturer.
9. Dimensions
The product has the following dimensions:
16 x 13.2 x 4.3 inches
Item weight: 9 pounds
10. Pros
11.Cons
12. Consumer Ratings
People are very happy with their new acquisition as the consumer rating of Waring Pro ICT100 shows (3.0 out of 5 stars). This induction cooktop tends to be used as a hotplate for parties, outside tabletop, indoor summertime cooker, etc.
This cooktop is well worth the money as it is wonderful for making gravies and sauces, even quicker and cheaper than gas and provides an immediate change from boil to simmer.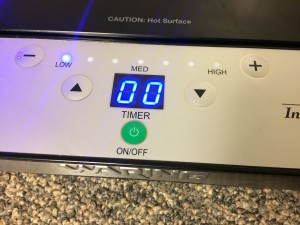 13. Price
Such a unit can be purchased at this price (Amazon) and all you have to do is to order it from eBay or Amazon.
It will not take long and you are going to be pleased with its performance. Although it is a little noisy because of its fan blowing and beep signals, you will find it very safe for use with children.
Waring Pro ICT100
Manufacturer
Waring
Destination use
household use only
Controls
7 (On/Off, + and -, power setting, up and down, timer)
Control Panel
control panel with LED light
Functions
Power, Timer
Surface
a smooth glass top
Color
black surface, silver frame
Power Source
120V AC/60Hz
Output Power
1400W
Power levels
200W-1400W
Temp Levels
N/A
Temp step increment
N/A
Programmable Time
0 minutes to 99 minutes
Function Lock
No
Warranty
Limited 5-year motor warranty and a limited 1-year product
warranty
Acoustic warnings
Yes, at the end of the timed cycle, the timer will beep three
times.
If the unit is turned on and no cookware is put
on the cooking surface, the unit will beep and turn off after 30
seconds.
Weight
9 pounds
Shipping Weight
6.8 pounds
Dimensions
16 x 13.2 x 4.3 inches
Cord Length
a short power-supply cord
Led Display
Yes
Safety Feature
Automatic shut-off – the cooktop turns off 30 seconds after pan
is removed
Overheat protection
Error Codes
N/A
Pan size (bottom diameter)
Not for use with pans smaller than 4.7˝ in diameter
Cookware material
Waring highly recommends using magnetic stainless steel, enamel,
porcelain on steel, or cast iron.
Free PAN
No
Around Clearance
When using this appliance provide at least 4-6 inches of air
space above and on all sides for air circulation.
Made In
USA
Price
AMAZON LINK