Autumn Soup with Zucchini and Rice – Vegetarian Soup
Before we go…
Wanting to prepare something else besides baked zucchini or courgette salad, I decided to cook a light soup with zucchini.
It is full of fresh vegetables which I had at hand and these vegetables perfectly combine in this tasty soup.
It tastes sweet and sour, sweet from zucchini, carrots, and onions, slightly sour from tomatoes and flavored from peppers and celery.
And to give it consistency and to be more satiated, I add 2 tablespoons of rice.
Note that zucchini must be added at the end as it boils faster than the rest of the vegetables, and the rice must be cooked before starting the preparation of soup.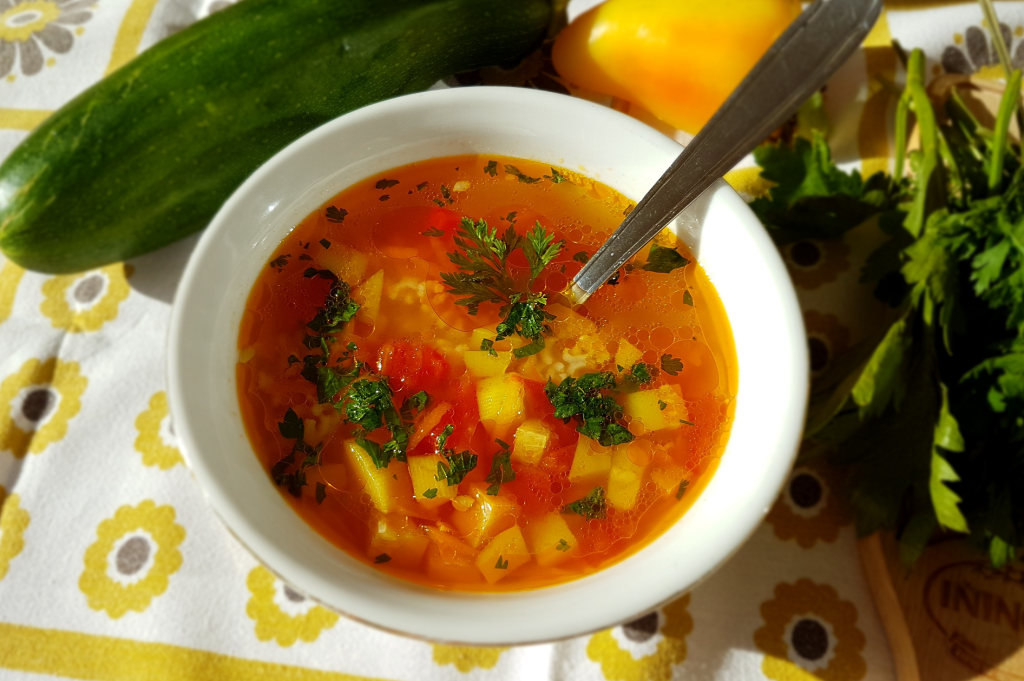 The vegetables and their proportion may vary depending on your tastes, but here you have the recipe for the soup I prepared.
That being said, let's get started!
Ingredients
Autumn soup with zucchini and rice
It is full of fresh vegetables which I had at hand and these vegetables perfectly combine in this tasty soup.
Ingredients
1 onion
1 large carrot
3 tablespoons of sunflower oil
¼ celery root
½ red pepper
½ yellow pepper
2 tomatoes
1 zucchini
a pinch of salt
2 tablespoons of rice
parsley leaves
leaves of celery
The utensils used for this recipe
– knife for chopping vegetables: You may consider the Victorinox 4-Inch Swiss Classic Paring Knife as it is a multipurpose straight edge paring knife designed for garnishing, mincing, peeling, slicing and dicing with razor-sharp, laser-tested, and tapered knife edge.
It is perfect for more intricate tasks such as peeling fruits and vegetables or deveining shrimp but also versatile enough for bigger jobs like chopping and slicing.
Featuring a short blade for enhanced accuracy and precision and with an ergonomically designed Swiss Classic handle, it provides a sure grip and easy handling, even when wet.
– cutting board for chopping vegetables: You may consider this bamboo cutting board as Bamboo is safe and extremely durable. Naturally antibacterial and antimicrobial, Bamboo is easy to clean with simple soap and water.
You will not dull your expensive knives thanks to the Bamboo's wood fibers, while its porous consistency makes it the perfect surface for slicing and carving fruits, vegetables, meats, chicken, and cheeses.
Made with rock-solid design, this bamboo chopping board is harder than maple, oak, wood cutting boards at a fraction of the price.
– a stainless steel spoon
– a stainless steel grater
– 3-4-liter/quarts pot
– 0.5.0.6-liter/quarts pot
– a slotted spoon
– a straight wooden spatula
– gas cooker (or any other source of heating: electric or induction stove)
Step 1. Preparing the vegetables
Peel the carrot and grate it using the large holes of the grater. Peel the onions and cut them in two. The celery must be peeled and washed.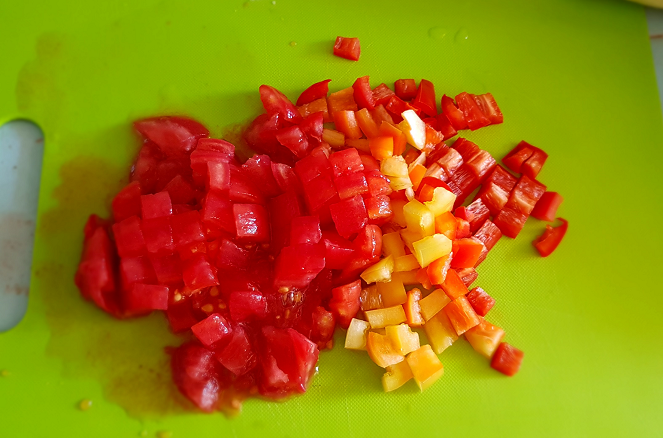 Red and yellow peppers are cut into cubes.
Tomatoes are blanched, peeled and cut into cubes.
Peel the zucchini and cut it into cubes. If the zucchini has large seeds, remove them and then, cut it into suitable cubes.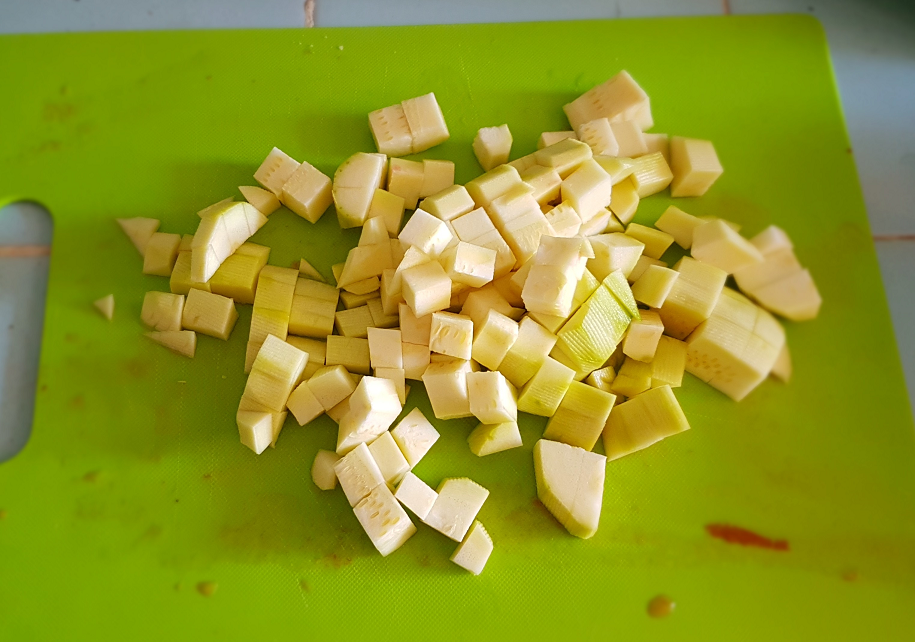 What means blanching tomatoes?
In a pan (where tomatoes will be placed) put water to boil.
Tomatoes are washed well, then are scored lightly with knife (just to peel them) on the top, where the pedicel was removed.
When the water starts to boil, turn off the cooker and soak the tomatoes about 5-10 seconds (depending on how big they are).
Remove them from hot water with a slotted spoon, allow them to cool slightly, then peel them with a knife (if you blanch them, tomatoes will peel off easily and nicely without losing their pulp).
If we leave the tomatoes with their skin, during the boiling, it will peel off and it will be harder to remove it from the soup and certainly you do not want to feel it in the mouth.
I speak from experience, especially as it happened once with my kids. Or you can use canned tomatoes.
Step 2. Preparing the soup
In a 3-quarts pot, put the oil to heat and add the carrot that was grated. With a spatula, mix continuously (be careful not to burn it) and continue to fry it at high power until the oil begins to color in red and soften slightly (so the soup will have a beautiful color).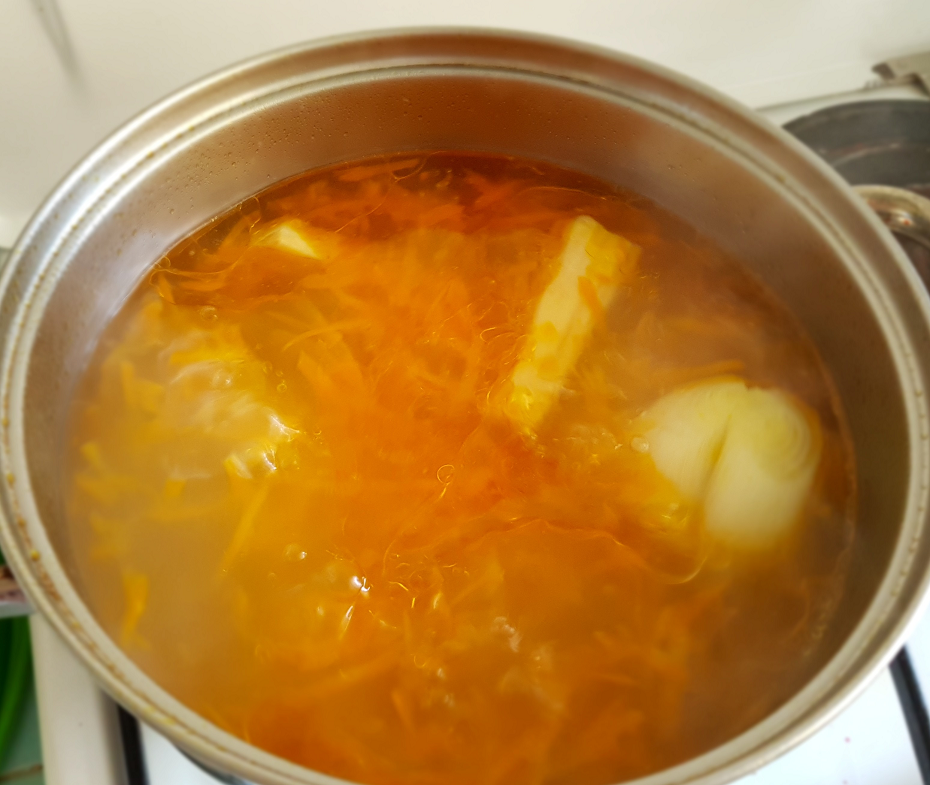 Add 3 quarts/liters of water and bring it to the boiling point, and then, put onions and celery.
Allow to boil, and then add the peppers and cubed tomatoes and let them boil together.
Add a pinch of salt.
When the onion is soaked, it is removed.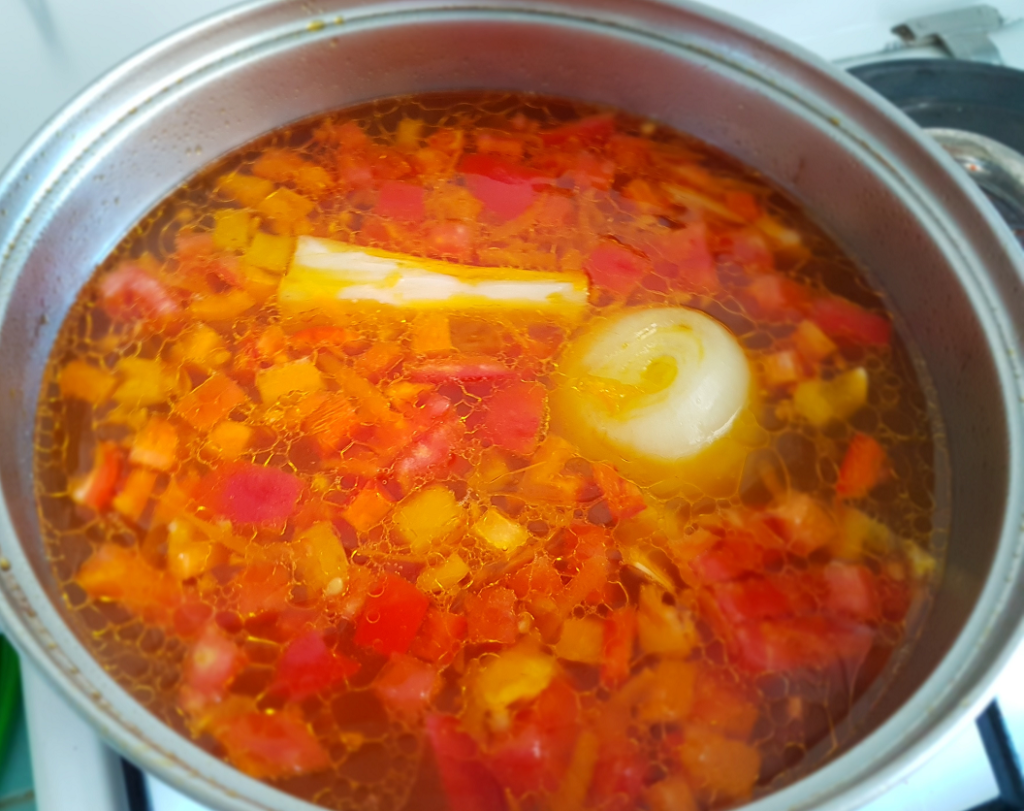 Step 3. Adding the zucchini and rice
The diced zucchini is added in the pot and you need to let it boil until it is cooked; you can check by gently inserting the fork into it.
Meanwhile, put the rice to boil separately.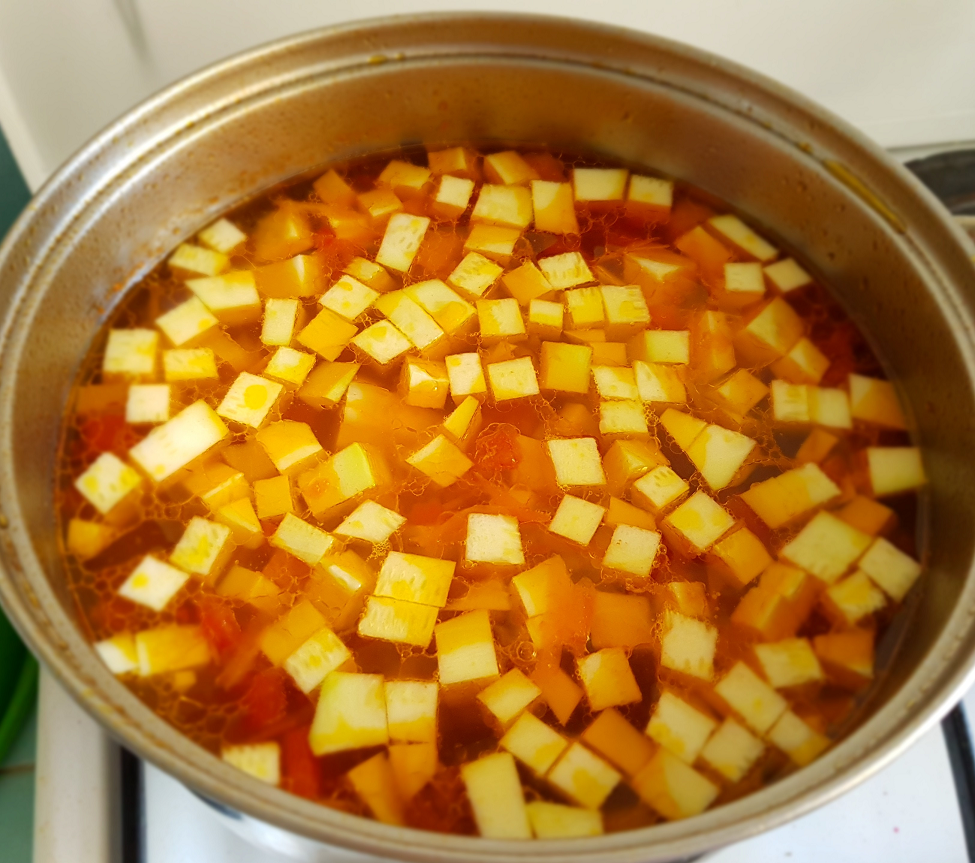 Wash the rice in several changes of water, then, put it to boil in a small pot with water and ½ teaspoon of salt.
Usually, you will find the necessary time to boil on its package, but it can be tested by taking some rice grains and tasting them.
Keep in mind that it also boils a little with all the ingredients. It does not have to be very cooked, otherwise, it becomes porridge.
When it is ready, strain it and add it to the pot with soup.
Season to taste with salt and let it boil for a while; then, remove the pot from the cooker.
Step 4. Finishing the soup
Parsley leaves are cut into small pieces and added to the soup. Cover the soup pot with a lid and leave it a few minutes to mix flavors.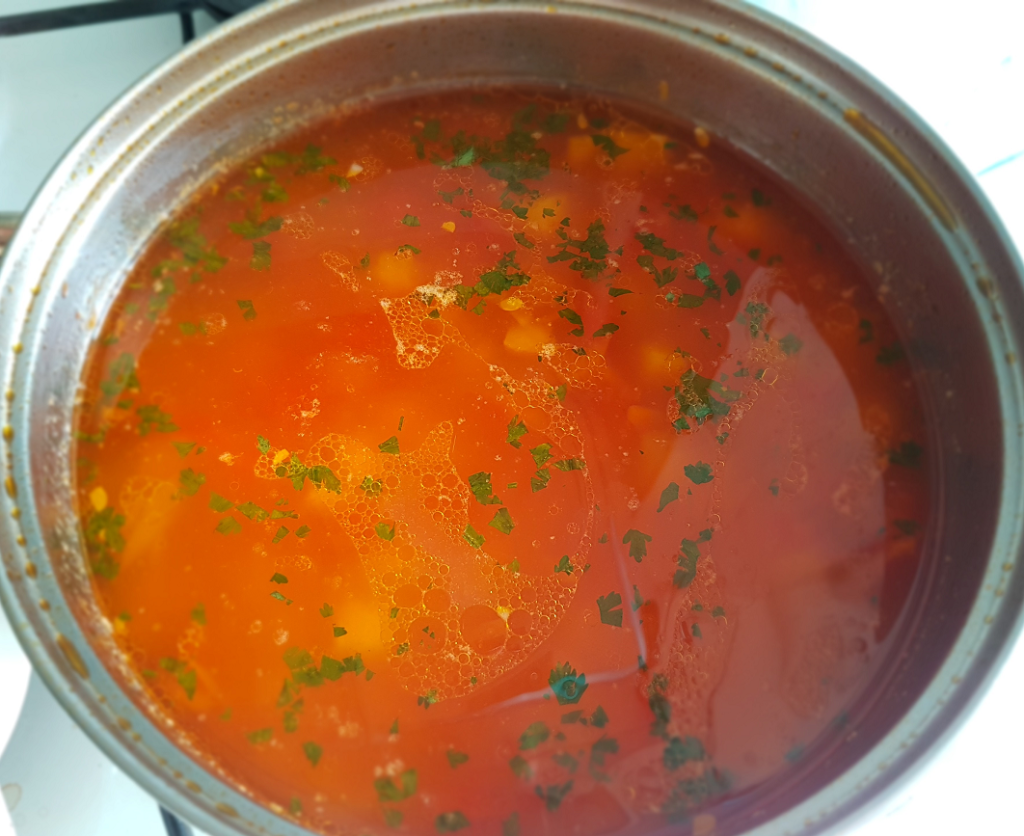 Step 5. Serving the soup
Pour in bowls, decorate with green parsley leaves and celery and serve with chili peppers, if you prefer.
Enjoy your meal!