Who doesn't love induction ranges? They are modern, classy, practical and energy efficient. Some are designed for home use, some for commercial use and the opportunities are endless, regardless of the budget.
There are 2 types of induction ranges:
Slide In Induction Ranges
Freestanding Induction Ranges
Unlike induction cooktops, induction ranges are more complex, as they combine a cooktop and an oven into the same unit.
Therefore, the control panel is more complex and larger in size most of the times. The entire unit is much more powerful than a basic induction cooker and adds value to any kitchen.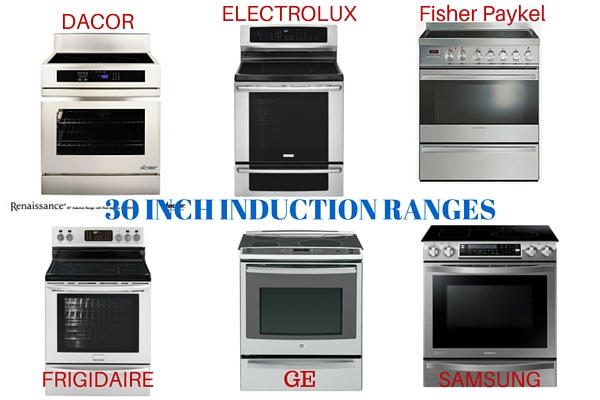 If you are looking to buy an induction range, this article will prove to be very useful. We have analyzed 6 of the best-selling induction ranges on the market and highlighted their most important features.
When reviewing them, we took into consideration the design, materials, durability, control panel, safety features, output power and many more.
Here are the 6 products in our top.
Induction Range Pros and Cons
If you are looking for some reasons in order to choose between an induction and a gas (electric) range, here you get some pros and cons that will determine you to make up your mind and purchase the right appliance for your needs.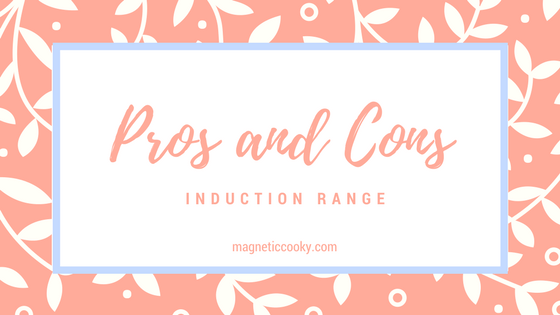 First of all, you may be glad about the instant responsiveness of your gas stove, but this is also what you are going to have with induction from now.
Definitely, the easy cleanup is certainly a bonus as you can boil over and this means only to just wipe it up.
With an induction range, there is no more taking apart the cooktop or waiting for it to cool off. You can make candy although this requires precise temperature control, and in case you boil over, you will not have to use a razor blade to get the sugar off of the grates or cooktop. So, the ease of cleaning, the hob timers, the precise temperature changes are all huge positives.
Probably the most important disadvantage refers to the fact that you need to buy new cookware: induction works with iron or steel pots, or pots made for induction with iron or steel inside. And yes, they are more expensive, especially if you need to replace your cookware.
With induction, once you raise the pan off the induction cooktop the heat is gone and this may be a problem when you saute and lift the pan and toss the ingredients in the pan.
So, heat is completely absent until you make contact with the cooktop again.
It is true that as time went on, your induction cooktop surface may get some scratches, but this can be avoided if you try using a silicon mat. And there is always a fear of breaking the glass induction top.
But, you may say that pretty much everything in a kitchen has pros and cons and it depends on individual needs and preferences if you decide to buy something or not.
Beautifully designed, with an induction cooktop and a convection oven, this range is ideal for those who value the beauty of a modern kitchen appliance. Its construction seems durable and its features come to impress the user.
This range's induction cooktop has 4 cooking zones and 1 hidden zone that is meant for warming. It has two heating elements with an 8-inch diameter, one with a 6-inch diameter and an 11-inch burner. The warming zone's diameter measures 6 inches.
All heating elements can be used with the Power Boost function when quicker heating is required. 3700 W is the maximum power of the 11-inch element that can be used for main courses.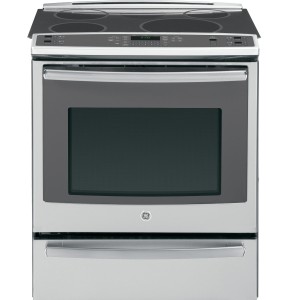 The 5.3 cubic feet oven is equipped with a warming drawer and self-clean functions. It has a variety of controls such as the Fast Pre-Heat, the Oven Meat Probe, the Control Lock, the Auto Recipe Conversion or the Sabbath Mode.
There are 6 rack positions and an 8-pass broil element inside the oven. The interior is well lit thanks to the halogen lights.
This induction range is easy and comfortable to use, having its control panel positioned horizontally, in the front side of the induction cooktop. At approximately $3200, buyers will get a luxurious induction range that will never fail them.
2.SAMSUNG NE58H9970WS Slide-In Induction Range, 30-Inch, Stainless Steel
This induction range is definitely a luxury product that is designed to satisfy pretentious tastes. It amazes users with its Virtual Flame Technology and the Flex Due Oven.
As Samsung is used to taking its fans by surprise, this induction range is nothing but a confirmation of this fact.
Its black and silver design and complex control panel that successfully combines mechanical dials with the touch control panel is suitable for stylish kitchens.
It has 4 burners: two heating elements with 6-inch diameters, a 7-inch heating element and an 11-inch cooking zone. Each element is controlled by a separate dial that can be used to adjust the power.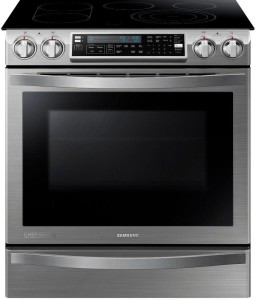 The oven is larger than most ovens on the market, having a capacity of 5.8 cubic feet. It is designed to satisfy the need of cooking different foods at different temperatures at the same time thanks to the Smart Divider.
It's easy to clean this oven, as it has self-clean functions that can last 20 minutes or a few hours. The automatic oven light makes it easier to cook and check on the food inside. Also, the proofing and lock features are incredibly practical.
At this price (Amazon), this induction range stands up to the expectations of Samsung fans all over the world.
3. Frigidaire FGIF3036TD Induction Range (Designed, engineered and assembled in the U.S.A ) – 2017 Model
This Gallery Series 30 Inch Freestanding Electric Range has 4 elements, a smoothtop cooktop, a convection oven with a 5.4 cu. ft. primary oven capacity, a storage drawer, a self-cleaning mode, but also a viewing window and induction technology in black stainless steel.
Frigidaire FGIF3036TD Induction Range combines modern technology and functionality to provide precise and even heat to cookware, and only to the cookware.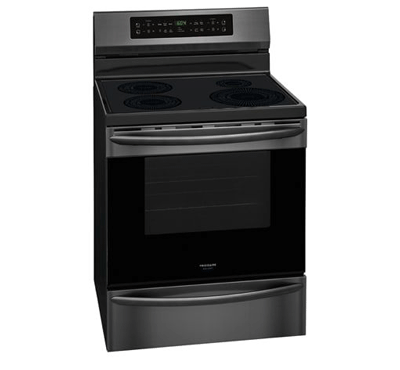 Having an induction cooktop, you can get amazingly fast heat with induction that boils water 50% faster than an electric cooktop.
The range with 4 elements equipped with induction technology, offering fast and even heating that is also easy to clean.
As some safety and versatile features, it also features auto sizing pan detection, temperature precision control and a self cleaning oven.
You get a storage drawer very helpful to store your special induction cookware right below the oven for easy to find access.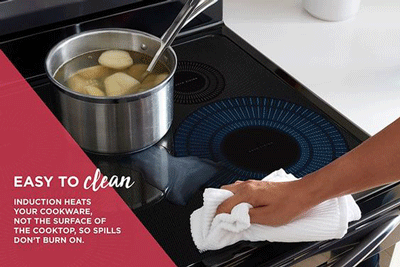 Enjoy the controlled cooking as you can effortlessly create your favorite recipes with immediate temperature response that adjusts from a powerful boil to a low simmer.
And you have the possibility to sear steaks, crisp sandwiches, melt chocolate, or simmer sauces with the precise temperature control of induction.
And as you know, the safe surface of the induction cooktop only heats pans and the food in them, the area around the pans stays cool to the touch.
This brings numerous advantages at the level of the induction surface as spills that may appear cannot burn onto the surface.
The oven have a Quick Bake Convection feature which means that you can roast meats faster having a fan to continuously circulate heat around food for more even baking and browning. And making your work easy, you can quickly clean your oven in 2-hours with the self-clean cycle.
Designed, engineered and assembled in the U.S.A, this induction range automatically senses the size of the pan and only produces heat for its size.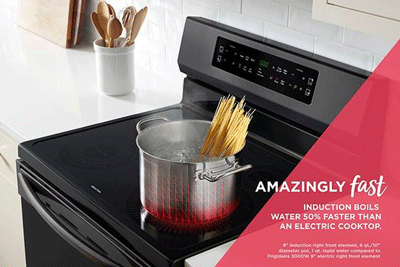 What is great of Frigidaire brand is that it has the capacity to humanize their technology in order to create appliance designs that are uncluttered, controls that are intuitive, and features that are as useful as they are smart.
At a much lower price and with a more traditional design comes the Frigidaire FGIF3061NF
. This induction range is suitable for those who want to embrace modern cooking but still enjoy having classic appliances in their kitchen.
Its vertical control panel combines traditional dials with a touch pad areas where plenty of functions are available. There are 5 dials, one for each cooking zone. They all have power indicators and can be easily adjusted.
The induction cooktop has 5 cooking zones, 4 main heating elements and 1 warming zone. The cooktop's surface is made of ceramic glass, which makes it look incredibly chic. The largest burner has 10 inches in diameter and can use a maximum of 3800 Watts when the Power Boost function is enabled.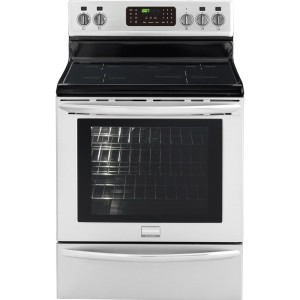 The range's exterior is white; the oven window has a black frame and a comfortable stainless steel handle. The interior is lit by halogen lights and can be self-cleaned after each use. This oven is amazing for every cooking, broiling, baking task. It has a capacity of 5.4 cubic feet, 6 rack positions and is equipped with the Even Backing Technology that makes your life so much easier.
For less than this price on Amazon
, buyers will get a great induction range that combines the old with the new.
Electrolux's induction range comes at a lower price than most luxury induction ranges that are available on the market. Its design stands out of the crowd due to its stylish material and color combination, as well as to its full touch panel that looks like an advanced console.
The induction cooktop has 5 heating elements: 4 cooking zones and 1 warming area. The smallest burner has a 5-inch diameter, while the largest one has a 10-inch diameter that can use up to 4000 W of power when the Power Boost function is enabled. The warming area is positioned in the center of the cooktop and can be used at a maximum of 120 Watts.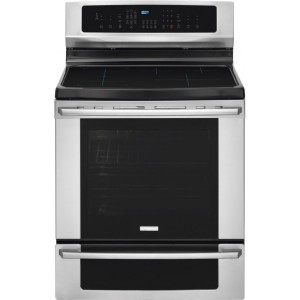 This range's oven has multiple functions and is extremely versatile. It has delay functions such as Delay Bake and Delay Clean. It can cook slowly, as well as extremely fast when required. Its main functions are baking, broiling, roast and conversion.
However, it doesn't have temperature probe functions, which is a big minus in the eyes of those who like to have full control over their cooking.
For this price on Amazon
, buyers who will choose this product will enjoy a stainless steel & glass induction range with an amazing control panel, as well as an incredible cooktop and a powerful oven.
Being one of the most expensive induction ranges that are available on today's market, this product isn't as impressive as one would expect in terms of design and functions. However, it is made of high-quality materials and it is highly durable, so it is worth the investment.
The stainless steel exterior and the minimalistic control panel are features that turn it into the perfect induction range for a commercial kitchen. The 30-inch induction cooktop has 4 cooking zones, 9 heat settings and a black ceramic glass surface that is easy and safe to use. It can use up to 3700 Watts when Power Boost is enabled.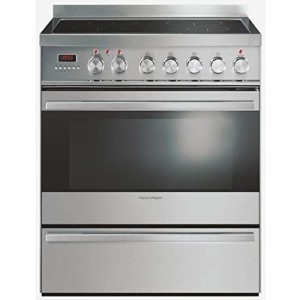 The oven has a smaller capacity than most ovens. At its 3.6 cubic feet, this oven still does an amazing job baking, broiling, grilling, convection baking, defrosting, fan baking and warming. The self-clean function is incredibly useful and allows users to enjoy the food without worrying about the cleaning.
The control panel's dials are easy to use and there are individual hot surface indicators that let the user know when the cooking zones are ready to be used.
At this price on Amazon
, this product is obviously an impressive induction range for passionate chefs who don't need a large oven whatsoever.
This last induction range from our top is definitely special due to its black and white design and simplistic control panel. It is comprised of a 30-inch induction cooktop and a 4.8 cubic feet oven that is able to cook huge amounts of meat in less than 2.5 hours.
The most amazing thing about this expensive, yet desirable induction range is that is made of stainless steel and can be quite deceiving due to its white exterior. It practically glows in any kitchen and is so easy to use that it only takes a few minutes to get used to it.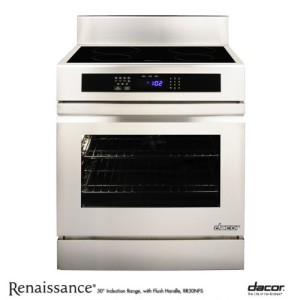 Its induction cooktop's surface is made of black ceramic glass and has 4 cooking zones that Dacor, the manufacturer, has named SimmerSear Zones. There are two 5.5-inch heating elements and two 7.75-inches elements. The induction cooktop has 11 power settings and melting, simmering and searing functions.
The oven is what really makes this induction range worth the investment. Its large interior fits 7 racks that are removable for easy cleaning. It comes with two gliding racks that make checking up on food easier, as well as maneuvering the trays.
At this price on Amazon
, this induction range turns cooking into an amazing experience that is worth repeating again and again. Its design is highly attractive and its features are very easy to get used to.
Conclusion
Induction ranges are the kitchen's most loveable appliances. Lot of peoples who bought one of this pieces shared their opinion doing a review. As technology advances, buyers have more and more options that can make cooking and baking easy and fun, as well as safe and energy efficient.
The fact that one has the opportunity to save so much energy comparing to gas stoves and ranges is what mainly makes these products so valuable.
Also, besides functionality, the comfort they provide and the beauty they bring into the kitchen are factors that influence most buyers' decisions.