Specialists recommend you to have at least 3 pans in your kitchen: one for frying, one for sauces and a bigger one for preparing larger quantities of foods. In this article, we will refer to 6 best frying pans.
A frying pan is among the most important utensils that we use in our kitchen when preparing food to an
induction cooker. It has a flat bottom, short edges and a long handling.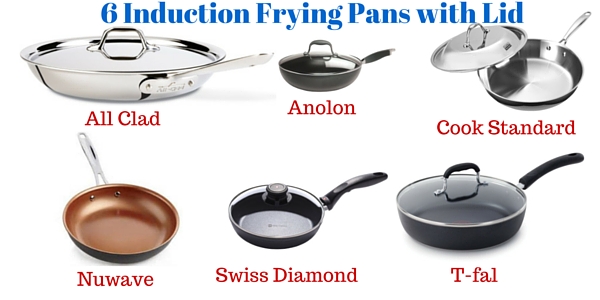 Frying pans have different sizes (smaller or larger) and are usually made from cast iron, but also stainless steel or aluminum. However the inner coating is also an important factor to consider when buying a pan: it can be from or without Teflon or from other durable nonstick material.
Here are 6 best induction Frying pans with lid.
1. T-fal E93897 Professional Fry Pan with Glass Lid Induction Ready Cookware, 10-Inch, Black
This is a medium size black frying pan with a 10-inch diameter. It has a glass lid, long silicone handle that remains cool while cooking and a heat spot indicator in the middle.
This will guide you to see when the pan is heated and you can put inside the ingredients. The interior coating is non-stick and scratch resistant.

In fact, you can use metal utensils with it. The bottom is made from stainless steel that spreads the heat evenly so that the food will be very well cooked.
You can clean it manually or you can put it directly in the dishwasher. It holds 2-1/2 quarts of food. It is light as it weighs only 3- 3/4 pounds.
Customers who have already bought this frying pan have declared themselves very happy with the purchase.
2. All-Clad 41126 Stainless Steel Tri-Ply Fry Pan with Lid
This frying pan is much more expensive in comparison to T-fal E93897. But it looks awesome, mainly because it is made from clear silver stainless steel.
Use it for searing, browning, with all kinds of foods. The bottom is made from Tri-Ply 18/10 stainless steel that spreads heat all over the cooking surface of the pan.
Its depth is only 1.75 inch but the margins are a little bit curved and you can use it for large quantities. Now we talk about the 12-inch version, but the manufacturer offers a smaller similar model (with 10-inch diameter).
The lid is not transparent (this may be a disadvantage, depending on what you usually cook), but it locks the moisture very well. The handle is long and comfortable and even if it is not coated with silicone, it will stay cool on the cooktop.
It is safe and comfortable. All-Clad 41126 is one of the most appreciated Frying pans on Amazon, mainly because of its American quality (it is made in the USA), beautiful design and functionality.
3. Cooks Standard NC-00239 Fry Pan with Dome Lid
Now back again to a more affordable price. NC-00239 is a 12 inch Frying pan all made from stainless steel.
However the core is made from aluminum, an even-heating material. It is 12 inches across the top, but it measures 9 – 9.5 inches across the part that takes contact to the induction cooking area.
The included Dome lid is not transparent, but it is manufactured from 18-10 stainless steel (like the pan itself).
It preserves the moisture, the sauce and the savory of the food. The pan and the lid may be cleaned in the dishwasher.
Both the pan and the lid have stainless steel handle that remains cool while they are on the active induction cooktop. It is indeed a very beautiful pan and with high quality.
4. Swiss Diamond 6420ic Induction Nonstick Fry Pan with Lid
Swiss Diamond is a more expensive Frying Pan although it has only 8-inch diameter. It is smaller and it has a nonstick coating free of PFOA.
Maybe one of the reasons for the higher price is that the coating is reinforced with real diamond crystals.
This cast aluminum pan is made in Switzerland and is premium quality. It is delivered with a transparent, tempered lid that has a comfortable black knob on the top.
The long handle on the pan is coated with a black material that is safe to touch anytime. Customers stress that this pan is really none stick and it is easy to clean. Unfortunately, the price may be an impediment for many customers to order it.
5. Nuwave PerfectGreen Skillet Fry Pan Induction Cooktop With Lid
Maybe you already know that Nuwave is a very popular induction cooktop manufacturer. It seems it also manufactures induction Frying pans and we must admit it that it does it quite well.
This 12-inch frying pan is marked as Perfect Green because it is anodized with aluminum. The brown inner coating is none stick, 9H duration, a ceramic material that is better in comparison to Teflon.
Because the interior is none stick you can use less grease or oil so the food will be more healthy. Besides, you can use the lid that is included in the price.
This is vented, made from transparent glass. The handle is long, made from stainless steel and it has a hole that allows you to hang it up, to save space in your kitchen. Yes, it will stay cool while the pan will be heated.
6. Anolon Advanced Hard Anodized Nonstick 12-Inch Covered Ultimate Pan
And finally we will refer to this black 12-inch Frying pan made from a nonstick interior coating in Thailand.
The durable aluminum spreads the heat evenly. And you want that because the food will be completely prepared, without uncooked parts.
The pan may be covered with a vented glass lid, that allows you to see through it in order to control how the food is being cooked. The special interior is not only nonstick but also very easy to clean.
In fact, if you prefer to wash it automatically with the dishwasher, you can safely do this. The pan is 20 x 21-1/2 x 7 inches and its weight is 6 pounds.
Easy to hold and manage. Although it is 12 inch diameter, you should consider only 6 1/2 inches round circle at the base.
Let us know what is you best Induction Frying Pan with lid.