3 Titanium Stainless Steel Cookware with Reviews
Titanium stainless steel cookware? Why not? Certainly, this type of cookware should find its place in any kitchen as it provides numerous advantages.
While stainless steel cookware is preferred by everybody because their fantastic features, pans made of titanium are also characterized by ultra light performance as titanium is 45% lighter than steel and stronger than aluminium.
It is true that titanium is the lightest cookware material you can buy, but is also corrosion-resistant, offering great durability.
You can be sure that titanium pots are great for boiling water as they can be made with very thin walls, and transfer heat efficiently.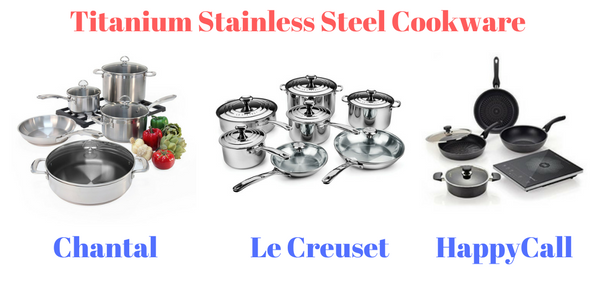 Also, titanium is non-toxic. And according to many studies, titanium is one of the metals that pose the least health risks as titanium cookware do not react with food, do not absorb or leach into the food.
Forget about heavy pots and pans and try titanium cookware and so, you will reduce the amount of cooking time and discover how to retain the flavour of food much better.
As you probably intuit, titanium cookware tends to develop hot spots, making them less than ideal for cooking meals and this is also available for stainless steel cookware. Such titanium cookware is an option for a truly fast-and-light people who count their grams and choose quick boil-only meals after a long and exhausting day.
You may consider that titanium pots and pans are not the most beautiful when compared to other types of cookware but certainly, you will be impressed by their features in terms of durability and safety health concerns.
We have searched and below are the best 3 titanium stainless steel cookware with reviews that you may consider before making a decision.
With Happycall PLASMA IH Induction Compatible 6 pcs Chef's Stockpot & Wok & Multigrill & Range (220V only) Premium Set with Lid, you are going to purchase the following pots: the set includes an 11″ (28cm) frying pan, an 11″ (28cm) grill pan, an 11″ (28cm) wok with glass lid, and a 9.5″ (24cm) low stockpot.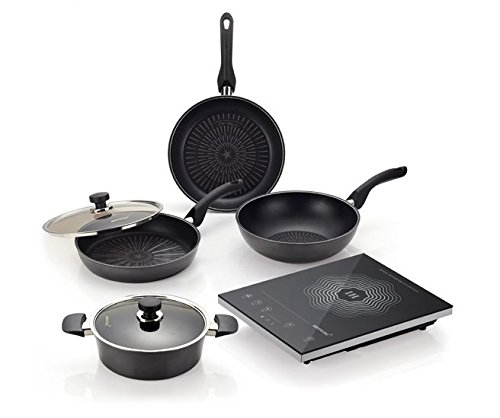 In case you are curious, you should know that frying pan has a handle of 21 cm and weighs 1,016 g, grill pan with a handle of 21 cm and 1,016 g, wok with a glass lid with a handle of 21 cm, and 1,150 g and a low stockpot with a handle of 3.5 cm and 930 g.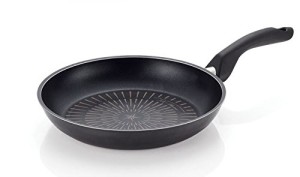 Check Price
This set also includes a Genuine IH induction range rated at 220V only; if this configuration does not correspond to your needs, you may need a voltage converter. This is an exclusive Happycall Plazma IH Induction compatible set that is very helpful in any kitchen.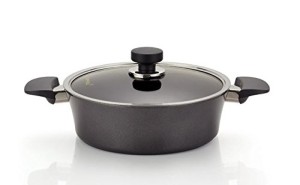 It is the time to discover this set of cookware with titanium (inside) and porcelain (outside) coating. These products are made of aluminium and stainless steel, materials that make your cooking sessions easy, fast and efficient.
These pans work great and are easy clean; they are amazing pans as sticky grease just flushes away with warm water the residual easily wipe away too.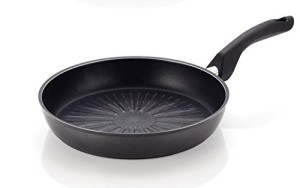 This set can be a great gift for your family or friends and consider buying for yourself and you will not regret it.
Le Creuset 14-piece Stainless Steel Cookware Set includes the following items: 2-qt. saucepan, 3-qt. saucepan, 4-qt. casserole, 4.5-qt. saute pan, 7-qt. stockpot, 8-in, stainless steel skillet with glass lid and 10-in. stainless steel skillet with glass lid.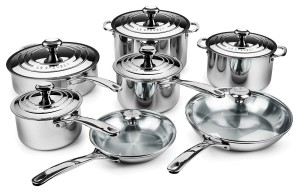 This set is a great choice because of tri-ply stainless steel construction that features a full aluminium core with a magnetic exterior side-wall with precision-pour rim and in-vessel laser-etched capacity markings. The pots are made in Portugal and ensure lifetime warranty.
Also, this cookware is characterized by infusion with titanium in order to resist discoloration; then, artisan polishing protects the proprietary blend of professional-grade stainless steel, resists oxidation and discoloration, finished with a radiant luster.
All the pots are compatible with all types of stovetops, including induction; these items are stainless steel and provide an easy-grip knob that is oven safe up to 500°. They are exclusively designed with stay-cool ergonomic handle makes for easy maneuvering, and secured with stainless steel rivets.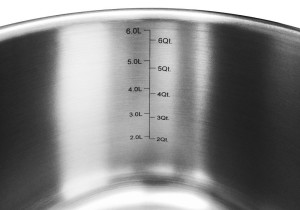 Check Price
For mimicking the functionality of cast iron, the vent controls the flow of steam, keeping the 3-ring classic design lid securely in place while cooling.
Enjoy yourself the performance of a brilliant design and the passion of cooking all combined in an exceptional new stainless steel collection with this Le Creuset Titanium Stainless Steel Cookware Set (Induction Ready).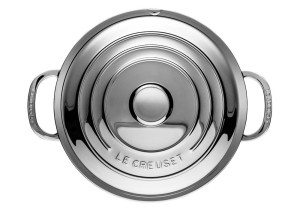 It is beautiful, cooks evenly and will not lose the anodized coating that the others did, even though they were pricey too. This is more money than you may want to spend, but well worth the investment.
On the other side, you have Chantal SLIN-9 Induction 21 Steel 9 Piece Cookware Set, a set where copper is melted into the steel in order to conduct heat quickly and titanium is added to improve strength and durability.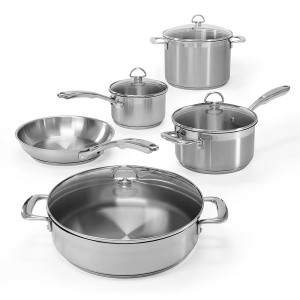 They are designed for all cooktops, with their ergonomic and stay-cool handles to easily manoeuvre multiple pans on a stove top, and tempered-glass lids to easy monitor cooking.
The set includes a 2-quart saucepan with glass lid, a 3.5-quart saucepan with glass lid, a 5-quart saute pan with glass lid, a 8-quart stock pot with glass lid and 10-inch fry pan.
These pots are oven and broiler safe to sear, braise or deglaze, dishwasher safe, and the manufacturer guarantees limited lifetime warranty.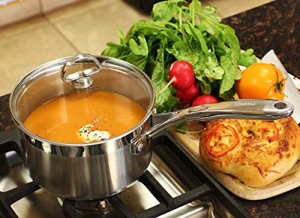 Check Price
The cookware set is great for quick browning for stew meat, stir frying a large batch of veggies to pour over rice or frying up a few pork chops.
The best part of all is that it cleans up with a breeze; they have such a nice thick bottom and wash well in the dishwasher.
Purchasing this set, you are going to observe a lot of a materials that are used for their manufacturing: pots are made of superior 21/0 Japanese stainless-steel, with copper melted into the steel that ensures maximum heat conductivity; also, titanium is added for strength and durability to endure everyday cooking and to ensure healthy cooking, and the steel is nickel-free to prevent allergic reactions to nickel.
Conclusion
These are the best 3 titanium stainless steel cookware that saves time and money.
Such products worth the investment either you are looking for a new cookware set for your kitchen or a gift.
For a better understanding, here you have a comparison table that may help you in order to decide which set is great for you or for your friends.
Happycall PLASMA IH
Le Creuset
Chantal SLIN-9
Set Component
11″ (28cm) Frying Pan (Handle: 21cm, Weight: 1,016g)
2-qt. Saucepan, 3-qt. Saucepan, 4-qt. Casserole, 4.5-qt. Saute Pan, 7-qt. Stockpot, 8-in. Stainless Steel Skillet with Glass Lid & 10-in. Stainless Steel Skillet with Glass Lid
– 2 Quart Saucepan with Glass Lid
11″ (28cm) Grill Pan (Handle: 21cm, Weight: 1,016g)
3-qt. Saucepan
– 3.5 Quart Saucepan with Glass Lid
11″ (28cm) Wok with Glass Lid (Handle: 21cm, Weight: 1,150g)
4-qt. Casserole
– 5 Quart Sauteuse with Glass Lid
9.5″ (24cm) Low Stockpot (Handle: 3.5cm, Weight: 930g)
4.5-qt. Saute Pan
– 8 Quart Stock Pot with Glass Lid
Induction Range (220V only, you may need voltage converter)
7-qt. Stockpot
– 10 inch Fry Pan
8-in. Stainless Steel Skillet with Glass Lid
10-in. Stainless Steel Skillet with Glass Lid
Color
Black
Stainless Steel
N/A
Material Type
aluminium & stainless steel
tri-ply stainless steel construction
Superior 21/0 Japanese stainless-steel, with copper melted into the steel and titanium
Handles
N/A
exclusively designed, stay-cool ergonomic handles
ergonomic and stay-cool handles
Lids
Glass lids
the 3-ring classic design lids
tempered-glass lids
Number of Pieces
6 pieces set
14
9 Piece Set
Coating
titanium (Inside) & Porcelain (Outside) Coating
a magnetic exterior
Stainless steel interior
stainless steel interior
anodized coating
Manufacturer
Happycall
Le Creuset
Chantal
Oven safe
N/A
Yes
Yes
Dishwasher safe
N/A
Yes
Yes
Price
Check Price
Check Price
Check Price