Thermador CIT367TG vs Thermador CIT365KM Comparison Chart
Deciding between 2 Thermador induction cooktops can be difficult, but this will not be the case anymore as a short description of the appliances with their similarities and differences will help you in your acquisition.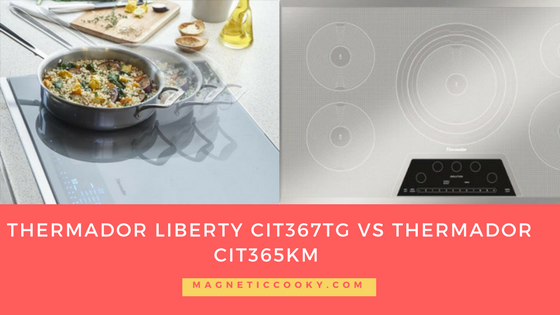 So, let's consider the following details about Thermador CIT367TG Liberty 36 inch and Thermador CIT365KM 36 inch
in order to choose which one corresponds to your cooking needs.
1. Thermador CIT367TG Liberty 36 inch
Thermador CIT367TG Liberty 36 inch is a masterpiece series 36 Inch electric induction smooth top style cooktop with 5 elements.
Some of its innovative features refer to pan presence sensor, hot surface indicator, ADA compliant, induction technology in titanium gray.
Definitely, such a unit will be the best addition to your place.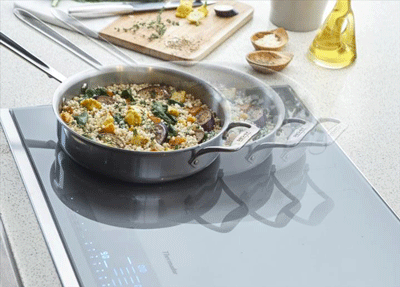 Designed with HeatShift features, it means that you can change the power level by simply moving the pot across the cooking zone.
And this is perfect for recipes that require multiple heat levels, such as moving from a sauté to a simmer.
The illuminated touch controls with 17 power settings enable easy operation and are highly precise and allow for easy cleaning.
Each cooking zone is designed with a boost function for quicker boils and better sears, 17 power levels, automatic pan recognition, a timer, a control panel pause, a child safety lock and a 2-stage residual heat indicator.
With MoveMode, you can easily realize the transfer of settings without having to reset power levels when moving a pot across the cooktop.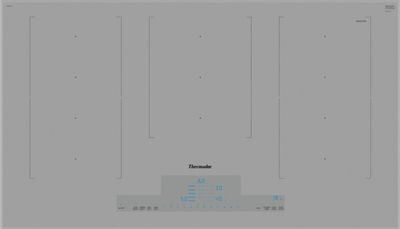 And so, if you have cooked the main course, you would be ready to prepare the sauce. The extra-large cooking surfaces allow for tailored cooking zones, so place your cookware wherever you want on the Liberty cooking zone.
The Stopwatch timer counts up to indicate how much time has passed since a meal has been cooking, while with CookSmart, you get consistent results for even the most complex recipes as this feature includes 5 preset frying levels so each dish as exceptional as the last.
2. Thermador CIT365KM 36 inch
With exclusive induction component technology, Thermador CIT365KM
is as responsive as gas and as convenient as electric and will astound you with the convenience of their powerful integrated design, outstanding performance and simple installation with just one cutout.
This electric induction cooktop from Thermador can enhance the beauty of any kitchen decor, and also it allows you to cook like a professional. It has a lot of features: 5 elements, PowerBoost, Anti-Overflow system, pan recognition, and speed heating.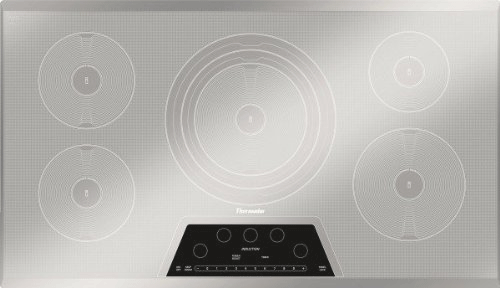 With the largest (13″) and most powerful (4600W) round heating element in its class, you have 40% more usable cooking area than competing cooktops which is ideal for accommodating oversized skillets, pots, and pans.
And the triple zone activates the heating zone directly in contact with the pot surface so pans of different sizes are heated more efficiently.
The chiseled, angular design with a trapezoid control panel coordinates with the suite of Thermador Masterpiece Collection.
The 2-step digital control panel indicates when elements are hot or very hot.
The Anti-Overflow system can be considered an exclusive feature as it shuts off the relevant element when liquids are detected on the user interface, letting you know by the sound of an alarm.
The unit has an auto shut-off timer available for all elements that enables the user to set desired cooking times.
Cleaning the surface is so easy: a quarter-sized squirt of ceramic cooktop cleaner rubbed into the surface after wiping down with a damp sponge leaves it looking like new.
3. Differences
With almost the same dimensions, Thermador CIT367TG Liberty and Thermador CIT365KM
are two different units and probably the most important difference is given by the number of features.
In titanium gray, Thermador CIT367TG Liberty provides the following features HeatShift Thermador, MoveMode, Stopwatch timer, but also the pan presence sensor and hot surface indicator.
Also, enjoy Anti-Overflow system, an exclusive feature shutting off the relevant element and sounding alarm when liquids are detected on user interface.
With a stainless steel design, the CIT365KM model includes pan presence sensor, keep warm zone, hot surface indicator, ADA compliant, auto shut-off timer, and PowerBoost.
The control type of CIT365KM model is glide; this is not the case for CIT367TG Liberty, with digital control type.
Thermador CIT367TG Liberty features 11 oval inductors divided into 3 cooking zones, and each zone can accommodate pots and pans from 4″ to 10″, as well as teppanyaki grills that can measure up to 16″ long.
On the other hand, CIT365KM unit offer to the user the largest (13″) and most powerful (4600W) round heating element in its class, an industry exclusive triple zone that accommodates multiple sizes pans with 3 diameter sizes.
4. Conclusion
If you want an induction cooktop, you should purchase Thermador CIT367TG Liberty 36 inch, you are going to take advantage of more space and flexibility in placing larger cookware on the surface.
It combines incomparable performance with a beautifully integrated design which is perfect for those who are looking for the highest value at an affordable cost.
The units have the same price, but Thermador CIT365KM
can be considered the cornerstone of the passionate cook's kitchen.
It is the perfect alternative for those who are looking for an electric induction cooktop as it offers the flexibility of five burners and a large burner for oversized pans.
You can be assured that you get incredibly rapid heating with a broad range of heat levels.
5. Comparison Chart
Brand
Thermador CIT367TG Liberty 36 Inch
Thermador CIT365KM 36 Inch
Design
Titanium Gray
Stainless Steel, chiseled, angular design
Control panel
illuminated touch controls, digital control type
touch control panel with blue light illumination, glide control
type
Style
Smoothtop
Smoothtop
Electrical supply
Volts: 240/208 Volts
Watts: 11100 Watts
Amps: 50 Amps
Volts:
240/208 Volts
Watts:
10800 Watts
Amps:
50 Amps
Dimensions
Depth: 21.25″
Width: 37″
Height: 4″
Depth: 21.25″
Width: 37″
Height: 4.25″

Element Ratings

Power of Full Surface Heating Element: 2,200 W
Power of Full Surface Heating Element (In Boost): 3,700 W
Power of Front Left Heating Element: 2,200 W
Power of Front Left Heating Element (In Boost): 3,600 W
Power of Back Left Heating Element: 2,200 W
Power of Back Left Heating Element (In Boost): 3,600 W
Power of Center Heating Element: 3,300 W
Power of Center Heating Element (In Boost): 3,700 W
Power of Front Right Heating Element: 2,200 W
Power of Front Right Heating Element (In Boost): 3,600 W
Power of Back Right Heating Element: 2,200 W
Power of Back Right Heating Element (In Boost): 3,600 W
Left Front Element: 7″ / 1,800 / 2,500 Watts
Right Front Element: 9″ / 2,200 / 3,700 Watts
Left Rear Element: 7″ / 1,800 / 2,500 Watts
Right Rear Element: 6″ / 1,400 / 1,800 Watts
Center – Outer Ring Element: 13″ / 3,300 / 4,600 Watts
Center – Middle Ring Element: 11″ / 2,600 / 3,400 Watts
Center – Inner Ring Element: 9″ / 2,200 / 3,300 Watts

Hot Surface Indicator

Yes
Yes
Pan Presence Sensor
Yes
Yes
Keep Warm Zone
No
Yes
Anti-Overflow System
No
Yes
Auto Shut-Off Timer
No
Yes
PowerBoost
No
Yes
Safety Lock
Yes
Yes
Warranty
2 Year Warranty
2 Year Warranty