Easy Stuffed Peppers Soup Recipe
This soup is very good and nourishing.
The intense taste of tomato juice, slightly sour, along with meat mixed with rice, is a real delight for the taste buds.
You can prepare these stuffed peppers both as a soup or a thicker tomato sauce, which can be served as a main course dish.
This time, however, I will give you the soup recipe, a wonderful recipe that you will surely like. And if you love the spicy flavor, you can add some chili pepper flakes to your soup to enchant your taste buds.
The ingredients may vary depending on the needs of everyone, but I will provide you the exact quantities that I use when preparing the soup.

Easy Stuffed Peppers Soup Recipe
The intense taste of tomato juice, slightly sour, along with meat mixed with rice, is a real delight for the taste buds.
Ingredients
1 kg pork meat
200 g rice
1 medium white onion
peppers
2 medium tomatoes
2 carrots
500 ml tomato broth
celery leaves
salt and pepper
Required kitchen utensils:
– meat grinder
– slotted spoon
– a thin knife with a pointed tip
– a 6-liter pot
– chef's knife
– a wood cutting board
– gas stove
1. Preparing the ingredients
The peppers should have the same size; wash them and remove the stub using the thin knife with a pointed tip to keep the whole peppers intact.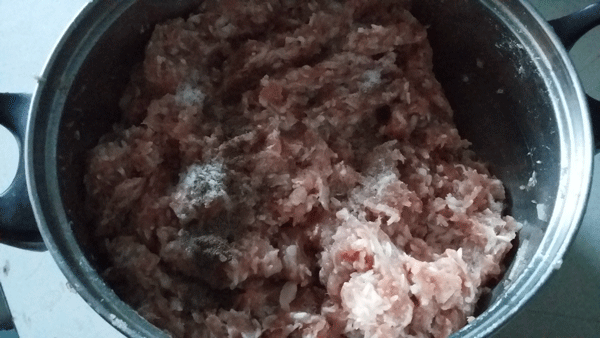 Make a circular cut around the top of peppers, remove their seeds, wash them again and let them drain out of the water.
Pork meat is fed through the meat grinder.
Rice is washed well in several changes of water and left to drain.
Onion is peeled and cut into small slices.
Peel the carrots, wash and cut them in two.
Tomatoes are washed and cut into 0.5 cm thick slices.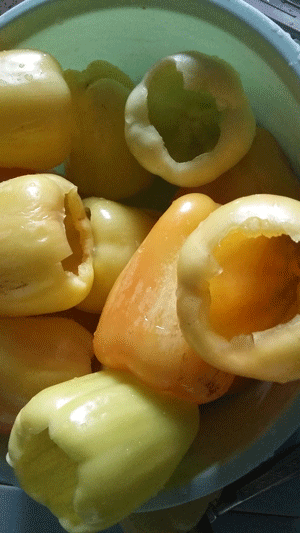 2. Preparation of soup
Mix the rice with minced meat and chopped onion, season with salt and pepper to taste.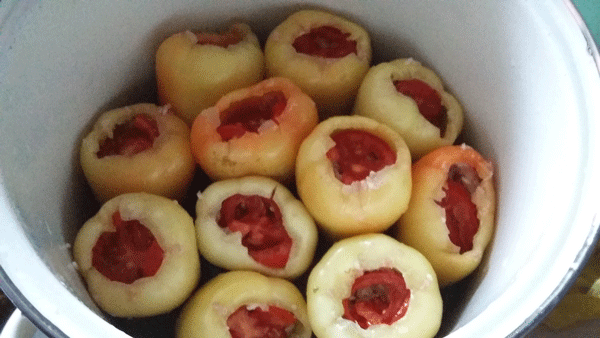 Fill the peppers with the meat mixture and cover them with a slice of tomato.
In a large pot, put peppers and then, pour water over them to cover well.
Place the pot on the stove and let simmer. With a slotted spoon, remove the scum as many times as needed.
Add carrots and season with salt as needed.
Allow the soup to boil for about an hour and a half, two hours, depending on how tender the pork is.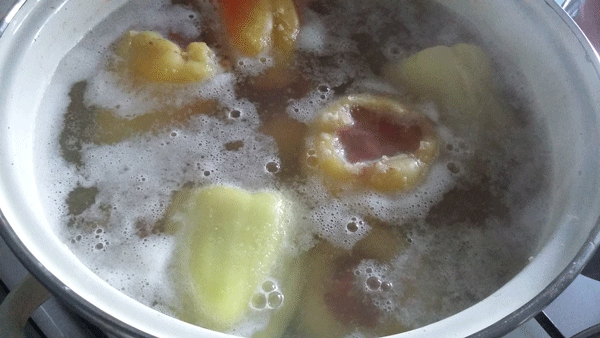 After the meat has been cooked, add the tomato broth and let the soup boil for several minutes. Turn off the stove, add the celery leaves and then, cover the pot with a lid.
3. Serving the soup
Decorate the soup with parsley leaves and serve it with chili peppers. Those who want can add sour cream.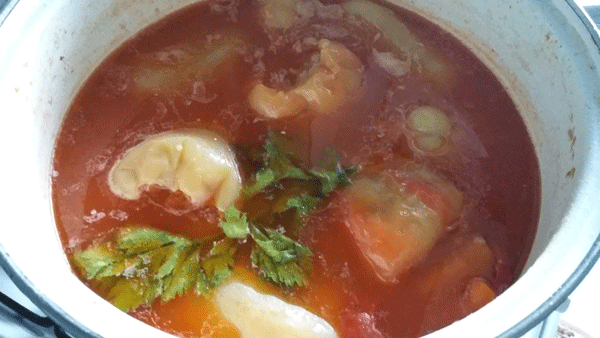 Vegan people can choose mushrooms instead of pork meat and the result will be just as tasty as the meat version, but this depends on the taste of everyone.
Enjoy your meal!
Vegan Stuffed Pepper Soup
Looking for a vegetarian option to a stuffed pepper soup?
You can try a vegan stuffed pepper soup: it will be great for lunch as well as dinner. It is an easy soup made with healthy ingredients and is vegan, gluten-free, dairy-free and will satisfy even the most finicky omnivores.
This time, the vegetable filling contains zucchini, onion, mushrooms, and carrots.
You will have to sprinkle the vegetables with the sugar and cook them, stirring often, for about 7-8 minutes or until most of the liquid released by the mushrooms is gone.
After adding salt and pepper to taste, just fill the peppers with the vegetable filling.
Stuffed Pepper Soup No Rice
If you do not have rice or maybe, you do not like this ingredient, you can prepare a stuffed pepper soup without rice.
It is true that traditional stuffed pepper soup usually has white or brown rice in it, but without the rice, this soup has a total of only 153 calories and this is wonderful for all those who want to eat healthily or to follow a diet.
This soup is low in carbohydrates and as the rice can be omitted, you can increase the number of ingredients: add pork, peppers or other vegetables.
Beans would be an excellent addition as well. And of course, feel free to use all green bell peppers in the soup or use multicolored peppers for a more colorful soup.
Keep in mind that if you decide to exclude the white rice, this also makes the soup more brothy, as the rice would absorb a lot of the liquid.
Stuffed pepper soup with apple cider vinegar
Or consider a stuffed pepper soup with apple cider vinegar. Apple cider vinegar is balsamic vinegar which will provide a great taste every time you decide to add it in your dishes.
Apple cider vinegar may improve gut health and balance blood sugar levels while adding low-calorie flavor.
In case you do not know, vinegar consumption is linked to everything from less body fat to less severe blood sugar spikes.
Adding several teaspoons of apple cider vinegar in the filling mixture or the tomato broth will make your stuffed peppers so delicious: you will love the subtle tang that the apple cider vinegar gives them.
Paleo Stuffed Pepper Soup
Paleo Stuffed Pepper Soup is another option where the white rice is replaced with cauliflower rice. This recipe is not only super healthy, but you get a ton of veggies in each serving.
The cauliflower rice takes less than 10 minutes to be cooked so that it does not add any extra time. And with just a few ingredients and less than 30 minutes, you can create a fresh, clean meal with more than 30 grams of protein.
This hearty stuffed pepper soup is delicious as a perfect way to welcome fall.
There are two ways you can add the cauliflower rice to the Paleo recipe.
The first option which is what the recipe is designed for is to add the cauliflower rice into the meat mixture.
And the second options is to have 3 cups of cooked cauliflower rice, after serving the soup into the individual bowls, and to add the cooked cauliflower rice on top of the Paleo Stuffed Pepper Soup.