5 Great Shabu Shabu Pots Stainless Steel with Divider and Reviews
Shabu shabu is the name of a delicious Japanese hot pot; more exactly, this word emphasizes the sound made by the ingredients that are stirred in the cooking pot and served with dipping sauces.
Shabu shabu refers to the fact that the food is cooked piece by piece by the diner at the table and so, this meal is considered to be more delicious and savory than other dishes.
With a shabu shabu pot, you are going to prepare Asian dishes at home. All you have to do is to place the pot at the center of the dining table; while the hot pot is kept simmering, ingredients are placed into the pot and are cooked at the table and your guests are invited to eat, cook and have fun all together.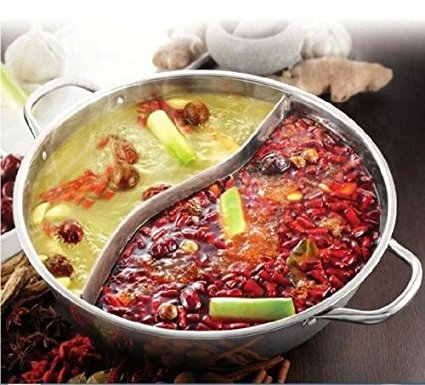 Pots with divider are great as they provide 2 different flavors according to the preferences (for example, spicy and non-spicy dishes without any risk of mixing these two options). So, this is the perfect occasion to enjoy hot pot with two different flavors.
Also, it is considered that shabu shabu hot pot provides healthy, pure and fresh food. All you have to do is to choose the vegetables, the meat, the seafood, the tofu and the sauces that you like.
Here you have 5 great pots for your shabu-shabu dishes that provide you lovely cooking experiences with the entire family.
Stainless Steel Double Hot Pot Cookware Shabu Shabu Induction Compatible is a new pot by CM shop that you may consider for your kitchen.
This hot pot is made from durable 18/8 stainless steel and is designed with stainless steel handles that can withstand high levels of heat and a glass lid. It is dual sided for putting two different flavors or cooking two different meals.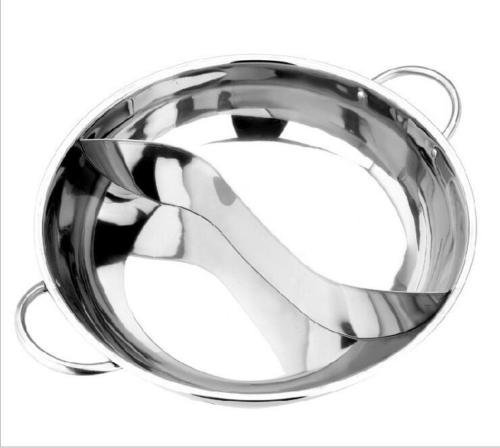 Its size is 11″ wide x 3″ height (measurements for pot only) and so, you have enough space to prepare two different dishes or why not, one dish with two specific sauces, flavors, etc. It is an induction compatible pot, so you can use it on your new induction stove. But, you can use this on portable butane stoves without any problems.
You should consider that this Concorde S1007-28D Shabu Shabu Pot Stainless Steel does not keep the liquids divided.
But this pot looks great and it is hard to find this type of pot, much less one with the wave design for the separator.
The pan is well-made and appears to be of great quality and the dual-sided design enables you to use two different broths to cook the food right at the dinner table on the butane cook top.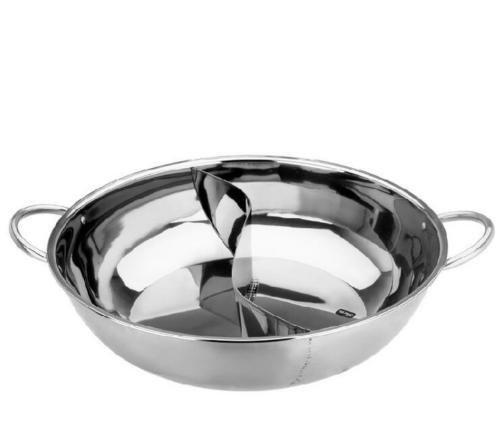 Check Price on Amazon
The pot feels very light and has thin and small weld points. It works great on the induction cook top and you have nothing to afraid about any signs of burn.
This is made in China and you may think to purchase the pot in order to prepare Japanese shabu shabu family-style meals.
HCX 30 cm Shabu Shabu Dual Sided Hot Pot With Divider is another pot that features center divider in the middle. This is also a hot pot made from durable 18/8 stainless steel- fast and easy to clean.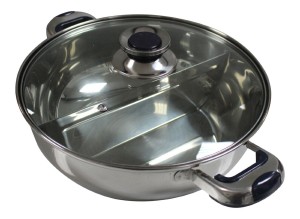 An important aspect concerns the fact that the pot has a venting tempered glass lid.
It is pretty hard to find a shabu shabu pot that works with an induction cooker, but choosing this item, you are going to have exactly what you need.
The divider is sort of welded in and there are no leaks. The pot seems to have a thin construction, but it works fine.
It could be a thicker gauge steel, but it is still an excellent value and can be used with a portable butane burner tabletop or on your induction stove. It looks like a regular pot with a flat bottom, can be used on a gas or induction oven and also can go in the oven.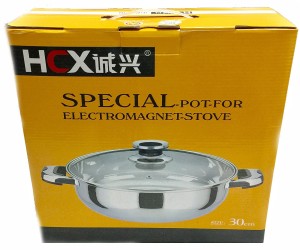 Check Price on Amazon
If you are going to try this dual sided hot pot, you are going to be amazed. Consider to take a chance on HCX 30 cm Shabu Shabu Dual Sided Hot Pot With Divider!
There are no reasons to get disappointed when using this shabu shabu pot.
Tayama Hot Pot is an 11-inch (28 cm) stainless steel hot pot with divider that has heat-resistant handles. It is a great, durable and easy to clean product; so, you are going to enjoy easy home cooking as with a minimum effort, you can prepare whatever you like.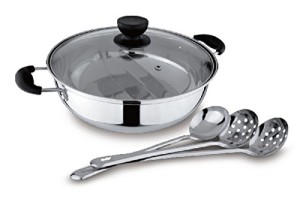 This new model of Tayama TG-28C Hot Pot with Glass Lid – 28cm/ 11 inch Hot Pot with glass lid includes 3 accessory spoons. It is time to entertain guests with family style cooking or to enjoy an intimate dining experience with the family.
It is made of thin steel, but all induction style hot pots are constructed that way. This is a very functional and well-made pot and works well with your induction cooktop.
The middle divider cannot be removed, but the two sides to not mix broths or leak to each side.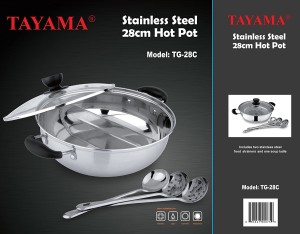 One thing you need to pay attention to: you have to put water in both sections when using the pot, or the section without water will be burned.
It holds 2 quarts each side, so 1 gallon totally. And it is more of a dual soup pot, for 2 different soup flavors, thin stainless steel with no nonstick surface, so leftovers would stick and burn badly.
It works fine without leaking and also, on an inductive stove.
This is a metal pot with a divider in it for different soup broth; if you love Mongolian hot pot, you must have this with a tabletop heat source.
Check Price on Amazon
This pot gives a choice of two types of soups for hot pot and it is small enough for 2 – 4 persons.
Fangfang 28cm Stainless Steel Shabu Shabu Dual Sided Hot Pot With Divider comes with a polished crystal plate surface and of course, with a center divider in the middle.
These features will give you the opportunity to cook whatever you like in a fast, easy and economic way.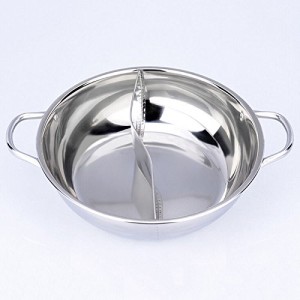 As almost all the shabu shabu hot pots, this is a pan made from durable 18/8 stainless steel; this material guarantees you fast and easy ways to clean the entire pot.
This Fangfang Shabu Shabu Pot Stainless Steel With Divider has the following dimensions: pot mouth outer diameter of 28 cm, pot diameter of 27.5 cm, and bottom pot height of 7 cm.
Once you order Fangfang Shabu Shabu Pot Stainless Steel With Divider, you are going to receive a stainless steel twin hot pot (without a lid).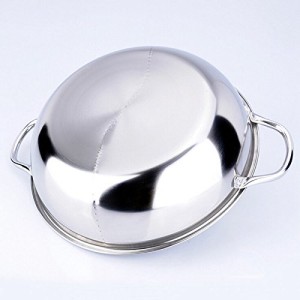 Check Price on Amazon
It is recommended to pay attention when boiling one side: once you cook one side, the cooking surface of the other side may burn. This is why you should put water on the other side if you intend cooking only one side.
With City ST CH-3021 Shabu Shabu Pot Stainless Steel with Divider, you are going to have lots of facilities: it is a hot pot with 2 different flavors of soup and adjustable temperature. It is great as it is easy to use and set up and provides great family interaction.
This pot can be used on an electric or induction stove top, but it is not recommend boiling at very high temperatures as the metal may indent.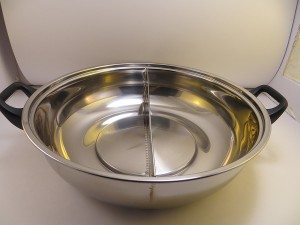 Here you have a great alternative to make a very healthy Shabu Shabu or Hot Pot meal at home without needing to go to the hot pot restaurants that cost you a lot more.
It has a controller for the temperature that is a very easy to use knob making easy to put together the ingredients and to start eating. There are also other models of City ST CH-3021 Shabu Shabu Pot Stainless Steel for sale, one with no divider and one that has a grill attached that you should take into consideration.
With such a shabu shabu pot, you can prepare steak, pork, prawns, seafood, chicken, salmon, halibut, anything you want or have in season. Consider adding small amounts of each ingredient at a time, and as you are eating, add more in small amounts.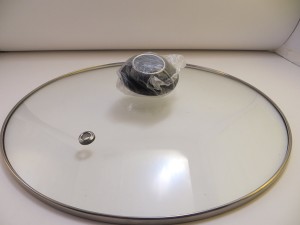 Check Price on Amazon
If you add a whole bunch of ingredients at once, you will have to wait some time because it may take a longer to cook and then, they will be overdone before meal ends. It is the time to try the best shabu shabu pot ever.
Conclusion
Choosing one of these 5 great shabu shabu stainless steel pots with divider represents a great investment for any kitchen.
With a thick stainless steel and a very good quality, these pots can heat the food inside in a very short time providing 2 different flavors.
Have fun with such items while cooking as you can prepare anything or make your customized soup!