4 Rice Dispensers 25 lbs with Reviews which Can Keep Your Rice Fresh Longer
People who consider purchasing a rice dispenser search for something that holds all their rice in one place, is convenient and organizes the food items and the most important of all is to keep bugs away from infesting it.
A dispenser can hold a lot of pounds of rice and so, you do not need to buy 4 to 5 pounds of rice each time as it is not that convenient and might cost you more money.
These small units help you hold and store rice (not only rice, but also cereal, beans, grains and even dog food) wherever you wish to place them.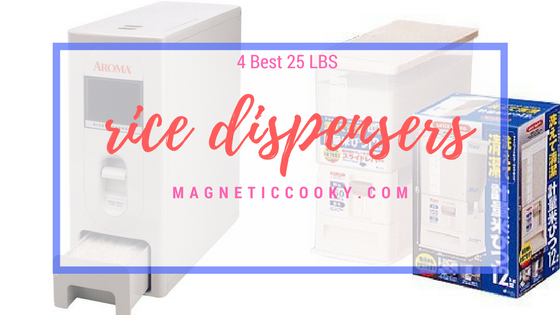 So, you have easy access to grab 1 cup or ½ a cup of rice with one press of a button or one pull of a drawer and can easily top up rice without having to worry about the old rice being used first.
And in case you worry about, air sealing blocks all access to your rice in order to keep it dry, fresh and insect free.
In most cases, rice dispensers are made of high-quality plastic and are easy to clean, wash and maintain, but you can also find dispensers made of metal.
Plastic containers are an alternative, but with them, you will not keep old rice to the front and accessing rice in containers provides a high percentage of spillage.
So, if you are interested in buying a rice dispenser, here you have a list of 4 rice dispensers with a capacity of 25 lbs which keep your rice fresh longer.
Read their reviews and make the perfect choice for your needs while cooking rice.
1. Aroma Housewares ARD-125 Rice Dispenser
Using Aroma Housewares ARD-125 Rice Dispenser 22 lbs
, you will get a perfect product for rice or bean dispensing.
It is wonderful as it keeps up to 22 pounds of grains or beans dry and fresh and guarantees automatic measuring dispenses one cup per button push.
With its compact design that is made to fit your cupboard or pantry, this unit helps you eliminate clutter and keep your rice fresh longer!
Consider the fact that the smooth funnel design prevents clogging for easy dispensing, every time, and so, you may wonder how you ever lived without this dispenser.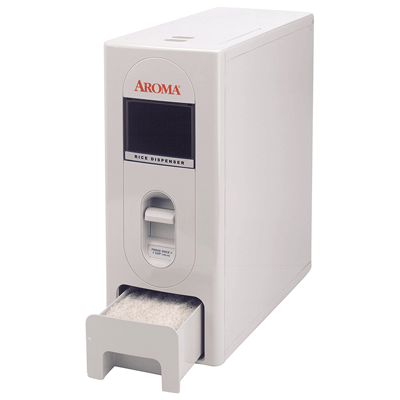 This product assures you that you are going to have an easy to use dispensing system that pre-measures your rice or grains.
In case you cook rice or beans frequently and keep a large stock of them at home, this dispenser helps you store them safely and easily.
Although the precision dispensing is a breeze as you need to simply select an amount of 1, 2, or 3 cups, it also features a closed-end design to prevent insect infestations.
You will see that the contents flow smoothly into the drawer at the base of the dispenser, ready to be added to your recipe. It is made of sturdy white plastic for long time use.
Without taking up a lot of space on the countertop, the dispenser provides a window on the front that shows you how much rice you have left.
Each button push releases a cup of rice and the holder will hold 3 cups without overflowing. So, it definitely beats having a bag of rice laying around.
2. Tayama 25kg Rice Dispenser
If you are interested in a Tayama dispenser, you may choose Tayama 25kg Rice Dispenser
with a rice drawer or container for dispensing maximum capacity of 5 cups.
It provides a large storage compartment, manual shelf dispense of 1/2 cup or 1 cup and a removable top lid and pull-out lid for easy access.
This unit is great for rice as you will know exactly how many cups of rice you need, beans, cereal, dog food (pets are part of the family, too).
As it provides a great storage compartment, you can store up to 50 pounds of dry food. With this Tayama dry food dispenser, you learn how to store away all sorts of dry food.
It is not a secret anymore that the removable top lid and pull-out ease makes storing trouble-free so you can fill up all kinds of your favorite dry food. From now on, forget about spills and food going spoil from possible kitchen's critters, and just protect your household's food.
It is certitude as with this dispenser, you can keep bugs and rodents away now, with convenience in mind, make one less task in the kitchen complicated.
If you want to save a lot of space and convenient way to store rice, you can have this very large dispenser that can be stored in the corner of the kitchen without getting in the way of anything.
If you have a rice cooker, this is a must have: it keeps the rice fresh by letting you use the oldest rice first like a silo and is as big as a trash can.
Of course, there are bigger dispensers but this is great for a single family. This dispenser makes it easy to buy a 50-pound bag and not worry about it.
3. Sunpentown SC-12 26-Pound Rice Dispenser
Also have a look at Sunpentown SC-12 26-Pound Rice Dispenser
, a rice dispenser with removable being able to hold up to 26 pounds of rice.
Such a product is great as it keeps rice dry, fresh, and free from pests. With a compact shape, it stores neatly away in most kitchen cabinets and one press of the lever accurately dispenses 1 cup of rice.
Although you may have doubts about purchasing a dispenser, this definitely represents a much better solution than keeping your rice in those unattractive and unresealable rice bags from the market removable bin easily transfers the rice to your cooker.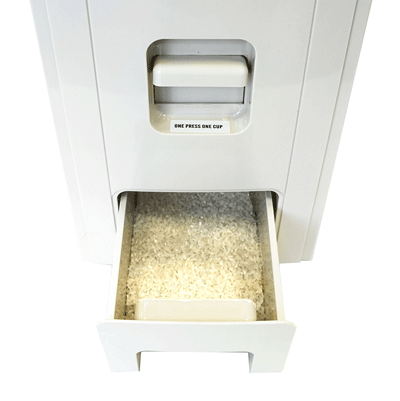 Soon, you will see that this is excellent for storing large bags of rice for use with a rice cooker. It makes it very easy to quickly get the amount you want without having to find the measuring cup. The only downside is that the entire thing is made of pretty light plastic.
If you wonder, the measure is actually set for one Japanese cup of rice. It is slightly smaller than an English/American cup, but the measure is in fact, perfectly suited for a rice maker.
This is a great tool to make kitchen life a little easier as fits a 20lb bag of rice really well.
4. Asvel EK-UNIXWARE01 Rice Dispenser 26.5 lb Capacity
Last but not the least, Asvel EK-UNIXWARE01 Rice Dispenser 26.5 lb
Capacity has a slim and compact design to save space.
It is a convenient, lightweight rice dispenser with a 12kg (26.5 lb) capacity made of high-quality plastic and is easy to clean, wash and maintain.
There will be no more open bags of rice lying everywhere and of course, the unit prevents spills and mess.
It includes a patent-pending drum that provides consistent and accurate dispensing. The high-quality plastic body is washable, easy to clean and maintain.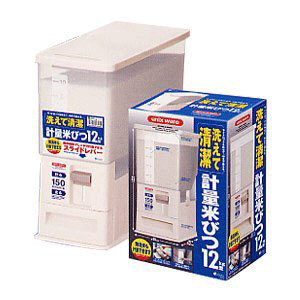 As you found out that the dispenser is lightweight, you should know that it is a unique lightweight material, which is much lighter than similar models.
It fits on the counter, below the upper cabinets next to the rice cooker. This adaptor is used to adjust the dispenser from a Japanese cup (smaller) or does not use it and get an American cup.
One finger does it all!
And you can see at a glance if you need to buy more rice. The best part is the rice compartment, you can actually see how much rice is left so you can go out and buy some more.
All you do is dump the rice on top, close the lid, press the switch down, boom a cup of rice.
5.Comparison Table
| Brand | Aroma Housewares ARD-125 Rice Dispenser 22 lbs | Tayama 25kg Rice Dispenser | Sunpentown SC-12 26-Pound Rice Dispenser | Asvel EK-UNIXWARE01 Rice Dispenser 26.5 lb Capacity |
| --- | --- | --- | --- | --- |
| Design | funnel dispensing design | removable top lid and pull-out lid for easy access | rice dispenser with removable bin | high quality plastic body |
| Capacity | 22 pounds | up to 50 pounds of dry food. | up to 26 pounds of rice | 12kg (26.5 lb) capacity |
| Dimensions | 7.1 x 17.3 x 16.5 inches | 13 x 22 x 14 Inches | 14-1/2 by 9 by 18 inches | 16.5″ x 7.5″x 16″ (42 x 19 x 41cm) |
| Weight | 9 pounds | 7.3 pounds | 10.5 pounds | 4.5 pounds |
| Window | a small plastic window on the front | a small plastic window | a small plastic window | clear container |
| Material Type | sturdy white plastic | plastic | plastic | unique lightweight plastic material |
| Color | white | white with a gray base | beige | white |
| BPA free | Yes | N/A | N/A | N/A |
| Warranty | N/A | 1-year limited warranty | 1-year limited warranty | N/A |