5 Rice Cookers with Quinoa Setting: Quinoa Ready in 2 Minutes
Having a rice cooker with Quinoa Setting guarantees you the easy way to prepare a healthy food and also, to have the necessary ingredient ready for pizza Quinoa mushrooms, Greek Quinoa salad, or Quinoa-berry breakfast bowls.
For those who do not know, Quinoa is a delicious protein-filled side or main dish just as easy as rice to prepare.
When cooked, these seeds with origins from the spinach plant expand rapidly and significantly.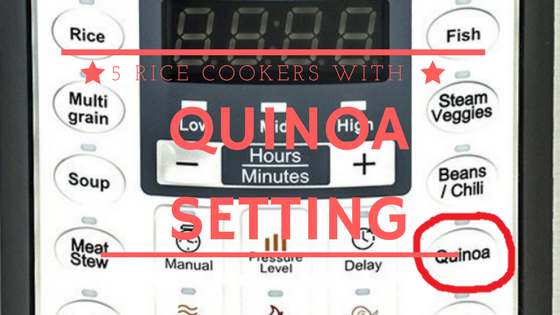 However, it becomes tender but chewy and expels spirals that boast the slightest crunch.
Quinoa is a healthy meal because it is a very nutritious gluten-free seed, meaning a fantastic source of protein.
These seed are a good source of dietary fiber and contain all eight amino acids, B Vitamins, and iron. But, it is smaller than rice, barley, farro, and bulgur and with its neutral coloring and hard exterior it is similar to a grain.
If you do not have a rice cooker with Quinoa setting, for cooking quinoa on the stove, you need to measure two cups of liquid per cup of quinoa and combine them in a sauce pan.
And, bring the mixture to a vigorous boil, then lower the heat and simmer, covered until the quinoa is tender, but still chewy and white spiral-like threads appear around each grain.
This should take approximately fifteen minutes.
Purchase a rice cooker with Quinoa setting: this is how you can discover a simple and fool-proof way to cook delicious quinoa for all your recipes during the entire week or in case you want a protein-packed side dish.
Rice cookers with a special setting just for grains, like Quinoa, do all your work: boil, simmer and keep it warm.
If you may want to have a look at some models of rice cookers with Quinoa setting, here you have our list of recommendations.
Definitely, you are going to find something that fits all your cooking needs.
1. Aroma Professional AMC-300SG with Quinoa Option
Aroma Professional AMC-300SG with Quinoa Option
is an Aroma professional pasta, rice, and slow cooker.
With a built-in strainer, you can drain boiling-hot water fast, easy and safe: no fuss no mess.
A stainless steel steam tray is included if you prefer a healthier lifestyle and higher quality.
Take your time to try flawless white/brown rice, quinoa, and pasta or any other type of dishes that involve steam, saute or simmer.
If you prefer slow cook to get the perfect stew, chili or risotto, there is low or high pressure level to choose from.
Aroma professional pasta/rice/slow cooker is the perfect addition to your everyday cooking!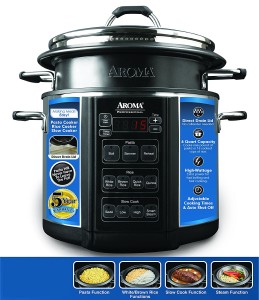 It is designed with stainless steel steam tray included for a healthier lifestyle and lid with built-in strainer.
It has auto shut off feature with boil and dry protection, so worries free if the appliance is on and forgotten.
It comes with a stainless steam tray, rice measuring cup and serving spatula and a 5-year warranty for your peace of mind.
This is perfect for pasta (boil/simmer/reheat), grain (white/brown/quinoa/quick) and slow cook (low/high/saute) with keep warm and delay timer features.
The sturdy double handles make it very easy to lift the pot out of the unit or to lift and move the entire unit.
It makes the best rice, not overcooked in the least and with a great crust on the bottom the touches the pan, thanks to its nonstick interior surface.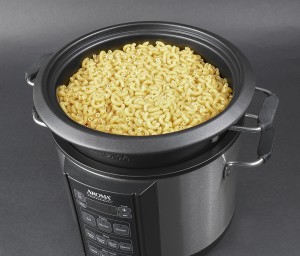 With its sleek design that looks great, this cooker is far superior not only in look but in build quality as well than other appliances.
2. Zojirushi NL-BAC05SB Rice Cooker with Quinoa Setting
Also consider Zojirushi NL-BAC05SB
Rice Cooker with Quinoa Setting!
It is a triple heater with extra large heating element heats and warms rice from the bottom, side and top and a compact 3-cup capacity.
It comes with removable steam vent cap that allows for high-temperature cooking without messy overflows.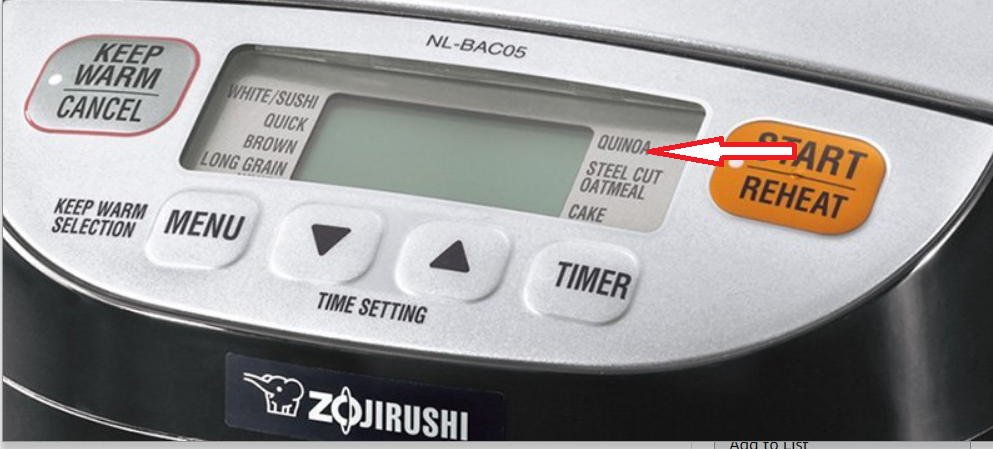 Check reviews at Amazon..
The black 2.5 mm thick inner cooking pan distributes heat evenly and is nonstick coated for easy cleaning. The removable inner lid detaches for easy cleaning.
You have a Quinoa Menu Setting for making fluffy and delicious white, red, black or rainbow quinoa easily.
Flavorful, healthy brown rice is prepared every time thanks to the unique flow of the brown rice menu setting.
And use steel cut oatmeal menu setting with the delay timer for hot and fresh steel cut oatmeal for breakfast in the morning; it makes as little as half a cup of raw steel cut oats.
The cooker provides multi-menu cooking functions: special settings for white/sushi rice, brown rice, long grain white rice, steel cut oatmeal, quinoa, cake and quick cooking.
It is designed with advanced fuzzy logic technology prepares perfect rice every time. Definitely, this Zojirushi Micom rice cooker and warmer takes having rice on your menu from occasional to serious.
You will see that this cooker is designed to handle different types of rice and also quinoa; the older model seems to be for white rice only.
The steamer vent is removable, which makes cleaning the cooker much easier than the older model. The cooking bowl is larger and has a flat bottom making it easier to use and avoiding boil over.
Reheat function reheats rice in Keep Warm to the best serving temperature. The manual recommends 12 hours as the longest time to keep rice warm in the cooker.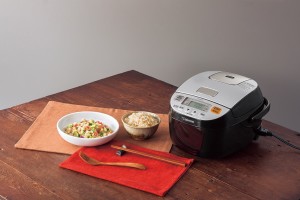 You get also Extended Keep Warm for keeping rice warm longer by maintaining a low temperature to prevent drying.
With easy-to-store detachable cord and easy-to-use LCD control panel, this appliance is a great investment for your kitchen.
3. Fagor 670041930 Rice Cooker Cooks Quinoa in 2 min
Try Fagor 670041930 Rice Cooker
that cooks risotto in 6 minutes, quinoa in 2 minutes, baby back ribs in 35 minutes, black bean soup in 45 minutes and cheesecake in less than 30 minutes.
The unit includes a user's manual with recipes, uses regular household 110 – 120V and has 1000 watts of power.
Enjoy flexibility when cooking delicious meals for a one-pot experience with this pressure cooker with High and Low settings and preset options for Beans and Meat and 3 built-in programmed settings that allow you to cook white rice, brown rice, and risotto to perfection.
In case you wonder, Keep Warm, Brown, Simmer, Steam and Sauté functions have been added for convenience as well as a Time Delay feature.
Having a 6-quart capacity, the cooker comes with a removable cooking pot that is dishwasher safe with a non-stick coating for easy cleanup.
Fagor is much more powerful, bigger, quieter than other models of rice cookers. You can cook soup, beans, and meat in no time.
It cuts down cooking time in about 60% even 70% depending on the dish.
After cooking is done, the item beeps and reduces the heat to "warm" until you turn it off. But beware: when turning the pressure relief valve after it is done the cooking, be sure that the pot is not under an overhead cabinet because it releases a strong burst of steam that would not be good for the cabinet.
This is a very versatile appliance that performs as represented.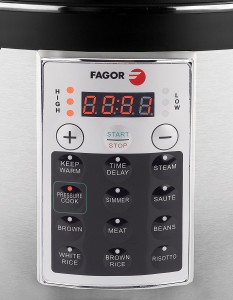 Be sure that it is a time saver that does not compromise on the flavor or quality of the finished product. And the good news is they give instructions how long to cook different meats, vegetables etc.
4. Panasonic SR-ZC075K 4 Uncooked Cups Rice Cooker
How about Panasonic SR-ZC075K
4 Uncooked Cups Rice Cooker?
With this unit, you can conveniently prepare up to 4 uncooked cups of rice (8 cups cooked). This sleek, black and silver rice cooker is ideal for singles, couples and small families.
You can select from eight automatic menu options and so, you have a variety of rice, plus hot cereals, soups, yogurt, quinoa and more on an easy-to-use display and touch buttons.
The microcomputer heating control continually monitors and regulates heat for precision cooking, consistently even texture and better-tasting results.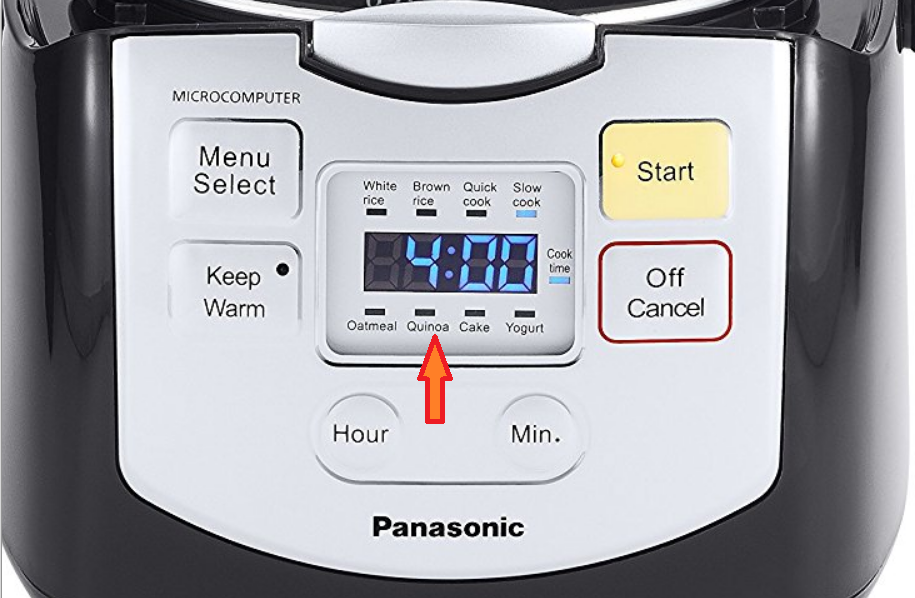 The inner pan is made of durable, non-stick black fluorine-coated and this evenly conducts and retains heat in every grain of rice and this makes after-meal cleanup quick and easy.
Choose smart keep warm function to maintain optimum freshness and serving temperature for up to 12 hours. And a precise measuring cup and rice scoop are included.
It is very simple to use: all you have to do is put in rice and water, choose from eight pre-programmed options for rice, soup, hot cereal or other food and push a button.
From now on, few foods make great meals even better like perfectly prepared rice.
This machine is quiet; just remember that different quantities cook for different durations and it is a good idea to cook well ahead of time since the machine has a warming.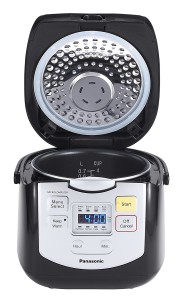 The ordinary cake is moist and Asian style, so this is not a birthday cake machine; this is a small dessert/coffee cake. However, you can choose the speed of cooking but not when to start.
5. Yedi Houseware Programmable Rice Cooker – Kitchen in a Box
This Yedi Houseware Programmable Rice Cooker is a combination of pressure cooker, slow cooker, rice cooker, steamer, sauté/browning, cake maker, and more.
You have the opportunity to customize cooking times with the Manual key and can change the pressure levels to achieve your desired meal.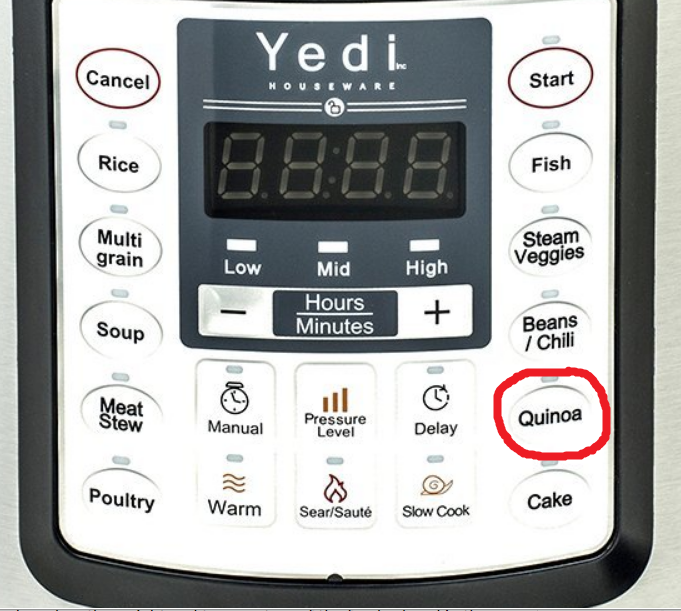 The appliance comes with a detailed instruction booklet that comes with a link to free recipe book and link to instructional demo video (both can be found on the Yedi Houseware Appliances website).
It includes stainless steel inner cooking pot, stainless steel steam rack, 2 cooking spoons, measuring cup, and condensation collector. Choose from Soup, Stew, Beans, Chili, Meat, Poultry, Fish, Steam/Veggies, Cake, Rice, Multigrain, Quinoa.
When any of these preset function keys are activated the Yedi pressure cooker calculates the perfect cook time based on the weight and temperature of the foods placed in the inner pot.
It has a 24-hour delayed cooking option and the automatic keep-warm function holds the temperature of the food until you are ready to serve it.
For more security and safety, it is UL and ULC certified with 9 safety mechanisms to provide you with added assurance, designed to eliminate many common errors.
You enjoy one-year warranty from the day you decide to purchase it.
Just for your information, preheating takes anywhere from 5 to 20 minutes and recipes take an additional 10 to 45 minutes.
It is exciting to learn, so you become comfortable and understand the beauty of this pressure cooker.