6 Rice Cookers for One Person or Travel – Portable / Mini Rice Cooker. Which Color Fits You?
Certainly, rice cookers for one person or travel and portable mini rice cookers are very handy for traveling or camping, when you live in a small place or if you are moving or travel a lot.
Definitely, you can cook conveniently whilst on the road, in the dorm, in the office etc. You can carry the mini rice cooker with you in your hand luggage, just pack it carefully.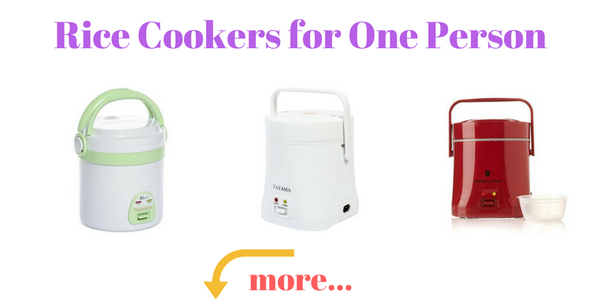 Being small and light-weight, these rice cookers come with all the accessories you need for a quick meal. So, you can cook instant noodles, rice, soups and similar types of food quickly and easily with this handy stove. And do not forget that it helps you keep to your travel budget.
Convenient for senior and students living on their own or for those who travel a lot, these rice cookers guarantee freshly cooked rice at your workplace or dorm.
It is also suitable for office staff, college students, and other busy-working persons when they are hungry or people who want to have a simple or instant food.
Here you have some examples of mini rice cookers that you may consider.
1. Aroma Housewares MRC-903 Personal Rice Cooker (Cool Touch)
One solution could be Aroma Housewares MI 3-Cup (Cooked) Cool Touch Mini Rice Cooker
. If you want to prepare a meal for you or a meal for two, here it is your unit: the advantages are many as it is minimalist.
This personal rice cooker makes more than rice with one touch: you can prepare white/brown Rice, cake, soup, pasta, omelets and so much more, but you just need the right recipes!
It is mini, portable, quick and compact: it is perfect whether it is soup when you are sick, dessert when you are in love or anything in-between.
Definitely, with mi, the focus is on you. It is non-stick, not difficult to clean but a bit on the flimsy side, very light.
There is little blue light: when it is dark blue to the left you know it is cooking and when it is done it switches to the light blue light on the right which says warmly.
The start time cannot be programmed. To turn on the cycle, you first press the power/warm button, then the corresponding button for your type of rice. You would have to be present to begin the cooking.
Besides the extra brown rice setting, which lets the rice sit in warm water before cooking it, the keep warm button acts as an on/off switch for the cooker. This is compatible with 110-120 Volts, which is the standard plugin North America. It is not a grounded plug but can be used for either grounded or non-grounded outlets.
The capacity of the cooker is 1 1/2 cups of raw rice, 3 cups cooked rice, and this is more than enough for one person to make potentially 3 meals in 1 pot. The cord cannot be removed, that would be a nice feature but not necessary. It comes with the rice pot, rice paddle, rice cup and user manual. What a brilliant unit with easy storage.
2. Narita NRC-101A Mini Rice Cooker
Or you may purchase Narita NRC-101A Mini Rice Cooker. It comes with cover, food tray, non-stick inner pot, body, spatula, measuring cup, and it is suitable for travelers and active business workers.
It is a rice cooker and warmer in one, very convenient for senior and students living on their own.
Now, you can have freshly cooked rice at your workplace or dorm. The cooker can help you resolve your cooking troubles, you can have nutritious, affordable and warm meals at your convenience. The item will come with extra bonus gift "Mini Hand Boiler one pieces (the color may vary)".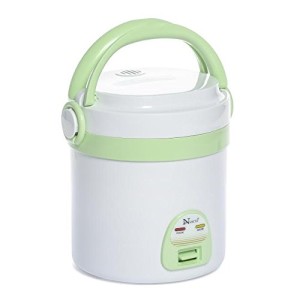 Regarding the cooking time, it depends on the type of rice. Brown rice will take about an hour. Cooking time for white rice is generally around 15-23 minutes, and that would generally be the same no matter what method you use (including the microwave) because it is how long it takes rice grains to absorb water.
The electrical requirements of the unit are 110V/60 Hz and 230 watts. You will need a down converter if you plan to use this in an area that has 220V. And make sure that the converter is rated for at least 250 watts, preferably more. Otherwise, it will burn out and possibly cause a fire.
This rice cooker is perfect for your traveling use as it is very convenient to carry and does not take up too much space.
It serves the perfect amount of rice for 1 person use and the rice comes out fluffy and delicious! It also comes with a heating tray for which you can try with vegetables and the vegetables that will come out nicely steamed.
Do not forget to make sure you press the "cook" switch after setting up your rice! Or you may wait 30 minutes and find nothing but hot water and semi-soft rice in the pot! Only the warmer is automatically engaged as soon as you plug in the cooker.
3. Yazawa TVR21BK 1.5 Cup Portable Rice cooker
For your holiday, you have the option of Yazawa Travel multi cooker TVR21BK. You will love as all the extra pieces are solid and provide an excellent storage/protection for the burner.
The cord wraps around it nicely and tucks cleverly underneath. With an aluminum pot and rectangular bowl very generously sized, it is easy to do enough cooking for two people.
If you are ok with aluminum, it is a complete set, even includes a plastic utensil, fork (on one end) and a spoon (on the other). It is dual voltage, 110/220V ac. There is a small switch at the bottom of the heating element.
The power cord plug is compatible with North America outlets, so you will need adapters for worldwide use. This is quite useful for making beverages, heating soup, and making basic meals like pasta and rice (probably will have to unplug/re-plug power periodically to simulate a "simmer").
You can boil the water so you could be sure to have clean drinking water even though you are staying in hotels or ski lodges. You can use it to make tea, Ramen noodles and to cook rice: it is so compact that you can put it in the snowboard bag with your snowboard gear.
It is very easy to prepare dinner for 2 with this cooker. While the stove top heats up, its bottom remains cool so you can place it almost anywhere. The metal pan is also easy to clean. It is great for hard boiled eggs, soup, pasta, packaged meals.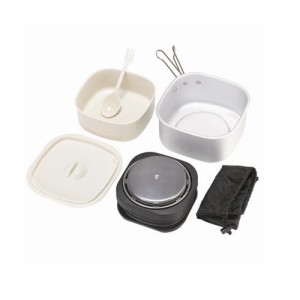 Running on 120 volts in the USA, the 25 cooking minute time is about right, with a little bit of boiling over. Probably Calrose or Basmati rice, with lower water to rice ratios would be less messy.
Also to heat up a can of soup takes about 10 minutes. Not a perfect device, but definitely useful in a pinch, a motel, hotel, pension or hostel with no microwave.
The pot has a circular indentation in the bottom that is a good fit to the circular heating element. This provides stability for the pot even if the surface it is placed on is not completely level and also creates excellent contact between the pot and the heating element. This is a great travel kit, small but powerful.
4. Tayama TMRC-03 1.5 Cup Travel Rice Cooker
Tayama TMRC-03 1.5 Cup Portable Mini Rice Cooker is ideal for cooking for one or two people.
It is great for college students living in a dorm, single diners or meals for just two people and easy to store and also bring anywhere.
The kit includes a rice cooker, inner pot, removable lid, tote bag, spatula, measuring cup and side dish container.
It has a non-stick coated pan that prevents the rice from sticking, thus making cleaning easy. With a single-switch operation, you find this rice cooker very easy to operate, along with a keep warm function so your rice is always nice and warm.
You can make brown rice perfectly without any adjustments to water or time. The included container to cook vegetables or other things using the steam from the rice is a nice addition and makes for an all-in-one cooker.
The manual includes recipes for things other than rice like soups, fish, dessert, etc. And you can put everything, including the cord, inside the unit for easy storage.
This can cook brown rice however you would have to pay attention to it and add more water. Brown rice usually takes a bit longer too.
It cooks perfect oatmeal for two. No need to watch over stove or microwave. Press on and in about 15 min perfect oatmeal. It stays at keep warm until you unplug it. It cooks really good rice.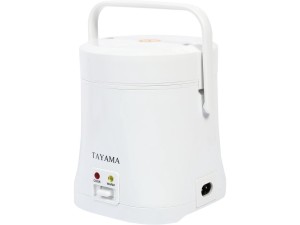 This does exactly what I need it to. It is not as fast as larger rice cookers, but it cooks more evenly without rice sticking to the bottom, so it is a fine tradeoff.
It is a nice small rice cooker! It can also cook quinoa and brown rice for 2 persons. However, the measuring cup that comes with the cooker is not a standard 8-oz cup. It measures approximatively 3/4 of an 8-oz cup.
5. Livart L-001 1 Cup Mini Rice Cooker
Livart Mini Rice Cooker 1 Cup L-001 provides you a side dish container and you can use it as a lunch box and a detachable handle for portability.
Also, it includes a multi-language instruction manual to get you started. Perfect for cooking for one or two people, cook your rice with ease using the Livart L-001 1-Cup Rice Cooker.
It includes a non-stick coated pan that prevents the rice from sticking, thus making cleaning easy. As you may intuit, it features a single-switch operation that makes using this rice cooker easy, along with a keep warm function so your rice is always nice and warm.
If you want a fresh hot lunch, you could put some meat and veggies in the container, then put the raw rice in the cooker, close it up and carry it to work, then all you have to do is add some water pop it on and 20 minutes later you have a hot lunch.
It is a pretty amazing product, especially given how inexpensive it is! It makes about two cups of rice which is plenty for a meal for two. It cooks rice quickly and it is portable enough to take to work and leave it on your desk if you fancy rice for lunch at the office.
The cord is detachable. To whoever was wondering about the voltage it is 110 V, and in any case, you may need an adapter. You can cook the rice from raw and stream a small amount of food on top, for one person is perfect. It is a bare bones rice cooker that does an excellent job with no frills.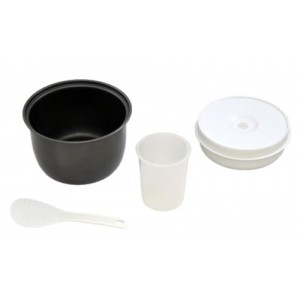 You would have to cut the cooking or steaming time down manually though by just shutting off the cooker.
The rice cooker is really cute and the color is very pleasing: very compact and handy to carry about with its handle, this is the cutest rice cooker and works great.
You must put a towel underneath it when it is on, however, because water does spill out. It is a small price to pay for convenience and portability.
6. Wolfgang Puck BMRC0020 Portable Rice Cooker
Wolfgang Puck Signature Perfect Portable Rice Cooker
is perfect for two people or one person and makes just the right amount of food in it.
It makes perfect rice and is much more convenient than the big rice cooker.
The measurements of water and rice technically depend on what kind of rice you are using. To cook 1/2 cup of rice, you would need 1 cup of water.
If you mean you want the total volume to be 1/2 cup at the end then you would want 1/6 cup of rice and 2/6 cups of water.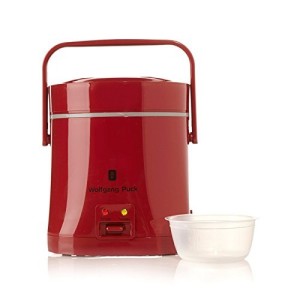 You make breakfast in it and use it more for other things than for rice, great for soups, mac and cheese small amounts for 2 people although it can be an amount for 4 people.
You can use on trips without worrying about bringing your larger one from home.
It has a small instruction booklet with some recipes. This is a great and compact rice cooker, easy to use and cooks rice fast.
This item runs off of 120V. It has a metal cup inside that holds your food. And a piece of metal is attached to the top inside.
7. Comparison Table
Brand
Aroma MRC-903
Narita NRC-101A
Yazawa TVR21BK
Tayama TMRC-03
Livart L-001
Wolfgang Puck BMRC0020
Manufacturer
Aroma Housewares
Narita
Yazawa
Tayama
Livart
Wolgang Puck
Cooked/Uncooked Cup
3 / 1.5
3 /1.5
NA/1
3 / 1.5
2 / 1
3 / 1.5
Dimensions
6.8 x 6.2 x 7.2 inches
6 x 7 x 6 inches
pot / W76 × H155 × D155mm, heater / W61 × H128x D128mm
8x8x9 inches
8 x 8 x 8.2 inches
9 x 8 x 8 inches
Weight
2.5 pounds
2 pounds
2.4 pounds
3 pounds
3.5 pounds
3 pounds
Voltage
120 volts
120V/60Hz
It is dual voltage; 110/220Vac.
120V~60Hz
110 v
it runs off of 120V
Power
230W
230 watts
250W under 100V or 360W under 240V.
200W

230 watts

200 watts
Warranty
N/A
N/A
N/A
One year
N/A
N/A
Function
Cook and Keep warm
Cook and Keep warm
No
Cook and Keep warm
Keep warm
Keep warm
Turn off Automatically
No
No
No
auto shut off after a few hours
Yes
No
Timer
No
No
No
No
No
No
Time to cook rice
it takes 20 minutes to cook white rice, for brown approximately
40
Cooking time for white rice is generally around 15-23 mins
between 12-13 minutes
N/A
it takes roughly 15 minutes
10 cups take about 35 minutes
Brown Rice
Yes
Yes
Yes
Yes
Yes
Yes
Cooking menu
Smaller, noodles, pasta, oat meal, Quinoa, veggies, potatoes,
soup, chili
orzo, omelet, cake
Rice, noodle, Calrose or Basmati rice, scramble eggs
Oatmeal, quinoa
jasmine, basmat, and forbidden/purple rice
steel cut oats, soups, mac and cheese
Price
Amazon
Amazon
Amazon
Amazon
Amazon
Amazon