9 Best Rice Cookers for Brown Rice – Which one is for you?
You may possible hear that brown rice is better for you and your family than white, but which is the difference?
Just pay attention to the fact that one cup of brown rice will provide you with 88.0% of the daily value for manganese.
So, be aware that you get this brown rice ratio every day for a healthy body.
It is important to know that brown, unlike white rice, still has the side hull and bran and those side hulls and brans provide "natural wholeness" to the grain and are rich in calcium, thiamine, proteins, magnesium, potassium and fiber.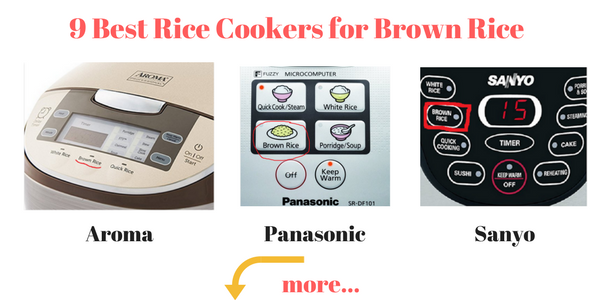 This rice is great for those trying to lose weight or those suffering from diabetes because it can prove a healthful staple given its low glycemic rating which helps reduce insulin spikes.
It is rich in naturally-occurring oils and these oils are so beneficial for the body as these healthful fats help normalize cholesterol levels.
For cooking this type of rice, you should consider some different factors: brown rice water ratio, brown rice measurements and of course, brown rice time for cooking.
The amount of water recommended for cooking long-and medium-grain brown rice varies depending on the source, from as little as 1½ parts water to as much as 3 parts water per 1 part rice.
But considering the directions for brown rice cooking, let's have a look at some rice cookers which come with this function included: so, preparing brown basmati rice or brown jasmine rice will not be anymore a difficult task.
1. Aroma Housewares ARC-6106 with Brown Rice Function
The first cooker of our classification is Aroma Housewares ARC-6106
with Brown Rice Function.
It has a noticeably thicker inner pot with a non-stick type coating, and the inner wall's water line markings are clearly striped with an easy-to-read contrasted numbering, unlike most other rice pots that are marked by embossed stamping in the same color as the background pot.
The "STS" means Saute then Simmer technology and this new technology allows you to saute your food at a high temperature like a fry pan, and then it automatically switches to simmering temperatures when it detects that you have added liquid.
This Aroma Pro makes things simple with three big single function buttons written with the words, "White Rice," "Brown Rice," and "Quick Rice," in addition to more frequently found menu options for other cooking styles and foods: Porridge, Oatmeal, Soup, Steam, Stew, and Slow Cook, and even Cake.
The Quick Rice is a new feature which can shave off approximately 2-14 minutes from the white rice function and a more significant 23-28 minutes off the brown rice function, depending on the cups of dry product you are making.
The cooker is to be used only for 110 V. You can set the timer for whatever time in the morning you want your porridge and it will start cooking it at that time and keep it warm. So if you want it for 8 am set it for 7 am.
Also, in addition to the traditionally available delay timer function, this machine allows you to manually set and adjust the cooking times for the Porridge, Soup, Steam, Stew and Slow Cook menu options; you do not have to just press the button and hope the pre-programmed time will work out.
2. Zojirushi NS-YAC18 Micom Rice Cooker
Your choice could be also a Zojirushi rice cooker: Zojirushi NS-YAC18 Micom Rice Cooker
provides you the 5th dimension of flavor.
With 10 cup capacity, its menu settings include: white, Umami, mixed, sushi, porridge, sweet, brown, GABA brown, rinse-free, quick cooking and slow cook.
Aided by microcomputer technology, you get a unit that does all the thinking for you, as far as adjusting cooking times and temperatures according to the type of rice you are cooking, and timing the pre-soaking of the raw grains and the final 'wait' period during steaming.
The GABA setting works well. Brown rice comes out soft and delicious.
If you have family members who complain about eating brown rice, you might want to get them to try this with your brown rice recipe.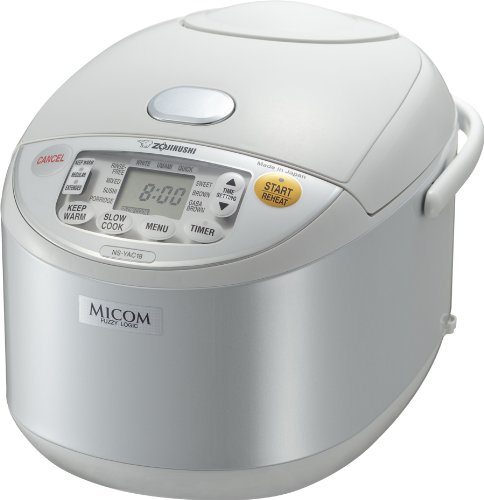 It still has the nutty flavor of brown rice, but the texture is a little bit more like white rice.
For cooks and rice lovers who cook using high-quality rice and appreciate rice that is cooked properly, this rice cooker is a necessary kitchen device.
The porridge cycle allows for porridge and the most delicate rice puddings.
The Umami setting allows the maximization of flavors for some of the most discriminating Japanese rice available in the US market.
If you are a rice lover, then this is the cooker for you as the time function allows to fill and start the machine in the morning, and so, you have freshly cooked rice in the evening when you get home.
If you have an active life, then the time function is for you.
3. Breville BRC600XL Rice Cooker
Breville BRC600XL Rice Cooker
is exactly what you may look for: forget about brown rice instructions and other rice recipes.
From now on, you will how you can make white rice, an authentic risotto or even a slow cooked meal in one appliance.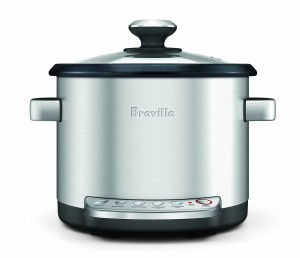 The Risotto Plus is an advanced multi-cooker that you can use for stir-free risotto, fluffy rice, slow cooked meals, and quinoa all in the same cooking bowl.
Also with a saute setting that allows you to caramelize all your lovely fresh ingredients.
Just taste the fluffy rice when steamed, spicy when in a slow cooked meal or creamy in a risotto.
This variety definitely makes weekly meals more interesting.
It has a 10-cup capacity which makes it 20-cup when cooked.
It has an aluminum nonstick cooking bowl, tempered domed glass lid, removable power cord for easy storage, rice scoop, serving spoon, stainless steel steaming tray and instruction booklet.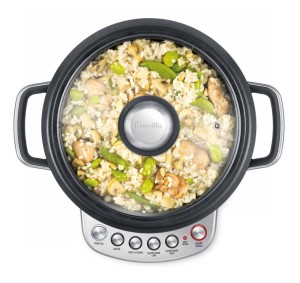 This is going to make your life so much easier to start chili in the morning and have it ready for dinner, or soup, rice, hot cereal, etc.
This is a splurge that makes life easier. Plus, it is easy to use and very simple and instructions come with some nice recipes.
Definitely, Breville products always impress but this one is a hidden gem. No, it does not produce risotto like a 5-star chef or rice like the best Chinese restaurant.
But it does produce fine quality recipes with ease, speed, and Breville style.
4. Cuisinart Stainless Steel CRC-400 Rice Cooker
This time, Cuisinart Stainless Steel CRC-400 Rice Cooker
will reveal you the directions to follow for brown rice.
With this device, you will get the perfect rice dish as its steam vent helps to prevent splattering, while its chrome-plated handles stay cool to the touch.
Just in case you may need to know, the cooker also steams vegetables and thin cuts of meat, creating a complete, fat-free meal with little effort.
Besides various types of rice, the cooker cooks couscous, polenta, oatmeal, boiled eggs, shrimp, and much more.
Also, you will observe two different colored LED lights that illuminate, one during the cooking phase, and the other when the machine automatically switches to warm when cooking is done.
Included with the machine are a textured plastic paddle for stirring and serving, and a plastic measuring cup calibrated specifically for rice.
This cooker comes with an included booklet that presents gourmet recipes for such mouth-watering meals as Creamy Parmesan Risotto with Asparagus, and Teriyaki Steamed Chicken with Cranberry Wild Rice.
So, you are going to impress your guests or family members with delicious dishes.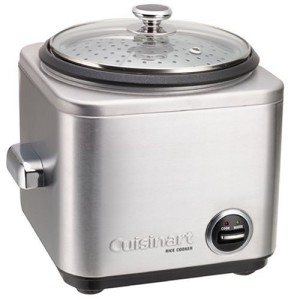 This rice cooker is aesthetically appealing, and the retractable cord is a plus. It takes 20 minutes to cook 6 cups, which is not bad if you need time to prepare other foods, even if you are only heating up leftovers.
As a tip, follow the ratios of water to grain recommended in the accompanying booklet, not on the grain packages: so, you will cook a delicious brown rice and know how much water is needed.
5. Oster 3071 Smart Digital Rice Cooker
For a short brown rice cook time, you may choose Oster 3071 Smart Digital Rice Cooker
.
It has a brushed stainless steel housing with cool touch black locking lid and a 20-cup finished rice capacity (10 cups uncooked rice).
With the "smart" digital panel adjusts the cooking temperature accordingly to create the perfect rice every time.
Digital housing unit with 5 easy-to-use programmable cooking features includes white rice, brown rice, steam, breakfast, and soup. The inner pot seems to be aluminum with a non-stick coating.
The steam tray is white plastic.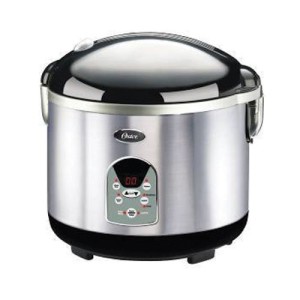 The Oster unit takes 45-60 minutes to cook the same rice! However, the Oster rice cooker does not get as hot and produces far less steam from its vent as compared to an Aroma rice cooker.
Yes, the Oster unit is cooking at a lower wattage, kind of like cooking in a 600-watt microwave oven vs an 1100 watt.
The power cord is a little on the short side but it is fine if you have the rice cooker right by the power outlet (or you can use an extension cord).
The owner's manual is a little skimpy. If you want and need some recipe suggestions, you will find them here.
If it takes an hour for white rice, you need to allow at least two hours for brown rice. So, you may know the proportions for brown rice and in case you may need to add another water ration.
6. The Pampered Chef 2779 Rice Cooker
This Pampered Chef 2779 Rice Cooker
is an exclusive 3 quart cooker with unique double-lid design prevents boil over so your microwave stays clean.
You can get perfect rice every time right in your microwave, but it also cooks vegetables, soups and stews or re-heats leftovers.
Just follow the brown rice directions, and you will have a delicious meal. The size does not really allow you to cook a lot of rice and you do not save any time.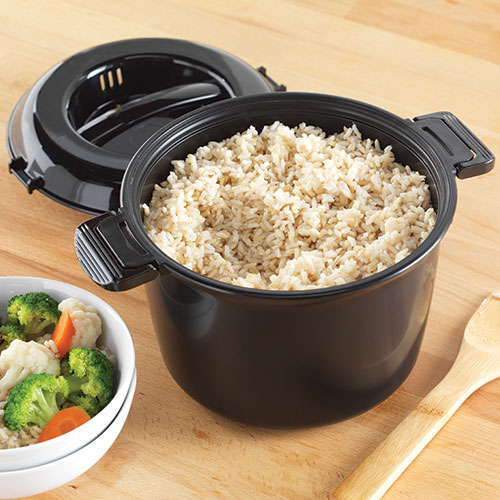 In fact if you use more than one type of rice, for example brown and white, or buy a different brand you need to read the directions to see how to microwave it.
Normally brown rice will take 3-5 minutes longer but you cannot cook it straight through, it will burn.
If you are concerned about how much water you need, just follow this tip: use more water than with white rice and cook and check the rice periodically.
Not just for rice, it warms leftovers, casseroles, all kinds of things. Sure it costs a little more than the cheap ones, but the heavy duty plastic and thoughtful design will ensure that it outlasts the flimsy stuff.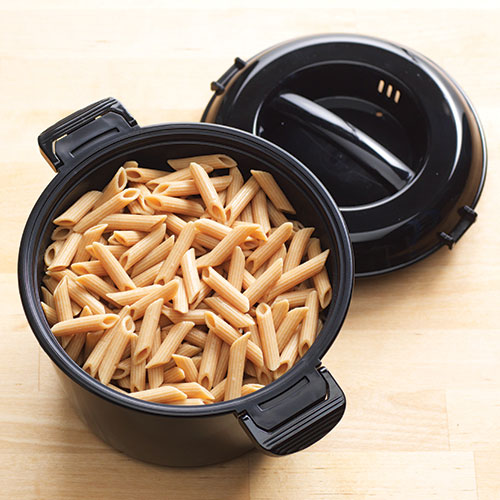 You need to use 2-1 water to rice ratio. So, for example, 2 cups water, 1 cup rice. Cook on 100% for five minutes and then, cook on 50% power for 15 more minutes. Let set a couple minutes after, then fluff with fork. Made in Hong Kong.
And so, you will have perfect rice every time!
7. Panasonic SR-DF101 Microcomputer Rice Cooker
This Panasonic SR-DF101 Microcomputer Rice Cooker
provides microcomputer fuzzy logic controller; this means that you do not need to do anything else as it adjusts power depending on how much rice is being cooked for precise cooking and more consistent results.
And once you cook brown rice, you should not wonder how long it will take: preparing any type of rice can be done very fast.
With Panasonic, you have a user-friendly approach and a multitude of options that are normally offered with cookers in the same form factor.
Both the white rice and the brown rice setting work great, with white rice, usually taking 20-30 minutes and the brown rice taking significantly longer (you will need 1-hour pre-cook soak and about 1.5-1.75 hours to cook after the brown rice cook mode has been started).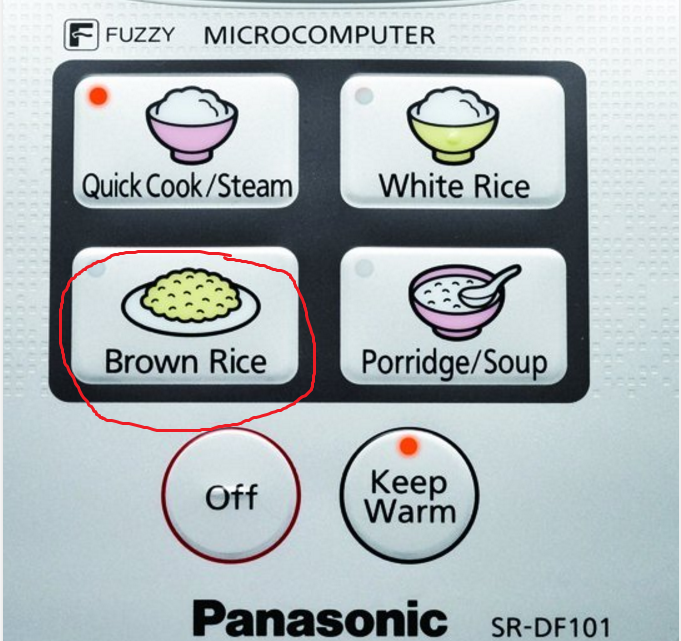 In case you want some tips to get perfectly separated and fluffy basmati rice, be attentive: add 1 tablespoon lemon juice (this will ensure that rice does not stick) and few tablespoon oil to the water.
The "Brown Rice" setting is relatively slow, and may not be needed in view of organic brown rice that requires no pre-soaking and cooks as quickly as white rice.
It brings its own measuring cup, so it is easy to know how much rice and water to use. Once you add the rice and water, close the lid, press the button and let it do its magic.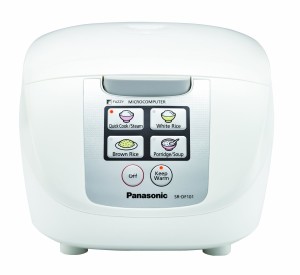 The new rice cooker produces a lot of condensation that puddles in channels under the tight-fitting cover.
8. Rival RC61 6-Cup cooked Rice Cooker
With Rival RC61 6-Cup cooked Rice Cooker
, you get a complete, healthy, fat-free meal every time.
It is simple to operate, the cooker features just one switch and two settings, cook and keep warm.
During cooking, a red light is illuminated; when cooking is complete, the switch automatically reverts to the keep-warm setting and a yellow light comes on.
For those that are interested, they can also cook brown rice that will turn perfectly cooked although the cooker has not a brown rice setting.
Consider using more water than if you cooked white rice and the amount of extra water needed will vary, depending on how much you cook.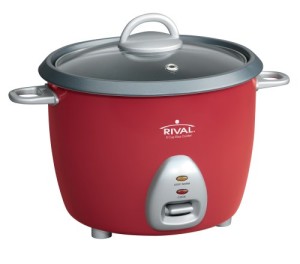 It is fast. It does two cups of basmati rice in about 20 minute and two cups of brown rice in about 30.
It cooks in the manner of a Chinese bamboo steamer: the steam from the rice rises up and cooks the veggies/shrimp/whatever you put in the top basket.
Using the steamer does not decrease the amount of rice you can cook as it sits completely above the cooking rice and the lid is placed on top of it all.
This is easy to clean: just stick the bowl and lid in the dishwasher and you are done. Hand washing a rice cooker is a pain, especially if it does not have a removable bowl.
This one is a piece of cake. This one sits on top with its own handle so you can just stick it in between the rice and the lid and later remove it whenever you want without burning yourself or disturbing the rice.
This is a fabulous little rice cooker in an irresistible red. It cooks the rice just right in a truly non-stick container.
The only drawback is the cook and warm lights are difficult to see in a well lighted kitchen. Also be warned that when it is plugged in, it is warming.
9. Sanyo ECJ-M100S with Brown Rice Option
And last but not the least, Sanyo ECJ-M100S with Brown Rice Option can prepare rice, vegetables, soup much more deliciously.
You get multi-menu selections on the easy to use digital keypad ideal for white rice, brown rice, sushi rice, quick cooking, soup, steaming and even cake baking.
And the micro-computerized cooker makes up to 20 cups of rice, plenty for your family gatherings.
Cooking rice in Sanyo ECJ-M100S with Brown Rice Option may take a little longer than other models but the humidity regulation always ensures you have awesome rice regardless of whether you put too much or little water in.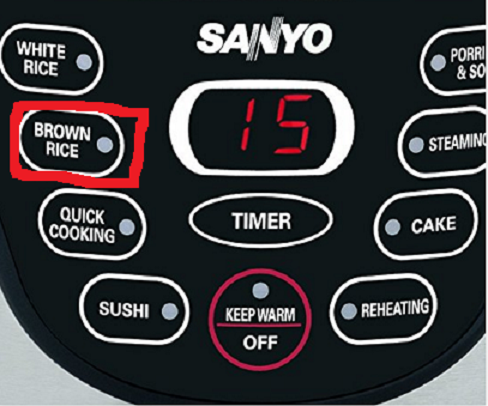 Recipes and instructions are clear and easy to understand how long or how much water needed.
This Sanyo rice cooker is large as it will make rice for a crowd or enough for several days.
There is a steam collector that keeps it from dripping on the counter and yes, steam does escape while it cooks.
You can make great soups without having to check on it regularly. Just put my vegetables, meat, stock, etc. in the pot and press the soup button for a delicious soup.
The biggest surprise is that it can make a perfect cake. Yes, it is a single layer but perfect for two people, it is sturdy and dependable, and extremely easy to clean as Sanyo is a premier maker of rice machines.
It is exceptionally easy to use, cooks brown rice perfectly, and keeps it warm for hours. But, there is no countdown on when a cycle will be finished.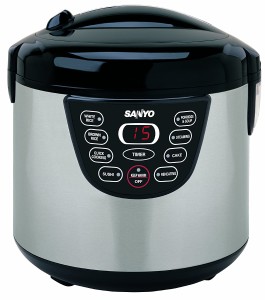 You cannot set steam for a certain number of minutes, you need to catch it when it begins to boil and then manually time it.
10. Comparison Table
Brand
Capacity
Dimensions
Menu
Other
features
Inner
Pot
Accessories
included
Aroma
ARC-6106
It
prepares 4 to 20 cups of any variety of cooked rice
10.6
x 14.5 x 8.6 inches
White
Rice, Brown Rice, Quick Rice, Steam, Cake, Porridge, Oatmeal, Soup, Stew and
Slow Cook functions
Delay
Timer, automatic Keep-Warm, Sauté-Then-Simmé function
Nonstick
Inner Pot
Steam Tray, Rice Measuring Cup, Soup Ladle,
and Serving Spatula.
Zojirushi
NS-YAC18 Micom Rice Cooker
10
cup capacity
16
x 11 x 10.6 inches
white,
umami, mixed, sushi, porridge, sweet, brown, GABA brown
rinse-free,
quick cooking and slow cook, an automatic keep warm feature, delay timer
Black
thick spherical inner cooking pan
N/A
Breville
BRC600XL Rice Cooker
10-Cup
(Uncooked), 20-Cup (Cooked)

12.6 x 11.5 x 10 inches

slow-cooked
meals, stir-free risotto, fluffy rice and quinoa
Risotto,
Sauté, Rice/Steam, Slow Cook (low), Slow Cook (high), keep warm
Aluminum
nonstick bowl
Recipe
booklet
Cuisinart
Stainless Steel CRC-400 Rice Cooker
4-cup
rice
cooker
7-3/4
by 7-3/4 by 9 inches
various types of rice, the cooker cooks
couscous, polenta, oatmeal, boiled eggs, shrimp, and much more.
Cook
and warm functions
a
high-quality stainless-steel steaming basket and a nonstick cooking
bowl
paddle
and measuring cup, an included booklet
Oster
3071 Smart Digital Rice Cooker
20-cup
rice cooker
10-1/2″x
11″x11″
cooking
functions: white Rice, Brown Rice, steam, breakfast, and soup
Keep-warm
mode; delay timer;
removable
nonstick inner pot
steam
tray, Rice Paddle, rice-paddle holder clip, and measuring cup included
The
Pampered Chef 2779 Rice Cooker
3
Qt Capacity
9.5
x 6.5 x 8 inches
It
cooks vegetable, soups and stews or re-heats leftovers
Re-heat
function
N/A
Use
and Care instructions with recipe for Savory Vegetable Rice Pilaf
Panasonic
SR-DF101 Microcomputer Rice Cooker
up
to 5 cups
It
measures 10-1/4-inch (d) by 13 13/16-inch (w) by 7 3/4-inch (h), 6.6-pound.,
White
Rice, Brown Rice, Porridge / Soup,
Steam
/ Quick Cook, Keep Warm function
Non-stick
coated pan
steaming
basket, rice scoop and measuring cup, detachable power cord
Rival
RC61 6-Cup cooked Rice Cooker
6-cup
rice cooker
It
measures approximately 11-1/2 by 8-1/2 by 10 inches
white
or brown rice, steamed vegetables
two
settings, cook and keep warm
nonstick
removable inner pot
a
measuring cup and a plastic rice paddle for stirring and serving the
rice.
Sanyo
ECJ-M100S with Brown Rice Option
It
makes up to 20 cups of rice, plenty for your family gatherings.
It
measures approximately 11 by 10-1/2 by 11 inches
Multi-menu
selections on the easy to use digital keypad are ideal for white rice, brown
rice, sushi rice, quick cooking, soup, steaming and even cake baking
15-hour
timer; keep-warm mode; reheat function;
nonstick
inner pot for easy cleanup
steam
tray, measuring cup, spatula, spatula holder, and user manual included