Rena Ware IC-350 vs IC-400 Induction Cookers
Rena Ware Induction Cooktop Model IC-350 or Rena Ware Induction Cooktop Model IC-400?
You may consider one of these two induction cookers for your daily cooking; but which one is the best?
Now, you have the opportunity to compare these two appliances in order to make a great decision for your cooking needs.
Have a look at all this information that we provide to you in order to get an idea regarding these two Rena Ware models of induction cookers.
Take your time to decide what it is really right for your and for your needs; either of both induction cooktop is a great investment for any kitchen.
1. Rena Ware IC-350 Induction Cooktop
As any of induction cooktop available on the market, this Rena Ware IC-350 Induction cooker works by generating a magnetic field.
So, once you place an induction compatible cooking utensil on surface that generates this magnetic field, the field transfers its energy into the utensil causing it to heat.
It is sure that with such a unit, you are going to obtain foods that taste better, look better, and are better for you and your family. As a recommendation, you can use Rena Ware utensils with your induction cooker for the best "waterless" cooking results.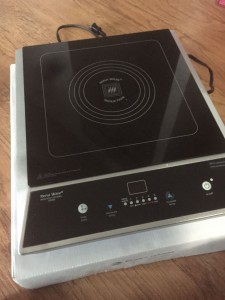 Rena Ware guarantees you a healthy cooking system that lets you prepare delicious meals while retaining important nutrients in foods, often lost using other cooking methods. Try this "waterless" cooking method that locks moisture in the utensil so foods cook in their natural juices.
This induction cooker is easy to use. First, you have to read all operating instructions, and then, to take a few minutes to practice using the cooker.
You can start by boiling some water in a covered utensil and adjust the temperature settings, and use the warming function and the timer.
2. Rena Ware IC-400 Induction Cooktop
With an innovative design, Rena Ware IC-400 Induction Cooker ensures you the benefits and convenience of this ultra-modern method of cooking; from now on, you are going to cook safer and faster, and your kitchen will stay cooler.
Also, as in the case of Rena Ware IC-350 Induction Cooker, you are going to discover the "waterless" cooking technique in order to experience the best of healthy cooking.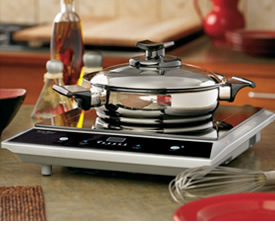 You will enjoy excellent control as heating levels adjust easily and quickly and so, you have the controllability of gas with the energy efficiency of induction.
Thus, this unit is light-weight and portable and this means that it goes with you from the kitchen to the dining room, being great for entertaining! Do not be afraid once you observe that the induction cooker will cycle on and off on the Warm setting as this fact is perfectly normal.
For more precise results, you are going to find cooking time charts you can reference in the user guide of the cooktop. This can be very helpful as it will reduce cooking times and lower your energy bills at the same time.
Some safety features of this product are in line fuse (250V/14A), overheat sensor, temperature thermostat, small object detector, over voltage sensor; these features are also available for Rena Ware IC-400 Induction Cooker.
3. Differences
Although at a first sight, these two products seem to be very similar, some differences between Rena Ware IC-350 and IC-400 Induction Cookers are evident.
Rena Ware IC-350 model measures L 37.5cm, W 32cm, H 6.5cm (L 14.75", W 12.5", H 2.5") and weighs 2.8 kg (6lb 3oz), while IC-400 Induction Cooker L 35.7cm, W 33cm, H 6cm (L 14", W 13", H 2.4") and 3.32 kg (7lb 5oz).
With a different design, the ceramic plate of Rena Ware IC-350 is black, and the cooking surface of Rena Ware IC-400 is dark gray.
The housing of IC-350 model is, this time, dark gray, while the one of IC-400 model is black.
The control panel of IC-400 Induction Cooker is different than that of Rena Ware IC-350 Model; for the first cooker, you get a power button, power indicator light, increase and reduce temperature controls, cooking temperature lights, warm select button, warming light, set time button, cancel time button, and timer indicator display.
On the other hand, for IC-350 model, you will see on the control panel set time button, reduce temperature control, warming light, cooking temperature lights, increase temperature control, power button, power indicator light, and timer indicator display.
With maximum output wattage of 1300 or 1800 watts (it is available in two models with different output wattages), IC-350 induction cooker could be exactly what you need.
Having IC-400 induction burner, you can reach only 1300 watts and this always makes the difference in the kitchen.
4. Conclusion
It is hard to say who should buy Rena Ware IC-350 Induction Cooker and who IC-400 Induction Cooker.
Being portable and very compact, these units are great for small or large space cooking, for moments when you need an extra burner or when you have to transform a space into a cooking one.
Rena Ware IC-350 Induction Cooker has a more traditional design, while IC-400 Induction Cooker is among the latest products on the market.
So, if you want something new, you may choose IC-400 model, while IC-350 is perfect for those who want an easy to use, fast and more powerful burner.
5. Comparison Table
Rena Ware IC-350 Induction Cooker
Rena Ware IC-400 Induction Cooker
Destination Use
Household use only
Household use only
Design
Black glass cooktop
gray glass cooktop
Power Source
110 Volt unit Single phase: 120v/50/60 Hz, 220 Volt unit Single
phase: 230v/50/60 Hz
110 Volt unit Single phase: 120v/50/60 Hz, 220 Volt unit Single
phase: 230v/50/60 Hz
Output Power
1300 watts/1800 watts
1300 watts
Power Levels
120-1300 watts/120-1800 watts
120-1300 watts
Temperature Levels
5 temperature settings, plus a warm setting: (1) Low, (2) Medium
low, (3) Medium, (4) Medium high, (5) High
5 temperature settings, plus a warm setting: (1) Low, (2) Medium
low, (3) Medium, (4) Medium high, (5) High
Programmable Timer
Yes, (up to 199 minutes)
Yes, (up to 99 minutes)
Function Lock
No
No
Warranty
one year from the date of purchase
one year from the date of purchase
Acoustic Warnings
No
No
Weight
2.8 kg (6lb 3oz)
3.32 kg (7lb 5oz)
Dimensions
L 37.5cm, W 32cm, H 6.5cm (L 14.75", W 12.5", H 2.5")
L 35.7cm, W 33cm, H 6cm (L 14", W 13", H 2.4")
Cord Length
1.8 m (4.2 ft.)
1.8 m (4.2 ft.)
Glass Cooktop Size
N/A
N/A
Safety Sensors
In line fuse (250V/14A), overheat sensor, temperature thermostat,
small object detector, over voltage sensor
In line fuse (250V/14A), overheat sensor, temperature thermostat,
small object detector, over voltage sensor
Induction Cookware Sensor
Yes
Yes
Induction Overheat Sensor
Yes
Yes
Glass Cooktop Overheat
N/A
N/A
Free pan
No
No
Price
Ebay
Ebay