Quantum Portable Induction Cooktop (1800W)
If all you want is an induction cooktop which is more energy efficient than gas or electric, cooks foods faster and loses less heat in the process, then you should meet Quantum 1800W Portable Induction Cooktop Countertop Burner
.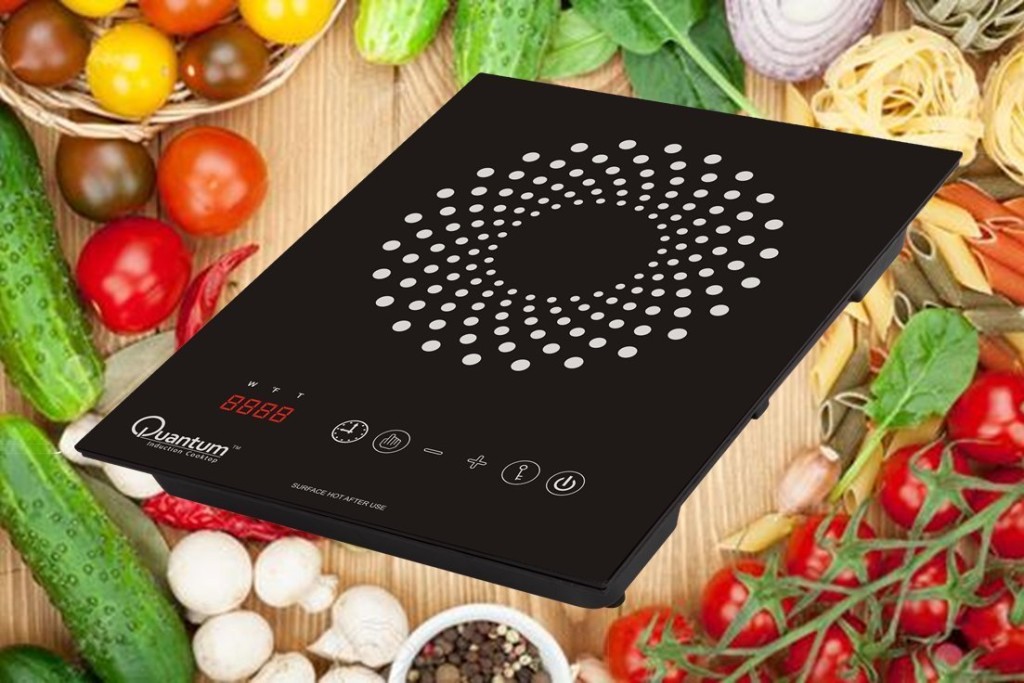 Lightweight and portable, the Quantum cooktop makes it a snap to cook or warm food anywhere and all you need is a standard electrical outlet.
Try this appliance and discover a better performance; it shaves minutes off the time it takes to cook dinner!
1. Controls
Certainly, the controls of Quantum Portable Induction Cooktop (1800W) totally get the job done; the rich digital control panel with digital countdown timer up to 170 minutes is easy to use.
When LEDs are lighted, you have to press the ON/OFF key to turn the unit on, then to press the function key (hand icon) and to select the cooking power or the temperature level using the minus and plus keys.
2. Surface
This unit features a dazzling sleek modern appearance and state-of-the-art technology.
The glossy flat surface feels very sturdy, and the unit sits on short, sturdy legs which allow the quiet fan underneath to properly ventilate the magnetic coils keeping them cool.
It heats up very fast, can be used with induction stainless steel plate pan or cast iron pan and you can monitor the temperature quite easily with the up and down buttons.
According to the instructions, the base of your pan should be no less than 5 inches in diameter.
Quantum Portable Induction Cooktop (1800W) is compatible with cast iron, magnetic stainless steel, enameled iron and steel and all induction-specific cookware.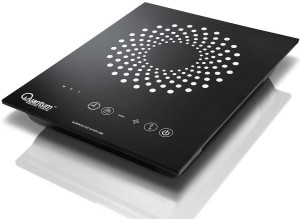 3. Heating Elements
This is the best-looking single burner induction cooktop available anywhere. The cooktop does not generate any heat itself, but it causes the pan to heat up through magnetic induction.
As there is no heat that may radiate up from the cooking surface, there is nothing to heat the handles in the way that a traditional stove would.
The power setting shows up digitally after you turn on the induction burner, and then you need to touch the button that looks like a hand.
There are 8 power levels and it starts at 1800W then you can lower it to 200W with the – and + buttons.
4. Power/Watts
Lightweight and portable, the Quantum cooktop makes cooking or warming food a pleasure anywhere there is access to a standard electrical outlet. It is rated at 120 volts, 15 amps, standard in all homes and ETL approved.
Quantum cooktop is 83% energy efficient as Quantum induction cooktop operates at 12 cents per hour energy cost while gas burners are only 30-35% efficient and cost $1.65 per hour to operate.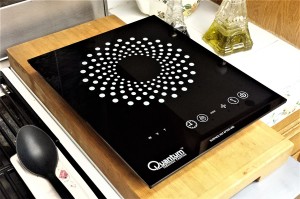 Check Price on Amazon
5. Sensors
With Quantum Portable Induction Cooktop (1800W), you are going to discover the smart cooking; the unit detects if there is any pot on the burner or if you are using compatible cookware. In other circumstances, the item is not going to work.
6. Ventilation
The ventilation system of Quantum Portable Induction Cooktop (1800W) guarantees a proper operation; the components are not overheated, while the very slight fan may run after turning off the cooktop for several minutes.
7. Safety Features
Quantum Portable Induction Cooktop (1800W) is designed with auto pan detection, child safety lock, and low and high voltage warning system.
This means that the cooktop will detect if you are or are not using compatible induction cookware; there is no risk of any accident as the cooktop has child safety lock and in the case of low or high voltage, the electronic components will not get damaged.
8. Accessories
If you decide to order Quantum Portable Induction Cooktop (1800W), you will receive your cooktop with a power cord, a user manual and a warranty certificate in just a couple of days.
Make sure you are going to read all the instructions provided by the manufacturer and follow all the indications available in the user guide.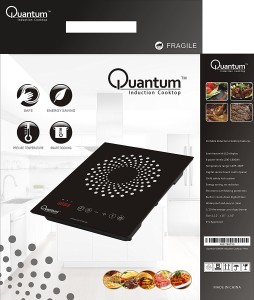 9. Dimensions
The unit measures 15 x12 x 2.5 inches with a 5-foot power cord and weighs 7.3 pounds.
10. Pros
11. Cons
12. Consumer Ratings
Buying Quantum 1800W Portable Induction Cooktop Countertop Burner will turn to be a great investment for every kitchen as the consumer rating shows on Amazon
. This induction burner works as advertised and you are going to have no complaints.
13. Price
Those who want to purchase the Quantum 1800W Portable Induction Cooktop Countertop Burner can order it from Amazon; its price is this on Amazon
, but it is sure that the product is worth every dollar.
It is extremely powerful, safe and easy to operate and you can use wherever you get an electrical source.
Quantum 1800W Portable Induction Cooktop
Manufacturer
QuantumTM
Destination use
Home
Controls
6 (power control, lock control, + and – buttons, function key,
timer control)
Control Panel
digital control panel
Functions
Power, Timer
Surface
glossy flat surface
Color
Black surface
Power Source
120 volts, 15 amps – standard in all homes
Output Power
1800 Watts
Power levels
200-1800 Watts
Temp Levels
temperature range from 140 Degree Fahrenheit to 460 Degree
Fahrenheit
Temp step increment
N/A
Programmable Time
Built-in count-down digital timer with 1 min increments up to 170
minutes
Function Lock
Yes, safety lock key
Warranty
N/A
Acoustic warnings
No
Weight
7.3 pounds
Shipping Weight
7.3 pounds
Dimensions
15 x12 x 2.5 inches
Cord Length
5-foot power cord
Led Display
No
Safety Feature
auto-pan detection, diagnostic error message system, low
and high voltage warning system, safety lock key.
Error Codes
Yes, available in the user manual
Pan size (bottom diameter)
the base of your pan should be no less than 5 inches in diameter
Cookware material
Pans made from ferrous metals such as cast iron, sheet enameled
steel, or magnetic stainless steel
Free PAN
No
Around Clearance
N/A
Made In
USA
Price
AMAZON LINK