Philips HD4933 Avance Collection Portable Induction – cook easily your favourite dishes!
Do you need an induction burner? Or do you consider purchasing a portable appliance?
As nutrition is essential to good health, Philips wants to offer you the best.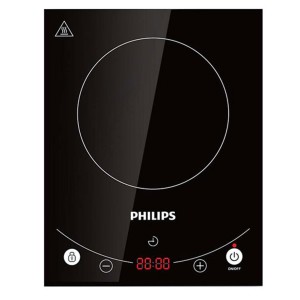 Be sure that with this Philips HD4933 Avance Collection Portable Induction
, your food will abound in nutrients and all your meals will be healthy and delicious.
And forget about spending too much time in the kitchen: with this induction burner, you save time and money.
1. Controls
With a sensitive sensor touch operational panel, you have the following controls: child lock, timer, On/Off, increase and decrease.
You can use the timer control in order to decide how much time you want the appliance to work.
As you may intuit, when the time has elapsed, the burner stops working automatically.
To enter child lock mode or to unlock this mode, you have to touch the child lock icon for 3 seconds.
2. Surface
The black glass surface is fashionable and heat resistant.
You have to use cookware of the correct types and this means cookware with a bottom made of iron or magnetic stainless steel, with a flat bottom and with a bottom diameter of 10-23 cm depending on the cooking mode.
For cleaning the surface, you need a damp cloth and some mild cleaning agent.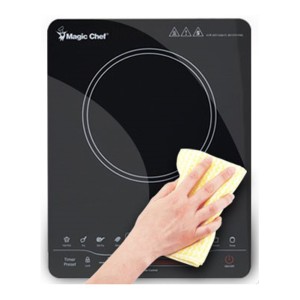 3. Heating Elements
With 6 speed levels suitable for the different requirements of cooking, this single burner induction provides 2000W high power for faster cooking.
It seals nutrition into food and all the nutrients are kept; you can cook fast and easy every time you want.
4. Power/Watts
The maximum power output reaches 2000W during cooking. Regarding the electrical requirements, these are the necessary details:
As you buy this unit rated at 220 volts, you may need a step up voltage converter
for 110 volts (for Canada, USA). A plug adapter can be added on demand.
5. Sensors
Your Philips HD4933 Avance Collection Portable Induction is going to recognize if you are using the induction compatible cookware.
And do not forget that you can lock the control panel by pressing down on the Child lock button for three seconds.
6. Ventilation
This Philips HD4933 Avance Collection Portable Induction is designed with air inlet and air outlets for providing ventilation and so any of the induction's components will work properly.
Make sure that there is at least 10 cm free space around the appliance and so, you will prevent overheating.
7. Safety Features
This unit is very safe to operate. You have a child lock that keeps your kitchen safe and offers peace of mind.
And definitely, you will enjoy no flame cooking that provides a safe environment.
Certainly, this induction cooktop is extra safe with multiple protection and self – check programs.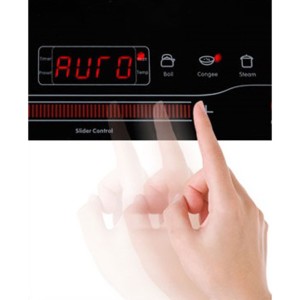 Check Price
8. Accessories
Being ideal for cooking a variety of healthy dishes, this Philips induction cooktop is delivered with its power cord, the warranty certificate, and the user manual.
Before first use, you have to remove all packaging materials from the induction cooker and read all the guidelines.
9. Dimensions
Here are the exact dimensions of Philips HD4933 Avance Collection Portable Induction:
10. Pros
11. Cons
12. Consumer Ratings
A consumer rating of Philips HD4933 Avance Collection Portable Induction has not been established yet. Because people have not the chance to try this new Philips product, they have not provided their feedback, but as you may see, this induction cooktop is worth every penny.
13. Price
For Philips HD4933 Avance Collection Portable Induction, you have to pay this price on Amazon
.
If you decide to purchase this product, you can order it from Amazon. Cook a great variety of meals with fast heating and safety.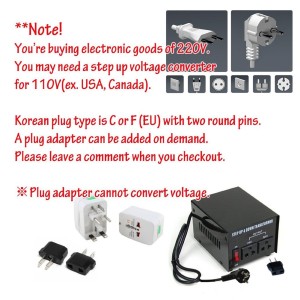 14. User Manual
15. Table
Philips HD4933 Avance Collection Portable Induction
Destination
Use
Indoor and outdoor use
Design
Black ceramic glass cooktop very resistant to heat
Power Source
220V, 60 Hz
Output Power
1800W
Power Levels
6 power levels for cooking a variety of healthy dishes
Temperature
Levels
N/A
Programmable
Timer
Yes
Function
Lock
Yes, child lock
Warranty
N/A
Acoustic
Warnings
N/A
Weight
3.12 kg
Dimensions
Height: 38mm
Width: 289 mm
Depth: 370 mm
Cord Length
1.2 m
Glass
Cooktop Size
N/A
Safety
Sensors
auto-pan detection feature, Child lock that keeps your kitchen safe and offers peace
of mind, Extra safe with multiple protection and self – check programs
Induction
Cookware Sensor
Yes
Induction
Overheat Sensor
N/A
Glass
Cooktop Overheat
N/A
Free pan
No
Price
Amazon Link