Panasonic KY-MK3500 Commercial Induction Cooktop – and cooking will turn to be a real pleasure!
Looking for a commercial induction cooktop? How about having the newest one that uses the ultimate technology?
This is possible if you are intended to buy Panasonic KY-MK3500 Commercial Induction Cooktop; it has the power and the control that any commercial kitchen needs for their customers.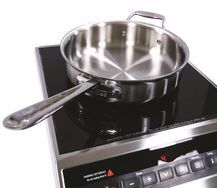 Take your time to find out more about this appliance in order to decide what is great for you and your business!
1. Controls
The control panel is very easy to use; you can control all the features of Panasonic KY-MK3500 Commercial Induction Cooktop: On/Off, Memory, Power Level, + and -, Timer, Temperature, Up and Down. Forget about open flames or heat diffusion, venting issues and choose responsive heating efficiency and easier-to-clean glass surfaces; this Panasonic comes with Met-All technology, IR sensor, and luminous circle.
2. Surface
This Panasonic model has a tough and durable cooktop surface; its surface is made of heavy duty glass for years of continuous cooking service.
The smooth durable surface is easier to keep clean than gas cooktops.
Designed into the cooktop's glass surface, a high-visibility circle illuminates when the temperature rises above approximately 122°F.With the product, you can use stainless steel, aluminum, copper or iron cookware.
3. Heating Elements
Panasonic KY-MK3500 Commercial Induction Cooktop has one heating elements, but it is exactly what you need if you work in a restaurant, you are in the buffet area or have a catering business.
Its 3500 Watts maximum power provides fast and responsive heating and cooking whenever is needed.
4. Power/Watts
If you want to enjoy fast, responsive heating and cooking, you should purchase this Japanese engineered induction heated cooktop.
With 3500 Watts maximum power, 20 power levels, timer, memory, 22 temperature adjustment levels and LED displays, this unit turns to be exactly what you may need for your cooking sessions.
The appliance is based on an efficient 1200 copper-wire coil that detects different pan types and generates energy up to 120 kHz to heat only the cooktop area in contact with the base of the pan.
5. Sensors
Panasonic KY-MK3500 Commercial Induction Cooktop includes an infrared sensor that detects quickly, directly and precisely the temperature of the bottom of pots and pans; this is necessary in order to maintain even and controlled heat temperatures from 285° to 500°F and every degree in between.
Also, it has an IR temperature sensor that guarantees the ideal temperature control necessary for delicate cooking like crepes, omelets and pancakes, and higher temperatures for stir-fry and deep-fry dishes.
6. Ventilation
The ventilation system of Panasonic KY-MK3500 Commercial Induction Cooktop ensures a precise functionality without any problem regarding overheating or damage of electronic components.
7. Safety Features
Induction eliminates any risk of burns; to help prevent accidental contact, a luminous circle is built into the cooktop's heavy-duty glass surface and glows to warn that the cooking surface is hot.
8. Accessories
Panasonic KY-MK3500 Commercial Induction Cooktop comes with a power cord, a user manual, and a warranty certificate. Please make sure you read all the instructions before starting to use the commercial unit.
9. Dimensions
Dimensions are provided by manufacturer:
Height: 5.92 inches
Width: 14 inches
Depth: 16 inches
10. Pros
11. Cons
12. Consumer Ratings
The reason why you will not find reviews of Panasonic KY-MK3500 Commercial Induction Cooktop is that it is a product recently launched on the market and people have not the chance to try it for their business.
This is why any consumer rating has not been established yet; this should not make you change your mind as all its features and characteristics reveal a great commercial appliance.
13. Price
If you intend to buy Panasonic KY-MK3500 Commercial Induction Cooktop, you should know that it is available at $4,499.95 by order directly on the Panasonic Company site.
Be sure that such an investment is what you need if you have to deal with restaurants, catering, buffets and other commercial settings.
Panasonic KY-MK3500 Commercial Induction Cooktop
Manufacturer
Panasonic
Destination use
Commercial use
Controls
9 (On/Off, Memory, Power Level, + and -, Timer, Temperature, Up
and Down)
Control Panel
bright LED displays
Functions
Power, Timer, Temperature, Memory
Surface
Heavy-duty glass
Color
Black surface and silver frame
Power Source
N/A
Output Power
3500 Watts
Power levels
20 power levels (18 for aluminum)
Temp Levels
22-level temperature adjustments (285° to 500°F)
Temp step increment
Yes
Programmable Time
Yes
Function Lock
N/A
Warranty
N/A
Acoustic warnings
N/A
Weight
N/A
Shipping Weight
N/A
Dimensions
Height: 5.92 inches
Width: 14 inches
Depth: 16 inches
Cord Length
N/A
Led Display
N/A
Safety Feature
A Luminous Circle built into the cooktop's heavy-duty glass
surface glows to warn that the cooking surface is hot.
Error Codes
N/A
Pan size (bottom diameter)
N/A
Cookware material
stainless steel, aluminum, copper or iron cookware
Free PAN
No
Around Clearance
N/A
Made In
Japan
Price
Panasonic Link