NWK Multifunctional Induction Cooker – just cook with a great pleasure!
Comfortable cooking experience?
This is the desire of any person who wants or loves to cook.
But how can you reach this experience? The answer is NWK Multifunctional Induction Cooker, a compact induction cooktop that you can carry with you or can use in any small cooking space, indoors or outdoors.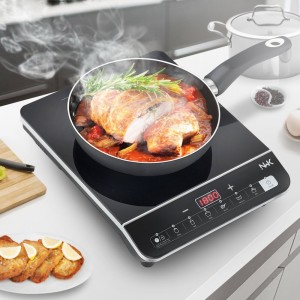 Give it a try and definitely, you are going to recommend it to all your friends!
1. Controls
For a great operation, the item has a touch control panel and digital temperature display.
Plan to cook using the build in countdown digital timer with 1 min increments up to 180 minutes (for boil, stew, deep frying and stir frying function) or the preset timer from 1 min increments up to 24 hours (for soup and heat milk function).
2. Surface
The cooktop is designed with a polished A-grade crystal plate surface.
This feature-rich cooktop is compatible with induction ready cookware in size range from 5 inches to 10 inches, such as cast aluminum, enameled iron and steel, stainless steel with a magnetic bottom, or cast iron.
3. Heating Elements
Just try this single burner with 6 pre-programmed quick functional settings: Heat Milk, Soup, Stew, Boil, Deep frying and Stir frying.
It is very helpful every time you want to cook fast and easy and also, lightweight and compact for easy handling and storage.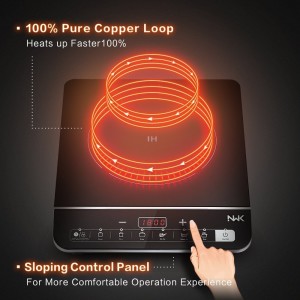 4. Power/Watts
The range of power levels is from 200 to 1800 watts, while one of temperature settings from 140 Degrees Fahrenheit to 464 Degree Fahrenheit, and these levels allow you adjust the cooking heat instantly and with great precision.
It is built to North American Electrical Standards.
5. Safety Features
NWK Multifunctional Induction Cooker provides auto-pan detection that will shut the unit automatically after 60 seconds if no cookware is detected.
Also, you have diagnostic error display helps trouble shooting and a children safety lock.
The unit is ETL approved and is provided with a 2-year warranty.
6. Accessories
The NWK induction cooker comes with a very thorough manual. If you get any after problem with the product, please get support by email: Atlantek@outlook.com and the customer service team will reply you in a timely manner.
7. Dimensions
The induction cooktop measures 11.4 x 14.1 x 2.8 inches and weighs 6.4 pounds.
8. Pros
9. Cons
10. Consumer Ratings
People who have tried NWK Multifunctional Induction Cooker are very happy with their new acquisition.
This is very simple to observe: the consumer rating shows this rating at Amazon, which is good for now.
Such an induction cooktop adjusts the power immediately and you get a nearly instant response.
It heats up fast and does a great job every time is used.
11. Price
For the moment, the product is listed at this price on Amazon site.
NWK Multifunctional Induction Cooker
Destination Use
Indoor and outdoor use
Design
Polished A-grade Crystal Plate Surface
Power Source
Built to North American Electrical Standards
Output Power
1800W
Power Levels
9 Power Levels: 200W – 400W – 600W – 800W – 1000W – 1200W – 1400W
– 1600W – 1800W
Temperature Levels
10 Temperature settings (Fahrenheit): 140F, 176F, 212F,248F, 284F,320F, 356F,
392F, 428F, 464F
Programmable Timer
Build in count down digital timer with 1 min increments up
to 180 minutes (for boil, stew, deep frying and stir frying function) and
Preset timer from 1min increments up to 24 hours (for soup and heat milk
function)
Function Lock
Children Safety Lock
Warranty
Provided with a 2-year warranty
Acoustic Warnings
N/A
Weight
6.4 pounds
Dimensions
11.4 x 14.1 x 2.8 inches
Cord Length
60 inches
Glass Cooktop Size
N/A
Safety Sensors
Child safety lock, auto-pan detection feature, Diagnostic error
display
Induction Cookware Sensor
Yes
Induction Overheat Sensor
N/A
Glass Cooktop Overheat
N/A
Free pan
No
Price
Amazon Link