5 Non Toxic Slow Cookers with Ceramic Insert and Glass Lid
It is not a secret anymore that with the right slow cooker you are on the way to healthy, home-cooked meals, no matter your schedule.
Also, these appliances are a lifesaver in any kitchen being perfect for soups, stews, and tough cuts of meat, as they are designed to simmer food at a low temperature for an extended period of time.
Despite all their advantages, you should consider the fact that a slow cooker brings out the flavor in foods. A wide variety of foods can be cooked in a slow cooker, including one-pot meals, soups, stews, and casseroles.
Just place all the ingredients in the slow cooker and this will save preparation time and cut down on cleanup.
And if you wonder why you should choose a slow cooker with a ceramic insert, keep in mind that ceramic insert is stovetop and oven safe.
Also, because you are heating through a thick ceramic insert, that energy comes very gently from the bottom, and, to a very slight degree, from the sides of the pot. So no chance you burn or brown your food.
With a removable ceramic insert, a slow cooker goes from the table for serving. Ceramic insert means with non-stick coated insert, making the cleaning of a slow cooker a breeze. According to various ceramic manufacturers, a ceramic insert heated at high temperatures will not emit any toxic fumes or toxins.
You can take with you the slow cooker wherever you go: from your kitchen to the office or party. And of course, a slow cooker will not heat the kitchen up to the way a large oven will, a real plus on a hot summer day.
Let's have a look at some of our recommendations regarding non-toxic slow cookers with ceramic insert and glass lid.
1. Cuisinart
1.1 Cuisinart PSC-350 Ceramic Slow Cooker
First, you should stop at Cuisinart PSC-350 Ceramic Slow Cooker
, an oval-shaped programmable slow cooker with 3-1/2-quart ceramic pot.
Built to North American electrical standards, this unit is designed with touchpad control panel, 24-hour LCD countdown timer, and 4 cooking modes.
It also includes automatic keep-warm, a glass lid, nonslip rubber feet, and stay-cool handles for safety.
If you want to have your favorite one-pot recipes ready and waiting for you, you should consider a slow cooker. By slow cooking, you should think about a traditional method that tenderizes meats and melds flavors for delicious and effortless dishes.
Despite making any meal for any occasion, you can even prepare desserts as this appliance is easy to operate, easy to serve from, and easy to clean.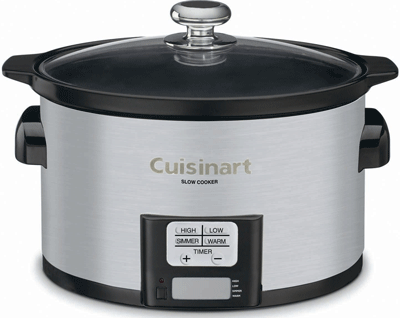 With a slow cooker, all you have to do is to add the ingredients to the unit's ceramic pot, insert the pot into the cooker, and set the 24-hour LCD countdown timer. So, you get your lunch or dinner after a long day at work or a busy day of weekend errands.
This slow cooker is perfect for soups, casseroles, pot roasts, curries, and more, while its capacity of 3-1/2-quart works great for single-person meals with leftovers or for small families.
It is definitely easy to cook with this unit having a user-friendly touchpad control panel and four cooking modes that include high, low, simmer, and warm.
The automatic warming feature means that when the cook time ends, the appliance automatically shifts to the "warm" setting, so dinner stays hot and ready to serve without overcooking.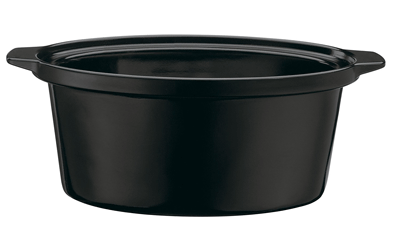 All parts that come in contact with food are BPA-free while cleaning your Cuisinart Slow Cooker is easy as several parts are dishwasher safe.
If you decide to purchase this slow cooker, an instruction manual with recipes comes included. Attractively housed in brushed stainless steel, the slow cooker measures 14-1/4 by 16-1/2 by 11-3/4 inches and carries a three-year limited warranty.
It is the right time to cook a healthy, homemade meal for your home family is easy and effortless with the Cuisinart Slow Cooker.
2. All-Clad
2.1 All-Clad SD710851 Slow Cooker Ceramic Insert and Glass Lid
Continue your search of the perfect slow cooker with the All-Clad SD710851 Slow Cooker Ceramic Insert and Glass Lid
. This time, you are going to meet a 4-quart stainless-steel slow cooker with a removable ceramic insert to serve 4 or 5 people.
It includes integrated handles on the insert for an easy grip and glass lid to trap heat and moisture. Enjoy the fact that the insert and lid are dishwasher-safe for an easy cleaning.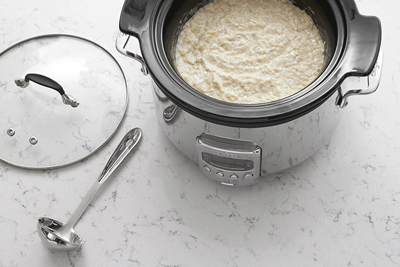 Another important aspect refers to the removable black ceramic insert that goes right to table for serving, is large enough for a family and is also dishwasher-safe.
Such a unit ensures ultimate kitchen performance and durability for a lifetime. Here is a great choice when cooking for four people or for two people with leftovers.
Now, you can get a slow cooker with 4-20 hours cooking times with a complete cycle time of up to 26 hours for preparing home-cooked meals on any schedule.
The time of cooking can be easily set using the easy to read digital display and large push-button controls; these buttons provide an intuitive use to easily find your perfect programs.
You get 3 cooking modes (High, Low, Hi/Lo) to be chosen from according to your recipe and needs.
The slow cooker provides a convenient way to cook a variety of delicious dishes, though the tantalizing aromas and tasty results will have dinner guests thinking you spent all day in the kitchen.
With the auto warm features, you can automatically keep food warm for up to 6 hours or until serving time. But an audible alert lets you know when the cook time has ended.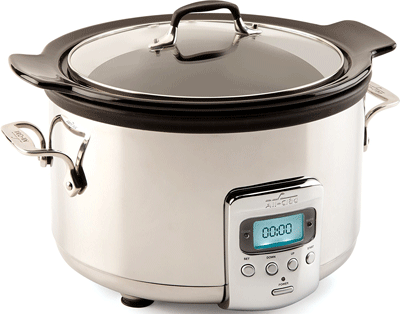 Using the slow cooker means simply adding the ingredients to the black ceramic insert (which can be done ahead of time and placed in the refrigerator); then, you should lower it into the slow cooker when it is time to start cooking.
This slow cooker is such a pleasure to cook in as the smooth ceramic inside in easy to clean and all your dishes that you are going to cook come out tender and delicious.
3. Hamilton Beach
3. Hamilton Beach 33642 Programmable Slow Cooker with Ceramic Insert
You can also try Hamilton Beach 33642 Programmable Slow Cooker with Ceramic Insert
which makes cooking time automatically adjust to the size you fill to.
All you have to do is to simply add ingredients in the morning and let the slow cooker finish the cooking automatically.
Once the cooking time is up, they automatically switch to warm.
The inside does not have a teflon coating, but it is ceramic and cleans up easily. Or a little nonstick spray before you cook and soaking after, and everything comes right off.
However, some people use the slow cooker bags like this, but it is so easy to clean there is no need or reason for the extra expense. And the filling size is clearly marked on the inside of the crockpot to help you when cooking.
With such a slow cooker, you get 3 sizes in 1 crock pot. The design offering 6, 4 or 2 quart settings eliminates the need for multiple slow cookers, and you need to just add food to the quart marks inside.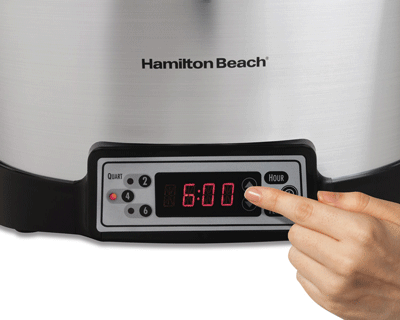 Another important aspect refers to the fact that the temperature automatically adjusts to the quantity being cooked.
Think about cooking roasts, appetizers, and everything in-between for your family and friends and they will be absolutely impressed.
The fact that it includes full-grip handles, it makes it carrying easier, while the clip-tight sealed lid is perfect for spill resistance and easy travel.
And do not forget about the easy-to-use control panel – LED display counts down the remaining time, then shifts to warm.
There are three heat settings: high, low, and warm. Warm will come on automatically after the designated time for cooking is completed.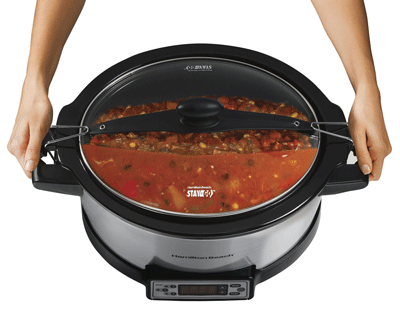 Keep in mind that you can also adjust the level of how much you have in the pot so this does a great job at not overcooking things when it is not full.
And you can also set the timer if you need it for a particular dish you are preparing.
4. Crock-Pot
4.1 Crock-Pot SCCPVI600-S Slow Cooker with Glass Glaze Insert
Crock-Pot SCCPVI600-S Slow Cooker with Glass Glaze Insert
is a slow cooker model with a ceramic-coated pot that can be used for stove-top browning and then placed in the slow cooker.
This appliance is perfect for a two-step process, starting with browning or searing meat on the stovetop before slow cooking to seal in flavors.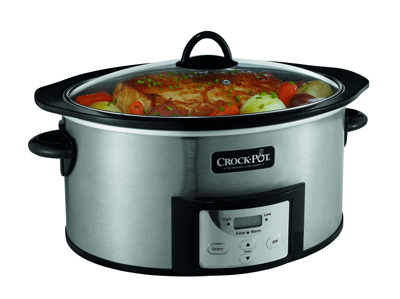 It is designed as a stovetop-safe pot that moves from stovetop to slow cooker in one smooth move.
You can sear in this double-duty cooking pot perfect for browning, searing, or sauteing prior to slow cooking. Then, you can slow cook using the digital countdown cooking timer for up to 20 hours.
And at the end, you can serve your food and once you are done the cooking, be sure to unplug and allow your slow cooker to cool before cleaning.
The lid and stoneware are dishwasher-safe or you can clean them with hot, soapy water.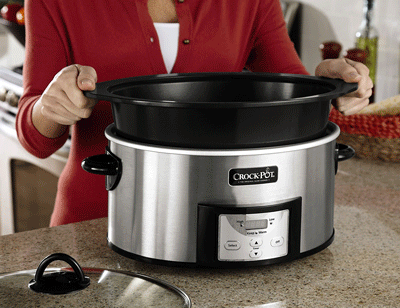 With this slow cooker, you receive removable stoneware that doubles as a serving dish so your family and guests can easily serve themselves.
If you do not use the slow cooker, its sleek design can stay on your countertop without taking up much space.
This is how slow cookers designed for portability and entertaining look: they provide new and different ways to enjoy slow cooking with the Crock-Pot brand.
Operating Crock-Pot SCCPVI600-S Slow Cooker is extremely easy with the easy-to-use programmable pre-set digital controls that let you cook around your schedule.
After cooking time is complete, it automatically shifts to the warm setting to keep your food at an ideal serving temperature.
And in case you wonder, this unit has a 6-quart capacity that makes enough food for 6 people.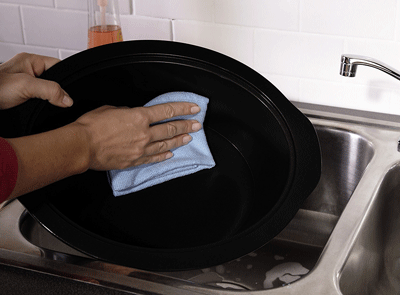 Definitely, you will enjoy the ability to brown foods in the same vessel used for the slow cooker.
Also, it is so convenient, and you are not going to lose any of the flavorful browned bits that sometimes get left behind when food is browned in a separate pan.
This crock pot is recommended for its convenience and versatility, but you need to be aware of the exposed hot surfaces.
5. French Bull
5. French Bull 71312- Non Toxic Slow Cooker with Ceramic Glaze Insert
Being a 1.9 Quart clay crock pot in the Gala design by French Bull, French Bull – Slow Cooker with Ceramic Glaze Insert
is able to slow cook, simmer or bake with diverse heating sources such as gas stoves, hot plates, grills, electric stovetop, oven, campfires, and microwave.
In its interior, you will get an all natural non-toxic, non-reactive, non-absorbent ceramic crock pot with porcelain lid.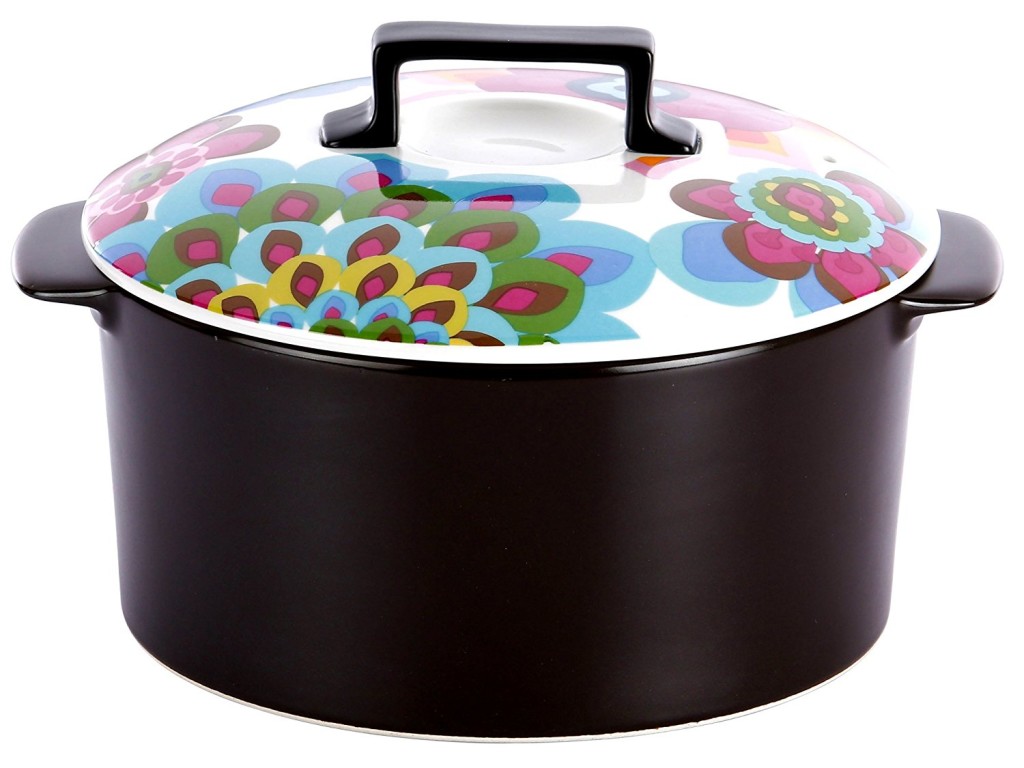 Another important aspect concerns the fact that this slow cooker is thermal shock resistant and will not crack in extreme temperatures, safe from refrigerator to heat source, safe to 750 degrees F/400 degrees C. Winner NYNOW 2015 Best New Cooking Product, this appliance guarantees you tastier chili than in that old cowboy movie and baked brownies that melt in your mouth.
French Bull – Slow Cooker with Ceramic Glaze Insert is different than other slow cookers by the fact that it is made from earth's natural minerals (clay and water).
It provides even and consistent heat distribution in cooking making foods taste better. Certainly, this crockpot is versatile, not to mention stylish, has a perfect size for any meal and looks wonderful.
The fact that you can use this unit to cook on the stove top, to put it in the microwave, the regular oven, fridge, and freezer, is ideal: it makes cooking for your family so much easier.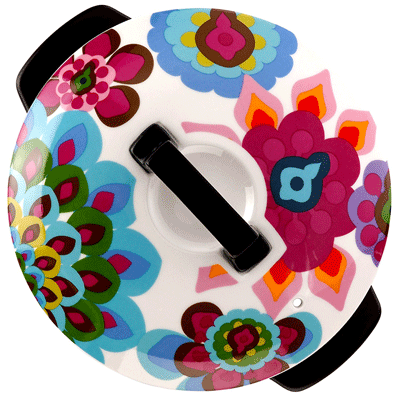 It is a good size for making medium-sized recipes, like pasta for 3-4 people, boiling like 8-10 eggs, cooking up like 2-3 cups of rice.
Do not forget the wonderful and colorful design of the lid, the vivid colors that French Bull has used will make you one happy chef and brighten up your dull kitchen.
So, you will always have a smile on your face when chopping and dicing, getting ready for the stew, soup or roast.
6. Comparison
Brand
Cuisinart PSC-350
All-Clad SD710851
Hamilton Beach 33642
Crock-Pot SCCPVI600-S
French Bull
Design
oval-shaped programmable slow cooker, silver color
stainless-steel slow cooker
it is oval and stoneware, and crock is sturdy, silver color
sleek design, removable stoneware
clay crock pot in the Gala design by French Bull
Insert
3-1/2-quart ceramic pot
removable ceramic insert to serve 4 or 5 people
6, 4, or 2 quart mark
ceramic-coated pot
all natural non-toxic, non-reactive, non-absorbent ceramic crock
pot
Lid
glass lid with chrome-plated knob
glass lid
clip-tight sealed lid
locking glass lid
porcelain lid
Handles
stay-cool handles for safety
integrated handles on insert for an easy grip
full-grip handles
stay-cool handles
stay-cool handles
Dimensions
16.5 x 14.2 x 11.8 in
10.5 x 14.5 x 10.5 in
15 x 14.88 x 9.49 in
15.2 x 9.9 x 15.1 in
8.2 x 8.2 x 3.9 in
Weight
9.5 pounds
12 pounds
7 pounds
8.9 pounds
3 pounds
Capacity
3.5 Quart
4-Quart
3 sizes in 1 crock – 6, 4, or 2 quart
6-quart slow cooker
1.9 Quart/1.8 Liter
Material type
Stainless Steel
Ceramic
Stoneware
Stainless Steel
Clay
Control panel
touchpad control panel
easy to read digital display and large push-button controls
easy-to-use control panel
flat digital panel, easy-to-use programmable pre-set digital
controls
No
Timer
24-hour LCD countdown timer
up to 20 Hours programmable timer
it can be set for max 8 hours to cook.
digital timer counts down cooking time; program cooking time from
30 minutes to 20 hours
No
Cooking modes
4 cooking modes: Keep Warm, Simmer, Low, and High settings
3 cooking modes (High, Low, Hi/Lo)
three heat settings: high, low, and warm.
High, Low
N/A
Other features
automatic keep-warm
automatic or independent Keep Warm
N/A
it automatically shifts to the warm setting
N/A
Dishwasher safe
dishwasher-safe ceramic pot and lid
dishwasher-safe insert and lid for
dishwasher safe stoneware and lid
dishwasher-safe stoneware insert and glass lid
N/A