Lotus 708953201009 vs Miracle ME81 Rice Cooker
If you have to decide between Lotus Foods Rice Cooker and Stainless Steel Rice Cooker Model ME81 (Formerly ME8) – by Miracle , you should consider both products before making a decision.
With these items, your rice will be perfect as your steamed vegetables if you are going to just follow the basic directions.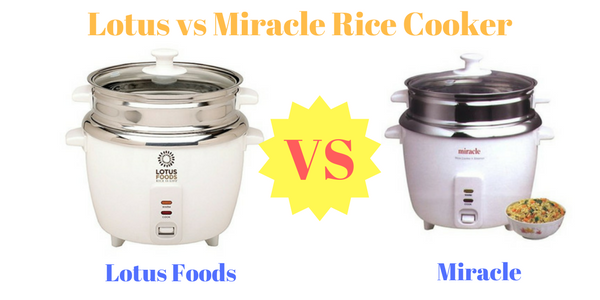 So, let's find out more information about the two rice cookers and of course, consider some similarities and differences.
These pieces of information will turn to be very useful and so, you will know what you may purchase for easy and fast daily cooking.
Lotus Foods 708953201009 Stainless Steel Rice Cooker and Steamer, 12 Cup Capacity is a 12 cup capacity rice cooker with 100% stainless steel cooking pot and steaming tray.
This material is going to preserve flavor and nutritional value and will not absorb odors being non-reactive, and will not tarnish or rust.
This can be considered a safe alternative to aluminum and non-stick cooking surface.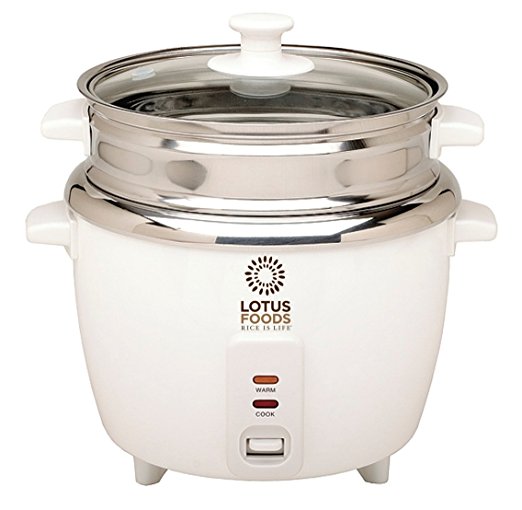 This rice cooker includes a stainless steel inner cooking pot, a steaming tray, a glass lid and a rice paddle.
Discover this simple 1-2-3 cooking modality that will turn to be very fast and provide easy cleanup.
With one year warranty, this unit is one of the few stainless steel rice cookers on the market.
You can cook any grain with similar stovetop directions to rice (quinoa, amaranth, millet, etc.). With special preparation, other grains can be cooked as well (steel cut oats).
And with the steamer, you can steam vegetables, fish, tamales, reheat frozen foods (yes, a great way to avoid using a microwave), soften tortillas, etc.
You may know that preparing rice in a rice cooker is more convenient and requires less attention, but does take slightly longer (a few minutes).
This will also be the case with the Lotus Rice Cooker: when the rice cooker has completed cooking it switches to a warm mode, which will maintain heat at a lower temperature.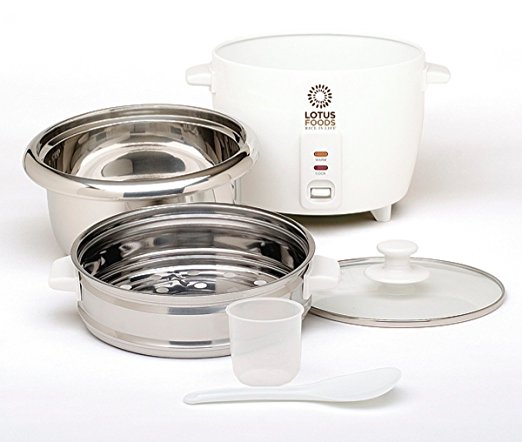 Check Price
It is recommended to unplug from outlet completely or to turn the cooker completely off in order to avoid burning.
The unit is constructed well and looks pretty good and the stainless steel parts are not cheap pieces of crap either!
It starts producing steam in what seems to be a fairly normal amount of time (maybe slightly faster) when compared to steaming on a stove.
The steaming tray holds enough for a couple people to eat a hefty amount of vegetables (or whatever you consider steaming).
On the other hand, you have Stainless Steel Rice Cooker Model ME81 (Formerly ME8) – by Miracle Exclusives, an automatic rice cooker that will make you forget about watching and waiting for the rice to become perfectly cooked.
This model will cook 8 cups of rice and yields 12 cups of cooked rice.
Made of stainless steel, none of your food ever comes in contact with any chemical or substance (like Teflon on some others).
Also, it features indicator lights, different cooking modes and includes a stainless steel vegetable steamer tray.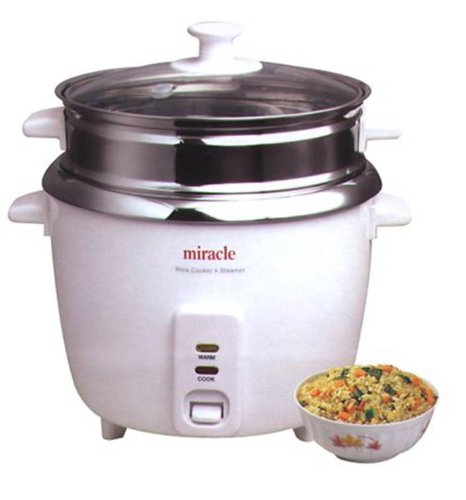 It is healthy and easy to clean; just soak and leave on warmer cycle only 15 minutes and you can clean easily. You will get the best-tasting rice and it does splatter for a short time; so all you have to do is to put the steamer on top and then the lid and that should do it!
This cooker makes terrific rice, fluffy and tasty, and does require a few workarounds. The unit has a warming function that automatically keeps the rice warm after it is cooked. If you do not want to keep the rice warm you will have to remember to turn the cooker off by unplugging it.
It shuts off automatically and goes into a steamer mode to finish the rice, very handy. And the extra steamer basket in the top is very useful for vegetables and tofu.
It is easy to use, easy to clean, attractive, lightweight, and is cool enough to put on the table after cooking, even with a kid around. It makes perfect rice every time, quickly.
3. Differences
These products are very similar and this is why you may find hard to make a decision.
Both Lotus and Miracle Rice Cookers are made of all stainless steel and include a warm mode which automatically kicks in to keep the rice warm.
The models yield 12 cups of cooked rice and there is no Teflon or other chemicals used in the coating.
However, Lotus Rice cooker is lighter (5.6 pounds), while Miracle Rice Cooker weighs 5.8 pounds.
For the Miracle item, the dimensions are depth 9.5″, width 8.67″, and height 7″, while the Lotus product is 11 1/2 inches high and 12 inches wide.
As included accessories, Lotus provides you a rice paddle, while Miracles includes a rice paddle and a measuring cup.
Both are easy to use as there is one button: when you push the button down it puts the cooker in the cooking mode and when you push it up it is in the warming mode.
4. Conclusion
Whatever your choice may be, investing in Lotus or Miracle Rice Cookers will be always a good idea.
Both can be used as rice cooker and food steamer and this makes them perfect for every family.
All you have to do is to add water, rice and veggies and in less than an hour you will have a hot, healthy and affordable meal that will feed your hungry guests.
These two rice cookers are great for cooking rice and steaming vegetables. Being a very healthy way to cook and taking up limited space, you should decide if you will choose Miracle product at this price on Amazon
or Lotus rice cooker at this price on Amazon
.
5. Comparison table
| | Lotus Rice cooker | Miracles Rice cooker |
| --- | --- | --- |
| Destination Use | Home use | Home use |
| Design | 100% stainless steel cooking pot and steaming tray | 100% stainless steel cooking pot and steaming tray |
| Power Source | 110 V / AC / 60Hz | 110 V / AC / 60Hz |
| Output Power | N/A | 500W |
| Lid | Glass lid | Glass lid |
| Indicator lights | Yes | Yes |
| Programmable Timer | No | No |
| Steam Feature | Yes | Yes |
| Warranty | One-year warranty | One-year warranty |
| Acoustic Warnings | N/A | N/A |
| Weight | 5.6 pounds | 5.8 pounds |
| Dimensions | 11 1/2 inches high and 12 inches wide | Depth 9.5″ Width 8.67″ Height 7″ |
| Cord Length | N/A | 46 inch |
| Capacity | 12-cup | cook 8 cups of rice and yields 12 cups of cooked rice |
| Warm mode | Yes | Yes |
| Made | China | China |
| Price | Amazon Link | Amazon Link |