JIAWANSHUN vs Waring WIH800 – Commercial Induction Cooktops
When it comes to a commercial induction cooktop, you should consider JIAWANSHUN and Waring WIH800 cooktops that made their way to the specialist market of catering and cooking business.
These units turn to be a real help in your restaurant kitchen or other kitchen spaces where such an appliance can be connected to a power source and provide heat for preparing and warming food.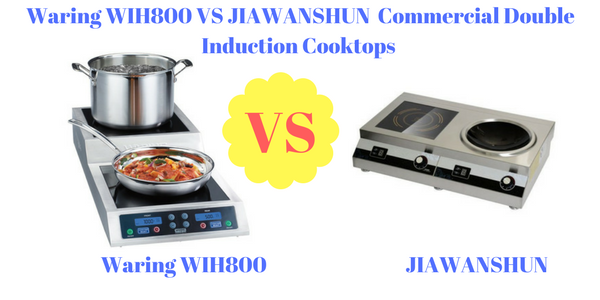 If you are interested in a commercial induction cooktop, you must find out more about these two items.
Let's discover all the features and characteristics of JIAWANSHUN and Waring WIH800 comparing them for a clearer and more precise differentiation.
Rated at 220 V, JIAWANSHUN Commercial Induction Cooktop does not support 110 volts; and so, you have to be attentive to this aspect and consider a cutout switch after talking with a specialist.
It provides a power of 5000 watts for each of the two burners.
This 5000W + 5000W High Power Commercial Double Countertop Electric Cooker Induction Cooker is exactly what you may need; its dimensions are 810 * 510 * 200 mm and the cooking surface measures 300*300mm / φ300mm.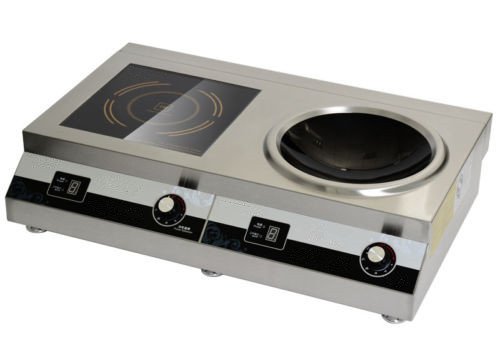 Be aware that this is a high power machine and must be connected with the cutout switch as it does not come with a plug.
Before starting to work with this cooktop, you should read all the information provided in the user guide.
With the user manual, you will find the electric cooker and the warranty certificate in the package.
If everything is all right and you decide to purchase JIAWANSHUN Commercial Induction Cooktop, the shipment will be arranged in 2~4 working days (but, it does not include the customized products) and in 5~9 working days, will reach you.
On the other side, you will get signature dishes with the Waring WIH800 double commercial induction range.
With a total heating power of 3600 watts, you get the certitude that you can cook everything from stir fry to scallops, but only in any induction-compatible pan.
This Waring WIH800 Double Commercial Induction Range with Step Up is designed with easy-touch controls for adjusting the temperature among 12 settings from 120 to 500 degrees Fahrenheit.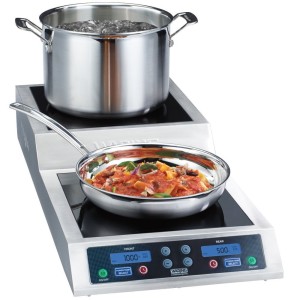 Also, there is an LCD display for easy viewing of temperature settings.
From now on, you can keep track of cooking cycles up to 10 hours long with the timer of the commercial induction cooktop.
Its overall dimensions are: Width: 13″, Depth: 28 1/2″, and Height: 5 1/4″.
This range features large 11″ x 11″ glass cooking surfaces and its exterior is made of stainless steel for long-lasting durability.
This Step up design means that it can allow direct access to both burners while ensuring safe use by keeping any pans on the back burner within easy reach.
With such a design, this unit is great for small kitchens and tight spaces where counter space is limited.
The electrical requirements are 208/240V, and the cooking surfaces include small article and empty pan detection for efficient energy use.
The Waring WIH800 double commercial induction range has a limited one-year warranty.
3. Differences
As you can observe, these two commercial induction cooktops are a little bit different. First of all, Waring WIH800 Step-UP Double induction Cooktop is smaller than JIAWANSHUN High Power Commercial Double Countertop Induction Cooker.
Waring WIH800
model is perfect for tight spaces, so give it a try.
Both products are designed with an LCD display for viewing your adjustments and two burners for simultaneous cooking. Choosing JIAWANSHUN Commercial Induction Cooktop, you will have a powerful unit as it delivers 5000 watts for each burner.
This will not be the case for Waring WIH800 double commercial induction range as it provides only 3500 watts.
The timer of Waring WIH800 double commercial induction range makes you forget about the exact time of cooking.
Adjusting the temperature and the timer will help you a lot when cooking with Waring WIH800 double commercial induction range.
Also, the electrical requirements of these commercial cooktops differ; JIAWANSHUN supports 220 volts, 50 Hz, while the Waring model is rated at 208/240 volts.
For proper operation, make sure you are using compatible induction cookware with these cooktops.
4. Conclusion
With a compact design, Waring WIH800 double commercial induction is a great choice for those who have a limited space for cooking and for warming your food.
Also, if you want a versatile product with more features ('empty pan', 'induction-ready pan', 'small object' and 'no pan' detection), you should consider purchasing the Waring model.
With a small price, JIAWANSHUN is a great investment; for the Waring induction cooktop, you must pay this price on Amazon.
And if you want a product with a high output power rating, JIAWANSHUN Commercial Induction Cooktop
is exactly what you need with its 5000 watts for each burner.
5. Comparison Table
JIAWANSHUN Commercial Induction Cooktop
Waring WIH800 double commercial induction
Destination use
Commercial use
Commercial use
Design
stainless steel construction with easy-touch controls and LCD
display
stainless steel construction with easy-touch controls and LCD
display
Power source
this item is 220V/50 Hz, does not support 110V
208v/60/1-ph, 3600 watts, 15.0amps, 6-15P
Output power
5000W + 5000W
3,600 W
Power levels
N/A
dual cooking modes: heat (power) and temp (hold)
Temperature levels
N/A
12 temperature settings from 120-500F (79-260C)
Programmable timer
N/A
10-hour timer
Function lock
N/A
N/A
Warranty
N/A
Limited one-year warranty
Acoustic warnings
N/A
N/A
Weight
N/A
11 LBS
Dimensions
810 * 510 * 200mm
5.25″ x 13″ x 28.5″ (HxWxD)
Cord length
It does not come with a plug, needs to connect with a cutout
switch
N/A
Glass cooktop size
300*300mm / φ300mm
large 11″ x 11″ Schott ceramic glass tops
Safety sensors
Induction-ready pan detection
'Empty pan', 'induction-ready pan', 'small object' and 'no pan'
detection
Induction cookware sensor
Yes
Yes
Internal overheat sensor
N/A
N/A
Glass cooktop overheat
N/A
N/A
Incorrect voltage
N/A
N/A
Price
Check Price
Check Price