Is Frigidaire FGIF3061NF Gallery your next induction range?
Looking to buy an induction range but you aren't sure which one is best for your needs? It's true that the market is filled with all kinds of amazing products, for all budgets and requirements.
Today's review might help you make a decision when it comes to the best range for your needs.
The Frigidaire FGIF3061NF Gallery
is a gorgeous product that comes with an induction range and a powerful oven. It has an unusual design, which is why you might just adore it.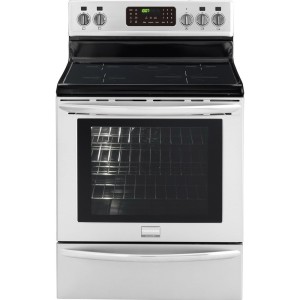 Check out its main features:
1. Controls
This induction cooktop is ideal for those who find mechanical buttons and knobs more reliable than touch controls.
The control panel is positioned at the top of the cooking surface and has 5 dials that help adjust the temperature and power level.
Also, there is a touch control panel that is positioned between the dials. It has a keypad with numbers from 0 to 9 that allows users to set a preferred temperature.
All dials have digital windows that show the selected power levels. Also, there is a larger digital window in the touch control panel area. It shows the time and other information, depending on the user's preferences.
Each heating element can be controlled using the dials that have an on/off function, as well as a low and high function.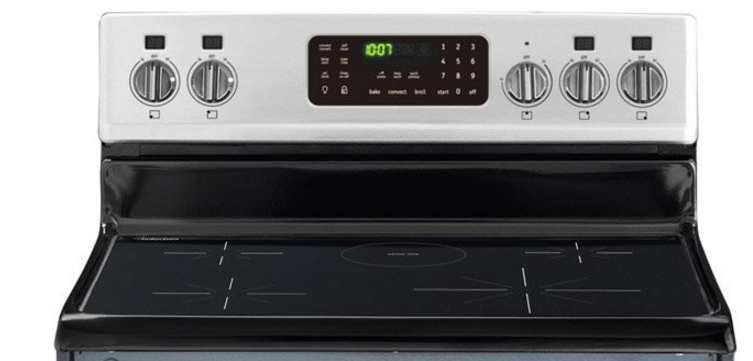 2. Surface
This induction cooktop's surface is made of ceramic glass and is only compatible with induction ready cookware such as cast iron or stainless steel pots and pans. However, users should be careful when using cast iron cookware, as they can scratch the ceramic surface.
The induction cooktop's surface heats up fast, is very easy to clean and has a pan size detection system. It is highly responsive and constructed using safety sensors that will turn off the cooking zones if cookware isn't compatible.
3. Heating Elements
There are 4 cooking zones: two on the left and two on the right. Also, there is one in the center, which is used as a warmer zone. It can be used at any time, although it is hidden, meaning that there are no white marks that expose it. It is recommended to center the cookware correctly on the heating element in order to avoid errors.
All pans and pots should be flat bottomed and have a proper balance. Any error that is not fixed in about 3 minutes after detection will lead to shutting off the cooktop.
Users should try to adapt their cookware looking at the heating element's size. The cookware should have a minimum diameter of 4.5 inch if used with the left rear cooking zone, a 3.5 inches with the right rear one, 5.5 inches with the left front cooking zone and minimum 8.25 inches with the right front one.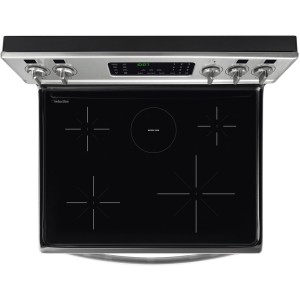 Additionally, the pots and pans shouldn't exceed half an inch from the outer cooking zone markings.
The four main cooking zones can be used with the Power Boost function. Users can adjust the power levels starting from 1.5 to 9.5, with 0.5 increments.
After being enabled, a heating element's display will show the HE symbol once the cooking zone is hot and ready to use.
4. Power/Watts
This induction cooktop's heating elements use different amounts of power, depending on their size.
Here's how it is configured:

5. Oven
Although you might say that the induction range's quality is the only thing that matters, this product's oven has some amazing specs, too. It is a convection oven with a self-cleaning system, halogen interior lighting and practical rack configuration.
The oven's window is made of glass, a stainless steel handle and aluminum with stainless steel finish.
It is equipped with the Vari Broil broiling system and an even baking technology that ensures users that all the foods will be cooked evenly.
Its 3500 Watts baking power and its 3900 Watts broiling power are ideal for fast and efficient cooking. The power levels can be set using the front control panel, as well as the self-clean system.
A 350 Watt true convection system is present. As for the rack positions, there are 6 available positions and hidden bake element.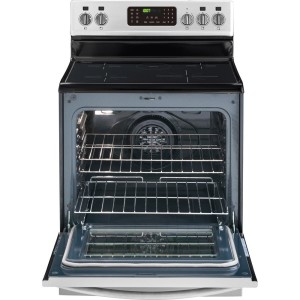 There are plenty of features that can be used when owning this oven. The energy saving features, the timer and clock, the Sabbath mode feature, the keep warm function and convection cooking are just a few of the most important ones.
6. Sensors
All cooking zones are equipped with sensors below their induction systems. Error messages are being displayed on the tiny screens whenever something goes wrong.
Sensors can detect incompatible cookware and shut off the cooking zone if necessary. Also, there are temperature sensors that won't allow the product to overheat.
The oven is also equipped with a variety of sensors that ensure the proper functioning of al features.
7. Ventilation
The induction cooking's ventilator is placed just underneath the control panel. It is recommended not to obstruct it with anything in order to ensure proper air circulation.
Also, it is recommended to place the induction range and oven in a well-ventilated room, near a ventilating hood.
8. Safety Features
Features such as the pan detection system and the automatic shut-down are designed with the user's safety in mind. Overheating and burning food are the main risks that are being avoided thanks to the range's sensors.
Also, this product comes with a locking function that is meant to protect the oven and induction cooktop from children access.
9. Accessories
This product comes with 4 leveling legs and various rack types:
• A flat oven rack
• A half rack
• An offset oven rack
• A bottom oven rack
• The "effortless" oven rack
10. Dimensions
This range's size is ideal for home kitchens. It measures 47-3/4″ x 29-7/8″ x 26-7/8″ and has a capacity of 5.4 cubic feet.
11. Pros
12. Cons
13. Consumer Ratings
Buyers are generally happy with this product, giving its elegant design that is suitable for any home and the wide variety of features.
Both the induction cooktop and the oven are made of high-quality materials and come with powerful configurations. This range actually makes cooking, baking and broiling much easier. This product's overall score is 4.8 out of 5 points.
14. Price
At this great price on Amazon
, this induction range and convection oven simply rocks.
Buyers who will decide to take it home will get a product that is affordable, comparing to other range options, luxurious and powerful.
It is smart, safe to use and the oven doesn't even have to be manually cleaned thanks to its self- clean function, which is amazing.
Frigidaire FGIF3061NF Gallery
Manufacturer
Frigidaire
Destination use
Home use
Controls
Touch and Dials
Control Panel
Touch and Mechanical
Functions
Temperature adjustment, timer, power adjustment, oven settings,
on/off, safety functions, Power Boost
Surface
Ceramic glass and stainless steel
Color
Black and silver
Power Source
240/208 V
Output Power
Max. 3800W with Power Boost
Power levels
24
Temp Levels
N/A
Temp step increment
N/A
Programmable Time
6 hours
Function Lock
Yes
Warranty
1 year parts and labor
Acoustic warnings
Yes
Weight
200 Ibs
Shipping Weight
220 Ibs
Dimensions
47-3/4″ x 29-7/8″ x 26-7/8″
Cord Length
N/A
Led Display
Yes
Safety Features
Yes
Error Codes
Yes
Pan size (bottom diameter)
N/A
Cookware material
Stainless steel, cast iron
Free PAN
No
Around Clearance
N/A
Made In
USA
Price
Amazon Discount Link